A growing number of designers are weaving social justice, mission-driven work and philanthropic endeavors into their firm's DNA. Here's how to make giving back (and maybe even changing the world) a building block of your own business.
Design, by its very nature, is a radical act of transformation. But historically, the interior design industry has catered to the select few who can afford the luxury of beautiful, personalized spaces. Fortunately, there's a growing movement among design professionals to harness their talents for the greater good—whether that's finding new ways to raise money for a worthy cause or donating their design time to people and places that need it most.
When Washington, D.C.–based designer Kia Weatherspoon founded her own firm in 2012, she went a step further, putting design equity at the forefront of her company's mission. After a career working on multi-family developments at other firms, she landed her first solo project in the nonprofit space, reimagining the common areas of a transitional housing shelter for domestic violence survivors. She started the project the way she approached all of her work: by interviewing the stakeholders. But when she met with the women and children who lived at the shelter, she was surprised to encounter pushback. "I went in there exuberant and excited to provide my design services, and they said to me, 'One, calm down. Two, we don't need this,'" recalls Weatherspoon. "I realized they didn't know how a well-designed space could impact their life. For me, the next step was to work not for the women, but with them to create an uplifting space."
At the completion of the project, the group's tone had turned hopeful."It was,'Is this something I could do one day?'" she says. "One woman said, 'Miss Kia, when I walked into this room, I felt that change was possible for me.'" Ever since, Weatherspoon's firm, Determined by Design, has been working to advance communities through the power of design, with a laser focus on increasing accessibility to beautiful, inspiring spaces. "[Design] doesn't have to be so heady—it boils down to a feeling, and that's enough," she says.
For Weatherspoon, fighting for equitable design is at the heart of her firm's identity. Other designers have found different ways to give back, from dedicating time and energy to various nonprofits to founding their own organizations. Here are five meaningful ways you can explore doing good with your design talent or through your business.
DONATE YOUR FEES
Fellow designers kept telling Washington, D.C.–based Zoë Feldman that she needed to start charging for her initial consultation in order to cultivate more serious leads. At the same time, she had been looking for a way to give back to her community through her business. Where the two ideas collided, she saw opportunity: "What if we donated our initial consultation fee?" she thought. She'd charge the client for her time but donate 100 percent of the proceeds. "And if they sign, we can match it," she adds. She rolled out a $250 fee in 2019, and it was immediately a hit. (It's also a good way to judge the character of prospective clients.) Feldman now partners with four different charities at any one time, allowing clients to choose where the consultation fees go. "The idea is that the client becomes accountable. They get to choose the charity, therefore exposing them to new charities, in the hopes that these generally high-net-worth people might then say, 'Oh, I'd never heard of this. I'm going to start giving to that.'"
Throughout his career, Port Washington, New York–based interior designer Keith Baltimore made a point of supporting dozens of nonprofit organizations through monetary donations, but it was during the pandemic that he saw an even more pressing need in his community. Last spring, facing long spans of idle time during lockdown, he partnered with fellow Long Island designers Annette Jaffe and Kim Poulos to found DesignGivers, a nonprofit that offers one-hour video consultations with a roster of experienced designers in return for a $150 donation to hunger relief organization Feeding America. "We put all of that energy to work," says Baltimore. "We're only as good as what we do for others."
DESIGN PRO BONO
A warm embrace from the design industry when she launched her firm caught Dallas-based Jean Liu by surprise—and she decided her to share the love. "I was not expecting to be welcomed by so many people who were genuinely interested in helping me succeed—it's inspired me to try and do the same in some way," says the designer, who has been donating her services to Dwell With Dignity since 2013, and now sits on the board of directors. The Texas nonprofit's mission is to combat homelessness and poverty by designing and installing homes for families in need. One of the first projects Liu completed through the charity was an apartment for a single mother and her son. "That was really transformative for me," she says. "I could see the value of what we were doing immediately."
Community nonprofits are also often in need of design services. That's what drives Chicago-based Designs 4 Dignity, which provides impact grants that partner local organizations with designers, vendors and construction professionals who donate their services to transform the applicants' spaces. The organization also accepts donations of secondhand furniture and construction materials. The ultimate goal is to empower nonprofits to better service their constituents. "What we do has an impact that is so profound in underserved and disenfranchised communities," says Chicago designer Nicholas Moriarty, who joined Designs 4 Dignity's board of directors after years of volunteering with the organization. "Humans have expressed themselves [through] their home environments since cave-dwelling times. It provides a sense of community and safety. When you get to do that for people who have never had access to anything like that, it truly elevates everything."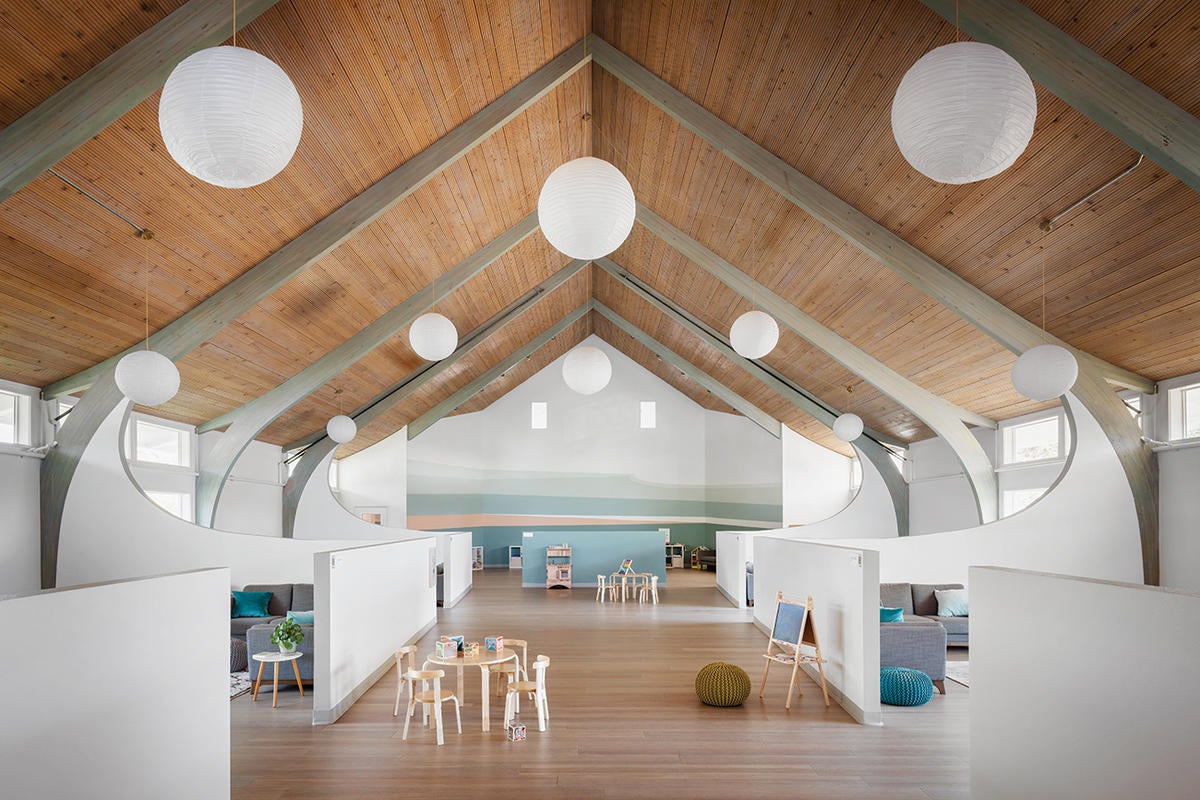 START A FOUNDATION
The Duet Design Group Foundation was born out of burnout, says Denver designer Devon Tobin. "We knew that we had this natural skill set to create how environments function, look and feel, but [my business partner and I] started to be like, 'Why isn't everybody getting to experience this? Why does it have to do with somebody's socioeconomic status?'" she says. "We were incredibly grateful for where the company had gotten at that point, but it felt like we were supposed to do something [more]."
In 2015, Tobin and her co-founder, Miranda Cullen, launched the foundation as a way to merge their full-service design firm with their desire to give back to their local community. The foundation partners with organizations like Third Way Center, which supports high-risk, mentally ill and homeless adolescents and their families; they also recently designed apartments for Brent's Place, a home away from home for the families of long-term hospital patients.
Portland, Oregon–based designer Jessica Helgerson has always made space to give back to her community. But by the start of 2019, her firm's neighborhood, Old Town, had become increasingly populated by people suffering from homelessness. Like Tobin and Cullen, Helgerson was struck by the contrast—each day, she worked on high-end design projects for those with more than enough, but when she walked out the door to go home, she saw the far harsher realities of so many others. ("I was literally walking over people on my doorstep in the morning, and then walking into my beautifully appointed office to work on these gorgeous multimillion-dollar homes," says managing director Kate Sullivan, who joined Jessica Helgerson Interior Design in 2020 in large part because of the firm's mission around homelessness. "That juxtaposition was almost unbearable.") Helgerson began engineering a way to contribute to better housing for all, not just the privileged few. During Design Week Portland 2019, she launched the One Percent Project, which encourages individuals and companies to donate 1 percent of their net income to nonprofits that fight homelessness. (The firm also asks clients to donate 1 percent of their invoice total.) It's a relatively small percentage, but it can add up to make a big difference for those who need it.
CURATE FOR A CAUSE
When Chicago designer Amy Kartheiser lost her brother to suicide in 2014, she and her family turned to the American Foundation for Suicide Prevention for support. In a gesture of thanks, three years later, Kartheiser began hosting pop-up shops to benefit the organization—events that grew into a biannual event in the local design community. Last November, she turned the concept into a nonprofit, Under the Same Sky, and when her 2020 pop-ups were pushed online, her global array of items became accessible to designers and consumers beyond Chicago's metro area. Proceeds from online sales and future pop-ups will support Healing Conversations, a division of the AFSP that works to destigmatize dialogues around suicide and its prevention.
USE YOUR KNOWLEDGE
Design isn't the only tool in a designer's belt—there's also their immense knowledge of running a business. In addition to helming her New York– and Philadelphia-based design firm, Chanae Richards has quietly been serving as the managing director of the Philadelphia Housing Authority's Entrepreneurial Resource Center, an initiative supported by the U.S. Department of Housing and Urban Development. "We are giving individuals the tools they need to get their businesses to thrive," she says. "I tell folks all the time: I know as a woman of color, you can't use financial literacy alone to get out of poverty, [but] a lot of the programs that we see out there are financial-literacy based." Since her work with the ERC began last July, Richards and her team have been developing the program to provide support to entrepreneurs in the local community, from educational workshops to a new fellowship that includes grants of up to $5,000 in seed money. "The interest has been overwhelming," she says. "We are giving folks hope." 
Homepage image: A common space at Momentum at Shade Grove, an affordable housing development designed by Kia Weatherspoon's firm, Determined By Design. | Jennifer Hughes Photography