It's no secret that the pandemic caused many homeowners to pack up and relocate to more desirable locales. Now, a handful of designers are following suit, opening new studios and storefronts in sunny Palm Beach.
"I've been looking at retail spaces down there for three years," says Bedford, New York–based designer Brittany Bromley, who plans to open a Palm Beach office and retail location later this year. "I knew that, eventually, I wanted to have a presence down there, but now the timing just felt right to actually do it."
Bromley isn't alone. Four other designers—Jim Dove, Jonathan Savage, Alessandra Branca and Meg Braff—have all opened or plan to open Palm Beach outposts in 2021. What's the appeal? According to the designers, it's simple: a stream of monied, style-savvy clientele coupled with a chance to trade in harsh, snowy winters for year-round sunshine and a waterfront view. "It is a very sophisticated market," says Locust Valley, New York–based Braff, who will be opening a design studio and a 4,5000-square-foot showroom on the island this fall. "The houses are so interesting, with a range of great architecture. And people really care about their houses and gardens here. They put effort into making sure the interiors measure up to the investment they've put into the real estate."
The draw of Palm Beach for designers (nice weather, wealthy clients) has always been there. The pandemic has simply re-highlighted the appeal. Over the past year, the real estate market in the area has seen an influx of buyers from New York, New England and California, often buying multimillion-dollar homes sight unseen, lured by lower taxes and the promise of a higher quality of life. Bloomberg cites Palm Beach as one of the hottest real estate markets in America.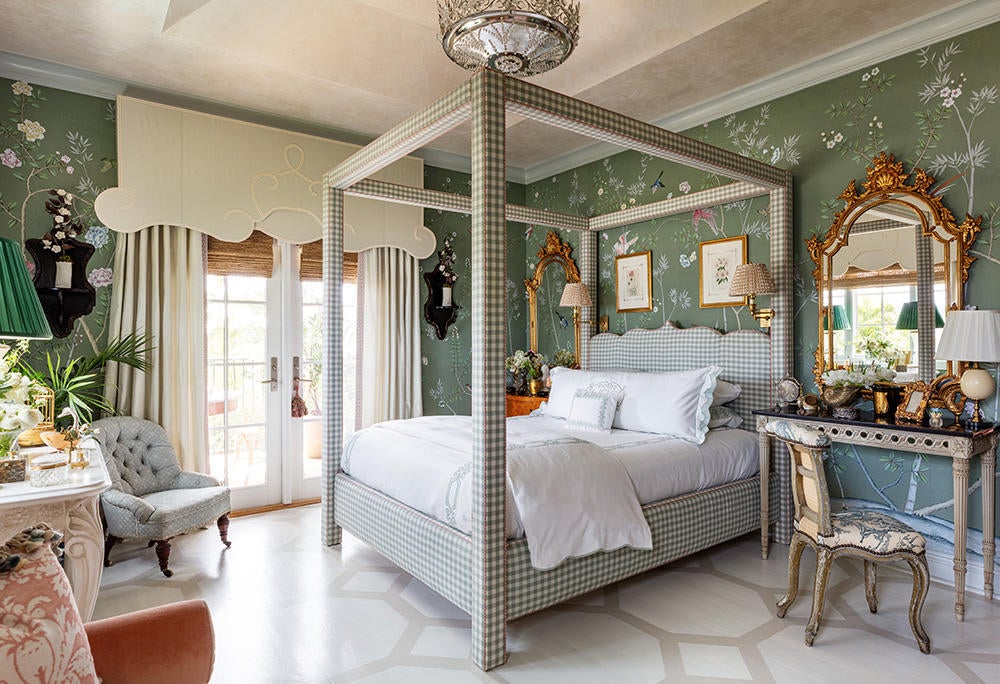 Courtesy of Brittany Bromley
The appeal is heightened by the fact that New York restaurants like Sant Ambroeus and Almond, as well as art galleries and even Manhattan hospital Mount Sinai all have locations in Palm Beach or nearby West Palm Beach. And the staple of the New York design scene, the Kips Bay Decorator Show House, now has a Palm Beach edition, one that Bromley and Savage have both participated in. All the comforts of the big city, it seems, can now be found in Palm Beach.
The nearest design center, the Design Center of the Americas, is located outside of Fort Lauderdale, more than an hour away. That makes the arrival of more shops and showrooms carrying trade brands and high-end decorative accessories for the cash-and-carry crowd a welcome addition to the island, according to designers. Branca, who has offices in Chicago, Los Angeles and New York in addition to Palm Beach, says that the town is better situated for her business than Miami, as it's a great central location for a designer to take projects all over Florida. "We currently have over 20 projects in Florida, and some of those are down in Miami, but they go all the way up the coastline," she says. "From Palm Beach, you can easily service any of those locations, and even clients in the Bahamas, which is a wonderful quality."
Dove says that his Florida showroom is nearly three times larger than his space in Short Hills, New Jersey, giving him the opportunity to stock brands that he loves but doesn't have room to showcase up north. "I have de Gournay, Christopher Spitzmiller, Cambria, Chesneys—brands I've always wanted to carry," he says. "Now, I get to not only promote those companies in another region, but carrying them helps to expand my business and brand, as well."
Instead of seeing the arrival of more designers to the area as a threat to business, Braff says that the design community in South Florida continues to be a generous, welcoming one. "Over the years, people have always been so willing to share vendors or provide a reference for a workroom," she says. "Every year, it seems like there are more resources for designers here."
Branca agress, saying that more designers and showrooms add to the local design community. "The more vendors available, the stronger the design presence gets and the more worthwhile it makes it to operate a business there," she says. "It can only help for more people to have locations there, so the more, the merrier!"
Consider that your standing invitation.
Homepage photo: A Palm Beach project by Meg Braff | Photo by J. Savage Gibson