It's been a long week, and we know, it's only Tuesday. Not to worry—we've got you covered. Stay in the know with BOH's weekly news digest, including business headlines, launches and events, recommended reading and more.
NEW Dates for Salone
Organizers of Milan's Salone del Mobile met today to discuss canceling or postponing this year's furniture fair due to Italy's novel coronavirus outbreak. The outcome? The show, originally scheduled for late April, just announced that it will now be held June 16 to 21.
The decision comes after more than 150 cases of COVID-19 have been confirmed in Italy, with seven people having died of the virus. The Italian government has declared a state of emergency, quarantined more than 10 towns and canceled Venice's annual carnival in addition to other cultural and sporting events. Many of the cases have occurred in Codogno, a town southeast of Milan.
Last week, Italian trade body Confapi Matera called on the organizers of Salone del Mobile to postpone the event. "The risk of flop of the fair worries local entrepreneurs who will have to bear the costs of participation," the trade organization's president, Massimo De Salvo, and director, Vito Gaudiano, told Dezeen.
BUSINESS NEWS
Online rental furniture brand Feather has raised $30 million in series B funding in a round led by Cobalt Capital, reported Furniture Today. This brings the brand's total equity funding to $46 million. The investment shows that money is hot on the furniture rental space—competitor Fernish has raised a total of $30 million across three rounds of funding, while Oliver Space received $6.8 million in seed funding in October 2019.
In more funding news, air purification startup Molekule landed $58 million in series C, reported Crunchbase. Most air purifiers on the market function as air filters, catching particles—Molekule, however, has developed photo-electrochemical oxidation technology to destroy pollutants entirely.
This week, Brooklyn-based lighting design and manufacturing company Roll & Hill announced its purchase of the Alexis Manufacturing Company, a 75-year-old wood furniture producer in Grand Rapids, Michigan. With this acquisition, Roll & Hill hopes to infuse Alexis's history with new energy; the lighting company also plans to launch its first furniture collection later this year.
Sears will receive $100 million from hedge fund Brigade Capital Management, reported Reuters. The U.S. department store declared bankruptcy in 2018. Its current owner, Eddie Lampert, took over last year for $5.2 billion.
The new coronavirus outbreak is impacting many supply chains as travel bans to and from China remain in effect. According to market research firm TrendForce's predictions, smart technology shipments will decrease significantly; already, the 5G supply chain in particular has been hit.
OPENINGS, AUCTIONS AND EVENTS
Los Angeles–based European furniture and design retailer MASS Beverly has a new 3,000-square-foot space focused on brutalist art and sculpture. The collections, curated by MASS Beverly founder Mary Ta and Italian artist Mattia Biagi, will feature different artists between now and June. Come June, MASS Beverly's current buildings will be demolished; a new three-story showroom will take their place.
Courtesy of the Swedish Design Museum
Stockholm's Swedish Design Museum has opened an exhibit focusing on takeout, titled "To Go." Objects are put inside backpacks that visitors carry around for a week and then return. For instance, a Swedish designer towel brand may put a towel inside the backpack and send the visitor to lake Källtorpssjön, just outside Stockholm. The museum will clean and reuse each item in the backpacks, which can be reserved here.
Apartment Therapy will host the Small/Cool Experience, a pop-up in Brooklyn's Industry City, from April 4 to 5. There will be 20 vignettes made by the site's editors, including work by designers such as Emily Henderson, Shavonda Gardner, Orlando Soria, Nate Berkus and Jeremiah Brent. The majority of items on display will be donated to Habitat for Humanity following the event.
LAUNCHES, COLLABORATIONS AND PARTNERSHIPS
Los Angeles designer Leanne Ford has a new minimalist collection with Crate & Barrel, reported Curbed. The 109-piece line spans the bedroom, dining room, seating and decor. "Ford's predilection for light colors and soft shapes takes center stage with a cushy white sofa that looks just a little bit lived-in, bent cane chairs, and pale wood curved dressers and armoires," writes Liz Stinson.
Crate & Barrel sister retailer CB2 is making a splash of its own, debuting a furniture and accessories collection with jewelry designer Jennifer Fisher today.
Hausera, an online platform for kitchen and bath products, announced its national launch today. The company's vice president of marketing and merchandising, Wesley Ward, hopes that the platform will help to reinvigorate the experience of renovating one's kitchen or bathroom.
SHOWROOM REPRESENTATION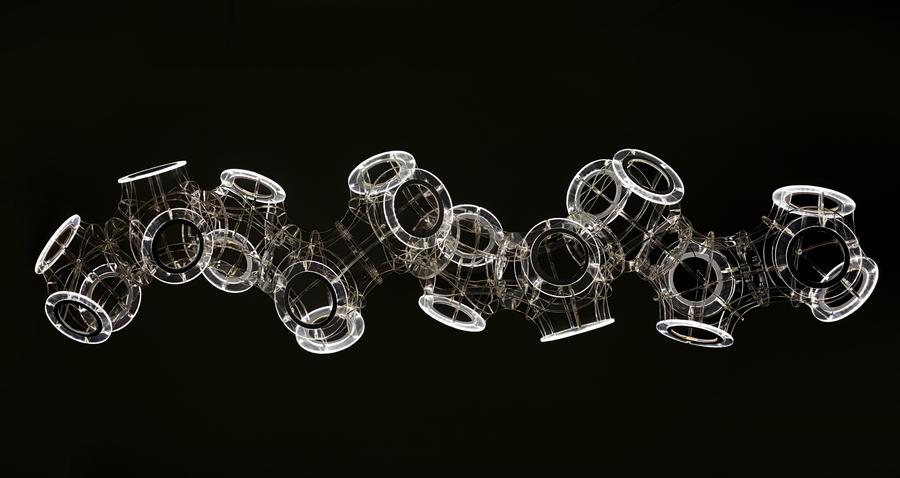 Courtesy of Oliver James Lighting
New York brand Oliver James Lighting is now represented at Atelier Gary Lee in Chicago's Merchandise Mart. The lighting brand's first collection, Tetra, resembles the molecular structure of a diamond.
RECOMMENDED READING
House Beautiful explored the home of Good Housekeeping editor in chief Jane Francisco and her husband, photographer Colin Faulkner. They live in a lovely midcentury minimalist home, with a cute dog that seems to match the neutral black-and-white decor. The house's standout is the library, which boasts a beautiful bright pink sofa!
Those in the industry are well aware of the impact of creative leadership—research shows that design-led companies have 32 percent more revenue than other companies. Fast Company reports that in a new study from McKinsey, results show that most CEOs don't actually understand what their design leadership does day to day. The management consulting firm analyzed data from 1,700 companies, interviewing 200 senior design leaders and 100 CEOs, and the results may surprise you: 66 percent of CEOs couldn't say what their CDO actually did, or how that success should be measured. Unsurprisingly, only 10 percent of CEOs reported that a senior designer played a meaningful role in the company's strategy, and only 17% of design leaders thought they were in the right position to give a company their full value. The conclusion? McKinsey believes that 90 percent of companies aren't using design talent to their full potential.
CUE THE APPLAUSE
Courtesy of Barbour Spangle Design
Christi Barbour is a recipient of the 2020 Outstanding Women in Business award by Triad Business Journal, a Greensboro, North Carolina–based B2B publication. This was in recognition of her leadership, community engagement and volunteerism, as well as her mentoring and entrepreneurship. Barbour created the nonprofit High Point Discovered Instagram page and blog celebrating the community, in addition to her role as founding partner for local firm Barbour Spangle Design.
The International Furnishings and Design Association (IFDA) has named its 2020 board of trustees: New foundation chair Gail Belz and new board members Karen Dzendolet and Joyce Poynton will join returning members Merry Mabbett Dean, Sarah Fletcher, Donna Ralston-Latham, Shirley Ebert, Earline Feldman and Ida McCausland.
CALL FOR ENTRIES
IFDA has begun its call for entries for design student scholarships for 2020. There are nine available, for a total of $18,000. Applicants must be current students; scholarships are paid to the school. Recipients will be notified by July 31. Apply during the month of March here.
IN MEMORIAM
Restaurateur and lifestyle guru Barbara Smith has passed away at 70. She died Sunday at her home on Long Island due to early-onset Alzheimer's disease, which she was diagnosed with in her 50s. She was best known for her Manhattan restaurant, B. Smith, reported The New York Times, and she designed furniture for brands with national prominence, including Bed Bath & Beyond and La-Z-Boy. As designer Sheila Bridges wrote on Instagram: "B. Smith truly was legendary—she broke so many racial barriers as a model, chef, restaurateur, magazine publisher, TV host and lifestyle guru. … [She] had such charisma (and a beautiful smile) and I remember being saddened when I heard that she had been diagnosed with Alzheimer's at such a young age. Thank you Barbara Smith for setting such a high bar and touching all of our lives with such style and grace."
Homepage image: Courtesy of MASS Beverly