While the choices seem infinite, lighting manufacturers know exactly which pieces ignite the most fervor. Achieving best-seller status in such an expansive category is no easy task. What makes a No. 1 performer is a mix of taste, timing and good luck. (Star power doesn't hurt either, as evidenced by Currey & Company's Cookie-approved Grand Lotus chan- delier currently starring in Fox's drama, Empire.) Here are five fixtures with figures, for an illuminating take on what's burning up the sales charts.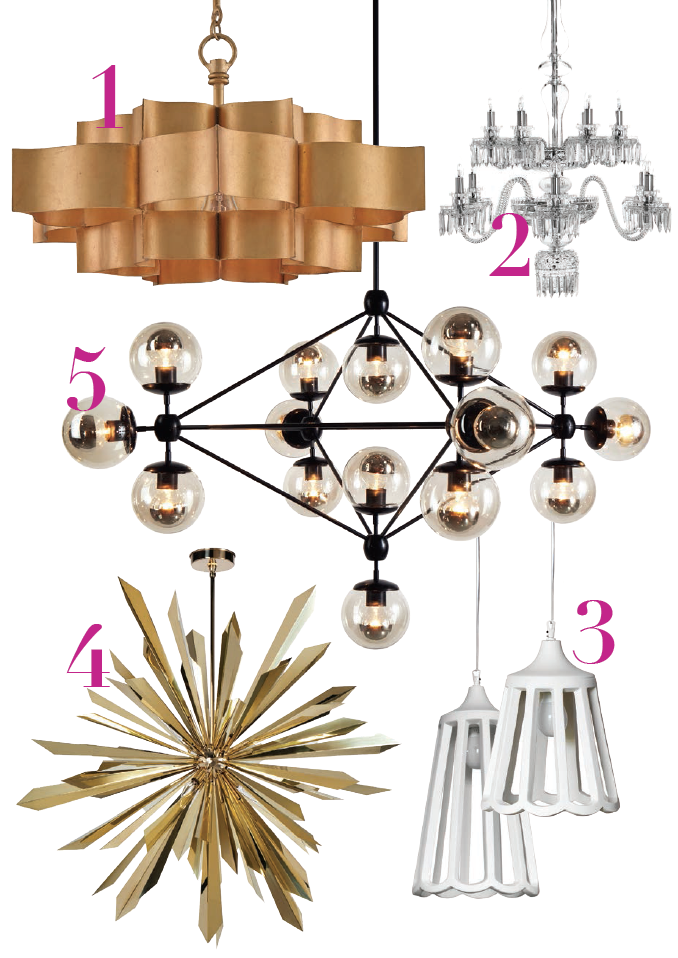 1. Grand Lotus Chandelier designed by Christina Pomroy for Currey & Company BY THE NUMBERS: Chandeliers, pendants and lanterns repre- sent 60% of the company's lighting sales with the Grand Lotus accounting for 1% of that revenue.
2. Royal Collection by Saint-Louis BY THE NUMBERS: The Royal Collection represents over 30% of the global sales of the ceiling lights in volume. The collection is ranked in the top 2 in the U.S.
3. Le Pupette Pendant from Global Lighting's Stratos Collection, designed by Edmondo Testaguzza for Karman
BY THE NUMBERS: Global Lighting's curated collections (ECCO, Stratos and Ethos) grew 117% in 2016 compared with 2015, with Stratos as the highest seller.
4. California Sunburst Chandelier by Remains Lighting BY THE NUMBERS: The California Sunburst Chandelier, inspired by Tony Duquette's 1964sun motifs on the L.A. Music Center stage curtain, has generated $4 million in sales. 5. Modo, designed by Jason Miller for Roll & Hill BY THE NUMBERS: Roll & Hill has sold 4,547 units of Modo,and attributes its success to familiar design style combined with high-quality materials and craftsmanship.