It's an extra-sunny Tuesday—at least, for the BOH news desk. In our weekly digest, find a roundup of need-to-know (and nice-to-know) news.
Business news
Crate & Barrel opened its first full-service restaurant today in Oakbrook Center, a shopping center in the Chicago suburb of Oak Brook, reports Eater. With James Beard–nominated chef Bill Kim at the helm, The Table at Crate features a vegetable-forward menu, indoor and outdoor seating, and "the same spare, modern aesthetic as the business's popular home goods." The restaurant is housed in a space formerly occupied by Land of Nod, a children's furniture store that was acquired by Crate & Barrel in 2001; when it was rebranded as Crate & Kids in 2018, its storefronts were shuttered and the range was moved into Crate & Barrel stores.
The space is not unlike the hospitality program pioneered by rival retailer RH—which notably sued Crate & Barrel in February 2017 over trade secrets. At the time, the suit hinged on allegations that two former RH employees—Crate's CEO, Douglas Diemoz, who had joined the company in 2015, and Kimberly Ahlheim, whom he recruited as director of food and beverage in 2016—had shared trade secrets about RH's food and beverage program with their new employer. In addition to preventing Crate & Barrel from opening in-store dining options for a year, RH's suit asked Ahlheim and Diemoz to delete all proprietary information, and for Crate & Barrel to prevent Ahlheim from working in a capacity where she'd be able to implement her existing, relevant knowledge of RH for a full year.
Within months of the suit, Diemoz was out as CEO; the company announced in May 2017 that he had been replaced by board chair Neela Montgomery. (Ahlheim exited the company the following month.) In September 2018, Montgomery confirmed that the suit had been resolved while announcing the company's plans to launch the Oak Brook restaurant. "We know our customers love to entertain and this collaboration takes our existing expertise around dining and kitchen to the next level," she said at the time. The Table at Crate is operated in partnership with Cornerstone Restaurant Group.
LAUNCHES, COLLABORATIONS AND PARTNERSHIPS
Bunny Williams Home debuts a new catalog today, the first by creative director Kyle Marshall. The products were photographed in Bunny Williams's guest house, which Marshall sees as a parallel to the evolution of the home brand.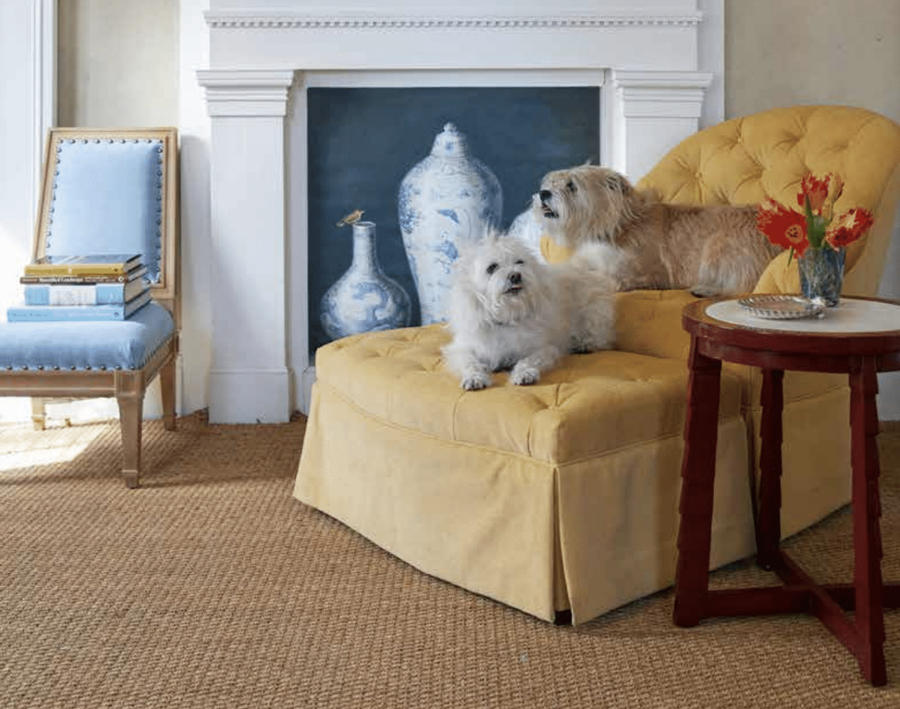 Courtesy of Bunny Williams Home
Nest Studio has released a number of new hardware designs for the summer, including a mixed-material artisan collab called Stitch, a collection of mod pulls comprising Buttero vegetable Italian leather.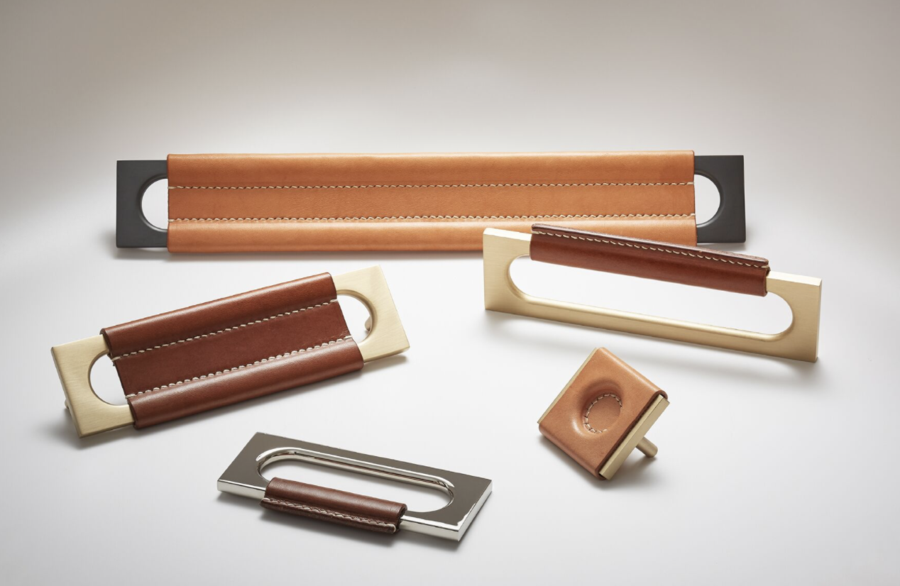 Online art platform Alpha'a, designed to simplify transparency in the art market through blockchain tech, launched Alphaa.io, which guarantees edition ownership, a complete transactional history and easy trading. "This is a fraud-proof solution to transferring ownership of a work," Manuela Seve, Alphaa.io founder, said in a statement. "Today, millennials and Gen Zs are skeptical about a lack of information and pricing rationale in the visual arts, and our platform is working to break that lack of confidence." Once an image of the work is on the platform, it gets a unique QR code that then becomes transferable.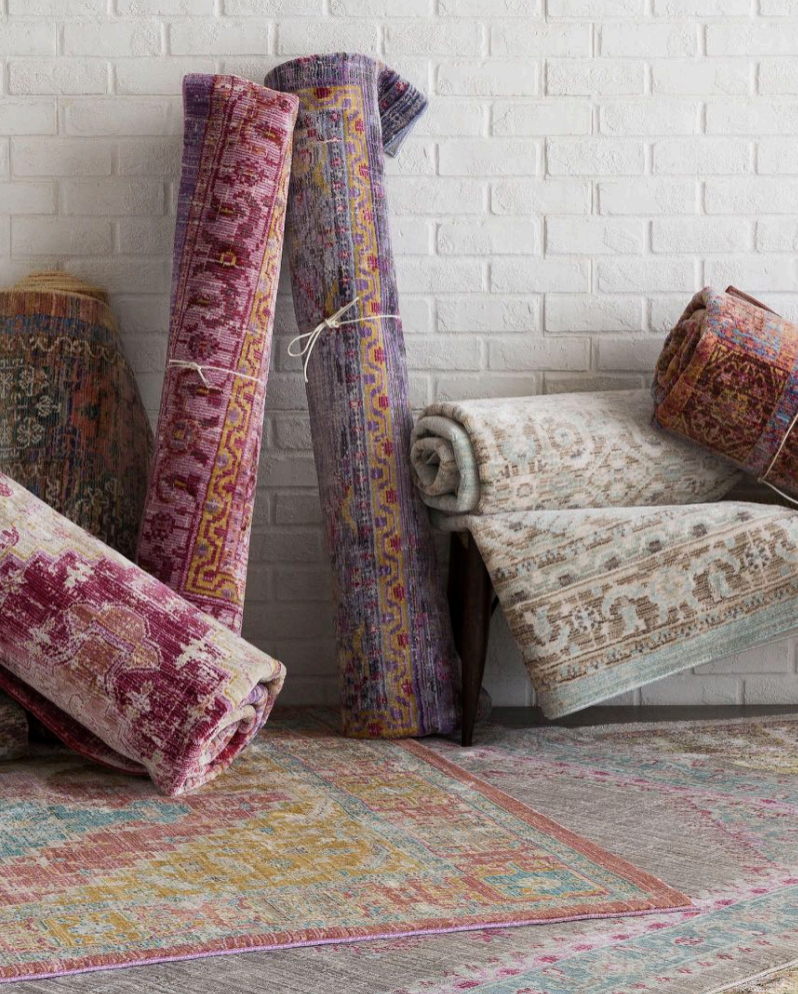 ABC Carpet & Home alumna Sara Weaver has launched a new rug company that has a focus on fair trade and sustainability. Weaver, once a buyer for ABC, Nordstrom, and Gilt Groupe, launched Loomy, a "loom to room" direct-to-consumer e-tailer. The brand recently debuted its second collection as well as a new affiliate program that offers a 10 percent commission of each sale.
OPENINGS, AUCTIONS AND EVENTS
The Atlanta International Gift and Home Furnishings Market is around the corner, and you can register here. Held July 9 to 15, the show boasts 120 new, expanded or relocated showrooms and 3,000 temporary exhibitors. Don't miss BOH columnist and podcast host Dennis Scully in conversation with Bunny Williams, Annie Selke and Mark D. Sikes on July 12 at noon.
RECOMMENDED READING
The world's aging architecture is a $21 trillion risk, reported Fast Company. It's been widely reported for decades that we are in a climate emergency, and the soon-to-be-obsolete architecture that relies on fossil fuels are getting pricier, in terms of long-term damage costs, by the minute. As for the road blockers, "they don't balance the cost of acting now against the cost of doing nothing," writes Kevin Muldoon-Smith and Paul Michael Greenhalgh. "People live and work in buildings that are typically powered, heated and cooled using energy from fossil fuels. If these buildings are not retrofitted … there is a real risk they will be rendered obsolete."
"What do people in solitary confinement want to see?" asked The New Yorker. A Chicago program, Photo Requests From Solitary, started by lawyers, locals, artists and currently and formerly incarcerated men and their families, grants photography requests of inmates in solitary confinement. The photos included an ocean sunset, a prayer vigil, a relative's home and a fork in the road, each created by a volunteer. Within six years, there have been a few hundred requests from those in prisons in Illinois, New York, California, Pennsylvania and New Jersey.
"Do you love nature, but hate how natural it is?" postured The Cut. Turns out, Kate Middleton, the Duchess of Cambridge, has designed a log meant for cloud-watching without any of the challenges that usually come along with the seemingly leisurely activity (grass stains, stabbing bark, etc.). "The new, superior log, which Kate technically co-designed with landscape architects Adam White and Andree Davies, was unveiled at the Hampton Court Palace Garden Festival last week," wrote Madeleine Aggeler. "It looks like a regular log, but with an ice-cream scoop taken out of the middle for your butt."
CUE THE APPLAUSE
In celebration of their 10th anniversary designing together, Fritz Hansen and Jaime Hayon will release the Lounge Chair JH97 this September.
Matthew Briggs, CEO of Austin, Texas–based furniture brand Four Hands, was recognized as entrepreneur of the year by Ernst & Young in Central Texas. He is now eligible to win at the national level, the results of which will be announced on November 16.
The Frank Lloyd Wright–designed Solomon R. Guggenheim Museum in Manhattan is now a UNESCO World Heritage site, reported Curbed. It is Wright's eighth building to make the list. The Guggenheim turns 60 this year.
The American Home Furnishings Alliance (AHFA) Furniture Foundation will donate more than $88,000 in grants this year. Of that, $25,000 will go toward establishing a Kids Discovery Center at the new American Home Furnishings Hall of Fame in High Point, North Carolina. Another $25,000 goes toward WithIt's Rising Leader Program, which covers the conference registration, housing and travel for female college students; $15,000 will fund 60 scholarships to the Alexander Furniture Academy, part of a community college in North Carolina that teaches students the art of upholstered furniture; $12,000 goes toward Appalachian State University's scholarship for furniture design students in Boone, North Carolina; and $11,200 goes to Caldwell Community College and Technical Institute, split among technology and supplies that are used in training workers for upholstery, cutting and sewing.
Anna Maria Mannarino of Holmdel, New Jersey–based firm Mannarino Designs has received three design excellence awards from the New Jersey chapter of the American Society of Interior Designers. She received a Gold award in the Residential Specialty and Unique Spaces category for a staircase she designed; a Silver in Residential Bathroom Less Than 55 Square Feet for a master bathroom; and a Silver in the Residential Show House Space category for a condo design.
Homepage photo: Courtesy of Loomy