This month, several storied brands are re-imagining their showroom and retail spaces and updating their offerings for the digital age. In our August roundup, Business of Home has gathered all the expansions and openings to have on your radar.
California
Heritage wallpaper and textiles brand CW Stockwell has opened a new showroom in San Francisco, one block away from the San Francisco Design Center. The space, the company's first new proprietary showroom in more than four decades, will be open to the trade and the public, showcasing the brand's full assortment of wallpapers and textiles, including Martinique, Remy, Million Flowers, the Joy collection (made in partnership with Sunbrella), and Martinique Celebration (a collaboration with Voutsa).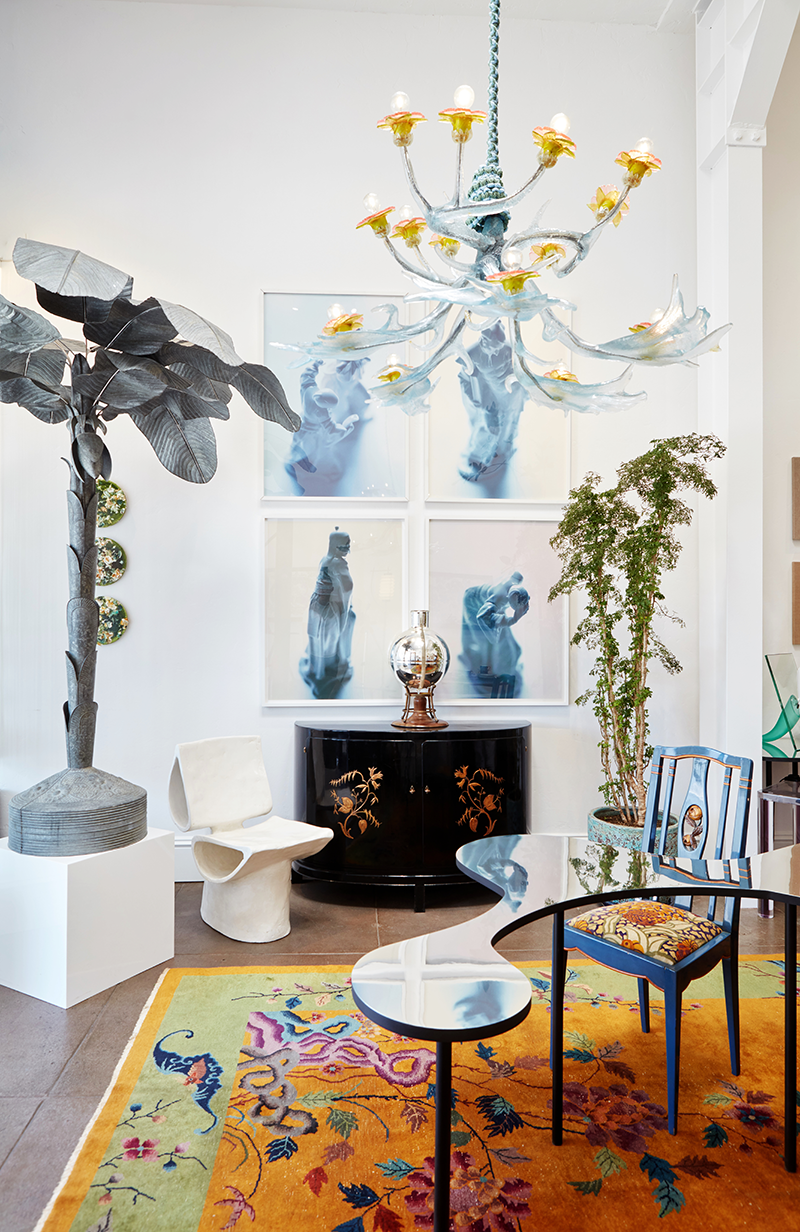 Courtesy of The Gilded Owl
Élitis has debuted two new stand-alone showrooms in addition to its flagship New York location—one in Los Angeles at the Pacific Design Center and another in Hollywood, Florida. They will offer the brand's fabrics, wallpapers, wallcoverings and accessories, along with CMO Paris wallcoverings and fabrics, Asteré wallpaper and Ateliers Zelij Moroccan tiles.
The Hudson, New York–based Gilded Owl design gallery has opened a second location on the opposite coast, moving into a space on Beverly Boulevard in Los Angeles. Founder Andy Goldsborough has commissioned new work from design firm Charlap Hyman & Herrero, and its exclusive collection of sculptural tables, modeled after California's kidney-shaped pools, will be featured in the new spot.
Florida
Atlanta-based furniture retailer Havertys has opened a new design-oriented showroom at The Villages in Florida. At 15,000 square feet, the space has a smaller, more curated footprint than a traditional Havertys location; it also features three dedicated spaces for in-store design consultations, along with a full staff of design consultants available to visit customers in the surrounding area for in-home design assistance.
In addition to its new Los Angeles outpost, Élitis is bringing its full collection and the lines of brands it represents to Hollywood, Florida, with a new showroom at the South Florida Design Park.
Georgia
Bradley USA has opened a new flagship showroom in Suite 315 of the Atlanta Decorative Arts Center's main building, expanding its presence in the same city as its corporate headquarters. The 3,500-square-foot space will house product vignettes displaying furniture collections introduced throughout the company's 20-year history, along with new wallcovering debuts from Faye Belle, Donna Hughes and Louee Vega, among others. In addition to selecting physical products, customers can peruse an interactive digital flipbook through in-store kiosks that allow easy access to sampling and ordering.
C+H Interiors has also debuted in ADAC, with a 2,200-square-foot space that serves as a design studio and multiline showroom. Set for a grand opening during the design center's Fall Market events in September, the new location will serve both commercial and residential designers, offering the brand's products and goods along with full-scope design services.
New Hampshire
Arhaus has debuted a new store in Salem, New Hampshire's Tuscan Village lifestyle center. The 15,000-square-foot location will house the brand's product line and provide design services for customers. To mark the occasion, Arhaus has partnered with American Forests to plant 10,000 trees across the U.S. as part of the home furnishing retailer's ongoing Green Initiative.
North Carolina
Natuzzi Americas has transformed its High Point showroom into a multi-tenant exhibition space for curated Italian home furnishings, which is set to debut with a grand opening ahead of this year's Fall Market in October. Rebranded as Casa Italia, the space will feature Natuzzi Italia and Natuzzi Editions on the first floor, along with eight new exhibitors housed in the remaining spaces, including the Calia Italia, Calligaris, Connubia, Ditre Italia, Gamma Arredamenti, Luceplan, Nicoletti Home and Tomasella brands.
Texas
Farrow & Ball has opened its newest showroom in Dallas—the company's first new retail outpost since 2018. Located in the Dallas Design District, the space offers the British brand's full suite of eco-friendly paint and wallpaper products, along with in-home and in-store color advice and consultancy services and a dedicated space for interior designers.
Homepage image: Inside CW Stockwell's new San Francisco showroom | Courtesy of CW Stockwell