The line between textiles and art has always been a thin one. After all, what are panels of hand-painted wallpaper but a mural? Élitis has decided to blur the line even more (or, perhaps, has erased it all together) with the launch of Asteré, a wallpaper collection designed by contemporary artists. The initial launch, which debuted this month, features lines by French artists and designers François Mascarello and Garance Vallée, each known for the type of modern, abstract sensibility that makes a splash at fairs like Salone del Mobile. "We chose these artists because we thought they had very interesting and recognizable aesthetics and we wanted to make their designs more accessible to the interior design world," says Olivier Thienpont, U.S. president of Élitis.

The name for the new brand is a play on the word asterisk—the starlike symbol is fitting, as Thienpont envisions Asteré becoming a "constellation" of artists. Asteré has been in the works for two years and was developed with a separate creative team from Élitis in an effort to make the two brands unique. The company plans to launch a collection with three artists every year, with the potential for expanding existing collaborations.

The third collaboration this year is with Kansas City–based Porter Teleo, which will not be available in the United States due to the brand's existing representation.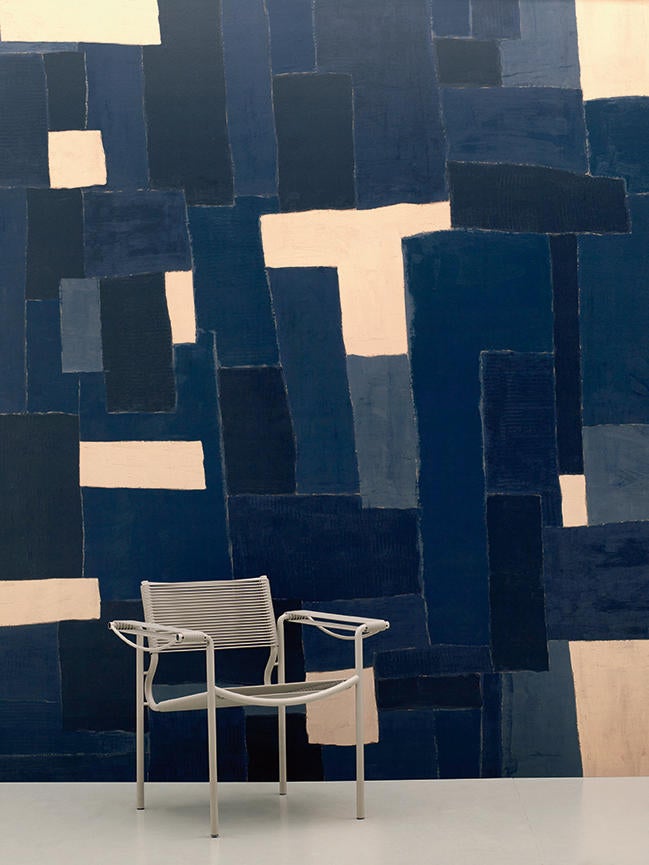 Both Vallée and Mascarello were chosen in part because they have work that spans a diverse range of mediums, from furniture to sculpture to fashion. "What was very exciting was the fact that wallcovering mixes all the fields I use to work in my studio," says Vallée of her first foray into textile design. "I could create bridges between architecture, interior design and painting. It was very interesting to work with the idea of duplication and to find the right pattern that we could repeat on the wall and lose the eyes in. Also, the scale was a good challenge; as I painted all the patterns by hand, I imagined the wallpaper as painted frescos, like surrealist trompe l'oeil." Her resulting line of nine wallcoverings plays with shapes taken from the world of ceramics rendered in earthy hues.
For Mascarello, whose eight-piece collection has the air of freshly finished abstract paintings, the process of creating his line for Asteré was a lesson in letting go. "We did not try to translate my paintings, but rather the reverse: It was the technical tool that decided the final rendering," he says. "A printing medium was first dedicated to each design, but we quickly realized that we had to forget this idea, because, for example, a rendering that I wanted very matte became shiny [in the printing], and other times it was the reverse and a painting that I imagined rich and shimmering turned out to be more interesting with a simple matte print."
While the collections were conceived long before the pandemic, finding new ways to make the home more artful is a concept that feels especially relevant in 2020. "I think there is definitely a new way to see our homes as we spend more time in them, and with this new perspective, wallpaper can help people to escape from their white walls and play with trompe l'oeil, colors and shape," says Valleé. "It's an intimate take on art, freed from galleries and greeted in our homes, our intimacy."
Homepage photo: Garance Vallée's Archetype wallpaper for Asteré | Courtesy of Asteré