If spring fever has you itching to start anew, America's emerging midsize cities are looking like the post-pandemic places to be. In the meantime, stay in the know with our weekly roundup of headlines, launches and events, recommended reading, and more.
Business News
Hearst Magazines has announced it's offering voluntary buyouts to its sales and marketing teams, including 600 of the 2,200 employees across the magazine division, digital ad agency and branded content group, the New York Post reports. The media company largely avoided layoffs during the pandemic, but will make involuntary cuts should not enough volunteers accept the offer. The company is also compressing its operating groups from seven to four, with the Design Group headed by Jennifer Levene Bruno (newly promoted to senior vice president and publishing director) now containing Elle Decor, House Beautiful and Veranda, while Town & Country will be shelved under the Luxury Group alongside Harper's Bazaar, Elle, Marie Claire and Esquire.
J.C. Penney has cut 650 jobs across stores, field operations and offices, The Dallas Morning News reports. The news is the latest in a pattern of restructuring for the department store chain, which filed for bankruptcy last May and exited Chapter 11 status in December following a sale to Simon Property Group and Brookfield Asset Management. The current round of layoffs follows a decision in mid-2020 to terminate roughly 1,000 workers in corporate and field management and international positions while also shutting down 242 stores.
Home decor retail chain At Home Group has been purchased by private equity firm Hellman & Friedman in a $2.8 billion deal, including the assumption of debt, The Dallas Morning News reports. The decision to go private comes after a banner year for At Home, which saw sales jump 27.4 percent in 2020 to a market value of more than $2 billion. At the end of its latest fiscal year, the retailer had 219 stores in 40 states, and it has opened nine more locations in the last three months and projects expansion to at least 600 stores.
Last week, Houzz Inc. launched a new tool designed to clue industry professionals in to their level of credibility online. Utilizing analysis of nearly one million professional designers, builders, remodelers and specialty contractors, the Houzz Pro Online Impact Score offers insight on the strength of a professional's website and Houzz profile, providing a total score and breakdown of its components, along with a benchmark against the top 10 percent of professionals in each category. The idea arose after the results of a recent Houzz survey found that more than seven out of 10 respondents identified a professional's online presence and remote offerings as a major determinant in hiring for a home renovation.
Swimming-pool-sharing startup Swimply just completed a $10 million Series A funding round, coming off of a successful year in light of the pandemic, TechCrunch reports. The Cedarhurst, New York–based company allows homeowners to rent out underutilized backyard pools, with prices ranging from $15 to $100 per hour. Founders Bunim Laskin and Asher Weinberger initially launched the business in 2018 with just four pools in New Jersey, but the startup saw rapid expansion during the past quarantine summer, as people sought out a way to cool off and remain socially distanced without traveling. In the past year, revenue has grown by a whopping 4,000 percent, and Swimply now operates in 125 U.S. markets, plus two in Canada and five in Australia, with plans to put its new capital toward expansion into new markets and product development.
Lumber prices have continued to climb this week, reaching a staggering all-time high of $1,359 per thousand board feet—a 280 percent increase since the start of the pandemic. According to Fortune, the global shortage follows the past year's housing boom, which was spurred by recession-induced record-low interest rates combined with vast numbers of millennials aging into their prime homebuying years. This pattern last played out around the 2008 recession, and according to experts, the industry is nearly halfway through a similar 18- to 24-month cycle in which prices will likely continue to rise before reaching the inflection point when demand begins to wane.
Live audio app Clubhouse has moved to expand access to Android users, unveiling a test version of the app compatible with Google devices to users in the U.S. this week, Reuters reports. The bid to reach more users comes at an opportune time, as Clubhouse downloads have been on the decline in recent months—after hitting a peak at 9.6 million in February, new downloads were down to 2.7 million in March and dropped again to just 900,000 in April.
Danish coatings manufacturer Hempel has signed an agreement to acquire Farrow & Ball, with the intention of growing the U.K.–based luxury paint and wallpaper company on a global scale. According to a statement from Hempel, the decision also potentially aligns with the company's goal of doubling its revenue by 2025 through growth in the decorative sector.
The Shade Store has completed its acquisition of Anderson Fabrics, the largest custom workroom in the country. Established over 40 years ago, the Blackduck, Minnesota–based company employs nearly 300 employees to produce custom window treatments and decor. Following the acquisition, Anderson will no longer take outside clients. "We've had a long-term relationship with them, and when they decided that focusing on their larger customers was in the best interest of their business overall, we both felt it was the right time to expand our partnership and continue to grow together," The Shade Store CMO Michael Crotty tells BOH. "It's a great partnership as it gives our friends in Blackduck a bright future, and The Shade Store will benefit from the increased high-quality, domestic capacity."
Launches and Collaborations
Fashion designer Christian Siriano has released his first furniture collection for Siriano Interiors, which initially launched in January 2020. The line features dining chairs, stools, benches, a daybed and a coffee table in neutral tones and wood finishes, and it is available exclusively on 1stDibs.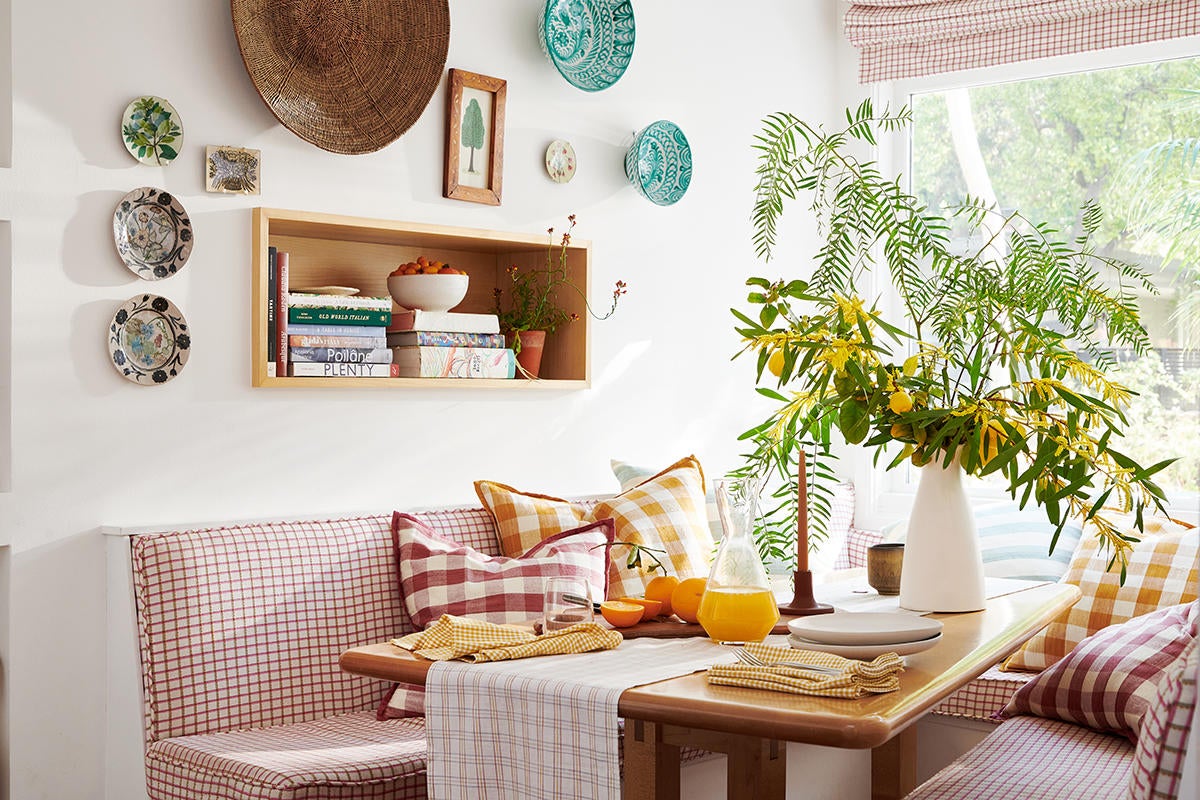 West Elm has partnered with Heather Taylor Home for a summer collection of linens and soft goods featuring the Los Angeles designer's signature blend of vibrant color and patterns. The collection includes table linens, bedding, pillows and throws, rugs and outdoor accessories in ginghams, plaids and stripes.
Drake has officially launched the Better World Fragrance House, House Beautiful reports. (The rapper recently described the luxury candle company as "a true passion project and the start of something special" in an Instagram post.) The line features such scents as Williamsburg Sleepover, Sweeter Tings and Carby Musk, the latter of which is said to smell like the artist turned candlemaker himself, with a soy blend containing notes of musk, amber, cashmere, suede and velvet.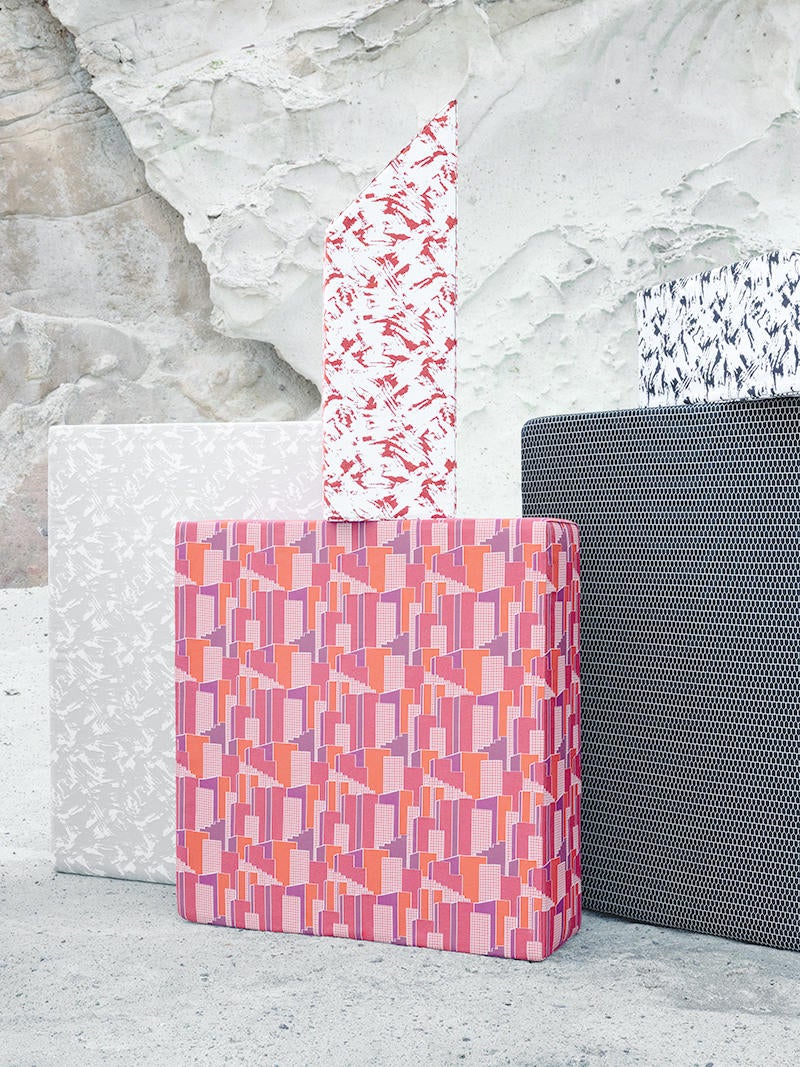 French textile and wallcovering house Élitis, together with Italian design firm Studiopepe, has created six new outdoor fabrics in a collection titled Archiutopia. The line is inspired by radical architecture, featuring geometric patterns that recall the forms of stairs, buildings and doors, with the name of each design derived from the 1972 Italian novel Invisible Cities.
Showroom Representation
Designer Clay McLaurin's fabrics and wallpapers are now exclusively available in the New York tri-state area at Studio Four NYC, a textile design studio and showroom.
Recommended Reading
Design Museum Magazine has announced the release of its Policing Issue, with the coverline "How one of the most powerful institutions functions by design." Curated by guest editor, writer and educator Jennifer Rittner, the special edition is told through the vantage point of 20 BIPOC writers, artists and researchers, who explore the relationship between design and oppression of people of color in architecture, urban planning, schools and transit systems. In a statement, Rittner said: "You cannot change what you cannot see. This issue unpacks the current state of the system, exposing the creation and design of systems that perpetuate racism. It is a call for change."
The availability of home goods made in overseas factories has allowed Americans to obtain scads of trendy furniture without breaking the bank—but when it comes to carbon emissions, what's the real cost? To reduce waste and cut down on emissions released in the production of new furniture, a growing number of used furniture startups are allowing homeowners to shop online for affordable secondhand furniture without the devastating environmental footprint, Fast Company reports.
Last year's socially distant summer put a damper on the idea of splashing around in a public pool with total strangers. Instead, many city residents decided to take a piece of the pool home with them, The Wall Street Journal reports. Pool installations in the U.S. increased by 24 percent last year, and urban dwellers refused to be left out of the fun—from rooftop cedar hot tubs to steel stock tanks (traditionally used as drinking troughs for farm animals), New Yorkers got creative with how they take a dip.
Call for Entries
Nonprofit advocacy group Be Original Americas has announced its 2021 Virtual Student Fellowship program—a series of interactive live webinars from nearly two dozen design companies on key topics in design and architecture today, as well as an inside look at partnering factories and studios. Registration is open to currently enrolled university students worldwide, and those who attend five or more sessions have the chance to win a portfolio or resume review session with participating companies. For more information and to register, click here.
The Education Foundation of the International Furnishings and Design Association has announced that it will offer five professional grants in 2021, available to professionals, design educators and design programs in the interior design or furnishings industry. The IFDA will accept applications June 1–30; for more information, click here.
The High Point Market Authority is now searching for eight home fashion leaders to hold a spot on the 2022 Style Spotters team. At the live Style Spotters event each year, popular designers and industry influencers present product insights and trend predictions while taking part in a longstanding High Point Market tradition. Interested applicants have until July 9 to complete the online application; for more information, click here.
In Memoriam
William H. Harrison, founding principal of Harrison Design, has passed away at the age of 72 after a brief illness. Harrison established the Atlanta-based design firm in 1991 and oversaw its robust growth into eight offices worldwide. The lauded architect was also a prominent leader in his community, as co-founder of the Southeast Chapter of the Institute of Classical Architecture and advisory board member of the Georgia Institute of Technology. "As much as he loved his work, his steadfast passion remained with his wife, Andrea, his sons Wil and James, and his stepdaughters, Julie and Ellie, of whom he was immeasurably proud," reads a statement from Harrison Design.
Architect and interior designer Art Gensler has passed away at the age of 85 due to illness. He founded the architecture firm Gensler in 1965, alongside his wife, Drue Gensler, and partner James Follett; today, the practice operates in 50 countries worldwide with an annual revenue of $1.5 billion. The firm's portfolio includes impressive projects like the Shanghai Tower, which currently stands as the world's second-tallest building, along with the offices of The New York Times, The Washington Post, the London Stock Exchange and the new U.S. Embassy in London. Though Gensler stepped down as chairman in 2010, he continued serving the firm in an advisory role until his passing. He is survived by his four sons and 10 grandchildren.
Homepage image: Fashion designer Christian Siriano has debuted his first furniture collection on 1stDibs. | Courtesy of Christian Siriano