According to this month's look at the home market, retail has made its return, with to-the-trade showrooms following close behind. In our July roundup, Business of Home has gathered all the expansions and openings to have on your radar.
California
Rose Tarlow Melrose House has opened a new flagship showroom at 425 North Robertson Boulevard in West Hollywood. The 7,000-square-foot contemporary wooden farmhouse was designed by Rose Tarlow herself and constructed by architect Marc Appleton of Appleton Partners LLP, and will house the brand's re-imagined antiques and home decor items.
Florida
Fort Myers–based design firm Dwayne Bergmann Interiors has opened a new location in Naples, Florida. The luxury showroom will display the brand's eponymous line of custom cabinetry, along with custom furniture and curated accents designed with a nod toward the art deco movement and old Hollywood glamour.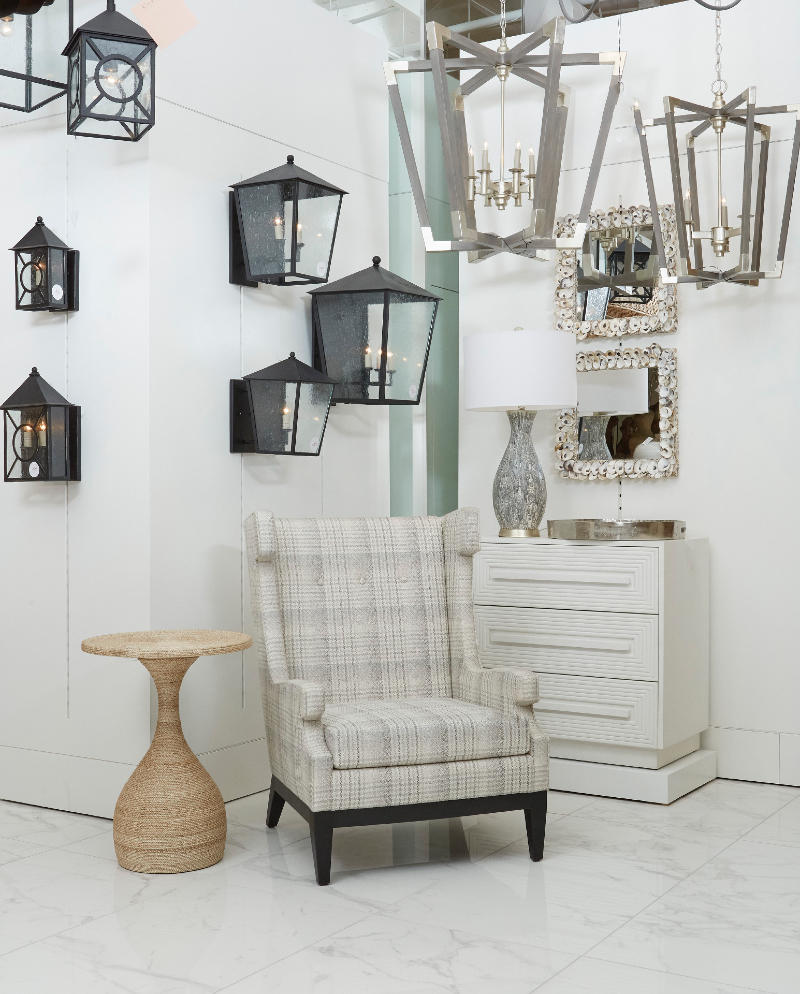 Courtesy of Currey & Company
Georgia
Currey & Company has debuted a new showroom in Atlanta, unveiling a 10,000-square-foot space with high ceilings, plus movable walls and counters to enable flexible exhibitions and events. The new location's centerpiece is an oval structure called the Ellipse—made from high-grade plywood and draped in white canvas, the elevated platform will house pop-up shops, antiques and new design collections, among other special features.
Interiors Market has entered Atlanta's Miami Circle design district with a 4,000-square-foot retail location. The new space is styled and curated exclusively by owners Milton Roberts and Greg Ashby, and staged in roomlike vignettes modeled after the layout of a Parisian flat.
Illinois
Belgian lifestyle brand Ethnicraft has opened its first North American showroom, in Chicago's Merchandise Mart. Located in suite 322, the 2,500-square-foot space showcases the brand's array of workplace and hospitality products, furniture and decor.
Home and entertaining store Hudson Grace has introduced a store in Glencoe, the brand's first Midwest location. On offer is a curated selection of original designs and vintage items, including serveware, linens, candles and tabletop essentials.
New York
Home and lifestyle retailer Finch has debuted a new concept store at 427 Warren Street in Hudson. From co-owners Andrew Arrick and Michael Hofemann, the 7,000-square-foot space (housed in a former police precinct) features a series of home vignettes styled by Arrick with various vintage and modern pieces. The back of the shop, meanwhile, is home to a full-service barbershop carried out in partnership with Pugsly's Barbershop of Kingston.
Ralph Lauren has opened a Home Cottage at its Southampton store. The new space offers bed linens and textiles, entertaining pieces, gifts, and decorative objects, along with a curated selection of vintage and antique pieces.
The New Delhi–based international design firm DeMuro Das, founded by Brian DeMuro and Puru Das, has introduced a showroom in Manhattan's Flatiron district. The new spot is located on the top floor of the historic Goelet Building at 900 Broadway, and will serve as the brand's U.S. flagship location with a selection of pieces from DeMuro Das's collection.
Beni Rugs, the digital-first company specializing in handwoven and customizable Moroccan rugs, has unveiled its first two brick-and-mortar locations. Its debut U.S. showroom, the Beni Apartment, was designed by interiors stylist Colin King and is housed in a historic brownstone on West 9th Street. It will feature a rotating installation of the brand's handwoven and flat-weave creations. The other outpost is an 8,000-square-foot flagship and experiential studio in Tameslouht, Morocco, just outside of Marrakech, where shoppers can view product options while viewing the weaving process live on the facility's 50 looms.
South Carolina
Circa Lighting has announced the opening of a new 3,500-square-foot showroom in Charleston. Along with new product introductions and larger-scale fixtures, the space features an integrated technology space called the Circa Lighting Architectural Lab, in which users can experience the brand's products at work in residential applications.
Texas
Home furnishings retailer Havertys has introduced a new 40,500-square-foot store in Pflugerville. The shop marks the brand's third location in the Austin area, expanding its presence in the Lone Star State, where it already operates 22 stores.
Homepage image: Inside the new Interiors Market shop in Atlanta | Mali Azima