Two months ago, Business of Home reported on the perfect storm of factors—from social distancing precautions to the rising cost of shipping containers—that has sent lead times across the home industry spinning wildly out of control. It ended with furniture industry analyst Ray Allegrezza estimating that things would get a little worse before getting better. He was wrong. As it turns out, things got a lot worse.
Two weeks later, winter storms whipped across the South, knocking out the production plants in Texas and Louisiana that manufacture the chemicals used to make foam. The result has been a severe, industry-wide shortage that has added weeks (if not months) to many furniture makers' already bloated lead times. The problem is so dire that some factories are temporarily shutting down rather than trying to keep going without access to foam.
Across the board, brands of all shapes and sizes, from retailers to custom craftspeople, are struggling to deliver on time. While the demand for home goods has never been higher, making those goods quickly has never been harder.
Designers find themselves stuck in the middle, running interference between eager clients and harried makers. Some are lucky to be working with homeowners who are fine with waiting for the good stuff ("Anyone who's rich enough to hire a designer either already has a couch, or has another house. They get it," one designer told me). Others aren't so fortunate—this period has certainly tested the limits of many a client-designer bond. If all else fails, some resort to humor. Another designer told me that whenever a lead time gets extended, she has taken to sending around a popular meme that repurposes a scene from the movie Titanic, in which the elderly Rose, looking at the Coeur de la Mer, remarks wistfully, "It's been 84 years … " The joke being: It feels like it'll take that long until the sofa arrives.
But for all the delays, there are ways to get stuff quickly. Brands that have—either by luck or strategy—found a way to stay on time are uniquely positioned to capitalize on the moment. They're currently in the enviable position of being able to pick up the phone and say "yes"—an advantage that may win them lifelong customers and pay dividends for years to come.
AMERICAN MADE
Last spring, in the early, disorienting days of the pandemic, Bret Englander got an uncomfortable, if not entirely unfamiliar, request: to knock off someone else's product. His Southern California–based lighting company, Cerno, is a vertically integrated operation, meaning that it takes in raw materials and ships out finished sconces and fixtures, all made in-house. Because Cerno has the capacity to make more or less anything it wants, Englander is sometimes asked to make copycats.
"It was a large opportunity—they wanted us to make 350 sconces. We said, 'Well, we don't do that, but we've got an original design that would work well,'" says Englander. "And we got the job due to the fact that we could turn it around in three weeks, while the product they had originally wanted was stuck in Asia."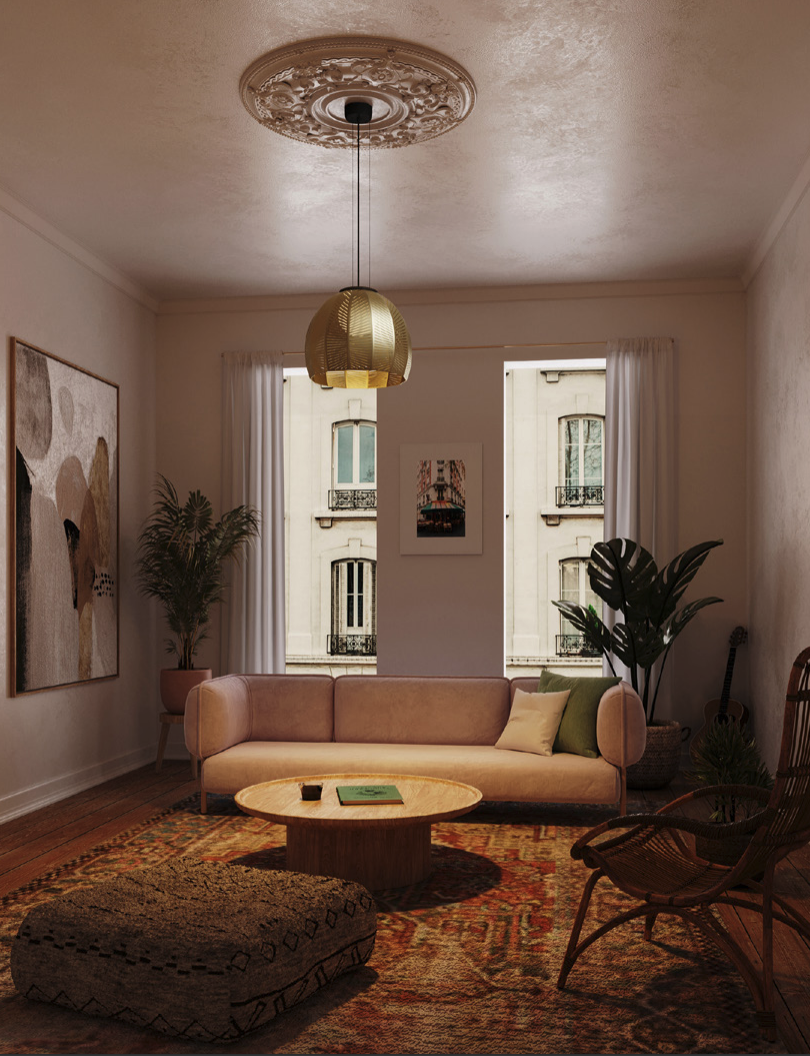 It was an early sign of things to come. "I sat down with our national sales manager and said, 'This is what we're going to leverage for the foreseeable future—every single sales call since then we've referenced that we shipped 350 sconces in three weeks," he says. "It's been an enormous competitive advantage. … That first project was one of half a dozen that we've gotten because we can do the work ourselves, and quickly."
Many of the companies that have beaten the lead-time crunch share something in common: They're based in America, and they're vertically integrated. The advantage there is obvious. One of the biggest delay-makers in the industry is the global shipping snarl. If you don't have to wait for logjams in ports to clear, you're already ahead of the competition.
Capturing a cut-and-dried competitive advantage is often somewhat new for high-end American makers, many of whom initially pursued manufacturing in the U.S. for what sound like almost philosophical or moral reasons.
"Six years ago, we started to invest in our own manufacturing here, largely because of our commitment to elevating craftsmanship, using all-natural materials, and trying to create what we call a virtuous circle of the pleasure and joy of making, then giving and receiving," says Catherine Connolly, the owner of Massachusetts-based textile brand Merida. Though the company's local production was temporarily shut down by COVID lockdowns last spring, it was able to quickly get back to pre-pandemic lead times of two to four weeks for broadloom product, largely as a result of manufacturing in-house.
Being able to stick to pre-pandemic lead times, says Connolly, didn't prove to be a huge competitive advantage in 2020. ("People are usually willing to wait for what they want in a custom rug," she said.) However, as delays elsewhere in the industry persist, it's beginning to pay dividends now, especially as Merida's biggest market, New York, shows signs of recovery from COVID's economic fallout. If nothing else, it's a conversation starter.
"I see all these designers on Facebook who are dealing with crazy lead times," says Connolly. "I think there's this sense that the entire supply chain isn't working, but I can say, 'Actually, we can help!'"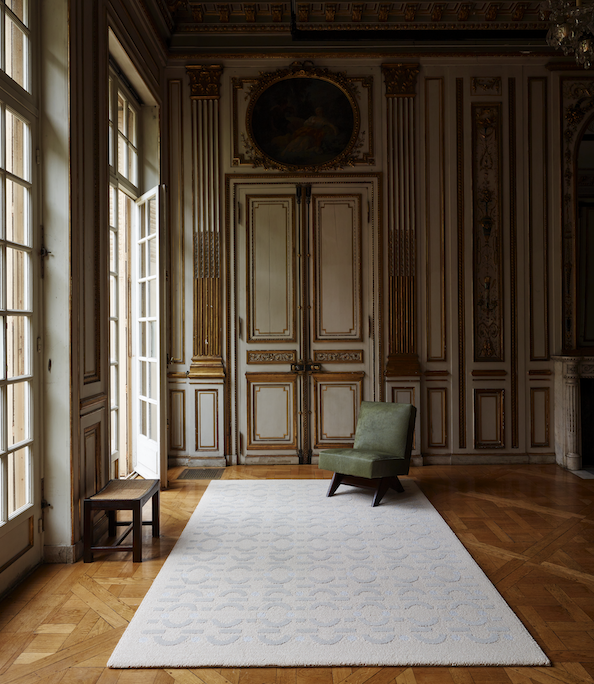 Englander is hopeful that long after the global shipping knots untangle, this period will have a lasting effect on the appetite for local manufacturing (though he was careful to draw a distinction between an appreciation for American craft and politically tinged nativism). "There have been a lot of references to World War II and how it reshaped industry—I hope this reshapes industry, too, and that there's some kind of paradigm shift," he says.
Only time will tell, but the pandemic has certainly pushed many designers to shop in their own backyards. Medium-sized brands like Cerno and Merida are only the more visible examples of a shift toward exploring local resources—it's a lot easier to ensure a speedy delivery time if the upholstery only has to deal with a traffic jam, as opposed to a ship lodged in the Suez Canal.
Across the spectrum, in markets around the country, designers told me that one of their key pandemic pivots has been to lean on local workrooms and artisans far more than they might have under normal circumstances. Often, the beneficiaries of this new business are one- or two-person shops, many of which barely have a digital presence. (The phrase "I found a guy" kept coming up.)
To be sure, local workrooms are suffering from backlogs, too. But the difference, says Los Angeles–based designer Jennifer Miller, is that you can pop over to the shop and make sure things are on track—which is not so easy to do when your pieces are in a production line in North Carolina. "We are designing way more of our stuff to be made locally—I just designed five pieces for a client to get around [delays]," she says. "We use our local furniture maker. I know he'll stick to his timelines, and I can visit [the shop]."
SOMETHING OLD
Of course, there are plenty of American makers who are still struggling, either due to COVID precautions, employees getting sick or leaving the workforce, or raw materials getting stuck at sea. (Englander has set up a special room in Cerno's facility jokingly nicknamed "Electric Avenue," where he's stockpiling a multiyear supply of semiconductors to guard against that very possibility.) Even if you're manufacturing locally, it still takes a bit of luck to hit your targets.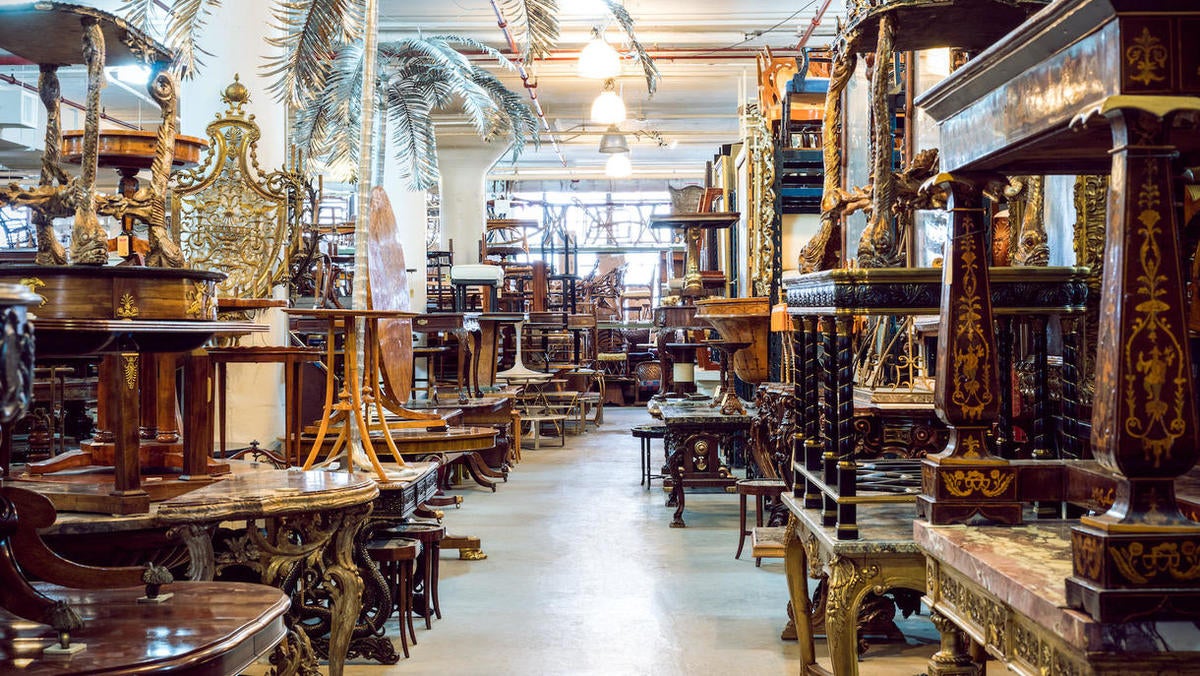 That's not the case when your product was made 50 years ago. "We had a designer walk through our Long Island City warehouse, pick 12 items out, and three days later, it was all picked up," says Jake Baer, the CEO of New York antiques giant Newel. "The client told me that many of their makers have either shut down or the lead times have tripled and they needed to design fast."
So another accidental beneficiary of the lead-time crunch: antique and vintage dealers. Designers who already favored vintage pieces to give their spaces patina and character are now shopping old for a different reason altogether. One-of-a-kind pieces are, by definition, in stock.
COVID-crazy lead times have surely convinced many to try vintage for the first time, but in conversations with designers, what I generally found was a shifting of the balance. Before, they might have peppered in a few older pieces for style. Now, they're building rooms on an antique framework. Elizabeth Lawrence, a partner at Bunny Williams Interiors, told me that ordering a vintage piece and having it fixed up is now often preferable to waiting indefinitely for something new: "Maybe we have to re-cover, repaint or restore it, but it's much quicker."
Dealers with gallery spaces are certainly benefiting from the vintage boom, but the companies poised to capitalize most on the tailwinds of COVID are online platforms like Chairish and 1stDibs. Who else can offer designers such a vast inventory of in-stock, ready-to-ship product, all available without having to put a mask on?
In a study 1stDibs conducted about its shoppers, the company found that designers went from doing roughly half of their purchasing online to 73 percent in 2020. (Coincidentally, the same survey found that extended delivery times were far and away the biggest pain point.) That number encompasses all online shopping, but the brand's own data shows a surge as well: 1stDibs reported year-over-year growth across multiple home categories, including big jumps in rugs, cabinets, tables and lighting.
Courtesy of Chairish. Home of Cortney Bishop. Photo by Katie Charlotte
Chairish also experienced a boom. According to co-founder and president Anna Brockway, the platform saw 90 percent growth in its sales to the trade year over year. Its own designer survey indicated that almost half of respondents were worried about a brand's ability to deliver product. "We suspect that concern has grown in light of current supply chain challenges," says Brockway. "Vintage and antique furnishings, traditionally used by designers for their one-of-a-kind style, are increasingly being specified for a simple, practical benefit: availability."
To be sure, marketplaces like Chairish and 1stDibs are not immune from logistical challenges: The system-wide slowdown in trucking and shipping affects antiques just as much as it does custom furniture. And much like the surge in demand for American-made goods, it's not yet clear whether the increased appetite for vintage will outlast the global supply snarl. However, it seems entirely plausible that, as vintage finds its way to more and more designer projects, it will show up more in magazines and Instagram, and then in mainstream American interior style.
"What has been really exciting is how many people are buying everything from Biedermeier to Italian grotto," says Baer. "I really feel we are in the midst of an antique revival."
SIZE (AND RELATIONSHIPS) MATTER
Surges in shopping for vintage pieces and American-made craft have a slightly heartwarming "victory for the underdog" quality to them—these are things many designers wished were more popular already. However, it's also true that many companies who have been able to keep lead times down are able to do so because they're bigger, better funded, and in the position to call in more favors than the competition.
Furniture giant Knoll is a great example. Though it took some knocks to its supply chain in the very early days of COVID, its lead times have returned to normal. In some cases, they're now going faster than normal: The company is currently shipping "work from home" products in one to three days.
That's not because Knoll has come up with clever manufacturing hacks, explains design director Benjamin Pardo, but simply because after being in business for decades, the company has a robust network of suppliers, leverage with its vendors, and past behavior it can use to forecast demand. "There are good things that come from being an 80-year-old company," he says. "We have a lot of historical data in terms of predicting what people will want. We sell a lot of Saarinen tables, for example, and people tend to want very specific sizes, and everyone wants white, so we can stock around that."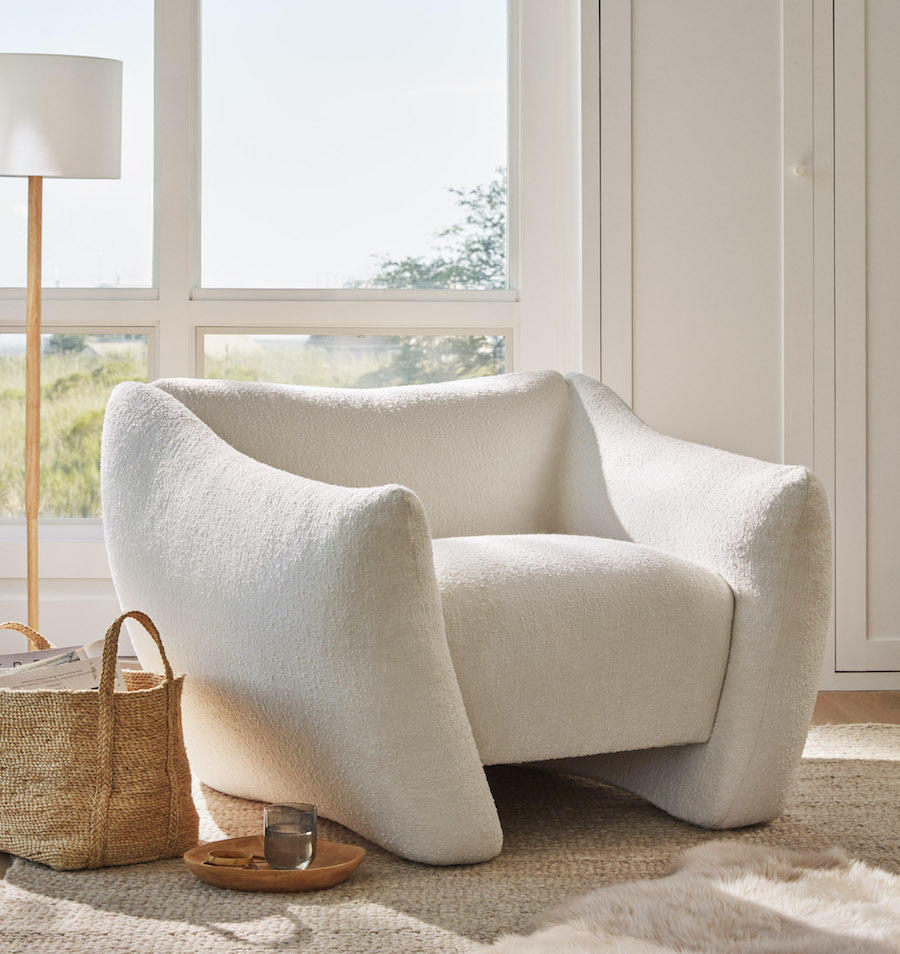 While the pandemic has certainly highlighted the competitive advantage in turning product around quickly, Pardo says that for manufacturers like Knoll, the push for speed is nothing new—in that regard, Jeff Bezos has been a bigger force for change than COVID-19. "The Amazonification of everything has changed expectations," Pardo says. "Part of the perception of quality now is timeliness."
That's certainly a sentiment that Nidhi Kapur, the founder of D2C upholstery brand Maiden Home, would agree with. Her four-year-old company, a digital platform that allows customers to buy customized furniture made in North Carolina, was built on the premise of delivering reliably on short-ish lead times. Before COVID-19, her pieces arrived in six to eight weeks. Like everyone else in North Carolina, Maiden Home has been sidelined by the foam crisis (the good news: Kapur suggested that the worst there may be over), and its lead times have jumped up to 10 to 14 weeks. But before that, she says that her company had been able to beat the COVID delays and deliver in eight to 10 weeks.
Maiden Home's 21st-century, data-driven approach did help a little, says Kapur. Much like Knoll, her company has a good understanding of its hits, and can work with its manufacturing partners to streamline production more efficiently than shops churning out totally unique pieces each time. However, the biggest reason she says Maiden Home was able to keep lead times down was more old-fashioned: "We have an understanding with our partners," she explains. "We had built a shared commitment with them over time, they know this is a strategic partnership for them, [and] they were able to carve out a certain amount of capacity for Maiden Home products, sometimes putting us in front of other customers. I don't think that would have been possible during COVID if we were new."
It's a phenomenon I encountered at all levels of the market, in every category. Having good relationships has mattered. Connolly says that good relationships meant she could get suppliers to cut samples down to a smaller size and send them via air instead of sending enormous rolls via sea—a shift that saved valuable time. Englander stressed the importance of Cerno's relationships with suppliers. For their part, designers across the country have been calling in favors left and right. It's an era of juggling, reshuffling and making do—and in the struggle to beat the industry's lead-time crisis, who you know can matter just as much as what you sell.
Homepage photo: Merida's Fall River, Massachussetts, facility | Courtesy of Merida