In the middle of March, Jobi Blachy was all set to sign the lease on a 16,000-square-foot facility in Los Angeles for his furniture brand Quintus. The deal had been worked out, a check had been signed to cover the security deposit, and he had a date with the realtor to pick up the keys. That same day, California governor Gavin Newsom made what was at the time a shocking announcement: The state would be shutting down all nonessential businesses to slow the spread of COVID-19. Blachy canceled the date and walked away from the lease.
"It felt too much like 2008 to me," he tells Business of Home. "I was sure the industry was going to tank."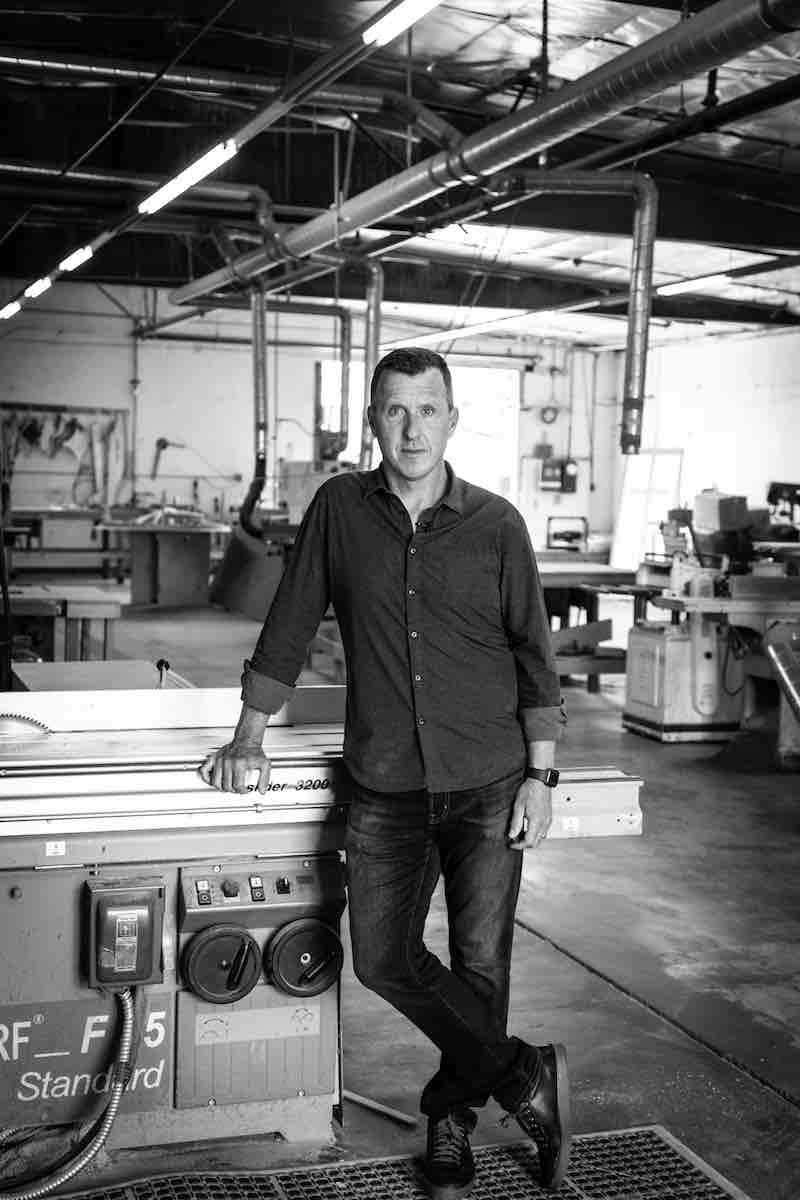 Thankfully, at least for Quintus, the opposite happened. In April, the company's sales held steady; then, Blachy had his best month ever in May, only to be beaten by July and then again by August. There was reason for optimism. Ironically enough, it was the pandemic that caused Blachy to cancel his move—and it was also the pandemic that finally pushed him to go ahead with it in the end.
"We saw some positive indications with sales, and I also started thinking about [how] our ability to be competitive going forward is going to hinge on us having more control over our supply chain," says Blachy, who had seen several of his vendors temporarily shut down operations when one of their workers contracted the coronavirus. "That's especially true in a COVID world."
In July, he reached out to the agent again. The factory, which formerly housed a contract furniture maker that went out of business, was still available for lease—and still included all of the factory's old equipment as part of the deal. Quintus officially moved in in August.
For Blachy, the move isn't just about a change of scenery—it also represents a larger strategy shift towards in-house production, and brings much of Quintus' manufacturing under a single roof for the first time. It's also a decision with quite a bit of personal history behind it. In the aughts, Blachy ran production for furniture maker Ferrell Mittman. Using Toyota manufacturing methods, he was able to reduce the company's lead times from 14 weeks down to a staggering nine days for upholstered pieces—and they weren't stocking frames.
But overseeing a large manufacturing operation was enormously stressful; a move to the West Coast to run Rose Tarlow's eponymous furniture brand—which outsourced all production of product—seemed like it would offer a reprieve. "At first I thought, This is going to be amazing, I can really just focus on sales and marketing and product development, all of the fun stuff in our industry," he says. "But it turned out to put us in an incredibly difficult position because we had no control." The makers in California that the company relied on didn't have the customer-is-always-right mindset Blachy expected; instead, it was "I'm the maker, I've got the control, and if you don't like it, go somewhere else," he recalls.
When Blachy bought Quintus in 2015, he ran it in much the same way, with most of the company's production done by outside makers. (He brought upholstery in-house a few years ago.) However, last year, after every single order placed between Thanksgiving and Christmas was delayed by manufacturing logjams, Blachy decided to finally pull the trigger and bring production under his own roof.
The timing happened to coincide with a period of upheaval in Los Angeles's maker community, as the collapse of brands like Dessin Fournir, J.Robert Scott—and Michael Taylor's move to outsourced production—led to a market flooded with talented artisans looking for jobs.
"Through last fall and into winter, I started meeting [former employees from these brands]. All of these companies that had amazing talent for decades, all of a sudden their operations stopped," says Blachy. "I was able to pull together these makers in L.A. who had been working for iconic companies for years and created a new home for them." The spate of new hires means that Quintus began the pandemic with seven employees, and is now employing more than 20.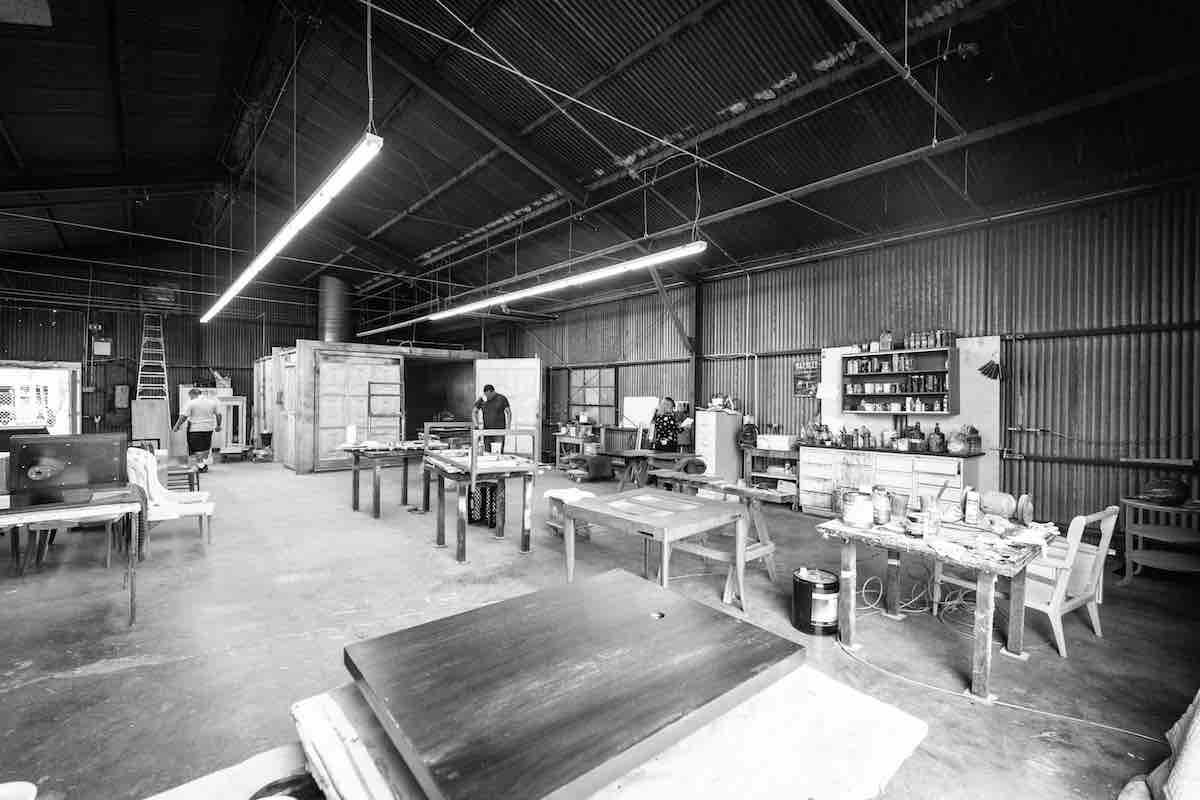 Good timing or no, making Quintus a vertical manufacturing operation had long been part of Blachy's plans for the brand. In the coming years, he hopes to introduce a number of offerings and capabilities that are only possible with in-house production: more custom work, making private-labeled collections, and offering transparency into the manufacturing process that allows designers to track their orders as they move down the production line.
"[Transparency into the process] is what I think designers really want these days, it's what I hear from them all the time: 'It's so frustrating that i have to keep calling to find out the status of the order,'" says Blachy. "It's not that it's late, necessarily—they just wish it would be easier to get the information."
And, when the staff is fully settled in the new space, Blachy plans to employ the lean manufacturing methods he once used to streamline Ferrell Mittman's production to make the Quintus line. Such systems are often praised for their efficiency—and for their ability to rapidly shorten production times. Interestingly, however, Blachy says that one of the key benefits is never seen by customers: Lean manufacturing pushes cash through the business at a quicker rate, allowing makers to maximize their time and profit.
Of course, quicker lead times don't hurt either. Blachy is currently hoping to get Quintus's down to six to eight weeks, then chip away from there. He's optimistic that it can be done, and believes that industry acceptance of long lead times won't last forever.
"I know in my heart of hearts that 14 to 16 weeks to make a piece of furniture is ridiculous," he says. "It doesn't take 14 to 16 weeks; it takes a week or two of actually making. All the rest of that lead time is waste."
There have been challenges already (some of the old equipment didn't work quite as well as its prior owners had claimed) and there are surely many ahead. However, Blachy believes that making a big investment in Quintus—even in the midst of a pandemic—sets the company up for success no matter what comes next. "We want to be the easiest company in the industry for designers to work with, whether it's the best lead times, the best communication, or the best service," he says. "It's going to be a lot of work over the next few years to get us there … but now we've got a home, a foundation to build on."
Homepage photo: Courtesy of Quintus