Maiden Home was born of frustration: Nidhi Kapur founded the newly launched sofa and chair brand in response to her own decorating woes. Named after her journey to decorate her own first home, in New York, the start-up today provides the kind of handcrafted, North Carolina–made custom furniture that Kapur couldn't find in her price range on the market. The pieces are delivered directly to clients within six weeks.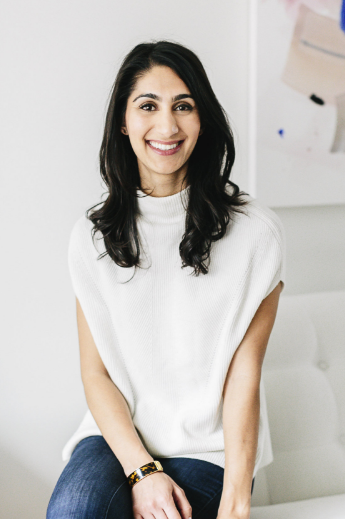 Kapur doesn't have a background in furniture or design. "I came into the industry as a frustrated consumer, struggling to find high-quality, well-priced pieces for my own home!" she shares. Her own professional background was in technology and e-commerce, at Google and at start-up Birchbox, where she served as head of business development, working on key partnerships with brands including JetBlue, Madewell and Gap. Her prior career gave her the needed skills to craft her own brand and online business model. "While I have always personally loved design and had a clear vision for the aesthetic I wanted to create, my challenge was developing the furniture expertise needed to bring Maiden Home to life."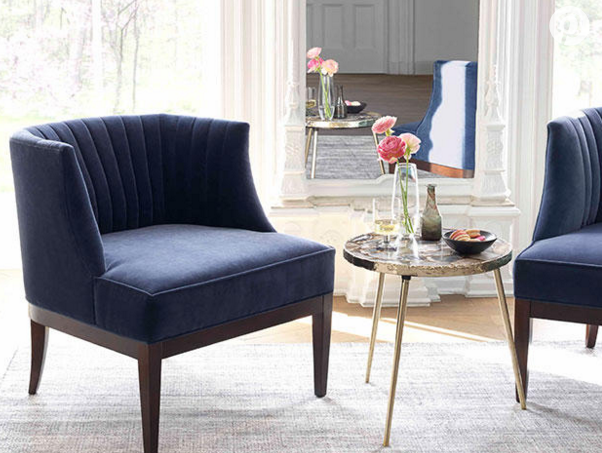 She partnered with custom workrooms in North Carolina (of the craftspeople she works with, she says, "They are truly masters in crafting high-quality, exceedingly comfortable upholstery that will last a lifetime. They taught me so much about construction, engineering, even ergonomics, as we developed our line"), as well as furniture designers who work largely with trade-only brands.
Those designers "helped me translate my vision for a clean, transitional aesthetic into beautiful silhouettes and a really well-rounded collection," Kapur explains, noting that "every detail was considered, from pitch and 'sit' to bespoke finishes." At launch, Maiden Home's collection includes four sofas and four chairs, available in 40-plus fabrics and four wood stains. Sofas are available in lengths from 75 to 100 inches.
The company's target demographic is also its namesake: a young woman (maiden) furnishing her first home. "I was this woman myself not too long ago, newly married and designing my first home in New York City," explains Kapur. "At the time, I felt extremely underserved by mainstream furniture options: Products were either generic and low-quality or priced far out of reach." Maiden Home is her response to that void.
As an industry outsider, she first studied furniture factories' business models before approaching her potential partners. "Though our partners make the world's very best furniture, their business has struggled in recent years, first due to outsourcing trends, and now due to the shift to e-commerce," she explains. "My partners only sell into brick-and-mortar boutiques, and lack the skills or capabilities to adapt their model to online. They risk being left behind as the industry continues to evolve." Statistics spoke for themselves: "Now, 90 percent of furniture consumers are discovering products online before stepping foot into a showroom, and over 25 percent purchase without ever seeing products in person!"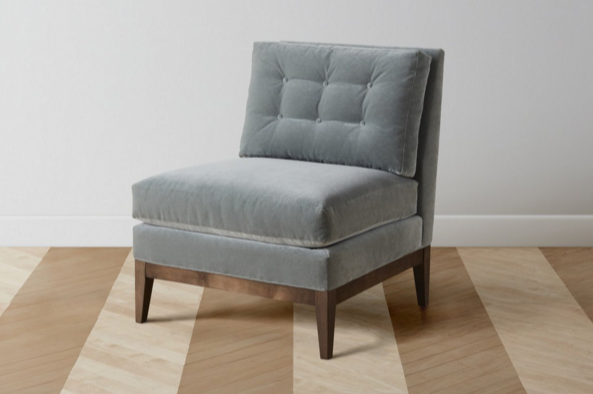 The research proved helpful when approaching her potential partners, Kapur says. "With an offer of partnership: Maiden Home as their bridge to the online consumer." She would acquire the customers, digitally, while the furniture makers and designers brought their craftsmanship. The result, she says, is a "partnership would benefit both of our businesses, as well as the end customer who is now able to access high-quality custom pieces at a revolutionary price."
Kapur met with some 25-plus factories in North Carolina before settling on three to partner with on the launch. The first collection of sofas and chairs was over a year in the making, with each of the final pieces making its way through three rounds of prototypes. It served as an educational experience for Kapur too: "Being third- or even fourth-generation, family-owned, they take personal pride in creating a quality product that customers will enjoy for years. They don't cut corners in materials, construction or craftsmanship, and their attention to detail is unparalleled in the industry. They are truly the magic behind every Maiden Home piece, and I feel incredibly lucky to have them on this journey with us."
Now, 90 percent of furniture consumers are discovering products online before stepping foot into a showroom, and over 25 percent purchase without ever seeing products in person!
Among the benefits for interior designers, in particular, Kapur explains, are the "revolutionary price and speed" offered; pieces deliver within six weeks, and a trade program, which offers access to COM, special custom options, dedicated account service and special events. "Our interior design clients are among our most loyal customers, as they see Maiden Home as a 'go-to' for classic, well-made upholstery pieces, with custom options that work for a wide range of clients."