Six years ago, when the demand for 19th-century antiques was at its nadir, Jake Baer, the CEO of antiques giant Newel, had a thought: While the market's cold and this stuff isn't selling like it used to—why not rent it? Over the course of a few years, he organized the company's website and 20,000-piece inventory to work for the needs of set decorators and stagers who might need, say, a red satin recamier for 24 hours. The idea took off, and for a time, Newel's rental business was bigger than its sales. Now, Baer is scaling the concept with a new digital platform called 1RentPlace, designed to pool together the inventory of top antiques, art and decor dealers into one massive rentable marketplace.
"[Dealers] would come up to me over the years and say, 'Jake, I want to rent out my goods.' I can't rent out their stuff unless I warehouse it and control it. But what I can do is give them the tools to start renting it out themselves," Baer tells Business of Home. "For stagers and designers and set decorators, there's never been one place to go and look at everything. You'd either have to know someone, or you'd just be typing into Google 'rent Louis XIV chair' and looking through links. … Now there's a vetted spot to get these one-of-a-kind items."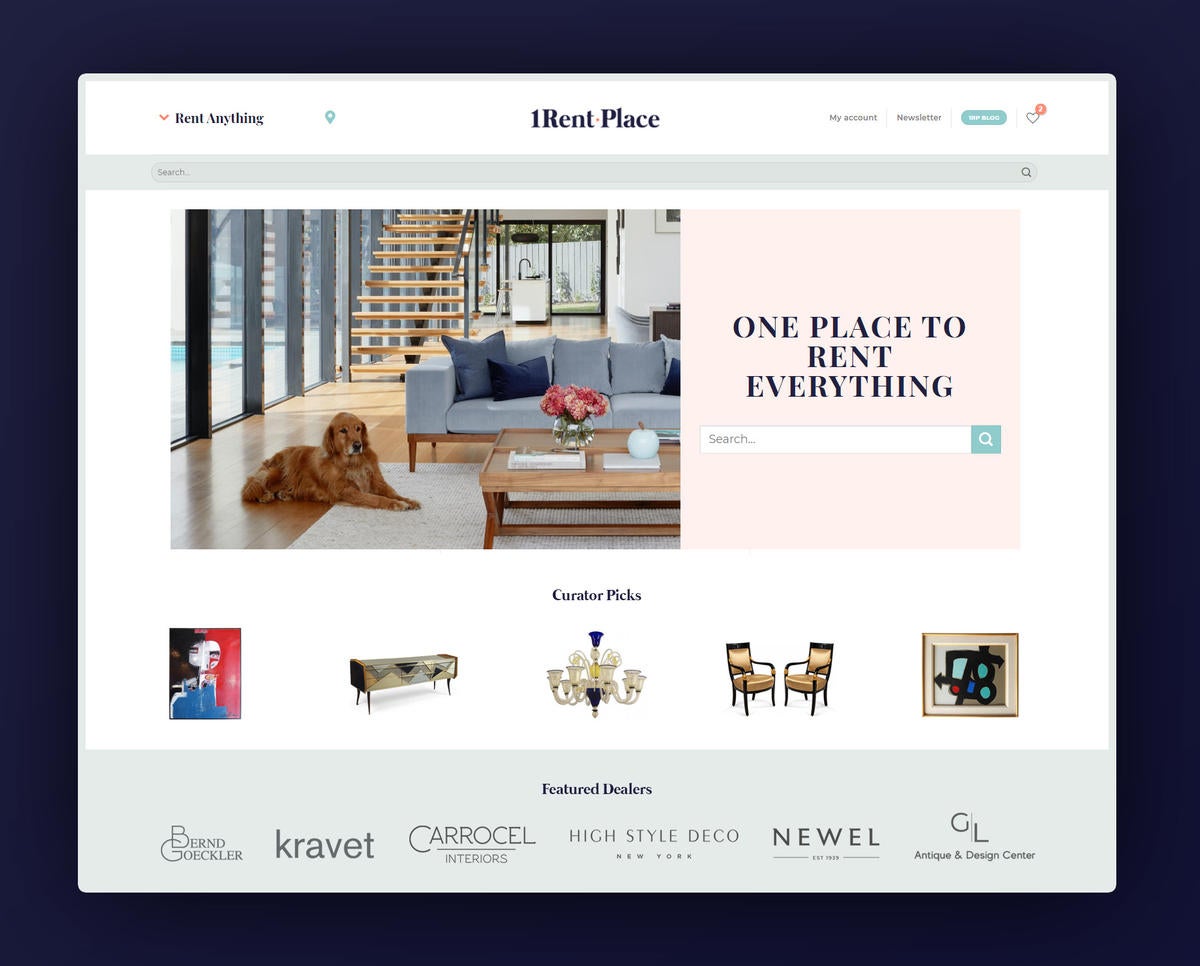 The site, launching next month, will debut with 65,000 pieces from a handful of participating dealers, including Bernd Goeckler, Greenwich Living, Carrocel and High Style Deco, in addition to Newel's collection (which has since ballooned in size to more than 30,000 pieces). Furniture and fabric giant Kravet will also list pieces on the site, driving home the point that Baer is targeting a wide variety of potential audiences. That's everyone from set decorators who might need a unique antique to home stagers who might want something modern. He even sees opportunity to target consumers who might want to park a piece of blue-chip art on their wall as a short-term lark.
"Say you're living in Miami for a few months and you want beautiful artwork, but you don't necessarily want to buy or own it—well, now you can tap into all the best art dealers," says Baer. "I could see a guy wanting a Warhol in his apartment for a dinner party. He can rent it for a night, the gallery makes some money on it, it's a win-win."
For users, the site is an open, transparent marketplace. Pieces are listed by various categories, with rental prices (usually per week) prominently displayed. Want a Louis XVI-style red velvet settee for seven days? That'll set you back $1,274. How about an enormous gummy bear made of gold foam? A steal at $370.
For dealers, the site is based around a lead-generation model. 1RentPlace doesn't take a cut or commission on rentals, instead charging a monthly fee to list pieces (packages range from $495 to $995 a month to advertise anywhere from 500 to 5,000 pieces). For the first year at least, Baer is asking for a yearlong commitment from dealers.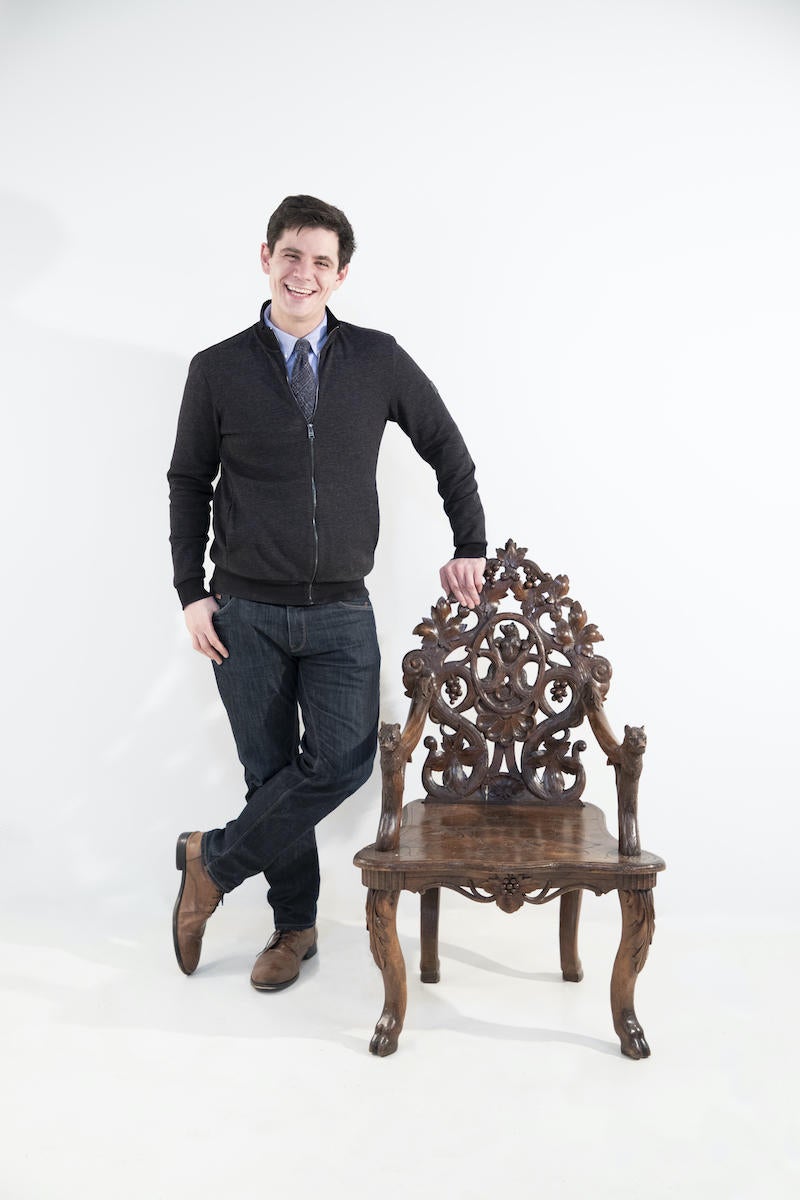 A wrinkle: 1RentPlace doesn't handle logistics, payment or insurance for any of its listed inventory—the platform simply connects renters to dealers and invites them to iron out the details. Baer says he'll vet the dealers through connections in the antiques business, and provide them with best practices for insurance, logistics and rental agreements.
He is self-funding 1RentPlace and developing the platform alongside a small team, including 1stDibs alum Justine Barnes, attorney Sid Chary, Newel CTO Casey Choron, and PR veteran Andrew Joseph. The short-term goal, he says, is to quickly acquire dealers and customers. It will help that Newel already has a built-in audience of set decorators and stagers who are familiar with the concept and eager to see an even bigger selection added to the mix.
"Set decorators and designers who are doing staging really need this," says Baer. "Staging is a tough business. Designers tell me, 'I don't know where to get this stuff, I don't want to buy it, but I need it.'"
Marketing to a broader audience, he concedes, will be the biggest challenge and expense on 1RentPlace's balance sheet. He hopes that a content-based approach will help garner attention to the platform. Not a bad bet, given that the entertainment and media industries will be one of the site's primary customers, giving it a zip of glamour and star power.
For example: The draped fabric hanging behind Vice President Kamala Harris in that lightly controversial Vogue cover shot? Rented from Newel.
Homepage Photo: Newel's warehouse on Long Island, New York | Courtesy of 1RentPlace