The 50 States Project is a yearlong series of candid conversations with interior designers we admire, state by state. Today, we're chatting with New Hampshire–based Amy Mitchell of Home Glow Design, who explains how her childhood home taught her to invest in quality, how she found a gap in the mid-priced designer market, and how she approaches "Yankee frugality."
What was your path into the design industry?
A very circuitous one! I came out of college wanting to become an opera singer. I didn't have the money to go to grad school right away, so I got a dual degree in music and English literature, then spent seven years working in PR and marketing firms. I was saving money and auditioning, then went to Manhattan School of Music for my master's degree. I got married to a medical student and continued not to have any money, so I went back to working in PR, didn't like it, and so when my first child was born, I stayed home. I really missed music, and wanted a career path that was more flexible and creative.
That is a circuitous path!
I mean, now when I go back to it, it's like, Why didn't I go to architecture school? I think we all have those thoughts. Growing up, my dad loved colonial architecture, and we were always watching This Old House, and he built a lot of furniture himself. When they were newly married, my parents drove down to North Carolina and bought direct from the manufacturers, because my dad was a stickler for quality even when he had a tighter purse. I always loved how my parents' home felt pulled together—very comfortable and personal. It didn't look wealthy by any means—we were more of a blue-collar budget—but they took pride in their home and wanted what they bought to last a long time. They weren't going to spend the money and buy it again, because that was wasteful, but they also really felt that your environment affects your emotional state. Forty-five years later, my parents are still in the house that they first bought.
That must've given you such an amazing sense of place.
I've always been on the search for the forever home. My husband and I did not want to move around once he finally got his career in place—we wanted to buy a home that we wouldn't size out of, and decorate it in a way that was going to be the backdrop for our family memories. When we got married, we were living in New York City, in Washington Heights. It was totally like a Craigslisted, hand-me-down place, but everyone who came into our apartment was like, "Wow, this is really different—I really like being here." It was the same when we moved to our starter home. Then, when we finally came here to New Hampshire, I was like, "OK, it's time to get rid of the mishmash and the Home Goods. Even if it takes me a while to decorate this, I want the quality stuff." I'd been looking at magazines for a while, so I knew a lot of the makers and brands, but I found that I couldn't buy any of it, because it was all to-the-trade.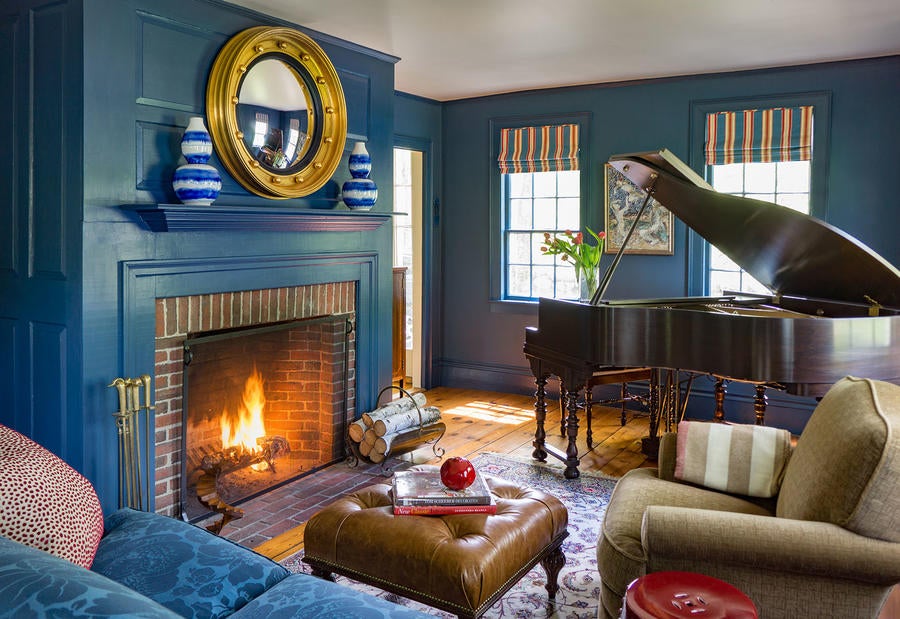 Courtesy of Home Glow Design
It's definitely a lot harder to take the truck down to North Carolina and do it yourself these days!
You can't! So I found some sources, thrifted a lot, and learned to shop auctions well. Then I came to designing my library, which is about 30 feet long and 9 feet deep at the narrowest part, and I was terrified to purchase sofas. I didn't want to have this behemoth thing floating in there, but all I had access to was catalogs. So I enlisted a wonderful Massachusetts designer, Dena Hamilburg—I had purchased wallpaper through her at one point—and asked her to help me with a floor plan. She really gave me an inside eye to what it takes to be an interior designer; she introduced me to the Boston Design Center, and that got the ball rolling.
I got my hands on everything that I could read and did a lot of self-education. Then I photographed a few of the rooms I'd done in this house and reached out to another designer I respected, Kelly Rogers, also in the Boston area, who has a similar marketing background to mine. I said, "I really admire your work, I've seen it here and here. Would you take a look at these pictures of my rooms and tell me how you got on the path of making this career switch?" We ended up having lunch, and then I ended up interning for her for almost a year, one day a week. It was the only way that I could come to this industry, being in the boonies like I am. I mean, it was a two-hour commute each way, and I couldn't get a degree [where I was], so I really got my feet wet through on-the-ground study.
The doing. When was that?
I've been in business for about four years. The first nine months of that was mostly blogging and interning.
When you started working closer to home, what did that look like?
I found what seemed to be a real dearth in the marketplace [of designers] targeting people who want to invest in their interiors but can't spend $100,000 on a room—but also don't want to spend just $3,000 on a room. They are willing to invest the right amount to make it characterful and good quality, but they need to be thoughtful in how they do it. This is money they earned, and it's a big investment for them; they're ready to do it, but they want someone who's thinking like they are.
That's so specific, but also sounds so full of potential.
Up here in kind of the outskirts of the Northeast, Yankee frugality sometimes overrules the way you want to live. People in their 30s and 40s have not paid much attention to quality in their interiors because they're so used to seeing the Design on a Dimes and Ikeas, the quick midcentury makeovers and things like that. But I find that as their kids start getting a little bit older, they are ready. They're tired of the crap that's falling apart, but can't seem to pull it all together. They don't know how to make a plan. And that's where Home Glow Design comes in, because we are looking to invest your money well to give you a home that combines comfort and quality.
One of the things I love about your site is how you use this idea of being a forever homeowner. How did you know that would resonate?
I was in marketing and PR for so long, but I was so concentrated on honing my design chops that I hadn't taken the time to really refine my messaging. About a year and a half ago, I started asking myself, What is my niche? Who are the people following my blog? And it is those people that really want to make their memories in this place. They are investing in this spot. It's the forever home, and I want to make forever rooms for them.
Forever is a daunting challenge in design!
Well, "forever" being like 10 or 20 years, but it's about making sure what they buy is going to last [for] the time that they are in their homes. They're not people who are looking to level up; they're not looking to do a quick makeover and flip a house. And that's my mindset here too: We have invested in our home. Lots of our friends invest in travel and have taken their kids all over the country or the world, and I think that's awesome. In my pipe-dream version of myself, yeah, I'd love to do that—but when it comes down to it, we're homebodies. We see our home as a refuge. This is where we've invested our hard-earned cash, and that means that we sacrificed in other ways. Everyone's got to choose their money priorities, and this was ours—the forever home that we wanted to make for our family.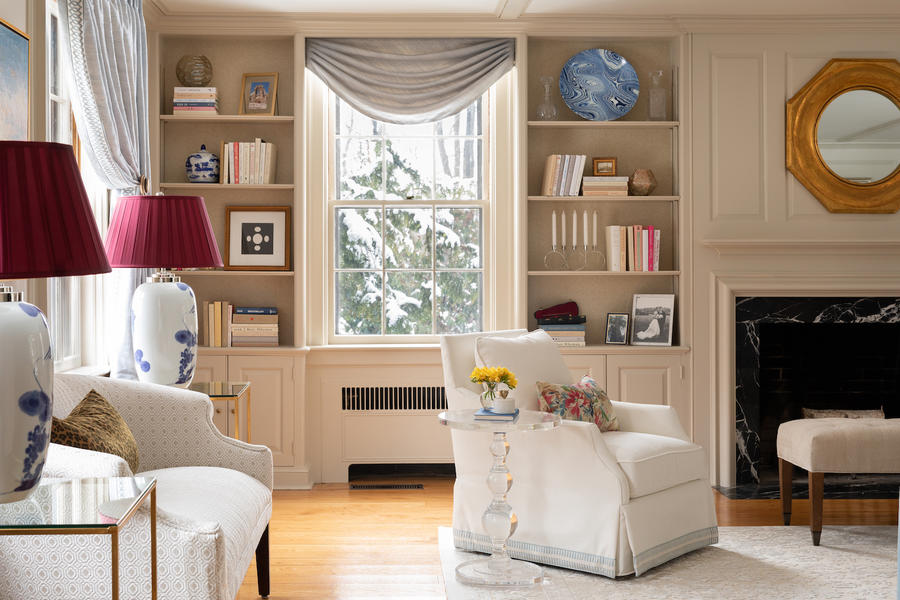 Emily O'Brien, courtesy of Home Glow Design
Among the offerings on your site, one is the Forever Home Road Map. Can you tell me more?
Often, if people bought or are building a new home, they can't do it all right away. I saw so many people making mistakes because they buy here, buy there, something's on sale they want to take advantage of that. They're thinking that they're saving money. The Forever Home Road Map is an online offering I've been doing for about a year now, where I help clients marry their house's style and architecture [with] their [own] style. If you're into midcentury modern style but your house is from 1790—maybe Nate Berkus could pull that off, but most [people] are not Nate Berkus, you know?
Totally.
You have to find a way to bring in the personal style in a way that's not going to be jarring with the home's style, because that's going to make it last forever. After we examine the home's style and the client's personal style, we look at their budget. It can be so overwhelming when you have so much you want to do and only have so much money, so I'll ask, "What are your priority spaces for living? What budget can you allocate to that this year and next year?" We create a plan of what you're going to tackle when, getting the budget in order for, say, the next five years, so that you don't feel so overwhelmed.
Does that reflect your own journey renovating your forever home?
We've lived here eight years and we've pretty much tackled one room per year, but it's all ended up flowing together because I always had this image in my mind of how it would go. That's why, after the budget aspect, toward the end of the Road Map consultation, we'll focus on the No. 1 priority space. That first space you're going to do is going to affect how you do each successive room, [so I help them with] some ideas so that they have a launch pad from which to go do other spaces in the future.
When people finish that, where are they in the process?
Up front, they fill out a pretty extensive questionnaire with Pinterest and Houzz idea boards of things they like, and they send me pictures of the home so that I can do prep work ahead of time. We go through our online consultation, and then they're left with a recording of the consultation, plus I follow up with a to-do list and notes. If we've sourced some things, the sources are in there—I might give them my ideas of where to look, or say, "You might want a sofa that looks like this." And if they're looking for a layout, we can fiddle with that for the priority space to give them an idea of where to go. Layouts can be really tricky for people, especially in homes where there are lots of openings into the same room.
Do those clients become full-service clients?
That tends to be a separate piece of the business. It's more for the people who have time and are DIY-ers. They want to do it themselves, but want a little bit of guidance. If I find that [a potential client] is all over the place, I steer them away from that service because it's not going to give them the return on investment that I think they're looking for.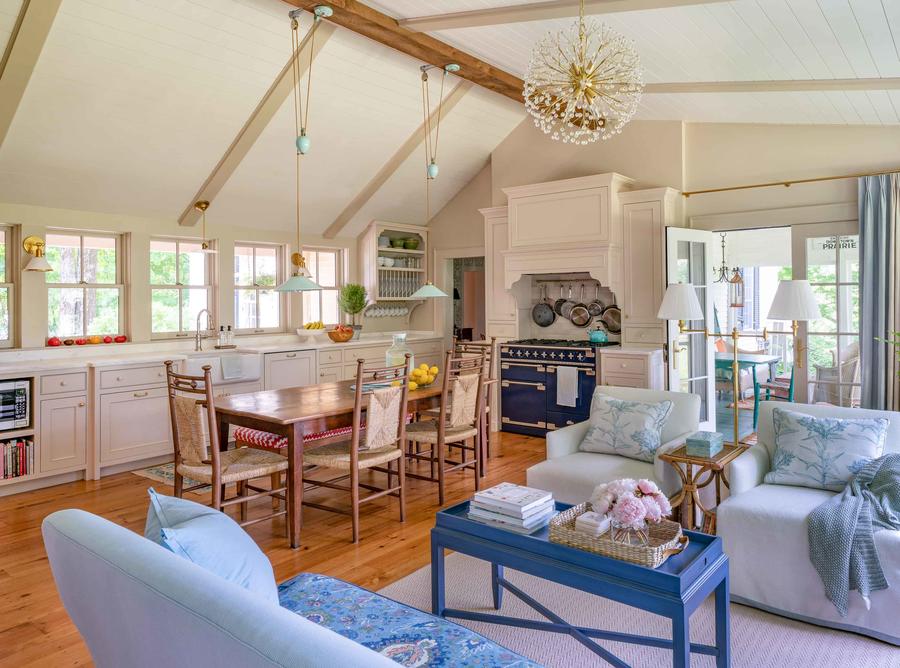 Courtesy of Home Glow Design
What are your other offerings for those clients?
Right now, I have a service called [Forever Room] Design Master Plan, and then I have the [Forever Home] Full-Service Design. The Master Plans are—you could call it e-design, but I think e-design has this connotation of a cookie-cutter thing like the Modsy or Havenly, where we're just going to pull from Pottery Barn and West Elm. And then the Full-Service is full service!
What does your version of e-design look like?
I try to pull from a great variety of sources—and knowing my trade brands, I also know some online resources that sell some of their products. You get a URL source list, a presentation, and I might do a little rendering so it's a very complete picture, but then they have to be their own project manager. If they want to buy in one lump payment, I can source custom upholstery for them and have it delivered. They have to receive it, of course, but I can even customize fabrics, which is an element that not as many e-designers offer. Nowadays, you can find custom drapery workrooms on Yelp or Houzz, and most of them will work directly with consumers, but I find that upholstery is hard for the average consumer to do without going into a major showroom.
For your online offerings, where are your clients located?
It's strange—I've found that the majority of my Design Master Plans are actually local, or within a northern New England radius. I rank highly in a Google search for New Hampshire designers. They also may have to decorate their room over time; when you're doing Full-Service Design, you have to pay for everything upfront—it's the whole room.
So are they taking your shopping list and basically spreading it out?
Yes. If they want to order upholstery from me, they do that upfront. That's usually the first major purchase, but then all the rest of the stuff, they spread it out—you know, you get your Christmas bonus, so you buy a few more things.
Can you tell me about the local design scene? You described it as 'in the boonies'—what are the challenges of running a design firm where you are?
There are many. I'm just far enough from the design center that getting there is a real challenge—I really get to sit-test once a year. I'm also really off the beaten path for most of my reps. So I rely heavily on my colleagues in the more metropolitan areas for their [intel], because they get a lot more rep visits—often, I learn about the newest things through them.
The thing I've found most challenging up here is the whole mindset of not thinking about your interiors at all. It is very Yankee up here—and I'm a Yankee, so I can say that. It's the whole—I can't remember the exact phrase, but it's something like, "Use it up, wear it out, fix it, or do without" kind of thing. So if you got an ugly coffee table from your mother...
You're going to have that coffee table until it breaks?
Yes! Because you feel guilty giving it away or donating it because it was free! The free is the value, not necessarily how the coffee table adds to your life. There are a lot of people who don't put a value on the interior landscape and how that affects your emotional well-being at home. That's one of the reasons I started my blog, was to try to fertilize that soil—and it's worked.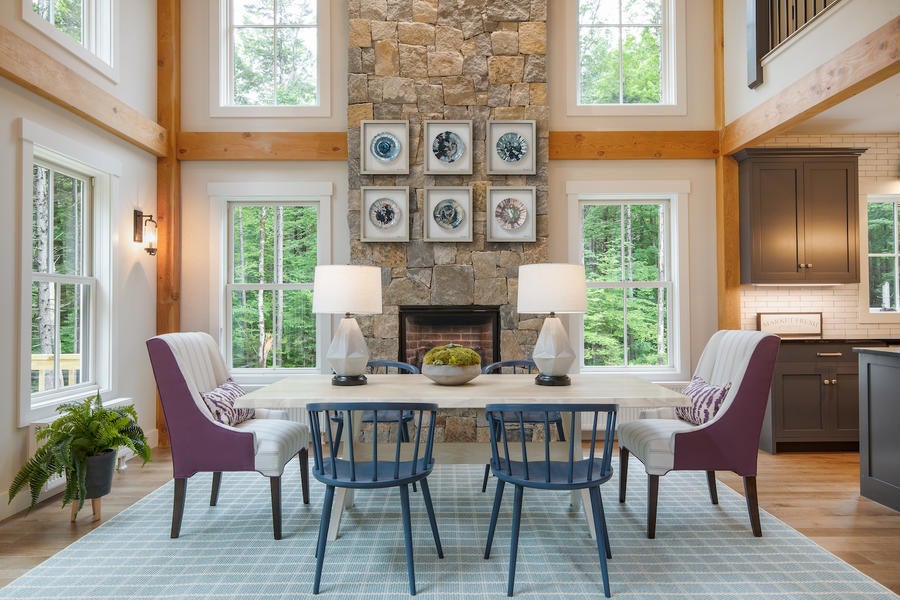 Courtesy of Home Glow Design
How do you help clients refine that mindset and get over the guilt?
My parents were very blue-collar—I mean, my dad was picking collard greens down at the railroad tracks because they didn't have enough food. So I think I can really identify with people, and the glamour of free [stuff] or of the rock-bottom sale, and how that alone must have some value. I can also really identify with the fact that you don't want to put something in a landfill. I ask them, "Is this the kind of quality that's going to stand the test of time, or is it a little rickety?" For upholstery, I tell them that unless it's a style you love, a really high-quality frame, or it has sentimental value, it will not be worth recovering. That's expensive; it may be better to donate it or sell it and get something that will hold up.
Often, they'll be like, "Well, I've got this rug." And I'm all for using vintage, antiques and family heirlooms, but they've got to be the right thing, and the thing that gives you joy. If you decorate around this rug that you don't really like, you are going to get a room that you don't really like! You're going to waste more money throwing it at that rug—or a mistake purchase. You're going to waste more money trying to fix it than if you just see it as a sunk cost. Admit it! Say you made a mistake and move on. If your husband tries to do the plumbing himself and messes up and you have to call in a plumber, there's no shame!
Or maybe there's a little bit of shame, but you still call the plumber.
Right! Why do we feel this shame about decorating mistakes, or about giving away something that was free, or selling something that was on sale that's a mistake? Up here, one [hurdle] is the [explaining] how interiors affect our emotional well-being at home; the second is this money guilt, which is a really big thing.
What do you lead with to combat that way of thinking about the home?
It's value. And the value is not just monetary—the value is how you're going to feel, that you're going to make your memories here, [and knowing] we're not investing in something that is going to be out of style or out of character five years from now. But people have to buy into that value.
Is there less of an impress-the-neighbors piece too?
Oh, there is no "impress the neighbors."
What does your day-to-day business look like?
I am by myself, and I have a bookkeeper. It's something that I have been stewing about a lot in the last year—hiring a virtual assistant, and what capacity would that VA work in. I've been debating whether or not it would be more of a social media role to help me with Instagram and marketing, or a VA that helps with the follow-ups of the orders and the admin stuff. It would have to be virtual; my husband works a lot and I want to be home for my boys in the afternoons.
I work Monday, Wednesday and Friday until the end of school, and then I have a sitter on Tuesdays, so I work [all day] Tuesdays. I take Thursdays off, and I'm off in the afternoons Monday, Wednesday and Friday, so I plan out my projects pretty carefully, but I just haven't quite figured out how to roll a VA into that sort of staggered project load [and schedule]. I know I really need one, but sometimes I have 20 hours of work [for them to do] and sometimes I have nothing.
What would getting that support allow you to do?
I see a lot of my colleagues and the fabulous projects that they take on, and you know, good work begets good work. I've been able to get better and better projects over the last couple of years, so that now I'm mostly working on multiroom projects, renovations, and even a couple whole-house projects. And it's like, If I have more support, I could do more of the creative work—take on more projects, delegating the admin and other work that I don't enjoy at all to a VA. But at the same time, I want to stay mostly a solopreneur. I keep coming back to, Why did I get into this? And I got into this because I love home, I love homes, and I love imparting what I've learned to other people and creating home environments for them. I want them to feel in their home like I feel in mine.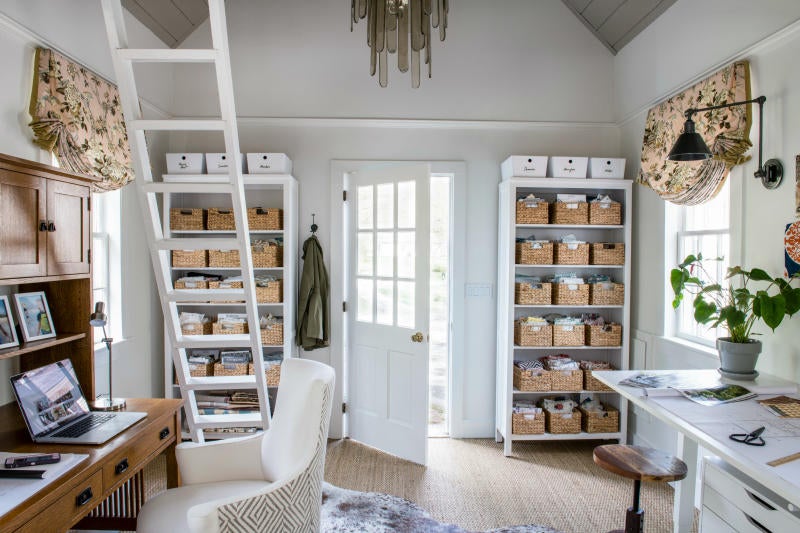 Courtesy of Home Glow Design
How many projects are you working on at a given time, and how do you visualize where you have room to take on someone new?
It depends on the scope of the Full-Service projects—is it a room, is it four rooms, is it a whole house?—but I try to be in the designing phase of one project at a time. I'd say about one multiroom project a month. For e-design, or the Design Master Plans, or a single-room project, I might take on two of those a month in addition to the one Full-Service project. I try to keep it staggered, but inevitably, at some point there's a slowdown in something and then it falls apart! I'm at a place where I feel like I could take on more, but I don't think I want to.
Are you saying no to people?
I'm saying, "You have to wait until December." Which is hard to do!
It's July! That's huge.
Thank you. Talking to a lot of my colleagues, I don't seem to have that much on my plate compared to them—like, my waitlist should not be that long. But my waitlist is also factoring in my family life.
As you were setting up your business, how did you approach the pricing side of things? And how do you talk about that with your clients?
I have to say, this comes down to a money mindset—for me too, because again, I grew up in a house where money was a lot more valuable than your time. My dad would drive from Connecticut to Massachusetts in order to save 5 cents on gas. I've gone back and forth between charging a design fee and an hourly rate, but now I stick to the hourly rate. I don't think it's too much of a factor for my clients; they have their budgets, and they know they're going to get a high-quality product for a very good rate. I do charge a markup, though it's probably less than a lot of people. People are going to scream at me for this, but when I first started out, I did not charge a markup at all.
So you could pass on the discount?
I passed on the discounts and told clients, "You pay me for my labor." But if something was damaged, I was charging hourly to get things fixed. Clients were fine with it [in the contract], but when you buy a $200 lamp, you don't want to spend three hours' worth of labor trying to get it fixed. I was like, "I can't say that this lamp now costs $500 because it took me three hours of phone calls [to replace it]."
As I get better work, most people don't even blink at the markup aspect. It's expected—they're already used to working with trades who charge a markup on their goods. But earlier on I was saying, "Look, this is insurance for me for the 10 or 12 hours it's going to take me in claims on a few measly little products."
Because something will come broken.
Something's going to come broken; I'm going to have to pay to get something fixed, so this is my insurance. And again, they're already getting a huge discount, because I get such a discount and they get to take advantage of a portion.
Also, their budget is their budget. So as far as my hourly rates go, I always give them an estimate of what I think it's going to take as far as my fee portion of their overall budget. If they get the job done and the results they want and it's within the budget, it's like, "You're still getting exactly what you want for your budget, better than you could get yourself, beautifully designed and better quality." So I don't get much pushback on the rates anymore.
Tell me about your blog. How did you use that to shape the business?
I opened my business in 2016, but I'd been decorating our home and had experience from the previous homes, and I just felt like I had a lot of tips and tricks to get the designer look—to find things that were really high quality. I shop auctions, and you can get really good stuff that way. Part of it was that I wanted to impart those tips and tricks; I also wanted to get people thinking in this "invest in quality, invest in character that's going to stand the test of time" mindset. I decided to call it "The Saturday Blog," because, except for a couple of bloggers who did roundups on Saturday, I didn't know of anyone who came out with their blog on Saturdays. I also knew there was absolutely no way I could come out with it more than once a week.
So it goes live every Saturday?
On the last post, I wrote that I was taking a few weeks off. Between homeschooling, COVID and kids, I was just like, I'm working to service my clients, I want my kids to have a summer, and I need to take a little break from something. But except for the last month, it's been nearly every Saturday for the last four years!
How do you land on subject matter these days?
There are some more in-depth, informative how-tos, but not DIY how-tos—they're always looking at what's worth the investment, balancing your budget, American makers, fresh classic style, and architecturally inspired style. One of my biggest blog posts—it gets like 2,000 reads a month—is an older one called "The Knotty Pine Problem." I was taking the example of a lot of the old cottages around the New Hampshire lakes that have this knotty-pine paneling. I can understand if you want to brighten it up—I totally get that—so it's three different ways to change the impact of the knotty pine without slathering the walls in white paint. It's looking at it with that forever mentality: The architectural bones of my cottage have the history of this knotty pine, and I don't want to efface it, but how can I make it more my style?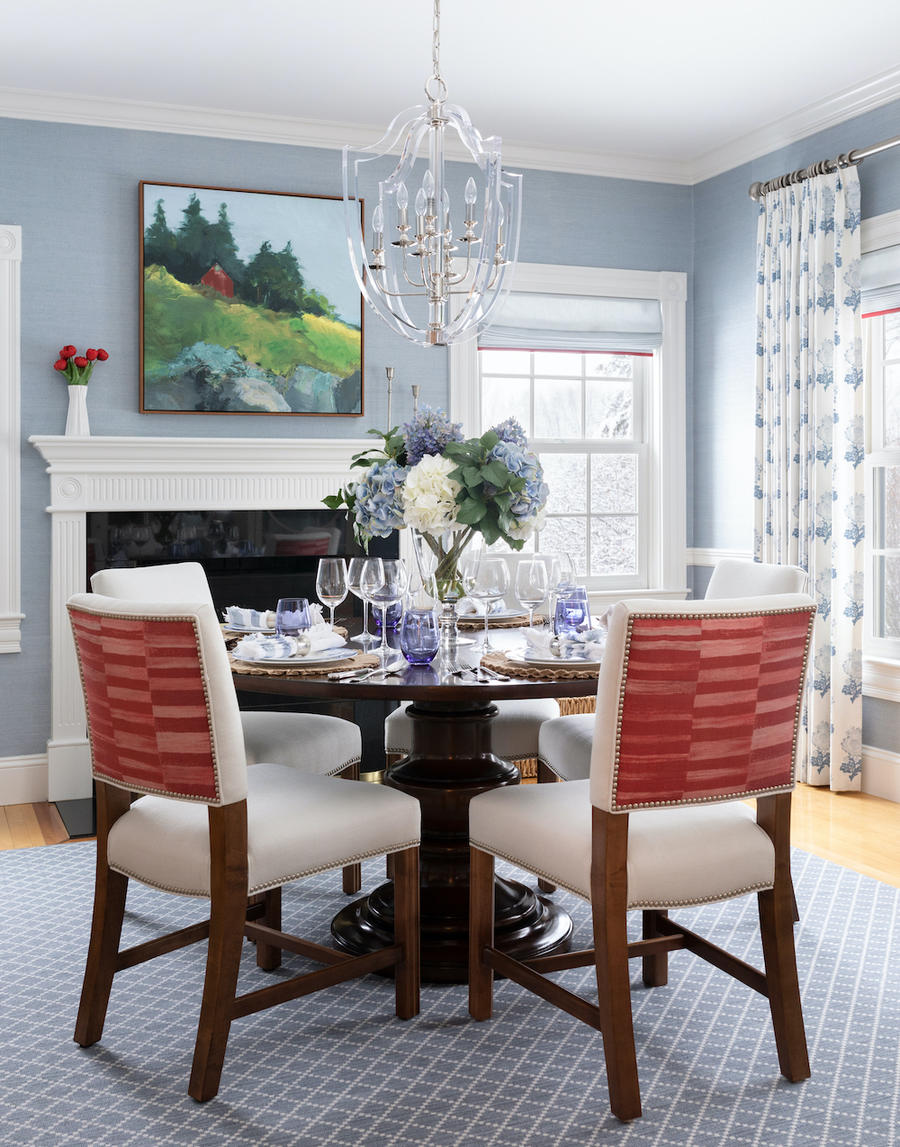 Courtesy of Home Glow Design
Did it play a major role in attracting clients?
A majority of my first business came from the blog. Now I get a lot of word-of-mouth referrals as well, but I think when people find my website—now they see all my projects too, but in the beginning they could see, "Oh, my gosh, she's got like 50 blog articles." Well, now I've got more than 200 blog articles. It helped me establish some authority and thoughtfulness when I was still working on getting a portfolio, and it also helped people really get to know me better.
Does social play a role in that too?
That's one of those things I need a VA for! I know what I should be doing, I'm just not doing enough of it. On Instagram, it's really just where I let people know about the blog posts, and then I'll put up different things from the projects I'm working on. I know I should be stacking those and having them set up, but it's one of those things where I'm still flying by the seat of my pants. I have this little voice in my head saying, "You should be doing this, you should be doing that to make your business the best it can be." I keep trying to dial that back, saying, "This is my life, this is my business, and I don't have to prove anything to anyone." I just want to serve my clients, serve my family, and serve my readers in a way that is compatible with my sanity and my family life. And it has taken me—I still struggle with that frame of mind. Like, I don't have to keep up with the Joneses, I'm doing just fine. If, four years ago, I knew that I would have the business that I have now, I would think I'm doing awesome!
I remember talking to a designer a long time ago. She had all the credentials I wished I had. And she said to me, "How can you charge what you do or buy these products for people if you don't get to see the new launches every year—when you have only been to High Point twice?" I came back from that lunch so heart-heavy. But then I came around to thinking: Not everyone has the desire or the means to employ a designer that has all the different letters after their names, but they still deserve a really good home, and I can still provide that for them to the best of my ability, and they're going to be really, really happy with it. And if I'm not doing that—if I stopped just because I can't get all the credentials that I wished I had to make me feel like I was meant for this career—then I would be depriving them of that opportunity.
That's such a great perspective to go back to.
You know, I have to credit my husband for that. Because he constantly helps me refocus. Recently, he was like, "Amy, let's think back to when you started this business in the first place. Think back to what you wanted back in 2016. What do you have now? Is it even better?" And it is. I've got a couple of dream projects going on; the clients are great, and I've achieved what I wanted to and more. You can always want more, or feel like you've got to get into this achievement race—in any career, there's that. The pressure to succeed more, and to add credentials—and when it comes down to it, it's like, yeah, I'd love to do all that, but it's not just me in this game. If I'm doing what I set out to do, which is making my clients and readers love their homes, then I'm doing what I dreamed of doing.
That's so beautiful!
I mean, I still want a VA! But while I'm figuring that out, that mindset gives me comfort.
To learn more about Amy Mitchell, visit her website or find her on Instagram.
Homepage image: Amy Mitchell; courtesy of Home Glow Design