This week in the world of design and architecture, Ikea has debuted a candle emanating the scent of its classic Swedish meatballs, while one London bridge refuses to fall down. Whatever comes next, stay in the know with our weekly roundup of headlines, launches and events, recommended reading, and more.
Business News
ABC Carpet & Home is struggling to avoid bankruptcy following the pandemic, the New York Post reports. The brand's e-commerce offerings have stayed limited, putting the pressure on its in-person selection—yet in recent years, fourth-generation owner Paulette Cole closed ABC's Bronx warehouse outlet, an outlet in Brooklyn and a carpet store across from the Manhattan flagship. The main store was closed only temporarily during the pandemic, but the company has struggled to keep up with rent costs since reopening. Earlier this year, the retailer retained investment firm B. Riley to help it secure financing, but more recently tapped the restructuring practice Greenberg Traurig to explore additional strategic options to keep the business afloat.
The Associated General Contractors of America has launched an initiative to lessen the carbon footprint involved in building projects. Outlined by a climate change task force created earlier this year, the measures in the new strategy include an increase in investments and funding opportunities for public and private infrastructure; modernization of federal buildings; expanded tax incentives to encourage the private sector to build more efficient buildings; expedited permits for projects that reduce greenhouse gas emissions; and guidelines for contractors to improve efficiency. "The construction industry is the delivery vehicle for building a greener, more climate-friendly future," said Stephen E. Sandherr, the association's chief executive officer, in a release. "Finding a way to ensure that what our members build is more efficient will have a significant impact on climate change."
Retailers requesting products from domestic case goods manufacturers may be at a loss, Home News Now reports, as some producers have been turning away new business due to limited capacity, a tight supply chain and a dwindling workforce. Vaughan-Bassett Furniture Company has announced it will not be opening any new accounts until after the October High Point Market, citing the recent pandemic-related shutdowns in Vietnam and Malaysia as an additional stressor, while Country View Woodworking has also turned away business after facing challenges in sufficiently staffing its plant in Millersburg, Ohio. Along with several other producers running up against similar issues, both businesses are optimistic about operations catching up with demand by the fall.
Automated property inspection platform RentCheck has announced the completion of a $2.6 million seed funding round, TechCrunch reports. The New Orleans–based startup aims to smooth communications between property managers and tenants by facilitating remote, guided inspections through its app. After the inspection is completed, both parties sign off and agree on move-out conditions. The automated, contactless process drew increased demand during the pandemic, netting the company a 1,000 percent growth in property on the platform last year.
Meanwhile, the median price of rent has risen more than 10 percent over the past year, The Wall Street Journal reports, hitting $1,244 as young professionals return to cities and the housing market remains expensive. Record high home-buying prices are a major factor contributing to rental costs, edging would-be home buyers out of the market.
Bed and bath product manufacturer Revman International has been acquired by Makei LLC, a Delaware limited liability company. Under the new ownership, the company will continue to do business under the Revman Inc. name with all existing brands, and will retain its office and showroom location in the Empire State Building. Revman CEO, president and founder Richard Roman will continue on in his current role, while Makei's principal, Adolfo Kalach Mizrahi, will serve as chairman of the board.
LED lighting manufacturer RBW has chosen a 100,000-square-foot building in Kingston, New York, as the site of its "factory of the future." The former IBM call center has been unoccupied for decades, and a yearlong construction process begins this month to outfit the location for RBW's environmentally focused goals—including biophilic principles, natural surroundings and a minimal ecological footprint.
Launches and Collaborations
For most designers, hewing to what will be good for resale is the worst kind of assignment. If you find yourself with such a client, a new collaboration between Behr and Zillow has arrived with a curated palette of colors designed to improve your home's ROI. Based on research conducted by Zillow, the collection includes four colors for various parts of the home—neutrals, grays and whites for gathering spaces, and blues for personal areas—along with a series of complementary hues.
For Vancouver-based manufacturer Alora Lighting's guest artist series, the brand tapped designer Charles Pavarini III to produce a collection inspired by his family's New York building roots. The designs feature metals in soft brushed vintage brass and urban bronze, with alabaster, wood and glass applied to create minimalist fixtures. The line was created in collaboration with Kuzco Lighting's Nathan Yang, who allowed for the incorporation of LED technology.
Drew Barrymore's Flower Home line has released a collection of indoor paints. Available at Walmart.com, the 27 hues span soft neutrals and bold accent colors, and are contained in a can made from 100 percent post-consumer recycled plastic.
For the latest product news, check out BOH's new weekly digest of collection debuts, Product Preview.
Recommended Reading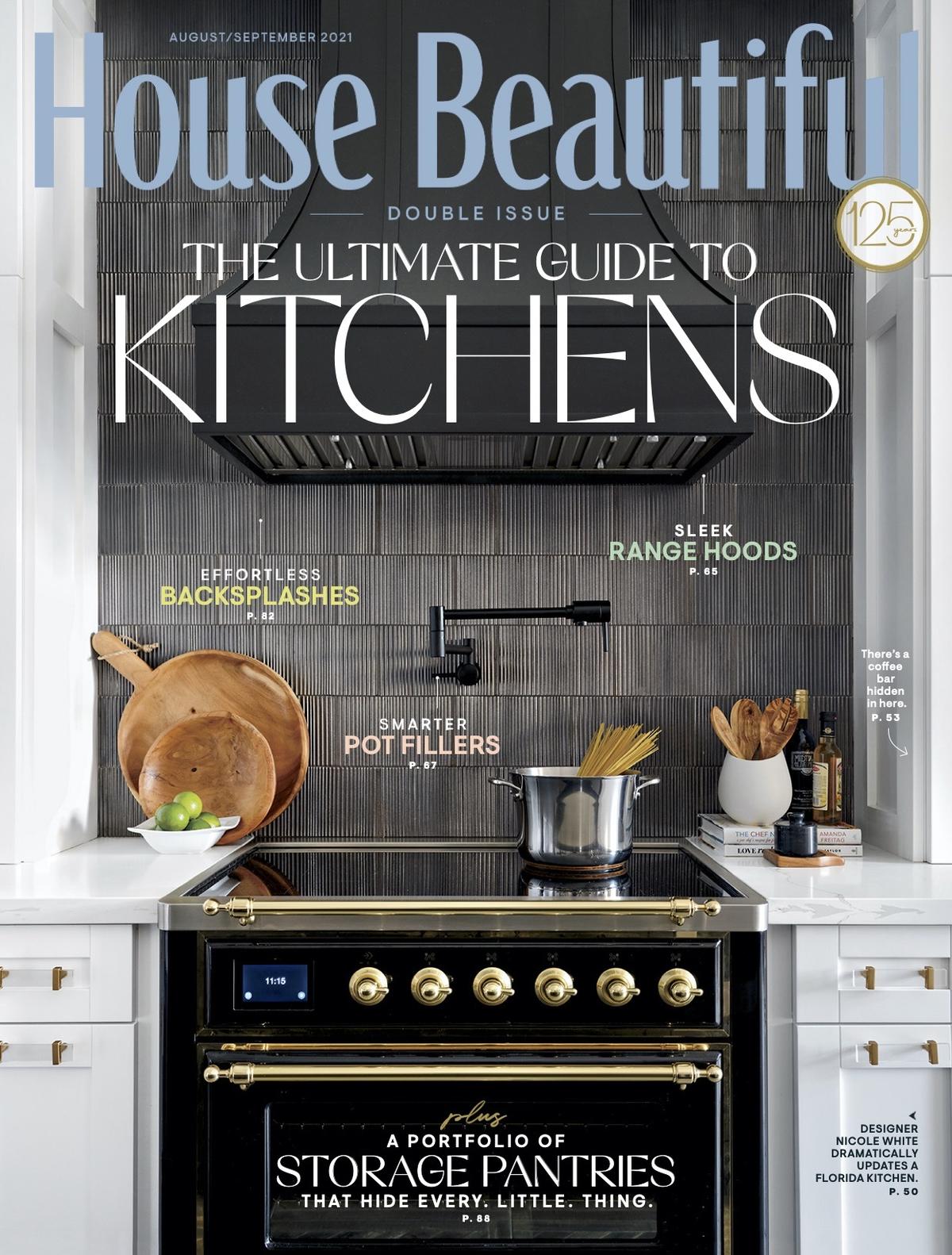 Courtesy of House Beautiful
The fridge-stove-sink triangle may be the default kitchen layout, but that doesn't mean it works for every homeowner. In Business of Home's latest column for House Beautiful, BOH editor in chief Kaitlin Petersen explains how the ways you cook, shop and spend your time in the kitchen can influence the way you design your space—and she provides tips for keeping essential tools and appliances nearby and out of sight at the same time.
In Fast Company, designer Leyden Lewis argues for a new classification of taste, removed from its roots in upper-class European society and the limiting parameters still held by design institutions today. "The key for designers is to be culturally aware enough to realize when these codes define our creativity and dare to defy them," Lewis writes. "When we are honest enough with ourselves to brave the unfamiliar, unrecognizable, and, possibly, the ugly, that's when we may find something truly original."
The New York Times Style Magazine compiled a list of the 25 most significant buildings constructed after World War II. From New York's Seagram Building to the Sydney Opera House, the top contenders span every continent except Antarctica—plus one outer-space addition. The picks were selected by a group of industry insiders, including architects Toshiko Mori, Annabelle Selldorf and Vincent Van Duysen; designer Tom Dixon; artist Es Devlin; critic Nikil Saval; and the magazine's design and interior director, Tom Delavan.
The first wave of brand-owned magazines, which cropped up late in the last decade, often fizzled out after a few issues despite their edgy content, glossy photo spreads and seasoned editorial teams. As Business of Fashion reports, a new generation of retailers are now beginning to venture back into publications—this time with audience-focused principles that might give them a better shot at sustained readership.
Cue the Applause
The Educational Foundation of the International Furnishings and Design Association has announced its 2021 scholarship winners. The nine recipients, who will receive tuition for the fall semester, include Sydney MacMann, Rosemarie Julia Weinstein, Natalie Fleshman, Farzaneh Akhavan, Hannah Stineburg, Rebecca Covarrubias, Sofia Pozzi, Colby Hopper and Mya Agee.
Myrtle Hayworth Barthmaier, the 27-year president and chairwoman of Hayworth Industries, will be posthumously inducted as a Trailblazer into the American Home Furnishings Hall of Fame on October 17—becoming the seventh woman ever to achieve the distinction. Barthmaier carried the family business through both the Great Depression and World War II, streamling plant operations and securing new business to allow the company to emerge stronger.
The American Society of Interior Designers has announced the winners of its 2021 Student Portfolio Competition: Phuong Mai of the Academy of Art University, Tingxin Zheng of Savannah College of Art and Design, Rebeca Zhu Cao of Pratt Institute, and Violette Chartock of New York School School of Interior Design. Additionally, ASID has honored Johnson County Community College in Overland Park, Kansas, as the 2021 Student Chapter of the Year, and Cynthia Andujar of Chatham University has earned the distinction of 2021 Student Volunteer of the Year.
NY Now has announced the winners and finalists of its Summer 2021 awards, selected by a panel of judges including BOH's own market editor, Caroline Biggs. The honorees include Kitty Kardboard for the Emerging Brand Award, Bklyn Bento for the Sustainable Design Award, and individual products in categories that include home design, luxury lifestyle, tabletop and more. For the full list of winners, click here.
In Memoriam
Suzann Burkhead Bray, former co-owner and president of International Fabrics Inc., has passed away at age 70 in Greensboro, North Carolina. Bray notably enlisted leaders from the furnishings and design industries to assume board positions at The Common Thread for the Cure Foundation, which she founded alongside her brother, Scott Burkhead, in remembrance of their younger sister, Sandra Burkhead Campbell, who died from breast cancer.
Homepage image: A fixture designed by Charles Pavarini III for Alora Lighting | Courtesy of Alora Lighting