Starting today, there's a brand new way to buy and sell on 1stDibs. The online luxury resale giant is rolling out online auctions—meaning, in addition to the "buy it now" functionality and direct negotiation model that have driven the site for the past five years, sellers can now list a piece and let buyers publicly bid up the price. The update, CEO David Rosenblatt tells Business of Home, is the biggest change to 1stDibs since the platform enabled transactional e-commerce in 2016.
"This new format gives buyers another way to buy, one that's familiar, and one that many buyers find exciting," he says. "It also allows buyer and seller to find the efficient market clearing price for a given piece. For a marketplace of one-of-a-kind pieces, it's a logical extension of the private negotiation model we already supported."
1stDibs will be implementing the functionality in two ways. First, the platform will present event-based auctions curated by an expert or organized around a theme (the inaugural one will debut this week with 75 pieces chosen by Simon Doonan and Jonathan Adler). Second, individual sellers will now be able to list pieces for auction at will. Auction purchases will be covered by the same buyer protection program that 1stDibs extends to direct sales, and in most cases, the platform will organize shipping as well.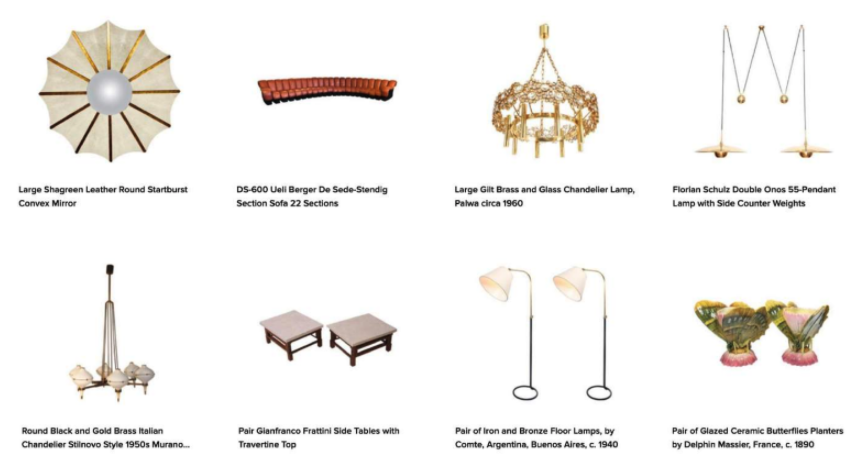 To a casual observer, the introduction of an auction functionality may seem like a relatively minor UX update, but it has the potential to make a significant impact on 1stDibs's business. Pieces that excite a bidding audience could go for significantly higher prices than a direct sale—those that get a halfhearted bid or two will go for less. Since the company makes a good deal of its revenue on commissions from sales, introducing a new kind of selling process could have a profound effect.
It's too early to know what the net impact will be on 1stDibs's bottom line. Presumably, the company wouldn't try it if there wasn't the potential to push sale prices up, but for now, Rosenblatt says the challenge of the moment is simply to let customers know the functionality exists. "For 21 years, we haven't had an auction format," he says. "That's a lot of time for people to habituate to our business. Growing consumer awareness of fundamental new capabilities takes time."
Seen in the broader context of the e-commerce landscape, the introduction of an auction functionality makes perfect sense. Though online auctioning has been around since the 1990s (eBay was founded in 1995), in recent years—and especially amid the pandemic—it has begun to infiltrate the luxury tier of the market where 1stDibs operates.
In the early days of the pandemic, both Sotheby's and Christie's pivoted to accommodate COVID lockdowns with online-only events and raked in the cash—according to a recent report, online sales will account for nearly 25 percent of the art market in 2021, up from 7.5 percent in 2019. That's come alongside the NFT boom (non-fungible tokens tend to be sold on an auction basis) and the rise of hyper-specialized auction sites like Bring a Trailer. Put simply: Online auctions are increasingly common at all levels and sectors of the market.
For sellers, it's hard to see the development as anything but positive. Some of the dealers who fill 1stDibs's digital shelves protested the switch to transactional commerce in 2016, but on its face, this development seems unlikely to provoke unrest. Flexibility in sales approach seems like an easy win, and 1stDibs will not be charging a "buyer's premium" fee.
For designers who rely on the platform for sourcing, the introduction of auctions is potentially more complicated. In some cases, pieces at auction may go for a lower price than a direct sale. However, auctions by nature carry a level of uncertainty. For designers who just want to source items and move on, the added complication of monitoring an auction may feel like a chore.
Of course, it could add some welcome excitement too. If last year's auction of the Mario Buatta estate was any indication, there's no shortage of design aficionados willing to eagerly monitor bids on antiques and leaf-shaped tableware (for the record, Buatta's set of lettuce ware sold for $60,000).
"We're in the business of being able to offer customers the ability to buy however they like, and similarly, we're committed to offering sellers the right sale format that corresponds to how they would like to monetize an individual piece," says Rosenblatt. "I think of this as not a question of [auctions being] more or less important than our preexisting format. We believe they should all coexist, and each one will be used for the right item, the right seller and the right buyer."
Homepage image: Fashion designer Christian Siriano has debuted his first furniture collection on 1stDibs. | Courtesy of Christian Siriano