Happy New York design week—er, month? NYCxDesign, the city's yearly celebration of all facets of design, has mushroomed into a veritable monthlong love affair. Technically speaking, NYCxDesign runs May 11 to 23, but many of our favorites have already started—and many others promise to keep the party rolling all season long.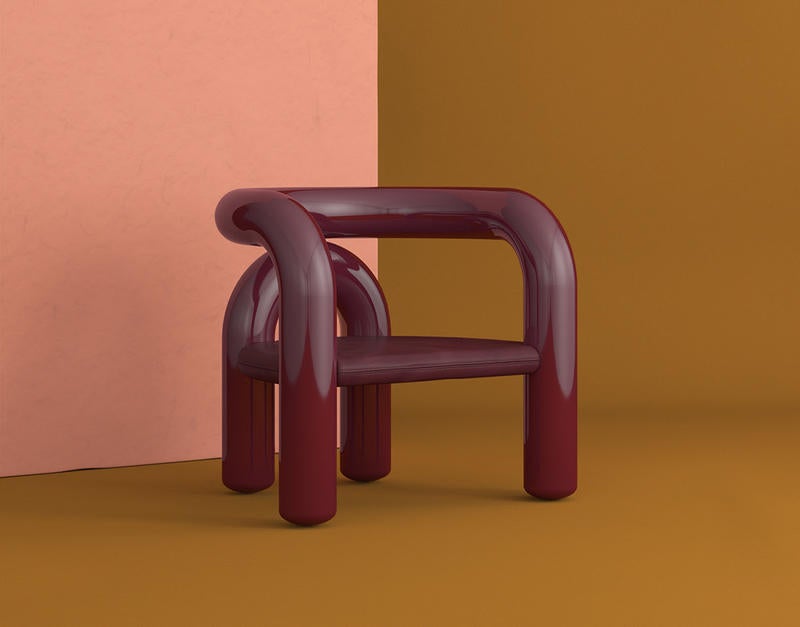 Sight Unseen OFFSITE
This show, produced by the magazine of the same name, has a new focus: the collective. Designer presentations will unfold throughout the city, but the show's hub will be devoted to collaborations. Says Jill Singer, co-founder, "We wanted to drastically shrink the show, from a logistical production point of view. We just wanted to create a different experience for a design fair than you've ever seen before. ... It's not a trade fair at all. We've completely moved away from the trade fair format and it's more of an immersive experience."
The main location—there are a dozen satellite venues throughout downtown Manhattan in cahoots with the mag—will feature, as part of one of its ten exhibitions, 13 furniture and interior designers paired off with 13 creatives sourced from the fields of food, fashion, art, music and film to design a series of one-off objects. Each pair will develop a design object to be sold on 1stdibs with the proceeds being donated to charities of each pair's choosing. What can visitors expect? "Thaddeus Wolf is making a glass cake stand," says Singer. "Bower made a mirror with Seth Rogen. Wall for Apricots made a little mini piano, called a piannette, with Jason Schwartzman. Christopher Stuart made this really amazing wall light sculpture with the artist Julia Dault."
The roster of pairs also includes Rafael de Cárdenas and Mel Ottenberg, stylist; Tyler Hays and Andrew Kuo, artist; Kelly Behun and Narciso Rodriguez, fashion designer; Harry Nuriev and Liam Gillick, artist; Fernando Mastrangelo and Boyd Holbrook, actor; Thaddeus Wolfe and Ignacio Mattos, chef; Home Studios and Natasha Royt, stylist; The Principals and Angel Olsen, musician; Kelly Wearstler and Aimee Song, blogger; and Ladies and Gentlemen and Kaarem, fashion designers. 201 Mulberry Street and other locales throughout downtown Manhattan.
ICFF
Arguably the granddaddy of the group, ICFF will be kicked off with a May 21 opening party that also celebrates the third-ever NYCx Awards. International flair will abound at this year's show, with highlights including "No Taste for Bad Taste," by Le French Design, featuring 40 tastemaking companies and influencers (read: VIA director Jean-Paul Bath on coming to NYC, or Jean-Charles de Castelbajac, Ligne Roset, Fermob, and more) at Booth No. 1827; the RAIZ Project, a showcase of 12 Brazilian furniture designers, including Jader Almeida, Noemi Saga, Sergio Matos, NDT Design, Wagner Archela, Paulo Alves, Faro Design, Índio da Costa, Reboh Design, Plataforma 4, Marta Manente and Studio Poli; and a host of exhibitors like Swedish furniture company Fogia, Venezuelan-born industrial designer Pablo Pardo, young British design brand TALA, Australia- and Los Angeles-based furnishings brand Armadillo & Co … and the list goes on.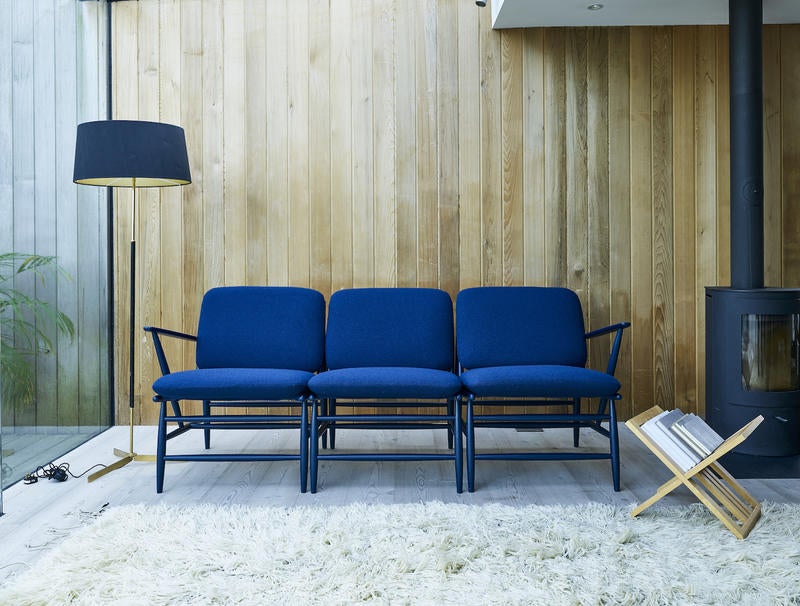 Brands near and far will be on hand to unveil new product, like Bernhardt Design's new offerings including furniture by actor Terry Crews and a chair series by Salvadorian designers Due Estudio, aka Harry and Claudia Washington; first-time exhibitor Aronson's Floor Covering, with handmade custom carpets; Rhode Island's O&G Studio, with an American Windsor-inspired new cafe chair designed in collaboration with Lothar Windels, head of the furniture department at RISD; a new shower concept from German luxury kitchen and bath brand Dornbracht, designed by Los Angeles designer Michael Neumay; and VON, a modular furniture system designed by New York–based Atalson Studio for British heritage brand Ercol, among countless others.
And you might call it a show-within-a-show: Collective Design may have shifted its run date to earlier in the season, but the fair is still making an appearances with a special showcase at ICFF. Bringing back "Collective Concept," their platform launched in 2016 for independent designers, the exhibit will capsule presentations from 12 designers, including Fort Standard, Crosby Studios, Allied Maker and The Coast, with work spanning lighting, furnishing, ceramics and glass. Jacob K. Javits Convention Center, 655 West 34th Street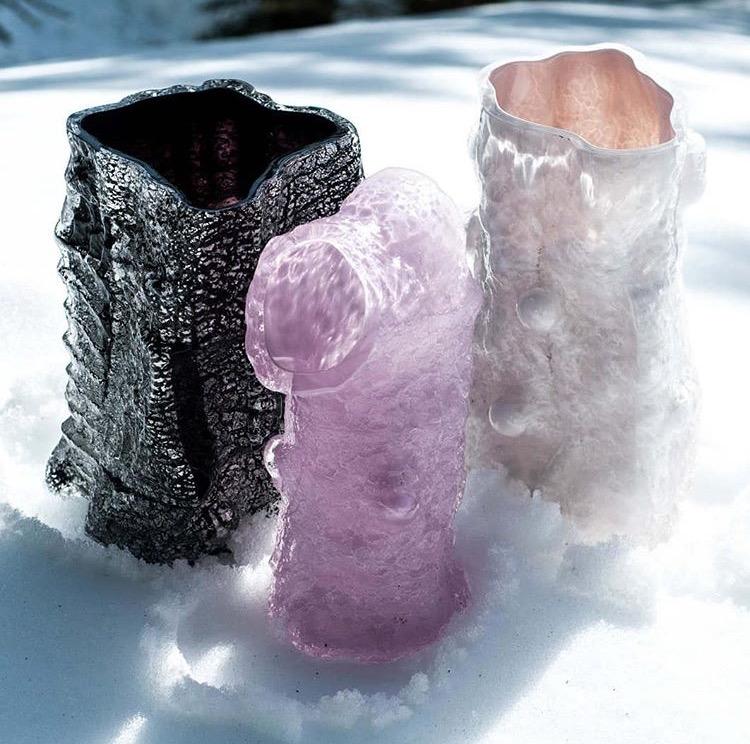 WantedDesign: Manhattan and Brooklyn
These two shows bring a level of education and a focus on emergent design that is unique to the city's design month. Get your global fill at WantedDesign Manhattan (Terminal Stores, May 19 to 22), which hosts different international design pavilions—among them, Istanbul, Chile, El Salvador, Mexico—as well as Launch Pad, the program designed to celebrate 32 on-the-up designers. Closer to home, the Look Book initiative spotlights work from 12 designers and makers hailing from North America.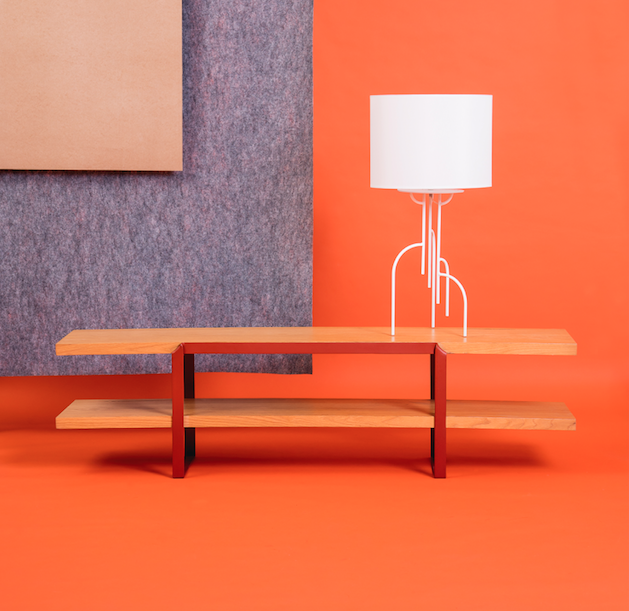 Over the bridge, WantedDesign Brooklyn (Industry City, May 17 to 21), partners with the IC Design Festival in the borough's Sunset Park neighborhood. Don't miss the series of edited exhibitions, including Conscious Design (a collective of international and local design organizations and institutions working to "not only push the boundaries of our creativity but also embody our shared responsibility") and Oui Design (a creative exchange between France and the U.S). Students, take note: a Career Day will be held on May 17, while the Design Schools Workshop debuts with international students collaborating on the theme of "Future Heirloom."
WantedDesign Manhattan, 269 11th Avenue, New York. WantedDesign Brooklyn, 274 36th Street, Brooklyn
D&D Spring Market
The market theme, "Al Fresco; Inside Out," promises to "explore the intersection of indoor and outdoor living" with a bevy of programs: three keynotes, 14 in-showroom programs, four cocktail receptions, one special event and 65 open houses. Hosted on May 30, Market will include keynotes with moderator Cindy Allen, editor in chief of Interior Design on indoor/outdoor living with Alexa Hampton and Ghislaine Viñas (10 a.m. to 11 a.m., Walters, Suite 538); a talk with New York Cottages & Gardens editor in chief Kendell Cronstrom and landscape architect Mario Nievera on the gardens of he Hamptons, New York City and Palm Beach (1 p.m. to 2 p.m., Michael Taylor, Jim Thompson, Suite 1640); and designer Thomas O'Brien in conversation with Traditional Home editor in chief Jill Waage on his first-ever outdoor furniture collection (4 p.m. to 5:15 p.m., Patterson Flynn Martin, Suite 632). Register ONLINE before May 23. 979 Third Avenue
Brooklyn Designs
The Brooklyn Museum's extensive arts collection will serve as a fitting backdrop for the 15th-annual Brooklyn Designs (May 11 to 13). A culmination of the borough's emerging talents, this year's show called upon powerhouse advisory board from all walks of the design world—museum curators Paola Antonelli of MoMA and Aric Chen of Hong Kong's M+, interior designer Olivia Song, event designer David Stark, and Knoll CEO Andrew Cogan—to curate the show, which also includes a special exhibit on historical objects by Brooklyn Museum decorative arts curator Barry Harwood.
Returning talents Makers Market and Token will exhibit alongside newcomers like handmade home goods company Aelfie and the antique light restorers Aurora Lampworks. And if the show's 50-plus exhibitors aren't convincing enough, renowned architect Jonathan Marvel is on deck for a special keynote address, and Instagram-ready installations from the Pratt Institute and the Textile Arts Center will be on display. Brooklyn Museum, 200 Eastern Parkway, Brooklyn
All About Town: Happenings Throughout the City
Colony, "the designers' co-op," founded and curated by Jean Lin, is presenting "Balance/Unbalanced," an exhibit featuring the work of Hollis + Morris, Vonnegut/Kraft, Flat Vernacular, Allied Maker and more, beginning May 17 with a private kickoff. 324 Canal Street
Work by students at The New School's Parsons School of Design is under the spotlight at Parsons Festival 2018, running now through May 18. The festival will host exhibitions as well as student work sales, public programs, interactive installations and workshops throughout The New School's Greenwich Village campus as well as at venues including Aperture, the Westbeth Gallery and Roche Bobois (see below for the Roche Bobois exhibit). Varied locations; newschool.edu.
Design space A/D/O will unveil "Spirit of the City" this month, a site-specific installation by London-based United Visual Artists that aims to "investigate the physical and emotional responses of individuals when navigating urban environments" with a modular setup of revolving mirror-covered columns. A/D/O, 29 Norman Avenue, Brooklyn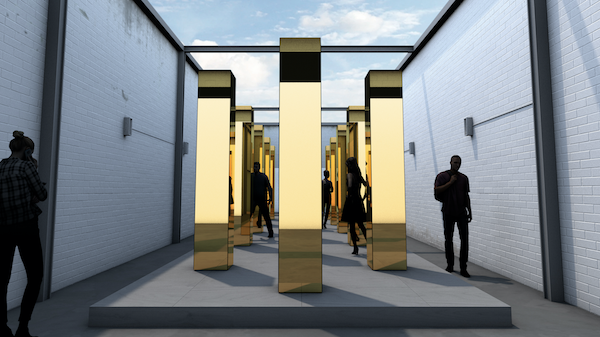 Curated by Studio Gorm, Christopher Specce and Ladies & Gentlemen Studio, Design Within Reach is unveiling the Furnishing Utopia 3.0 collective—an exhibit with 25 designers exploring "the virtues of focused work and cleanliness that the Shakers regarded as a path to enlightenment." Some 40 objects will be on display to show off the meaning of chores and the tools used to perform them. By invitation.
Kalon, East Fork and design shop are celebrating the debut of Kalon's new dining collection as well as new vases by East Fork. Find them on view at Calliope from May 18 through June 3. 349 West 12th Street
The Future Perfect will launch the new Linden Collection by California-based interior designer Charles de Lisle on May 18. Drawing its inspiration from cherry blossom trees, the collection, which includes hanging fixtures, table lamps, sconces, and flush mounts, "playfully [recalls] early computer graphics and [mimics] a video game tree." It will be on view from May 18 through early July. 55 Great Jones St A
Next Level, a "design-led exhibition" hosted and edited by Eskayel, Asher Israelow Studio, Patrick Weder Design, Hart textiles, and Here Projects, is reaching just that. With pieces from 12 artists and designers—Andrea Claire Studio, Avo, Bianco Light and Space, Dorian Goldman, Felt + Fat, Fort Standard, Ghost Curatorial, Huy Bui, Kin & Company, Nita, and Token—the exhibit is open May 16 to 23 from 11 a.m. to 7 p.m. 718 Broadway
Arper's new Kiik collection will launch May 16 at the New Museum, immersing guests in a virtual reality experience of Tokyo-based Iwasaki Design Studio's modular collection—with the help of Barcelona-based visual effect designers Studio MAIO and Arper creative director Jeannette Altherr. Invite only. 235 Bowery, New York.

Carpet manufacturer La Manufacture Cogolin's new collection, Binaire, debuts. Designed by Swiss-French international rising star Julie Richoz, the line can be found at the Edward Fields showroom. A&D Building, 150 East 58th St., 11th Floor
Foscarini will debut a conceptual collaboration—what the brand calls a "series of art objects that reflect on the light bulb as an archetype," with "a room with dark walls, overturned and angled, with monochrome tables and chairs, the suspension lamps sprout from the floor"—with American architect and artist James Wines of SITE Studio at Foscarini Spazio Soho. 20 Greene Street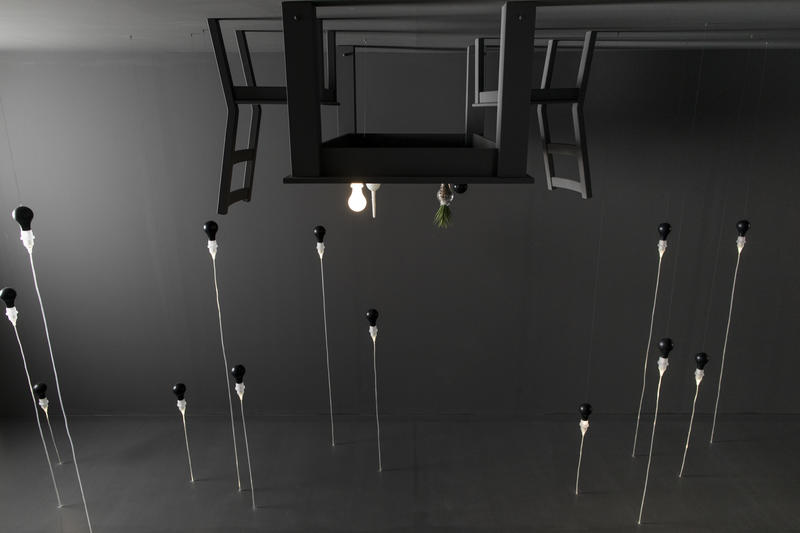 Designed by Brooklyn-based creatives Ladies & Gentlemen Studio, MUJI's large-scale installation, "MUJI Materials Garden," is being launched to celebrate the Japanese brand's 10 years stateside, starting May 19. MUJI SoHo Pop-up Space, 434 Broadway
Kinder MODERN debuts new furniture, ceramics, and objects by Lucas Maassen & Sons influenced by "holes and filling/patching holes," and will also launch Play in Motion with Rodger Stevens, a new series of "playful kinetic objects" created by the American wire sculptor. By appointment. 1133 Broadway, Suite 1610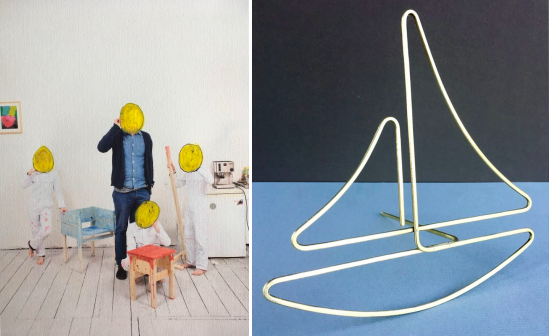 Carl Hansen & Son will present a number of introductions, including the Preludia Series by Brad Ascalon, the brand's first collaboration with an American designer, as well as new pieces from Danish designers, Hans J. Wegner, Arne Jacobsen, Bodil Kjær, Poul Kjærholm, Børge Mogensen and Kaare Klint. 251 Park Avenue South
Hot on the heels of its Fuorisalone Milano Design Show 2018 award, Czech glass company LASVIT arrives in New York to debut their new glassware collections. 51 Wooster Street
B&B Italia will launch new products (think: Eda-Mame daybed by Piero Lissoni and the B&B Atoll seating system by Antonio Citterio), as well as presenting a series of illustrations from Texas artist Alyson Fox that reimagine the brand's iconic pieces. 135 Madison Avenue
British designer Lee Broom is returning to his lighting roots this season. A new sphere-shaped lighting fixture, Lens Flair, available as a Pendant Light and Table Lamp, makes its debut at his New York flagship. 34 Greene Street
Student work will take center stage at Roche Bobois. The French brand, with partners with Parsons School of Design at the New School, presents winning student projects beginning on May 10​ ​at its Madison Avenue showroom and will be open to the public until May 23 ​from 10 a.m. to 7 p.m. and Sunday from noon to 5 p.m. The competition, which launched in 2009 and takes place in a new country every two years, awarded two first place winners this year: The Cairn stone chair designed by Weiran Chen and George Plionis of Parsons' MFA Industrial Design program, as well as the PlusOne, an extendable chair designed by Lorraine Chen and Po Yuan Wang of the school's BFA Product Design program. 200 Madison Avenue
The fourth-ever SoHo Design District Night kicks off on May 19 at 6 p.m., with member showrooms unveiling new products and serving drinks. Among the participants are Artemide, Dinosaur Design, Flos, Interior Define, Kartell, Lasvit, Lee Broom, Luceplan, Moroso, Nanimarquina, OASIQ, Original BTC, Republic of Fritz Hansen, Studio Anise/The Rolf Benz U.S. Flagship Store, The Shade Store, STEPEVI, Tom Dixon, and more. Varied locations; sohodesigndistrict.org
The Design Pavilion 2018 at the Times Square Alliance will host a number of design-centric initiatives focused on the future of design: A large-scale custom-designed inflatable pavilion by U.K. design studio Inflate; a seating installation made up of the Eero Aarnio–designed Magis Puppy, Konstantin Grcic–designed Magis Chair_One, Jaime Hayon–designed Magis Milà Chair, and Spun chairs by the 2011 Wallpaper* Magazine Designer of the Year, Thomas Heatherwick; a Pratt student exhibition; and MIO's debut of a new line of sustainable furniture, among a host of others. May 12 to 20, daily from 1 1a.m. to 9p.m. Times Square, New York, between West 42nd and 47th Streets.