East meets West in the Stepwell Table, produced for the "Wallpaper Handmade" exhibit unfolding at SALONE DEL MOBILE in Milan starting next Tuesday.
This table by Compac and Coffey Architects will appear in a renovated baroque church (Mediateca Santa Teresa), alongside pieces including Maarten Baas and Henge's Mind-and-Body Playground, as well as work by Studio Juju, Theseus Chan, Olivia Lee, Stolen, Gabriel Tan Studio, WOHAbeing and Edmund Zhang. This year's exhibition theme, "Wellness & Wonder," seeks to highlight "objects that accessorize the cult of self-improvement, exercise the cerebellum, replenish the body, jet-wash the life force and restore the innate harmony of the individual," according to Wallpaper.
Coffey Architects modeled the table on Chand Baori, the ancient stepwell in Rajasthan, India, and the piece was created using Compac's technological quartz collection as well as its manufacturing processes.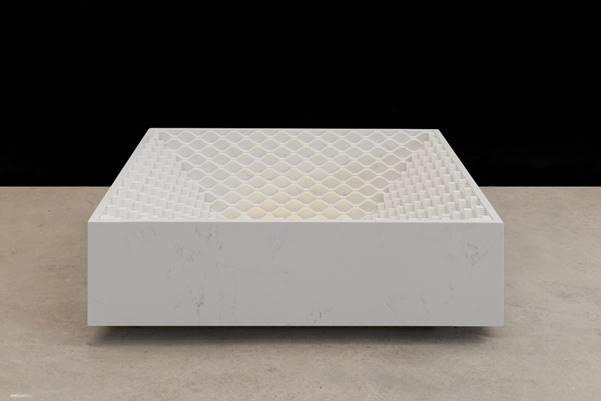 "Chand Baori is an amazing place that offers something unique for the people living in and visiting the area but it also consists of an extremely beautiful geometry that plays with light and shadow. Inspired by this place, and the idea of creating a 'miniature' architecture that has spatial qualities, the Stepwell Table is not just about the surface, but the space within it," said Michael Henriksen, associate at Coffey Architects.
The landmark well includes 13 levels of stairs carved into its four sides, leading down to a pool of water; for the table, a thin sheet of green quartz from the Ice of Genesis Collection, designed in collaboration with Paris-based artist and designer Arik Levy, was used to reflect the original concept.

"The Compac material presents solidity and heaviness that really helped drive the design, as did the manufacturing process," said Henriksen. "Water is an essential part of producing the quartz material; hence, we focused on water as an inspiration for the concept of the table. Ultimately, we loved the challenge of designing something that relates to the theme 'Wellness & Wonder' while also dealing with the themes we care about in architecture: light and culture."
Need more Salone? Check out our Guide to Milan Design Week for the scoop.