In a new series, What I Love, we're asking designers to build us a mood board of what's inspiring them right now.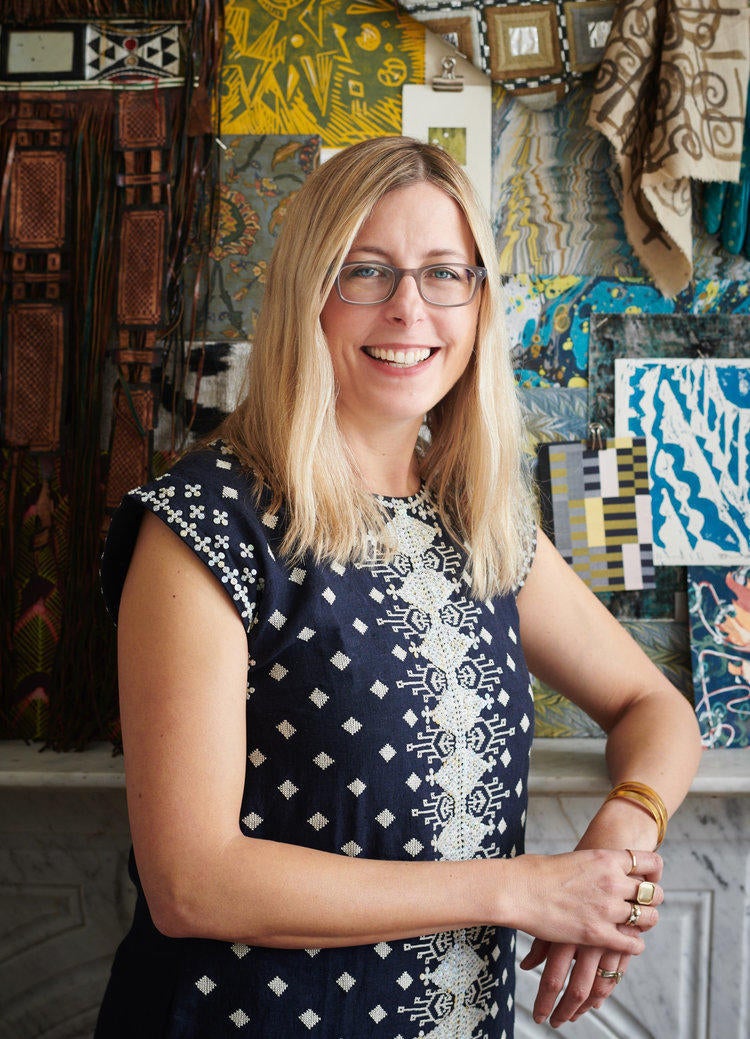 To say Saana Baker has a knack for sophisticated fabrics is an understatement. The San Francisco–based textile designer and editor of The Textile Eye has built a thriving business on her ability to separate stellar prints and patterns from the so-so.
Her current mood board—brimming with bold hues and touchable textures—is an excellent example. Inspired by the need for more diversity in design, the selection features an eclectic range of samples and swatches from makers around the world. "Discussion about citing one's sources and being mindful when using material from different cultures is gaining momentum," she tells Business of Home. "The theme of the board builds upon the major changes happening in our world, including the social justice movement and its impact on the design industry."
The end result is a maximalist-friendly mix of plush materials, eye-catching graphic motifs and deep saturated hues. "The palette is rich and unusual, using cutting-edge combinations to describe an optimistic future," she says.
Here, Baker breaks down the details—from navy linen velvets to printed grass-cloth wallcoverings.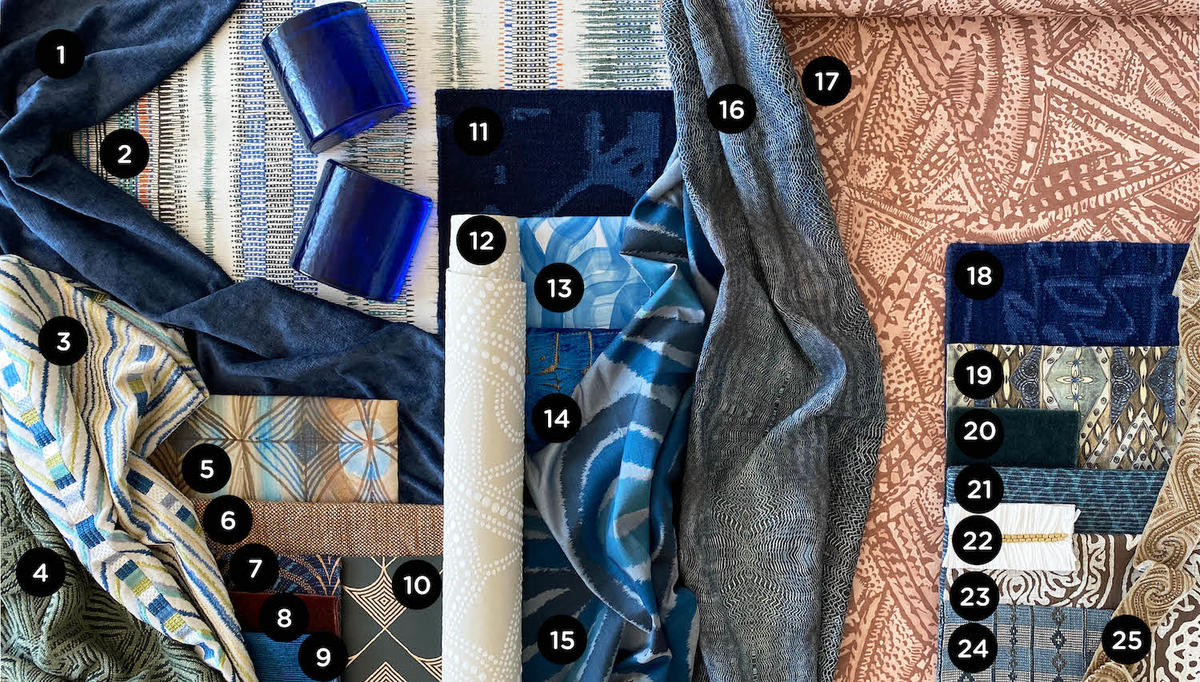 1. LINYATI FABRIC IN WATERFALL BY JIUN HO TEXTILE
"This linen velvet is a perfect plain to complement complex patterns; the subtle luster of the pile is elegant yet has a broken-in livability."
2. HINGTHAM WALLCOVERING IN CLAY BY BLACK ARTISTS + DESIGNERS GUILD FOR S. HARRIS
"A printed grass cloth inspired by Bhutanese ikat, this wallcovering gains complexity from fine detail and polychromatic layering."
3. TIGER NEST FABRIC IN LAKE BY BLACK ARTISTS + DESIGNERS GUILD FOR S. HARRIS
"The feathered edges of this fine embroidery mimic the look of ikat. I love the evocative pattern name and the fresh palette of chartreuse, cobalt and pale yellow."
4. SERONERA FABRIC IN THORN BY JIUN HO TEXTILE
"An extensive visit to the Serengeti inspired world traveler Jiun Ho to introduce Seronera. Ho strives to evoke the feeling or mood of a place, as opposed to a more literal use of collected motifs."
5. MACHAKOS FABRIC IN EARTH AND SKY BY NZURI TEXTILES
"Designer Eno Jonah was inspired by details in an African mask when creating the hand-painted artwork for this design, which is printed on Belgian linen in California."
6. SHINTO FABRIC IN CINNABAR BY JIUN HO TEXTILE
"The neutral color of the wool-blend warp yarn in this rustic boucle allows for subtle colorations that support many palettes."
7. ANNA MAY WONG FABRIC IN MIDNIGHT/TEAL BY MAKROSHA
"Designer Esha Ahmed was born in Bangladesh and raised in Queens. Her fascination with the glamour of the art deco period inspired this finely woven jacquard."
8. MARCI MOHAIR IN SUMAC BY MAKROSHA
"This classic plush mohair is offered in a wide range of rich colors. Mohair velvet stands the test of time, becoming more soulful with wear."
9. LAMU MESHI FABRIC IN LAPIS BLUFF BY ANAMAR
"Designer Ana Maria Delgado works with a mill in the Philippines to create her hand-woven offerings. All fabrics are warp screen-printed, even this ribbed plain-weave fabric, which is made of exceptionally heavy 100-percent silk."
10. LIGHTRAY WALLCOVERING IN PATINA BY LISA HUNT FOR WEITZNER
"Visual artist Lisa Hunt collaborated with Lori Weitzner on a group of five wallcoverings and textiles. I admire the way Hunt's work is strongly geometric yet subtle, [with a] thoughtful translation from fine art to product."
11. BANDA INDIGO FLATWEAVE RUG BY ESKAYEL
"Designer Shanan Campanaro devised a unique way to collaborate with master ikat artisans in Sumba, Indonesia. She asked the weavers to reinterpret five existing Eskayel watercolor designs, which she then recreated as flat-weave rugs, wallpapers and printed textiles."
12. HERITAGE WALLPAPER BY MALENE BARNETT FOR LULU AND GEORGIA
"Black Artists + Designers Guild founder Malene Barnett has collaborated with Lulu and Georgia on a group of wallcoverings inspired by her hand-built ceramics. A raised surface-print technique gives this paper a tactile dimensionality."
13. WAVES BLUE WALL MURAL BY KAREN J. REVIS FOR A-STREET PRINTS
"Artist and printmaker Karen J. Revis created this flowing watercolor design for A-Street Prints. The design shown here is not to scale—it was conceived to be printed as a wall-sized mural."
14. MAJI FABRIC IN PEACOCK BY BLACK ARTISTS + DESIGNERS GUILD FOR S. HARRIS
"The bright blue of this jacquard velvet is offset by striking gold yarns in the ground, creating a complex pattern."
15. BEIJING KIKKO FABRIC IN LAZURITE PEAK BY ANAMAR
"The globe pattern is hand-screen-printed onto the warp, using a separate screen for each color before being hand-woven."
16. HAMAKA TEXTILE IN HUMACAO BY BREUWEN
"Designer Grey Lux was inspired by the weaving legacy of his Taino ancestors to create this digital linen print. Indigenous to Puerto Rico and other parts of the Caribbean, the Tainos were the creators of the woven hammock."
17. ALAARI WALLPAPER BY MALENE BARNETT FOR LULU AND GEORGIA
"Alaari is colored in a beautiful tonal spice combination, a sophisticated update to millennial pinks."
18. AKIMBO 5 INDIGO FLATWEAVE RUG BY ESKAYEL
"Another example of Eskayel's collaboration with master ikat weavers, this wool flat-weave has a gorgeous, inky depth."
19. YANKARI FABRIC IN TURKANA BY NZURI TEXTILES
"Subtle color gradations and hand-drawn detail stay true to the hand-painted look of Eno Jonah's original artwork. She strives to maintain a feeling of hand-touched imperfection in her linen prints."
20. MARCI MOHAIR IN TEAL BY MAKROSHA
"A second colorway of Makrosha's luxe mohair velvet has a stunning depth of color."
21. ANDORRA MESHI FABRIC IN MILORI CROWN BY ANAMAR
"Another find from the Anamar archive, this pattern depicts dragon scales. The heavy, hand-woven silk gets its pattern from a hand-screened warp. Alternating teal colors in the ribs from thick hand-dyed silk yarns add a shadowy stripe effect."
22. MAJANI TRIM IN BRASS BY BLACK ARTISTS + DESIGNERS GUILD FOR S. HARRIS
"Gold-toned beads juxtapose smartly against the stiff raffia of this decorative trim. The contrast of the two materials is compelling."
23. BHAVANA DESERT FABRIC BY BLACK ARTISTS + DESIGNERS GUILD FOR S. HARRIS
"I love print-and-embroidery combinations. In this decorative panel stripe, the slightly antiqued white ink and the heavy, crewel-like embroidery create layers of interest."
24. AMBOSELI PILLOW IN MAASAI BLUE BY NZURI TEXTILES
"This special textile is hand-woven in West Africa on a strip loom; the weavers apprentice for many years and commit the complex traditional patterns to memory."
25. PATU TRIM IN BARK BY BLACK ARTISTS + DESIGNERS GUILD FOR S. HARRIS
"Reminiscent of incised decorations found on wooden Maori weapons, this chic trim is embellished with beads and tonal embroidery."
Homepage photo: A flat lay by designer Saana Baker | Courtesy of Saana Baker Design