Every spring, a handful of insiders flock to Cernobbio, Italy, to determine the future of fabric. They're there for Proposte, a textile trade fair that spills outside the walls of the tiny town's convention center and into commandeered local shops—mills hawk their wares in rented-out gelaterias and optometry storefronts. Outside of the fabric industry, Proposte is hiding in plain sight: Few interior designers attend, and not many more have even heard of it. But much of what you see at a fabric showroom today is a direct result of last year's Proposte.
One of the unique things about Proposte is that, in the high-end fabric world, everyone goes. That includes giants like Kravet and boutique companies like Rose Cumming alike—from design directors in search of their next hit to specifiers of fabrics used on cruise ships, if you can meet minimum order requirements, you go.
I first attended as a staff designer for Schumacher in 1997. In recent years I've visited to scout trends as editor in chief of The Textile Eye, and this spring I went as a guest of the Italian Trade Agency. Whether attending as a journalist or to do business, I've always found Proposte to be the best place to quickly take the temperature of what's happening in the upper tier of the fabric industry.
The concentration of buyers is matched by the density of sellers—the textile mills. The brainchild of a consortium of mills from the neighboring Brianza region, Proposte was originally created to present Italian manufacturers to an invitation-only crowd. Since its founding in 1993, the fair has opened up considerably. This year, it featured 22 Italian mills plus an additional 40 from countries ranging from Austria and Belgium to India and Turkey. (A handful of American mills occasionally show at the fair, but the textile industry in the States is sadly a shadow of its former self and doesn't play a large role at Proposte.)
There are Proposte absentees. Some mills balk at the expense of showing. Others have unspoken agreements with their buyers to stay off the radar and remain secret sources. Recently, some mills have skipped the show simply because they—like many other home manufacturers in the COVID era—already have more business than they can handle. But for the most part, Proposte is reliably a who's who of the buyers and sellers in high-end fabric.
HOW FABRIC HAPPENS
One of the biggest misconceptions about the textile industry is that brands themselves—the Fabricuts and Schumachers of the world—design all their fabrics from scratch. In fact, a huge amount of design work is done by mills. Many have recognizable design styles and unique capabilities, employing scores of textile designers, regularly purchasing textile artwork and subscribing to trend services to help spark inspiration. Mills come to Proposte with finished fabrics, and often the job of brands is to simply pick the textiles they like and curate them into a coherent collection, which they then market to designers.
In the U.S., we don't have a go-to term for the fabric companies that sell to the trade—they're sometimes referred to as "jobbers," "converters" or simply lifestyle brands. "In Europe, they call the fabric houses 'editors.' That's really what we are," says Scott Kravet, the chief creative director at Kravet. A regular at Proposte, Kravet is accustomed to reviewing tens of thousands of offerings from thousands of suppliers each year and cherry-picking the best matches for the collections in his range. "Sometimes you walk into a booth and spot something great, maybe you find a beautiful silk—a brocade or brocatelle—from one of the mills, and it's perfect just as it is. It's a mini high."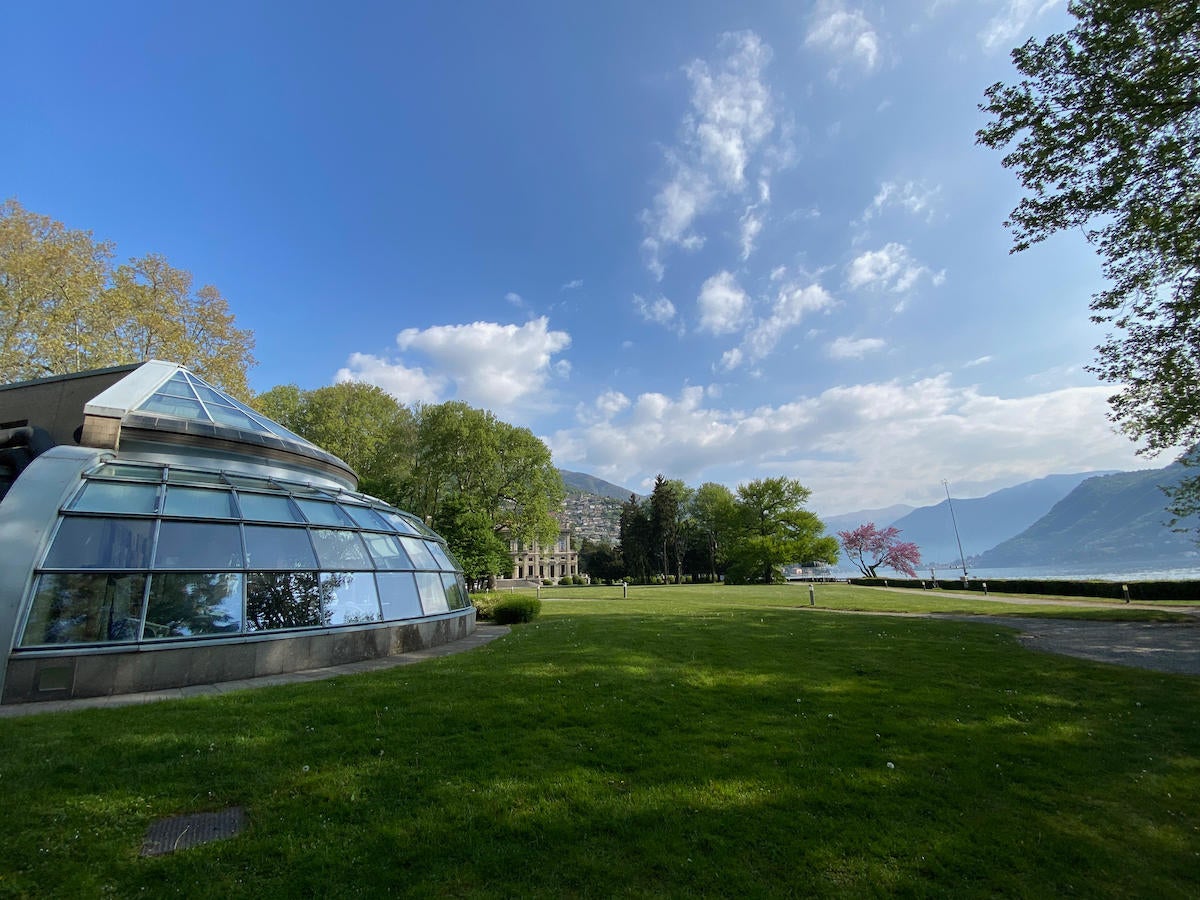 When the right editor finds the right fabric at the right time, it can be magic. But Proposte is a business too, and at times a frantic one. When editors review mill collections, they often have the chance to purchase an item right away to ensure exclusivity: The mill commits not to sell the fabric to anyone else for a set amount of time. These deals are often made on a first-come, first-served basis and rarely consist of more than a handshake—though there's some context there. A representative for a big fabric brand with a lot of purchasing power will find it easy to make deals, while a newcomer will struggle.
However they're secured, exclusives are a desirable coup for fabric buyers, and the competition to nab them gives the opening day of Proposte a manic energy. Some buyers have been known to sneak into the fair a day early, as mills are setting up their booths, to get a jump on the competition.
Other buyers go to Proposte not to nab exclusives but to stay on top of innovations. Mills use the show to debut innovative fibers, updated yarns and new techniques—even if they're not buying as shown, attendees collect reference samples of the latest and greatest, take them home and use them during their own product development process. Attending the show ensures buyers and designers don't miss an important emerging trend.
These days, many buyers also come to patch holes in their collections. Typically speaking, when mills sell a pattern, they agree to keep manufacturing the fabric for three to five years. It's an arrangement that gives both buyer and seller time to let a pattern mature into the market—but the agreement is only valid as long as the mill stays in business. In recent years, many have succumbed to pressure from low-priced suppliers in Asia or struggled to pivot when one of their dye houses or yarn manufacturers goes belly-up. As a result, it's increasingly common for buyers to come to Proposte in search of a white-knight mill to replenish fast-dwindling inventory.
There's a push and pull between fabric houses and mills. Some houses lean entirely on the mills for design, and others rely more on their own team and archive, tasking mills mostly with manufacturing. Sometimes, it's an equal collaboration: Mills provide the basic design and technical expertise, while houses steer color or pattern direction. In other cases, the buyers will push the mills to create new qualities based on their direction, demanding a higher level of customization and innovation. The results of these pressures are often wonderful—and will often end up front and center at next year's show.
Lauren Hudson of Wells Design, which acquired Rose Cumming and Classic Cloth just before the pandemic, attended Proposte for the first time this year. Her company's approach reflects a typical balance between mill and fabric house. "We do both selecting and developing, plus Rose Cumming has her own archive," says Hudson. "We are collaborating now with several artists on beautiful micro-collections, and we are developing several patterns from the Rose Cumming archive. I also really appreciate and admire the artwork and archives of several of the mills and printers we use."
While mills are often underappreciated in the fabric development process, it would be inaccurate to say they do everything. Mills come to Proposte with their latest creations and offer them up to fabric houses ("proposte" translates as "proposals"), who in turn provide feedback and direction about what they're seeing from their customers, interior designers. Ideas flow freely between customer and manufacturer. Finished fabrics are the result of that lively back-and-forth.
INSIDERS AND OUTSIDERS
Fabric brands are brands—by definition, they're looking to make an impression on their customers. Individual mills, by contrast, tend to keep a low profile and are mostly unknown to interior designers. However, at Proposte, each one has their own distinct approach.
High-end weaving and printing generally take place in small- to medium-size factories, each with its own specialty. These are often long-standing family businesses where experience and techniques are handed down from one generation to the next. From foil-printed velvets to epingles woven on antique looms, hammered silks to hand-finished trimmings, seeing the capabilities of these manufacturers up close is a humbling experience—their work can be stunning.
Each country has its own fabric traditions, all on offer at Proposte. Belgium is renowned for linen and expertise in velvet weaving. India is the powerhouse of embroidery and fine embellishment. The U.K. has woolen mills and storied print houses, while Germany excels in contract innovation and fiber manufacturing. Turkey has a handful of mills that rise above average, producing exquisite sheers and upholsteries.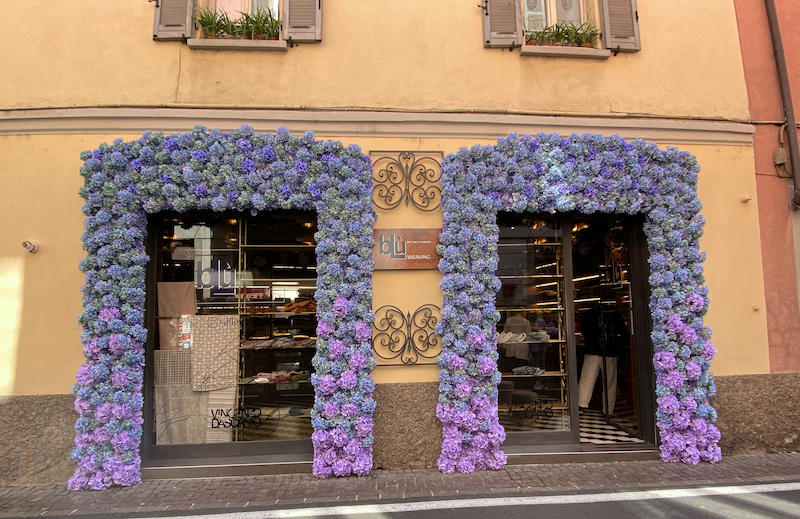 As might be expected of the host country, Italy, with its history of fashion and textiles, is a force unto itself, with sheers, velvets and mixed-fiber upholsteries being key in the north, and silk and Trevira CS (flame-retardant luxury polyester) dominating in the south.
One notable anomaly: The Prato region boasts deep fashion know-how, and many of the companies based there create collections without owning a single loom, instead relying on a network of specialists—yarn spinners, weavers, printers, dye houses, embroiderers and finishers—to bring fanciful ideas to life. These suppliers, sometimes referred to as "impannatore," do not meet Proposte's criteria for "manufacturers" and are barred from showing in Villa Erba, the official convention center. That stringent qualification is sometimes a source of frustration for vendors who are shut out of the official show.
"I hope Proposte will open the doors to some important producers that have been forced to show outside Villa Erba," says Giuseppe Molteni, CEO of G-Tex, a supplier that regularly shows innovative, eclectic collections in a pop-up in Cernobbio.

Even among companies that meet the criteria, many more want to exhibit than there are spaces in Villa Erba, so companies set up temporary displays all over Cernobbio and Como, taking over florists and dress stores, as well as hotel conference rooms and grand stand-alone villas.

There is no central directory of these "outside mills," which in the past have been frowned upon by the Proposte board (to the point that fines are threatened if the pop-ups open outside of show hours). To find them, visitors simply wander through the streets. The companies showing are a mixed bag. While a peek inside one pop-up might reveal artisanal woven leathers or raffias, another might show run-of-the-mill, mass-produced goods imported by wholesalers.

The locals are used to the yearly textile takeover, and all have their opinions about how things should be handled. Even the pharmacist who administered my pre–return flight COVID test told me of his hope for an integrated approach that might include bigger cultural happenings and result in a destination event more like Salone and Fuorisalone at Milan Design Week.
For Proposte's organizers, there's a delicate balance between maintaining the fair's exclusive feeling and letting more people into the tent. In its early days, Proposte was even more intimate, and there were no "outside mills" in the mix. As the fair has opened up, some of the original Italian mills have left as a quiet protest to the change in vibe (though many still invite fair attendees to drive out and visit while they're in town). Still others think Proposte needs to get more welcoming, not less.
"I must say, I see a future for Proposte only if inside and outside exhibitors are more integrated," says Diego Vercellino, a Proposte board member and CEO of Sirio Tendaggi, a local mill specializing in luxurious natural-fiber sheers.
A GLIMPSE INTO THE FUTURE
Proposte is not the only fabric trade show. Heimtextil, for example, in Frankfurt, Germany, covers a wide range of home textiles and price points, and Interwoven (formerly known as Showtime) in High Point, North Carolina, focuses on midmarket upholstery suppliers catering to the furniture industry. But no other show has captured the high end of the market with the focus of Proposte.
That may be a result of the romantic setting: Cernobbio is on the shores of Lake Como, and part of the original vision of the show was to lure visitors with an idyllic locale. However, it's mostly because of the efficiency Proposte provides: All of the buyers and sellers in the upper echelons of the market are together in the same place at the same time. The result is a self-perpetuating engine. The right people come to the show, and so they keep coming, year after year, in order to be with the right people.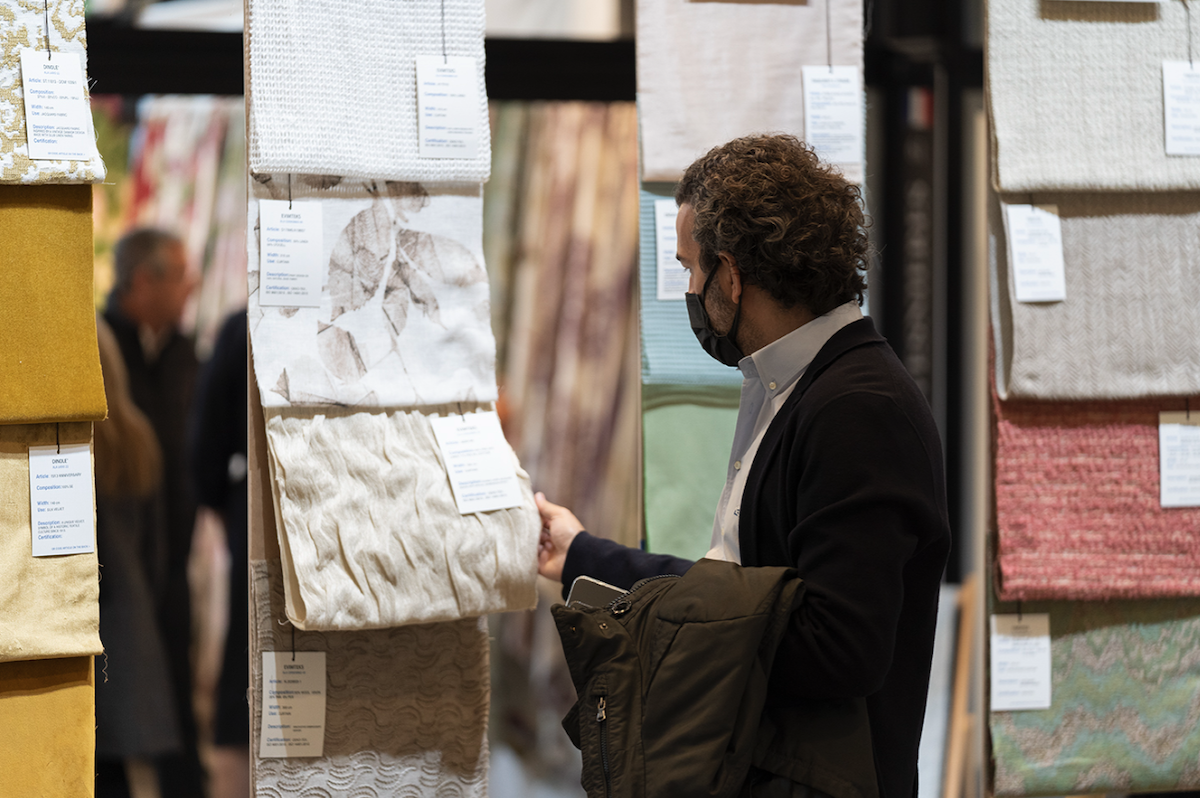 "It's a show I won't miss because I can see all my mills in three days. I can walk into a booth and literally within minutes determine what I like and don't like," says Kravet. "Everyone's there at once, and everyone's on the same page trend-wise."
The exhibitors tend to feel the same. "Proposte is important to meet as many customers as possible in just a few days and show them our latest collection in the beautiful and peaceful surroundings of Cernobbio and Como," says Molteni. "These days are not just for business but also to meet people." Alessandro Tessuto, a Proposte board member and CEO of Clerici Tessuto, a Como-based weaver of sumptuous velvets and jacquards, concurs: "Proposte is very important for us because it is an exhibition where all the most important clients visit us, in particular the ones from the U.S."
Though the 2020 edition of the fair was canceled due to the pandemic, Proposte has rebounded and seems to be resilient to the Zoom-ification of modern business. Fabrics are just too tactile to create—and buy—remotely. In my own work, I value being able to speak face to face with the creative and technical teams from the mills. Refinements that could take weeks over emails and shipments can be accomplished in minutes, and often the solutions are more spontaneous and creative than they would have been otherwise.
Efficient as the fair may be, fabrics can be slow to come to market. The realities of manufacturing and the supply chain mean that the goods dreamt up at Proposte won't be launched in the U.S. for at least 12 months, often longer. "Today, weaving is taking literally four or five months minimum. Then at least a month in transport. Even if you place an order at the fair, you won't get it until the end of the year, and then you have to make samples and launch it," says Kravet. "You don't see business for at least a full year, usually longer. And you can't really shorten it. It's impossible."
The time frame may be a frustration for fabric houses, but it means that walking the booths at Villa Erba and the streets of Cernobbio is like taking a peek into the future. At this year's fair, sustainability and recycled fibers continued to gain strength, and innovative materials like corn, paper and banana popped up. Boucles held on, and wool and metallics continued to make inroads. Outdoor yarns featured heavily, with embellishments like novelty yarns and embroideries adding interest.
Whatever trends the fair will bring next year, the movers and shakers of the fabric industry will be there to see them. Kravet has attended every single session of Proposte since 1993 and has no intention of stopping. Hudson, at Proposte for the first time, will likely join him, returning in 2023. "There is no substitute for a face-to-face meeting, and this visit allowed me to do that in a very expeditious way," she says. "It will absolutely be an annual visit."
Homepage photo: Villa Erba | Donatella Simonetti