Though it's one of the oldest motifs in history, mosaic is every bit as beloved today as it was centuries ago. Loosely defined as patterns or images composed of small pieces of glass or stone, mosaics date back to the third millennium B.C., when they were used to decorate temples in ancient Mesopotamia. Today, they provide designers with an artful alternative to traditional wall tile.
In the market for a mosaic accent that doesn't read old-fashioned? From stained-glass-style wallpaper to floral-patterned stone and ceramic tile, Business of Home presents seven standouts to help you piece together your interior.
Courtesy of Lulu and Georgia
MOSAIC WALLPAPER BY MALENE BARNETT — LULU AND GEORGIA
When you can't commit to tile, colorful wallcoverings are the next best thing. The Mosaic wallpaper by Malene Barnett at Lulu and Georgia features a fragmented, stained-glass-inspired pattern with metallic accents that create a sense of dimension.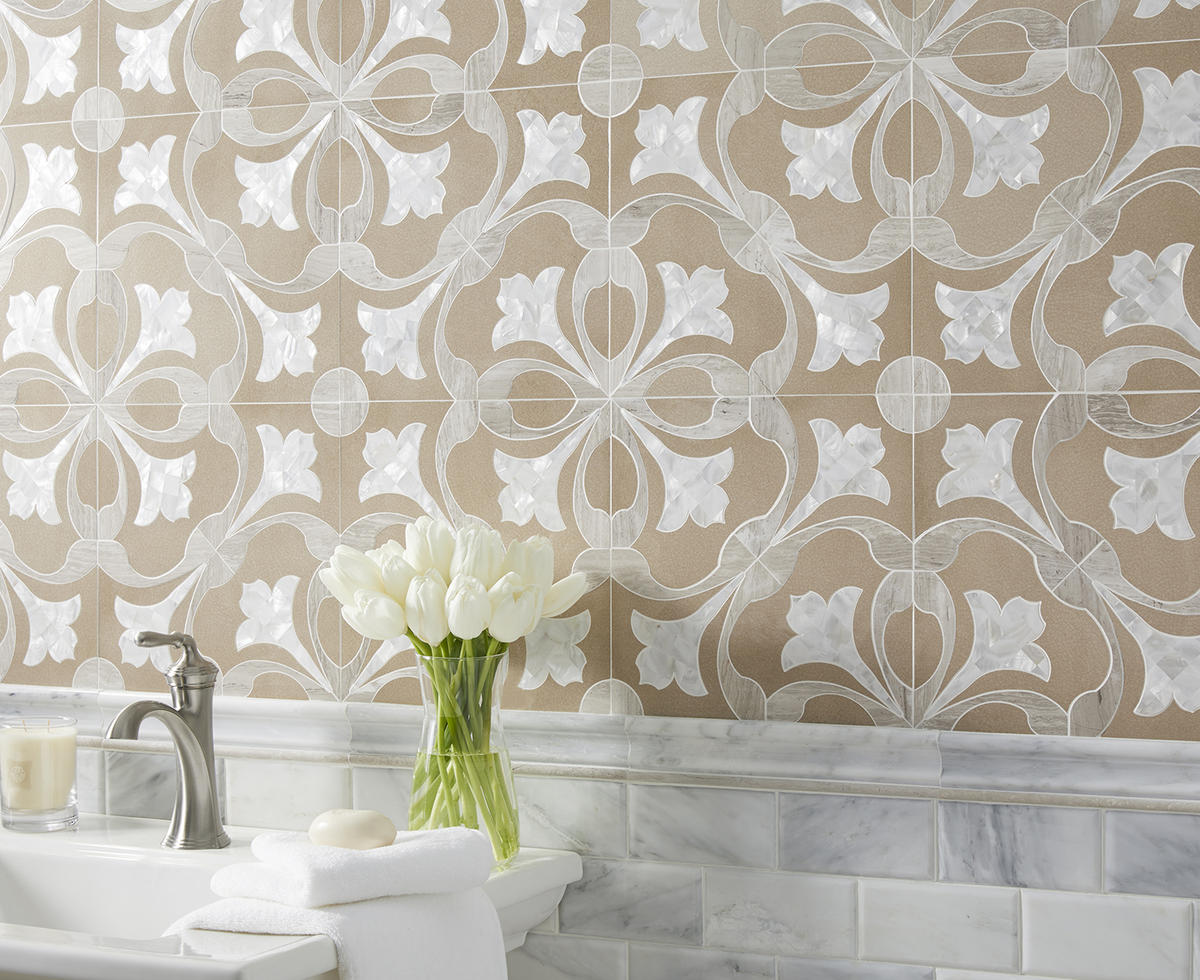 Courtesy of The Tile Shop
ANNIE SELKE TULIP MOSAIC STONE AND PORCELAIN WALL TILE — THE TILE SHOP
For a statement backsplash that won't disrupt a neutral scheme, look no further than the Tulip mosaic stone and porcelain wall tile by Annie Selke for The Tile Shop. Inspired by the designer's love of florals, the earth-tone motif boasts mother-of-pearl detailing and a cool crackle glaze.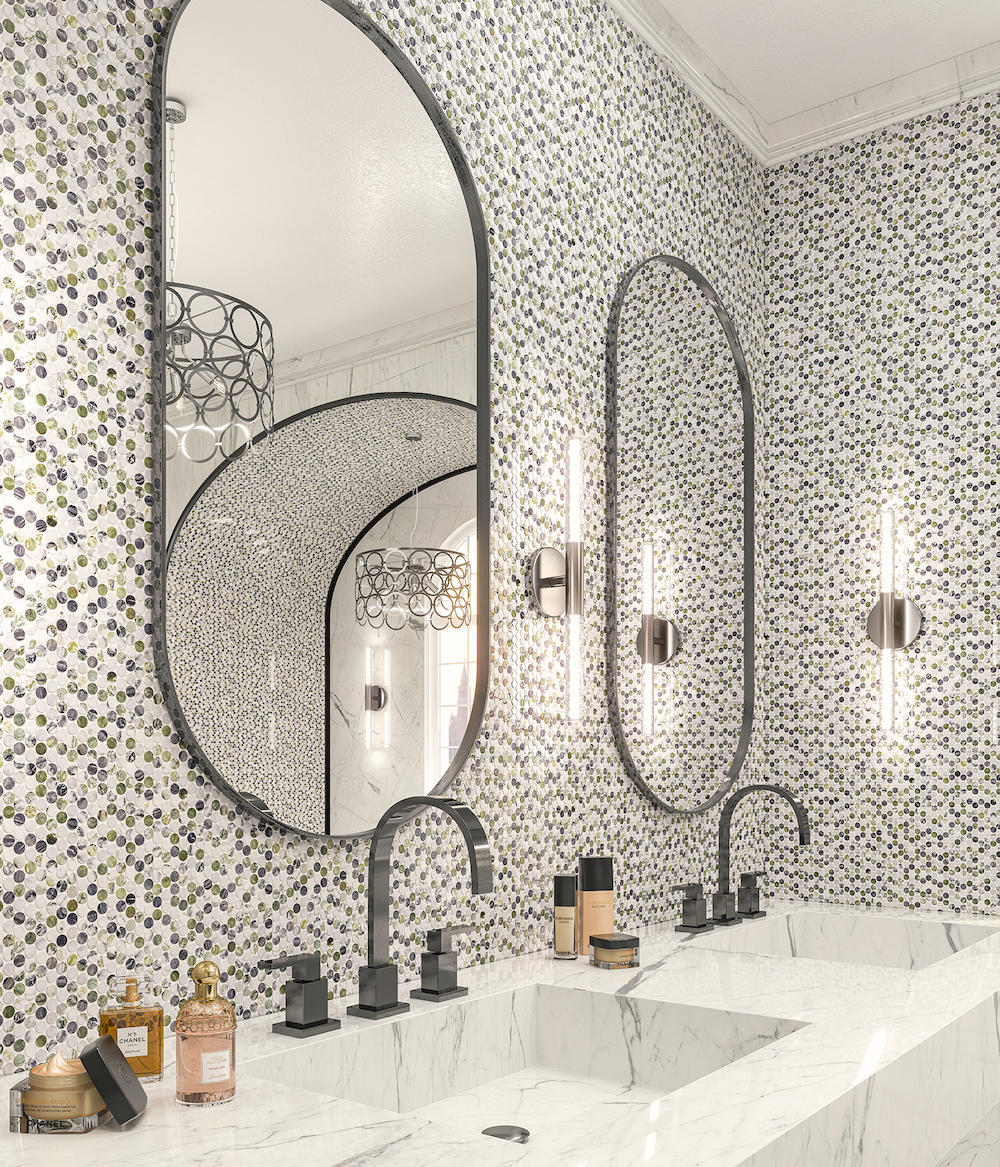 Courtesy of Artistic Tile
PENNY LANE Mosaic — ARTISTIC TILE
Composed of round stone tiles the size of its namesake coin, Penny Lane by Artistic Tile comes honed or polished in gradient marble hues and offers any home an instant mosaic without the tedious labor.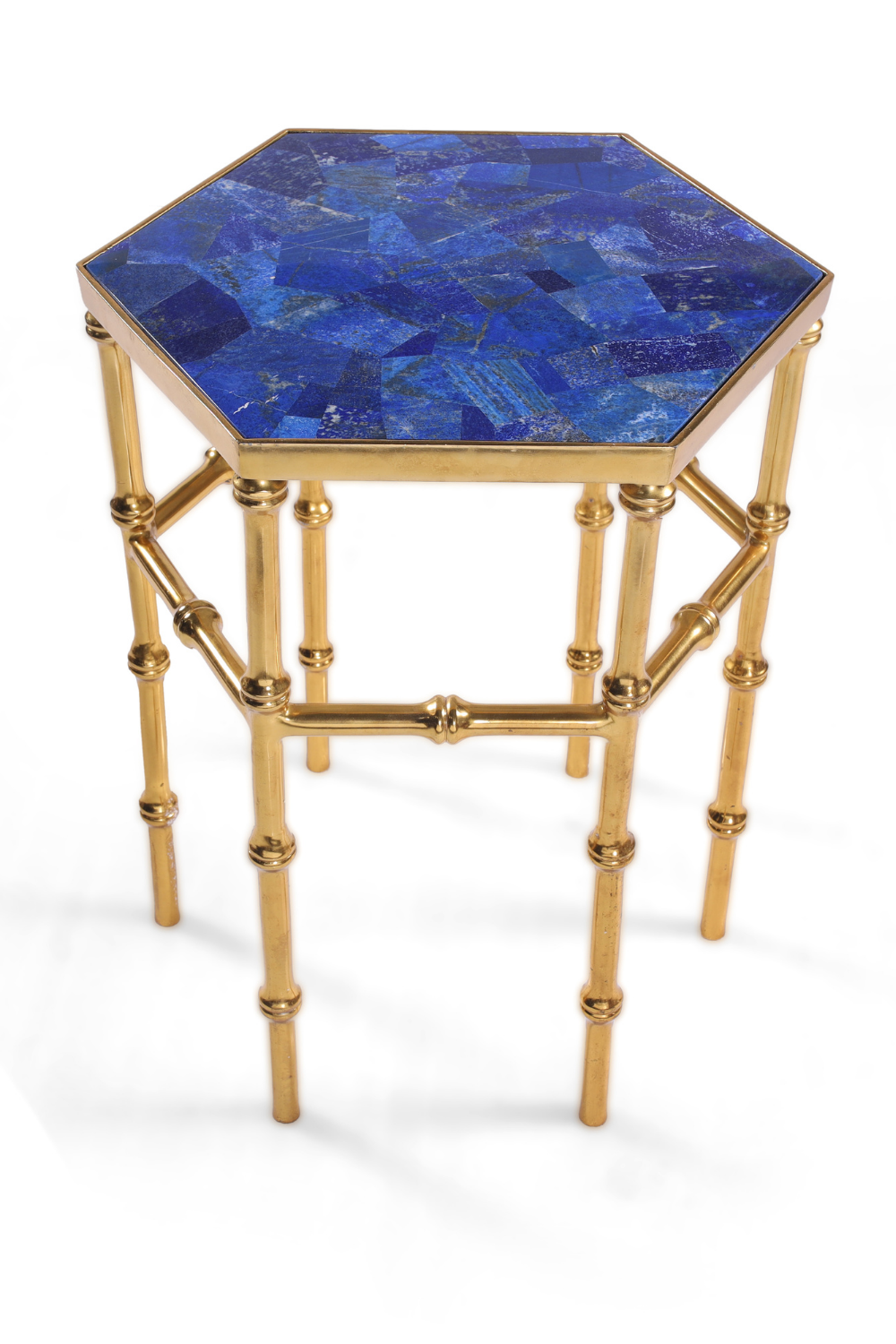 Courtesy of Tarini Stoneworks
LAPIS LAZULI SIDE TABLE — TARINI STONEWORKS
Nothing livens up a drab decorscape faster than a pop of cobalt. This side table by Tarini Stoneworks features a hexagonal top made of semiprecious stones that forge a striking bright blue mosaic motif.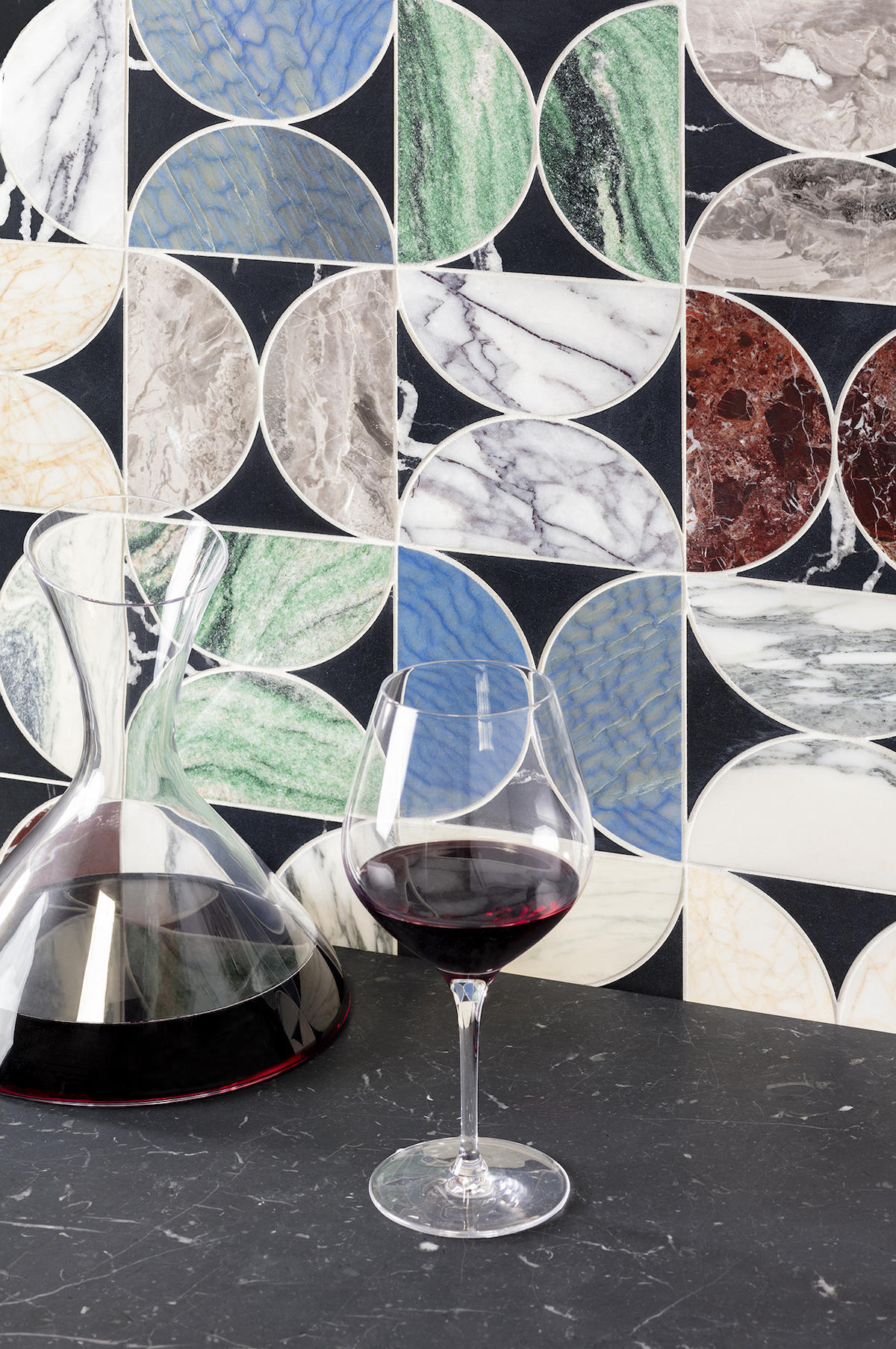 Courtesy of Artistic Tile
MOON COSMATI DARK WJ MOSAIC — ARTISTIC TILE
The Moon Cosmati Dark WJ Mosaic from Artistic Tile features a bisected circle pattern crafted in a mix of jewel-toned stones that's begging to be employed in a powder room or as a bold geometric backsplash.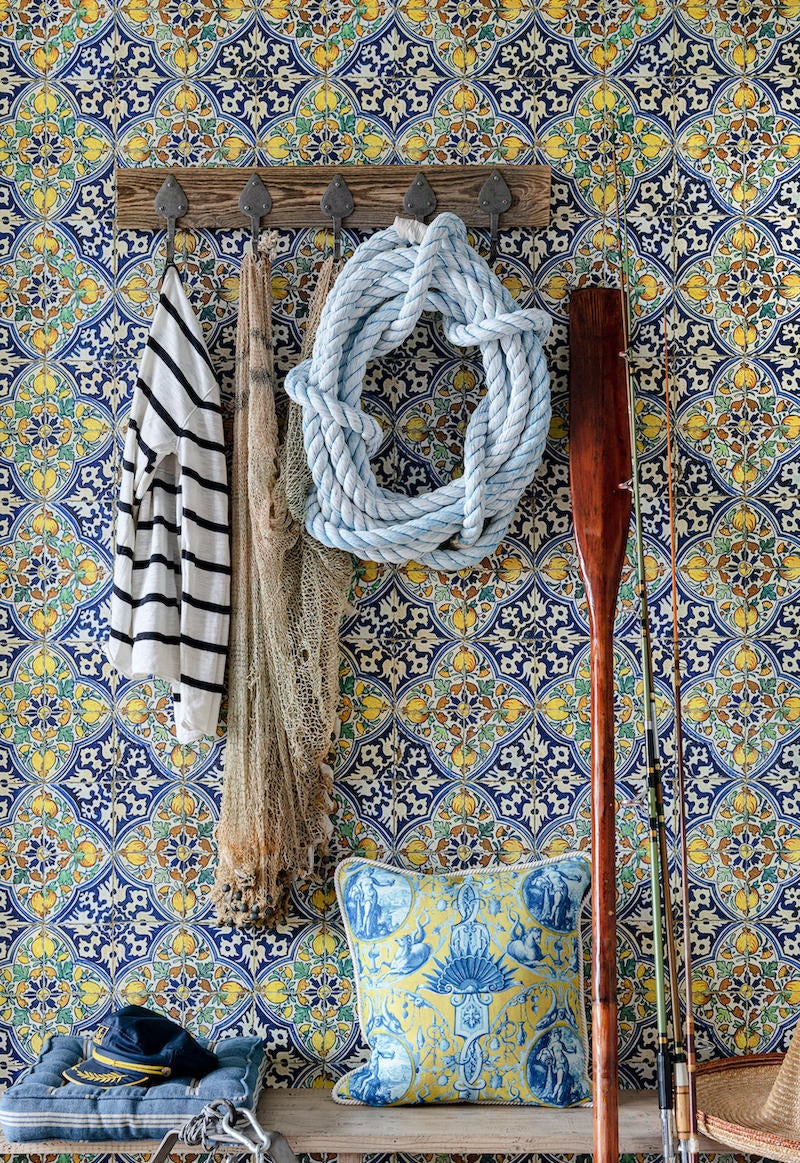 SARDEGNA TILES WALLPAPER — MIND THE GAP
A kaleidoscopic spin on a classic mosaic motif, the Sardegna Tiles wallpaper by Mind the Gap is teeming with rich shades of yellow, white and electric blue that give off major Mediterranean vibes.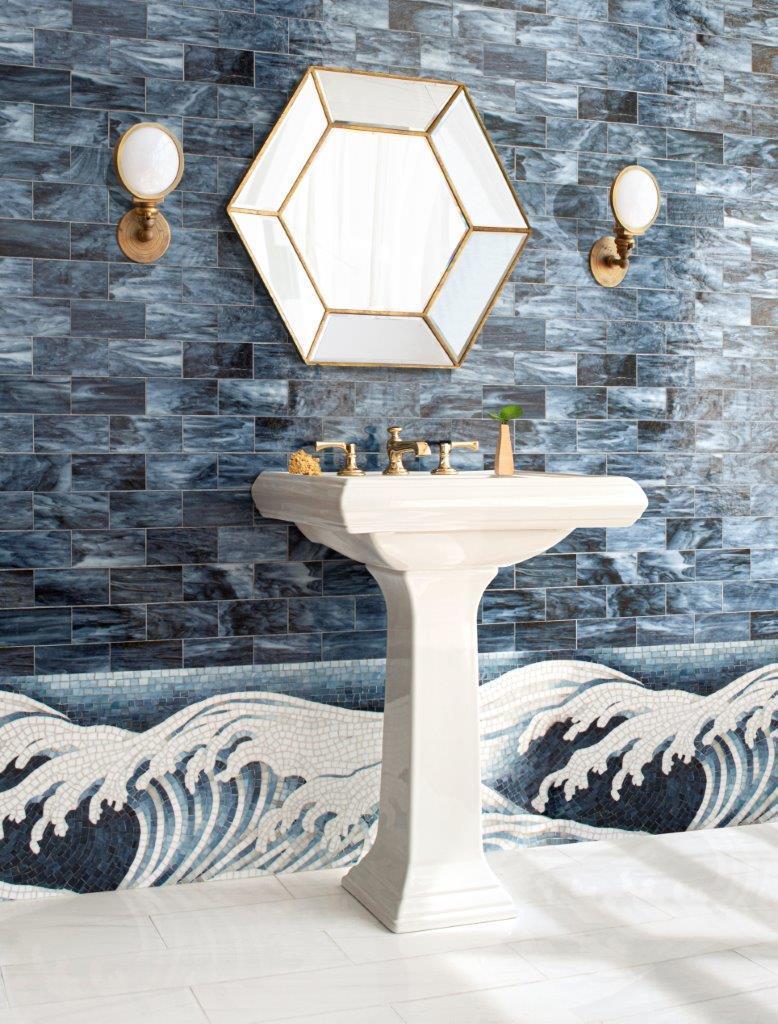 GRACIE WAVES BORDER MOSAIC — NEW RAVENNA
The dramatic breaker motif in the Waves mosaic by Gracie for New Ravenna is composed of hand-cut jewel glass. And since it's available as a full-scale wallcovering or as an 18-inch-wide border, this artful mosaic tile will make a splash just about anywhere.
Homepage photo: Mosaic wallpaper by Malene Barnett at Lulu and Georgia | Courtesy of Lulu and Georgia
Products featured in this article have been sourced from BOH's Collections vertical, a showcase of the latest debuts from some of the industry's leading brands.