In our weekly digest, find all of the stories you might have missed. Read on for the announcements crossing the BOH news desk this week.
BUSINESS TALK
January 31 will be the last day of work for 12 members of Robb Report's editorial staff, including home and design editor Arianne Nardo and real estate editor Rebekah Bell. According to Penske Media Company, which purchased the publication in December 2016, the move represents a restructuring and shift in editorial strategy following the arrival of new editor in chief Paul Croughton in June 2018.
Effective February 18, Century Furniture will acquire Philippines-based case goods and seating brand Curate Home Collection, overseeing all of the company's inventory, sales management, representation and logistics and marketing. Curate's 150-piece collection for Century will debut at Century's High Point Market showroom in April.
OPENINGS, AUCTIONS AND EVENTS
Ralph Pucci will host the third annual Jazz Set, featuring musicians Christian McBride and Laurie Anderson, at his New York showroom (44 West 18th Street) on January 31 at 6 p.m. Pucci is a huge jazz fan—the genre dominates his showroom's stereo system—and refers to this as the one night of the year he can have his own jazz club; all of the proceeds from the event go to New Jersey–based nonprofit school Jazz House Kids. Seating ranges from $250 to $1,000. For more information, call Jazz House Kids at 973-744-2273.
The Kips Bay Decorator Show House Palm Beach is now open to the public. Decorated in just under four months, designs range from a billowing 1970s canopy bed to an olive tree–lined swimming pool. "We are so grateful for this incredible group of designers who have come from all over the country to showcase their designs while also raising critical programming funds for the 18,000 children served by both [Kips Bay Boys & Girls Club and Boys & Girls Clubs of Palm Beach County]," says Jim Druckman, president and CEO of the New York Design Center. The showhouse (6215 South Flagler Drive, Palm Beach, Florida) is open to the public until February 20.
LAUNCHES, COLLABORATIONS AND PARTNERSHIPS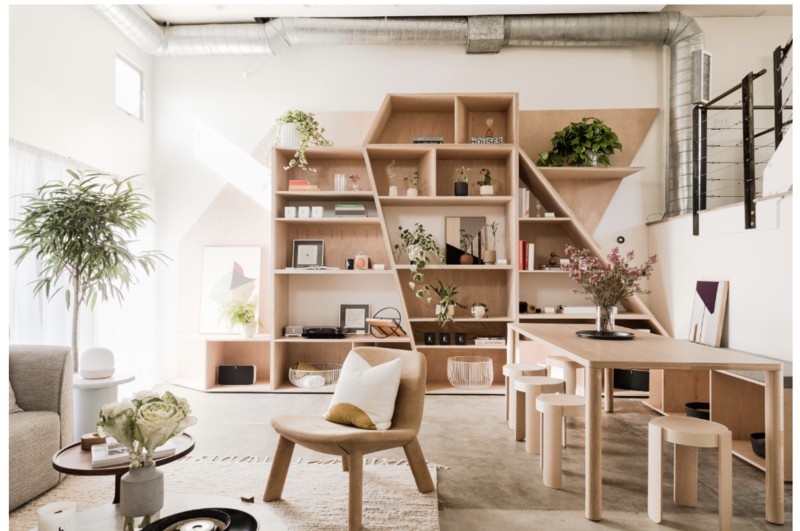 Stephen Paul, courtesy of Hunker
Santa Monica, California–based digital shelter media brand Hunker debuted Hunker House, a loft in Venice that will serve as a venue for DIY workshops, panels, dinners and mixers. Don't be fooled: Hunker House is no pop-up. It's a permanent space, outfitted with brand partners that include Blu Dot, Saatchi Art, Floyd and Hem.
Arteriors has announced its 2020 Guest Designers, Atlanta-based Beth Webb and New York–based interdisciplinary design studio Workshop/APD. "Our approach to the products came from the act of making," Andrew Kline, Workshop/APD design director, tells BOH. "For example, what are the actions of the maker when he or she first begins to work clay or glass or metal? How can we as designers stay true to those actions? You'll experience bent glass, glazed ceramic, cut crystal, and perforated metals in new and exciting forms using traditional methods of making." Previous guest designers making exclusive lines for Arteriors include Frank Ponterio, Ray Booth, Celerie Kemble, Windsor Smith, Barry Dixon and Jay Jeffers.
Interior designer Orlando Soria is casting for his HGTV show Unspouse My House. If you are single, based in Los Angeles and looking to renovate your home post-breakup, this could be your moment. "This is a great opportunity for a fresh start, to create a new space where you can start over," Soria said on Instagram. "I know from personal experience how therapeutic interior design can be after a breakup." Email here to apply.
RECOMMENDED READING
On Thursday, The New York Times reported a story on "the $238 million penthouse, and the hedge fund billionaire who may rarely live there." Though several outlets published stories about the news of the most expensive residential sale in U.S. history, the Times captured its inglorious significance: "In a New York tale that is not entirely uncommon, the 79-story building where [Ken Griffin's] penthouse will soon exist was built after the landlord evicted dozens of middle-class tenants from their rent-stabilized apartments in what was a fairly modest, white-brick building with 20 floors," wrote Nikita Stewart and David Gelles. "In recent years, Mr. Griffin has become increasingly willing to flaunt his wealth, spending lavishly on modern art, philanthropy and trophy real estate, even as income inequality is roiling the national political debate." Though he spends most of his time in Chicago, Griffin has purchased $700 million worth of international homes.
Design studio Bompas & Parr has created the world's first vegan hotel room at the Hilton London Bankside, reported Fast Company. "The furnishings industry is loaded with leathers, feathers and wool—not to mention curveballs like latex paints and foams—and none of this could be used in the world's first vegan hotel suite, which only uses sustainable, plant-based components," wrote Mark Wilson. From furnishings to room service, the studio used materials that were both vegan and environmentally friendly (i.e., no plastic). "Of course the designers used wood everywhere, from plank flooring to the desk, TV stand, bed frame and headboard. They also realized that carpets could be cotton instead of more traditional wool. Pillows could be stuffed with buckwheat, millet hulls, kapok or bamboo fibers." Leathery Piñatex, made from pineapple leaves, was used for upholstery.
Business of Fashion published a compelling op-ed against Condé Nast's new plan to implement paywalls across its digital titles in the U.S. (ironically, the op-ed itself is only available to paying BoF subscribers). "Paywalls are the latest trend amongst publishers looking to fill the hole left by advertisers, which are spending more of their marketing budgets on creating their own content as well as advertising on digital platforms like Facebook, Google and Instagram where consumers spend huge amounts of time," wrote the BoF team. "Not every Condé Nast title has very high-quality content like The New Yorker or a must-use product opportunity. Indeed, for a paywall to work, a publication needs to have must-use products, must-read stories or must-follow writers—and ideally a combination of all three. Trade and business publications often have these attributes, and they also have a leg up because consumers can write off those subscriptions as a business expense."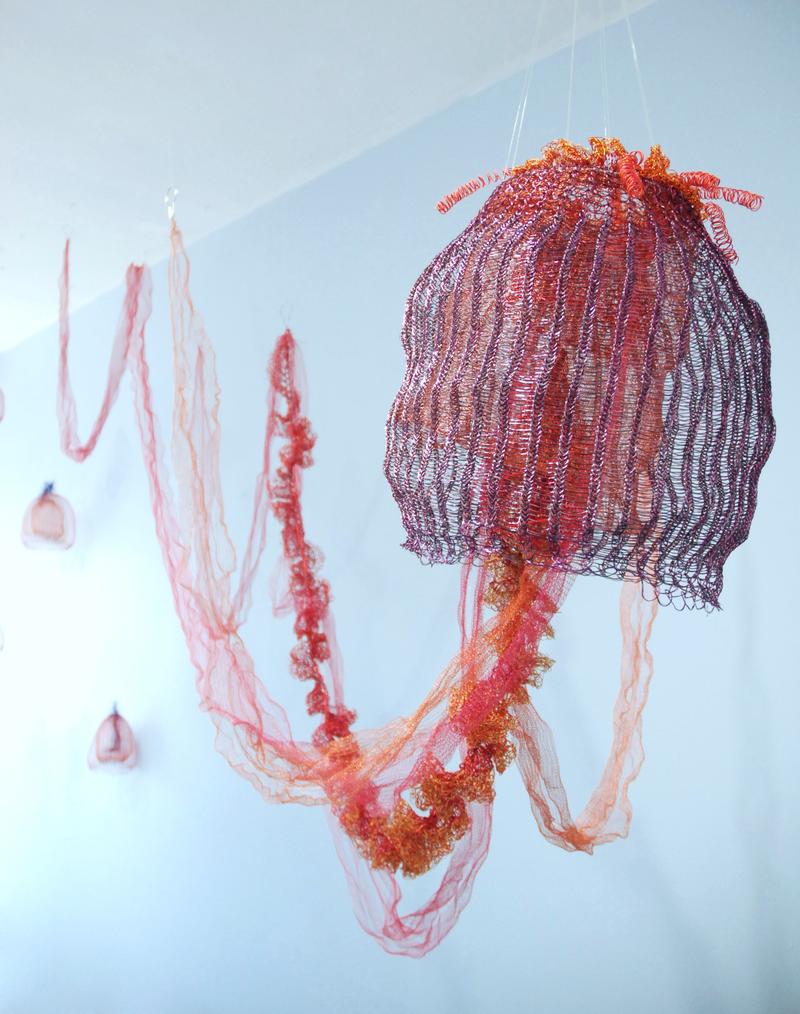 Courtesy of Craft in America
CUE THE APPLAUSE…
Loloi will celebrate its 15th anniversary at Las Vegas Market this week with new products and festivities. The Dallas-based brand will highlight its hand-knotted rugs, a growing category, as well as new editions from its collaborations with Justina Blakeney, Ellen DeGeneres, Joanna Gaines and Rifle Paper Co.
Los Angeles–based nonprofit museum Craft in America celebrates 10 years on February 1, when it will break ground to expand its space. The additional space was donated by Freehand Gallery, which will collaborate with the center to maintain a space where local craft artists can sell their work. Its inaugural exhibition, "California Visionaries: Seminal Studio Craft," will be held in March, featuring mixed-media artwork by 20th-century masters who have called the state home.
IN MEMORIAM
Florence Knoll Bassett has passed away at age 101. The designer pioneered modern office design for Knoll Inc., the firm she and her husband Hans Knoll founded and led for decades, reported The New York Times. The first woman to receive the Gold Medal for Industrial Design from the American Institute of Architects, she created open work spaces with vibrant color schemes and postwar modern furnishings. And at a time when few women held executive roles at major companies, she was president of hers, and doubled its size and influence in her last decade there.
Homepage: Photo of Leanne Yarn's design for Kips Bay Palm Beach, by Nickolas Sargent