Instagram bellwether Justina Blakeney is at it again, this time with a children's collection. The designer, blogger, author and artist has teamed up with Pottery Barn Kids on her first collection designed specifically for kids and babies. Including 90 SKUs, the collection is available online and in select Pottery Barn Kids stores.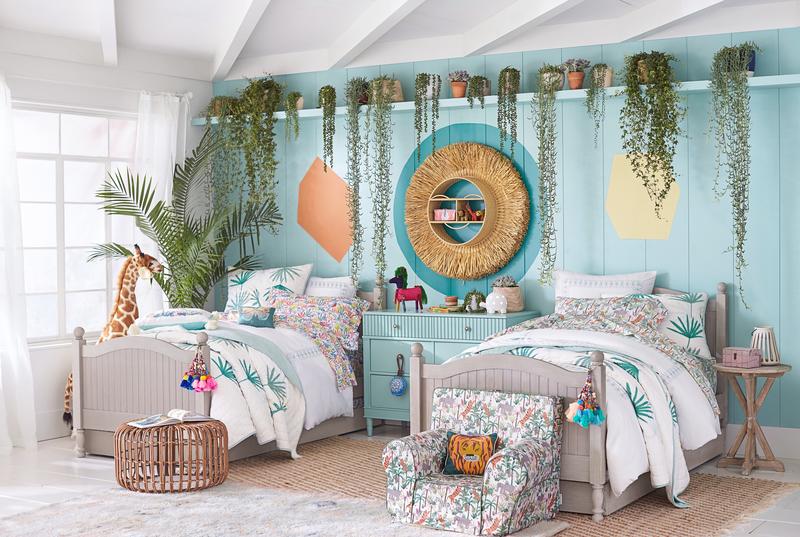 "The Justina Blakeney for Pottery Barn Kids collection brings to life Justina's free-spirited outlook, mixing bohemian style and modern charm," said Jennifer Kellor, president of Pottery Barn Kids. "The collection is designed with pieces that inspire imagination and encourage children to explore their own colorful creativity, and we are thrilled to share this collaboration with our customers."
This debut follows the launch of the designer's fabric lines with Valdese Weavers and Calico Corners, a furniture line with Selamat and pillows with Loloi rugs earlier this year. The Justina Blakeney for Pottery Barn Kids collection includes bedding, rugs, lighting, gifts, decorative accessories and storage in bold colors and patterns. She took inspiration from her passion for travel and nature when designing the collection, which came to life through wild jungle patterns and an imaginative outer space theme.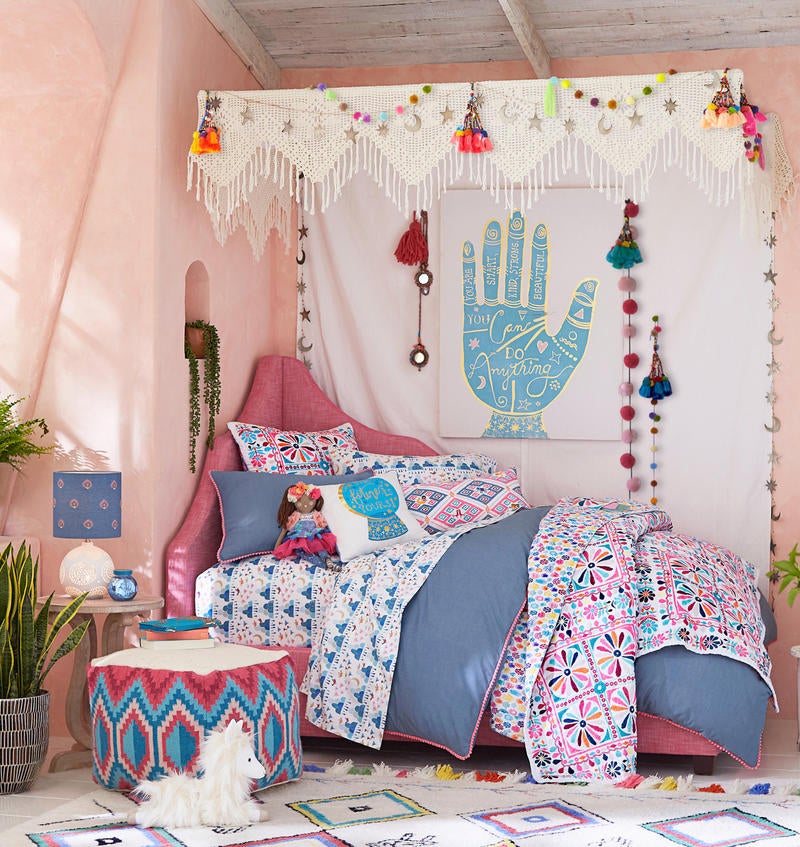 "The best part of being a child is letting your imagination run wild, and with this collaboration I wanted to capture that spirit of adventure," said Blakeney. "Inspired by my daughter and my love of nature, I wanted to bring fun, color and a sense of wonder into the nursery and kid space. Together with Pottery Barn Kids, I used my hand-painted patterns and boho sensibility to create pieces inspired by imaginary worlds my daughter and I share, and collections that celebrate the curiosity and playfulness of children everywhere."
The Jungalino bedroom, one of the rooms featured in the collection's lookbook, showcases a palm quilt, raffia sun shelves and a rainbow-colored bird sheet set, while the Magic Disco Caravan bedroom includes a crystal-ball pillow, a canvas crochet canopy and a tassled nomad-themed rug.