Justina Blakeney is known for her seamless blend of indoor and outdoor. The designer is debuting a new fabric line as the manufacturer, Valdese Weavers, reveals an entirely new performance fabric that embodies Blakeney's outside-meets-in aesthetic.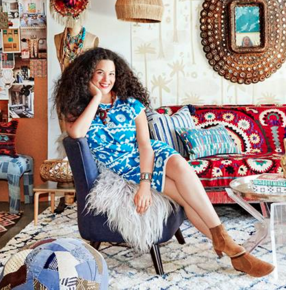 Valdese Weavers designs and manufactures jacquards for Ethan Allen, Kravet and Robert Allen, as well as Crypton Home fabrics and specialty work for Cynthia Rowley and others. The world's second-largest fabric mill, Valdese launched its new performance brand, Inside Out, at Showtime market over December 3 to 6. Making the grand debut? Blakeney's line.
Blakeney discusses her inspirations, why performance was the right fit, and how designers can use the new goods.
How did the collaboration with Valdese/Inside Out come about?
Our collaboration started with our line of jacquard textiles, but given my penchant for blending the outdoors with the indoors (and vice versa!) in my design work, it made so much sense to work together on a line of performance fabrics that could live both outdoors and in. I work very closely with their design team to translate my hand-drawn patterns into wovens with vibrant colors, diverse textures and my boho vibe—and now they're designed to have a whole lot of durability and diverse applications!

What I love about the collection is that there is no limit to how these fabrics can (and should!) be utilized.
Why is a performance fabric the right fit for your brand—and why is Inside Out special?
Performance fabrics are a great fit for my brand because I strive for family-friendliness, eco-friendliness and encouraging creativity and a relaxed vibe in the home. I also love that indoor/outdoor California lifestyle. In my own home, our outdoor living room is central to the way we live. We eat dinner out there most nights and it's vital to the flow of our home as the indoor living room. Having performance fabrics to upholster our outdoor furniture in with dynamic hues and nature-inspired motifs is a very exciting proposition, as we no longer have to sacrifice style for performance.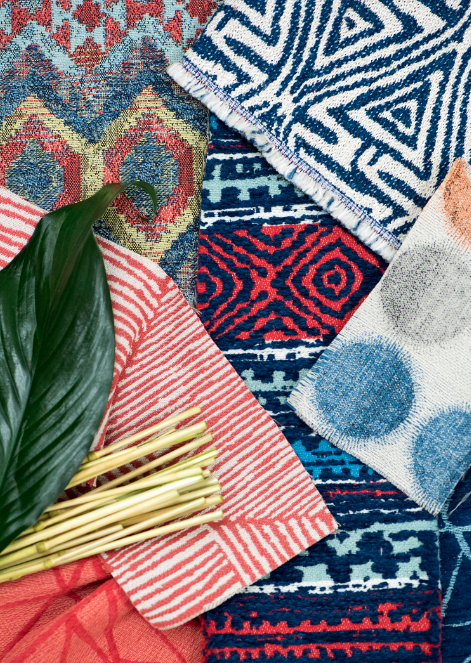 Inside Out is particularly special because it's UV resistant, so my colors will remain as saturated as they are designed to be. Also, the environmentally friendly aspect is one of the most exciting aspects of the collab. It won't just make your spaces look good—but you can feel good about them too. And as a mom (and as someone who frequently entertains!), I'm also very excited spills bead up and roll off.
What are some applications for the new product that designers should be aware of?
What I love about the collection is that there is no limit to how these fabrics can (and should!) be utilized. Our textiles can be designed into any project—residential, commercial, hospitality, indoor, outdoor, you name it! Some of the motifs are more wild, others can be used as an unexpected neutral, but I feel confident the pieces in our collection will become a go-to for any designer or end consumer because of how fun, durable and different they are from anything else in the market!