When James Falconer started getting calls from people who had seen photos of his firm's latest project and wanted to visit, he had to deliver some disappointing news: It didn't exist. On the bright side, people could still enter and explore the building—as long as they had a working internet connection.
Falconer is the managing director at The Boundary, an architectural visualization, animation and virtual reality firm that specializes in creating hyperrealistic spaces that users can navigate online. The firm has tackled projects like The Iconic Home, a virtual showhouse by the Black Interior Designers Network for Architectural Digest; virtual exhibitions for Anne Mosseri-Marlio Galerie; and most recently, a virtual showhouse for e-commerce giant Etsy that debuted this fall.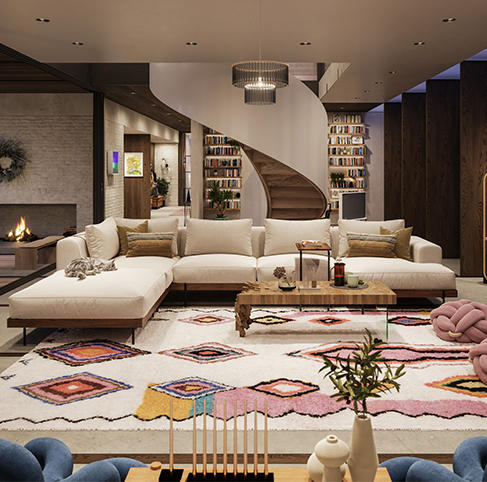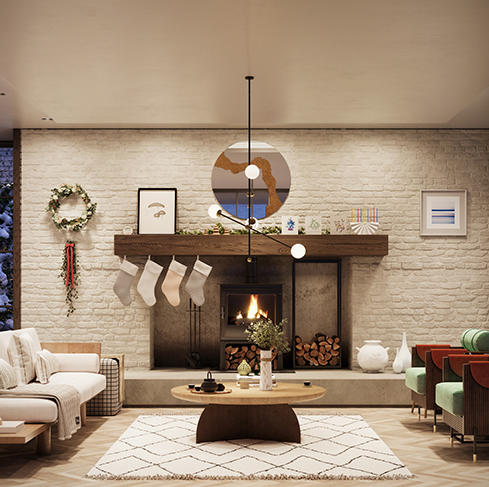 Crafted as a family home, The Etsy House includes a living room, a kitchen, bathrooms, and an outdoor patio area, along with several bedrooms, playrooms, game rooms and offices spread across two levels. The digital selection of furniture and home decor is modeled after products made by Etsy sellers and is geared toward holiday shoppers, with an emphasis on festive red-and-green items and warm, twinkly lighting. Users can navigate through the house and click on products marked with a bull's-eye, which opens a pop-up window complete with product information, additional photos, a link to purchase, and a 3D modeling tool to see the object from all angles.
The project marks Etsy's first major foray into augmented reality, aside from an AR art experience on the brand's app, and it took months of planning to fully realize. According to Falconer, The Boundary approaches its virtual designs as seriously as if they were physical projects, which means the firm extensively workshopped designs with Etsy before reaching a final plan. The house, constructed by a team of 3D modelers, architects and interior designers, had to reflect Etsy's brand while also fulfilling its purpose to promote products and sellers.
"We're always trying to think consciously about what users are seeing when they first arrive—making sure the flow of the spaces feels real and comfortable. This house is very beautiful and quite aspirational, but we also wanted it to feel like people could understand, this is the living room, this is the kitchen, this is the kids' playroom. We wanted to make spaces that felt familiar," says Falconer. "I think that makes people feel comfortable in these virtual environments. We didn't want to create something that was too radical or wild—we wanted people to feel like they could imagine these products in their own spaces at home."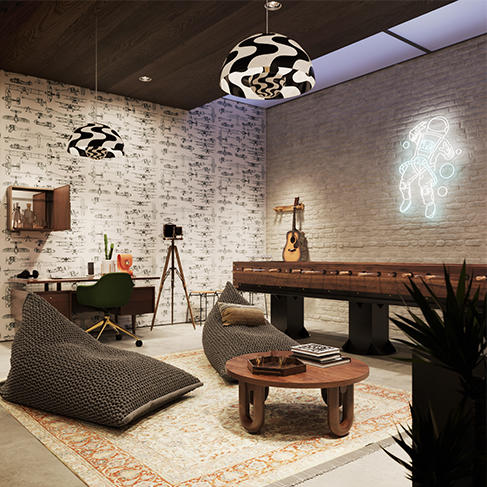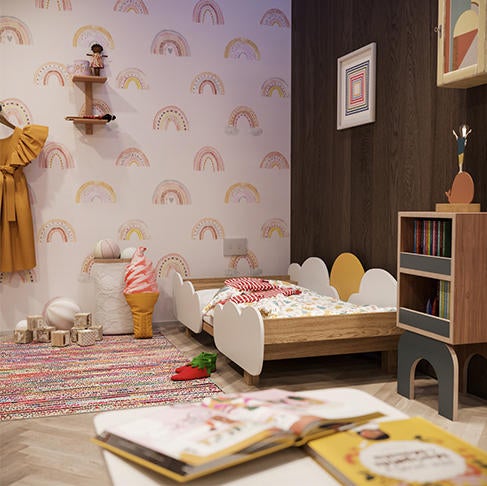 For the interior products, Etsy took the lead on selecting items to fill the space, with The Boundary team making additional suggestions based on the home's design. According to Etsy trend expert Dayna Isom Johnson, the brand curated the space with several product segments in mind, focusing foremost on large-scale items, particularly art and furniture, which are often difficult to imagine in a real room given only the information on a product listing. Beyond that, the curation team pulled several standouts from Etsy Design Award finalists, as well as some of the platform's most popular customizable items.
While the space is filled with more than 800 items—at price points ranging from a $30 cutting board to an $8,000 outdoor dining table—Isom Johnson says a primary goal of The Etsy House is helping consumers cut through the vast amount of products available on the platform, which hosts more than 7.5 million sellers from around the world and lists nearly 100 million products for sale.
"Sometimes when shoppers come to Etsy, it can be a bit overwhelming—we have so many different categories and items," she explains. "Developing The Etsy House was an opportunity to see what Etsy could look like in a real-life situation. They'd really be able to envision what big items—like custom-made farmhouse kitchen tables—can look like in a real space."
Isom Johnson says The Etsy House, along with serving as a curation tool for the platform, provides a way to present products in something akin to a retail setting, opening access to the company's entire global audience at once instead of targeting regional audiences with physical locations. While the brand remains uncertain about the future of its virtual showhouse beyond this holiday season, the project has provided the platform and its users with an introduction to a shopping experience that the post-pandemic consumer is well primed to use. If the future of brick-and-mortar retail continues to look uncertain, the virtual realm may be the place to do it.
Homepage image: The Etsy House, designed by architectural visualization, animation and virtual reality firm The Boundary | Courtesy of Etsy