Etsy, home to a universe of small makers and micro-businesses, is not generally a venue for big stars to launch collections. But lately, some pretty splashy names have been gracing the platform, among them actor Dan Levy, style icon Iris Apfel and fashion designer Prabal Gurung. But it's not that the online marketplace has abandoned its grassroots model—yes, the stars are debuting lines, but they're doing it in collaboration with Etsy's army of artisans.
"With these programs, we're able to introduce Etsy to new audiences and inspire buyers to think about Etsy in new ways," says Jessica Doyle, the company's vice president of communications and engagement. "We're also giving our loyal fans reasons to continually come back to Etsy to shop one-of-a-kind, limited-edition items they can't get anywhere else."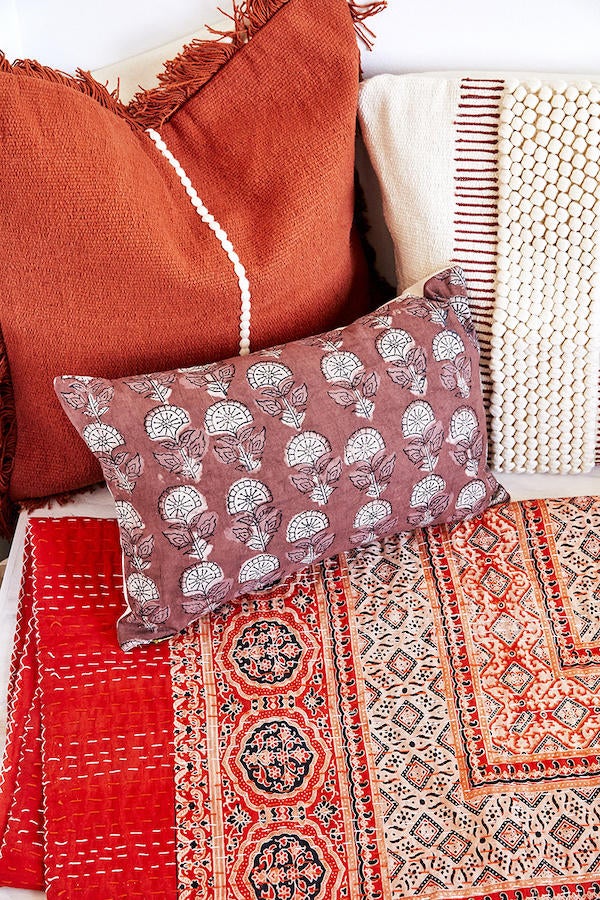 Take the online retailer's most recent "creator collaboration" with Nicole Richie, founder of lifestyle brand House of Harlow 1960. The selection marks Richie's first entrance into the home sector, featuring candles, ceramics and throw pillows designed and created alongside nine Etsy sellers. Richie curated the group with a focus on promoting Black creators and those from her home state of California, and provided the overall design vision, rendered in the earthy, desertlike hues characteristic of her brand.
Each of the sellers, meanwhile, brought an extension of their product offerings to the table. For the Joshua Tree, California–based seller Elizabeth Eisenstein, founder of the Zziee Ceramics, that meant infusing her signature pottery with Richie's aesthetic. Eisenstein's business is one of Etsy's many one-person operations—she sculpts each item on her own potter's wheel before high-firing it in her home studio. For the collaboration with Richie's brand, she designed a series of terra cotta vases and mugs with fluid forms, in deep red hues and gold luster rims.
As a result of the collaborations, everyday artisans benefit from the reach that comes from association with a celebrity. "The single most important thing Etsy can do to help all sellers is to bring them more buyers," says Doyle. "And these partnerships give us an opportunity to introduce the brand to buyers in new ways."
Etsy began rolling out high-profile partnerships after teaming up with fashion designer Joseph Altuzarra for a curated collection released in April 2020—the beginning of a period of COVID-fueled growth for the platform. While traditional brick-and-mortar retail naturally faltered during the pandemic, e-commerce sites like Etsy took off in a big way, with the number of sellers on the site nearly doubling in 2020 to reach 4.4 million by the end of the year. Aside from attracting hordes of new users, the site has evolved into a sort of business accelerator—according to an internal study, nearly half of sellers reported that Etsy was the first place they sold their goods.
"Etsy is a marketplace of small business owners—many of which operate out of their homes—so most Etsy sellers were able to remain open during the pandemic," says Doyle. "Up until recently, many buyers only thought of Etsy for special occasions. But over the last year and a half, we've proven that we're the destination for so much more—including gardening kits, home decor, beauty products and games. Many of these items became our new everyday essentials during the pandemic, and we continue to see new buyers come back again and again."
In that vein, the site's economic output has not been insignificant. According to Etsy, its sellers contributed $13 billion to the economy last year (a 142 percent increase from 2018) and produced almost $4 billion in income for U.S. households. With a little stardust in the mix, who's to say those numbers won't keep going up?
Homepage photo: Nicole Richie | Ren Fuller