When Mary Liz Curtin and her husband, Stephen Scannell, set out to open their own retail space in Michigan, they had just a few conditions in mind for the building: It had to be affordable, close to Detroit, and big enough to house a full line of furniture. In the end, the winning space was a run-down former roller rink built in 1941 and located in the quiet suburb of Clawson, Michigan.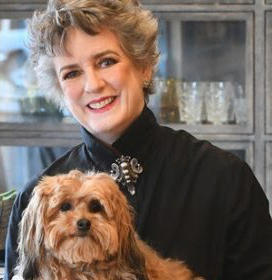 Courtesy of Mary Liz Curtin
"My mother came to town; she was an experienced retailer—she looked at this place in the middle of retail-nowhere and said she was going to rewrite her will so [my] kids can go to college," Curtin tells host Warren Shoulberg on the latest episode of BOH's newest podcast, Retail Watch. "She was pretty sure the chances of our sending the kids to college were zero."
Despite this dire warning, Leon & Lulu has only grown in the years since its 2006 grand opening. What began as a furniture store has evolved into an eclectic bazaar through the addition of toys, small gifts and clothing, along with an adjoining eatery called Three Cats Restaurant. It's become a destination for loyal, longtime shoppers and adventurous hipsters alike, Curtin says, thanks to a wide price range and even wider selection of carefully curated merchandise.
Even in the face of the pandemic's devastating effect on brick-and-mortar stores, Leon & Lulu somehow came out on top again this year, using a two-and-a-half month closure to finally build out an e-commerce presence. The secret, Curtin explains, is "acting like you're a big guy, even when you're a little guy."
In this episode of the podcast, Curtin explains what it takes to create a memorable store experience, why independent brick-and-mortar retailers aren't going anywhere, and how consistently taking risks is crucial to Leon & Lulu's success.
Listen to the show below. If you like what you hear, subscribe on Apple Podcasts or Spotify. This episode is sponsored by Affirm.