To bring a festive touch to a room that will look elegant all year long, look no further than an emerald-hued piece. Bold yet earthy, the rich green jewel tone can make a colorful statement while ushering forest vibes into a space.
On the hunt for the perfect emerald item? Business of Home presents seven deep-green furnishings that are sure to invigorate a room.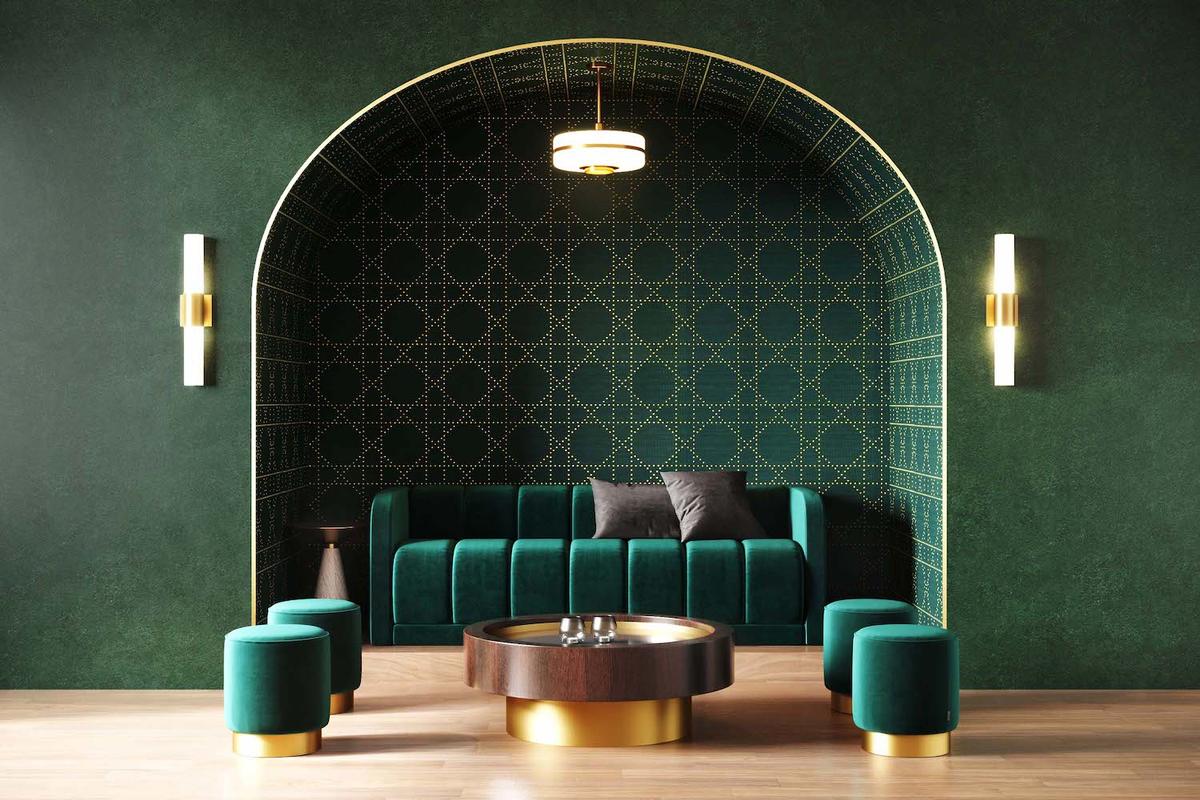 Courtesy of Phillip Jeffries
STYLED IN STUDS wallcovering — PHILLIP JEFFRIES
Phillip Jeffries's Styled in Studs wallcovering is embellished with metallic rivets that forge a stippled geometric pattern, and Gold on Hummingbird features a deep green hemp vinyl ground for an added touch of texture.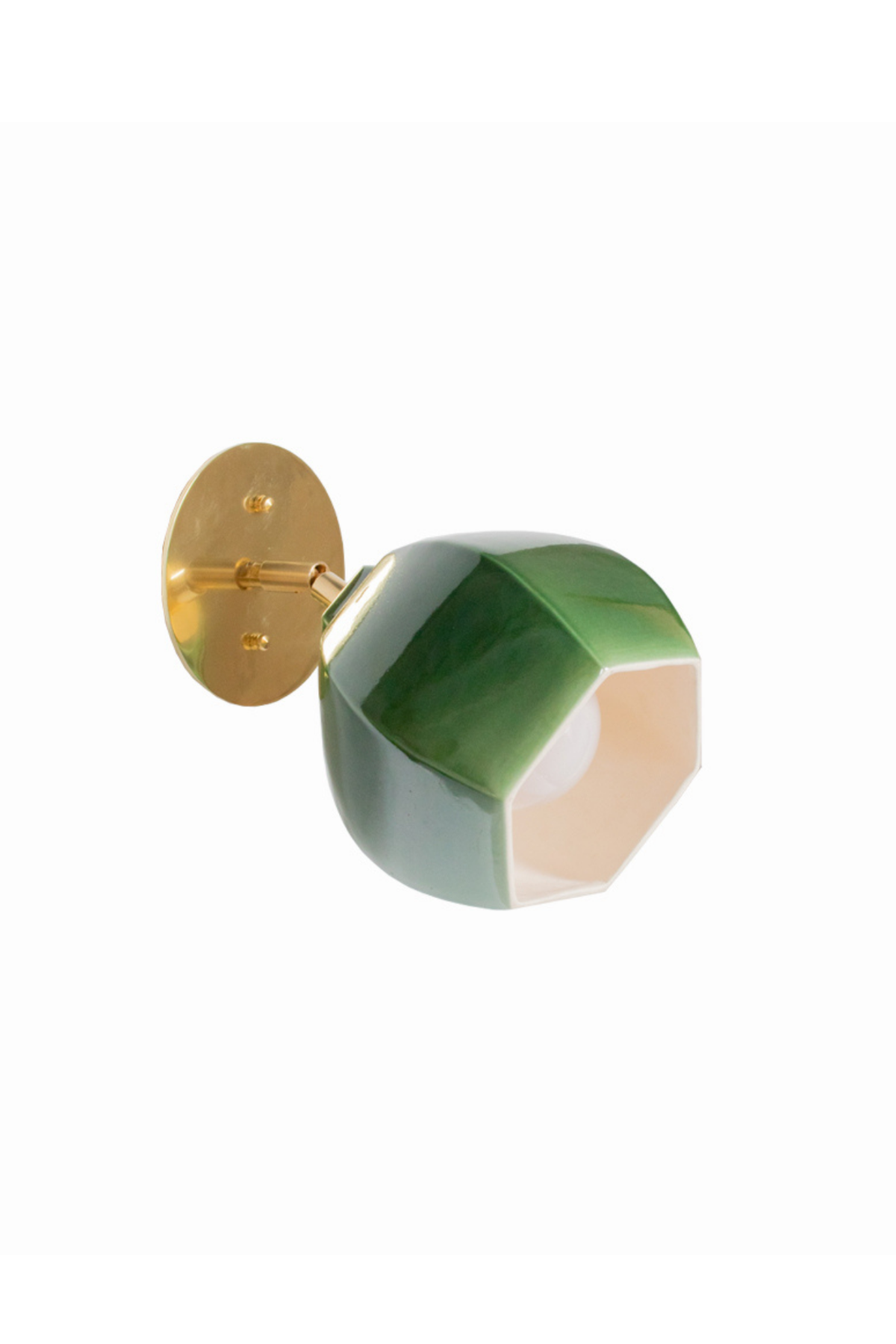 Courtesy of Hwang Bishop Designs
BARNACLE FLUSH ARTICULATING SCONCE — HWANG BISHOP DESIGNS
Designed with an articulating stem that can be adjusted for directional light, the Barnacle sconce in Thyme by Hwang Bishop Designs boasts a hexagonal ceramic shade finished in a glossy green glaze and comes in a choice of hewn brass or polished nickel hardware.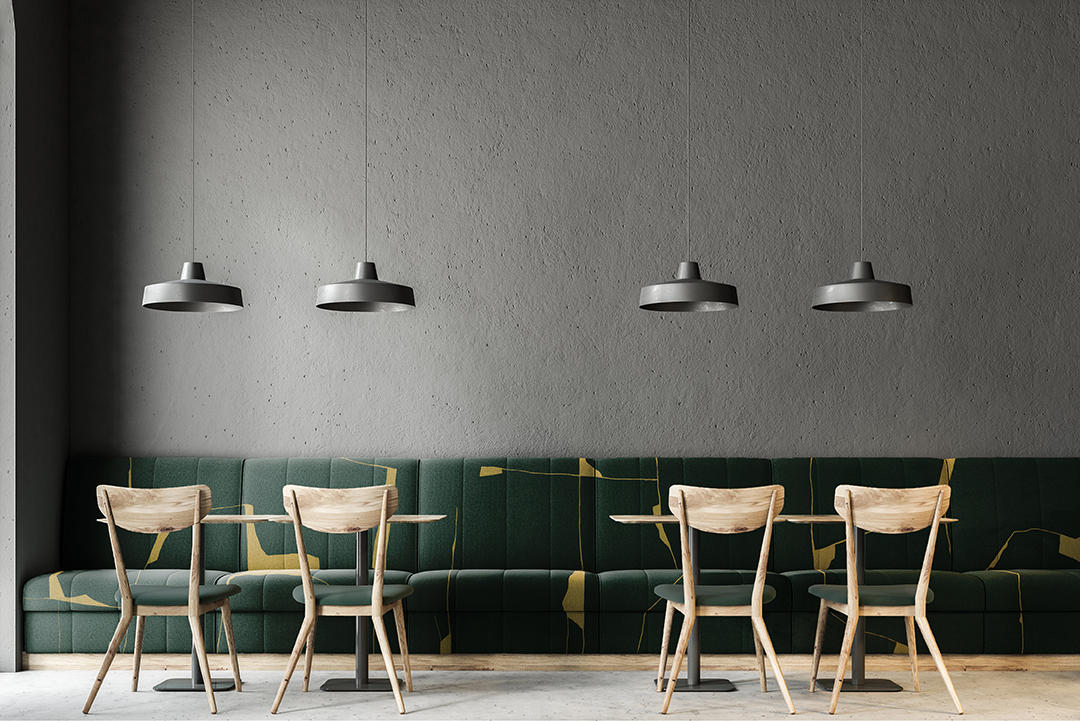 KINTSUGI Fabric — PORTER TELEO
Cast on a rich emerald ground, Porter Teleo's Kintsugi fabric in Gold features a crackled metallic pattern inspired by the centuries-old Japanese joinery technique the textile is named after. Use it on a sofa or lounge chair to make a statement, or as drapes and throw pillows to bring asymmetrical drama to a room.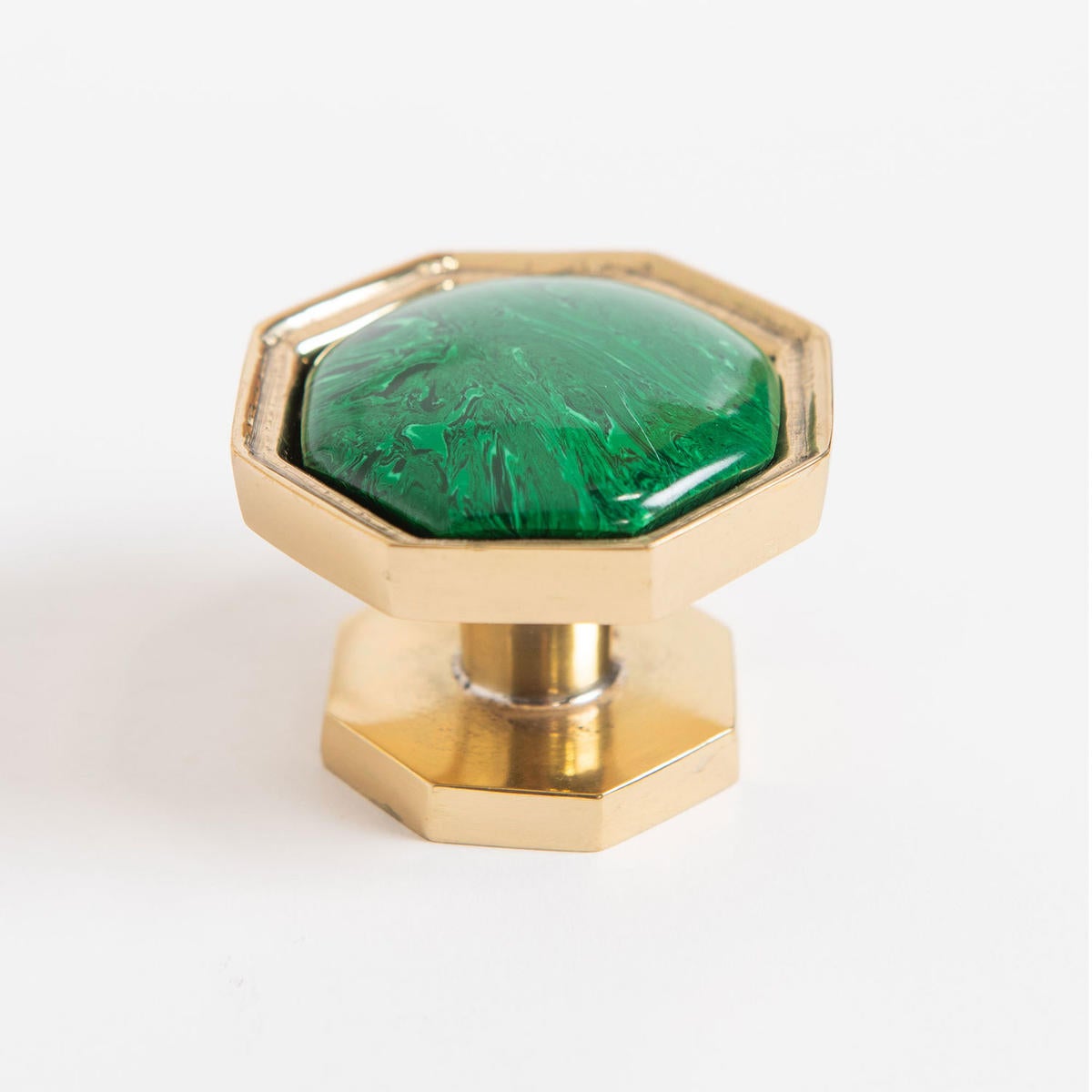 Courtesy of Modern Matter
HARRISON KNOB — MODERN MATTER
Inspired by the octagonal shapes found in classic Greek and Roman architecture, the Harrison knob in Malachite by Modern Matter features a bright green gemstone and is available in three different finishes: nickel and antique or polished brass.
Courtesy of Bella Notte Linens
HARLOW COVERLET — BELLA NOTTE LINENS
Composed of sumptuous quilted cotton velvet with a shimmery silk charmeuse trim, the Harlow coverlet in Jade by Bella Notte Linens is hand-dyed in a vibrant shade of green inspired by old Hollywood glamour.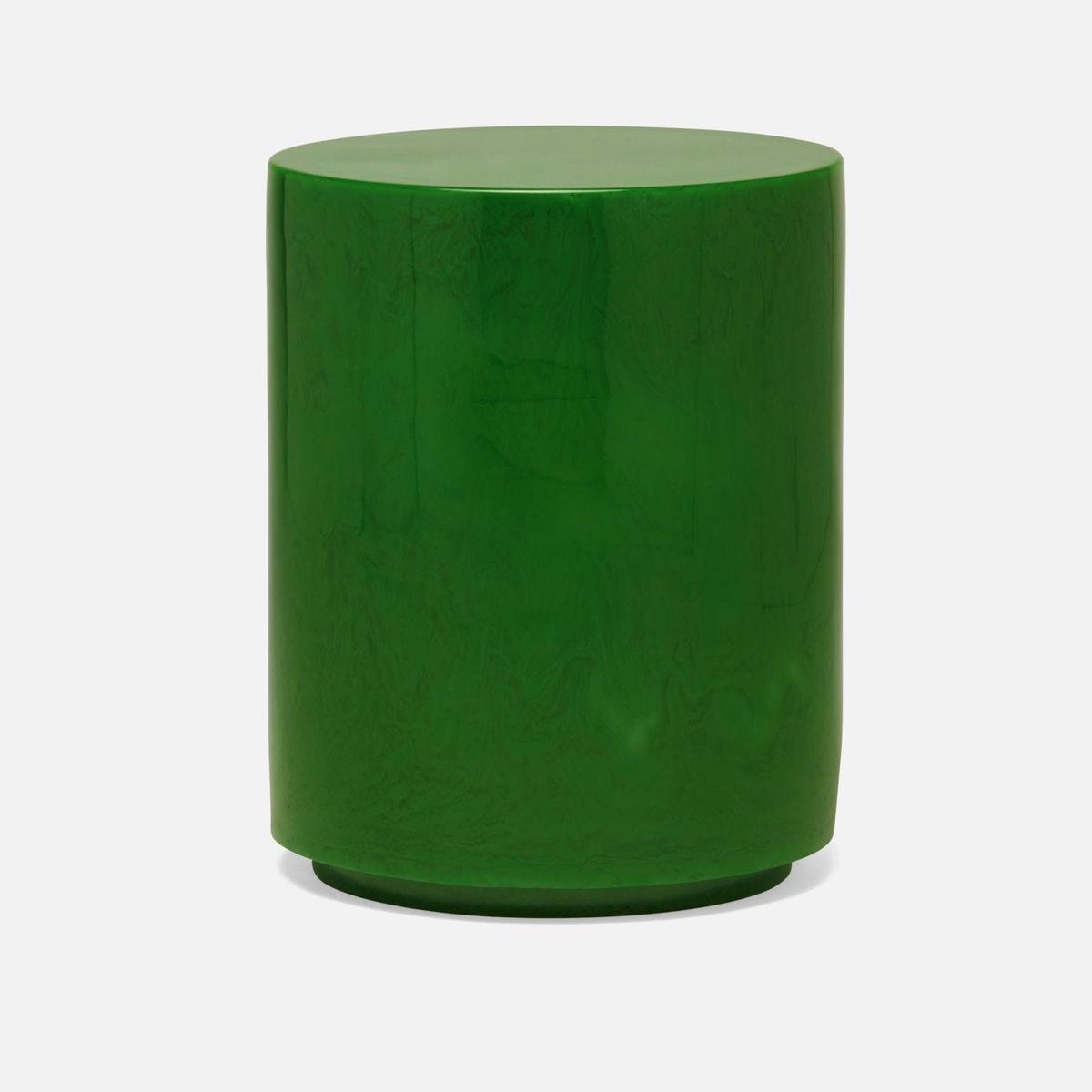 MURNI STOOL — MADE GOODS
Don't be fooled by the luxe look of the Murni stool by Made Goods—it's a real multitasker. Along with a glossy verdant green finish, it transitions from seat to side table to footrest with ease.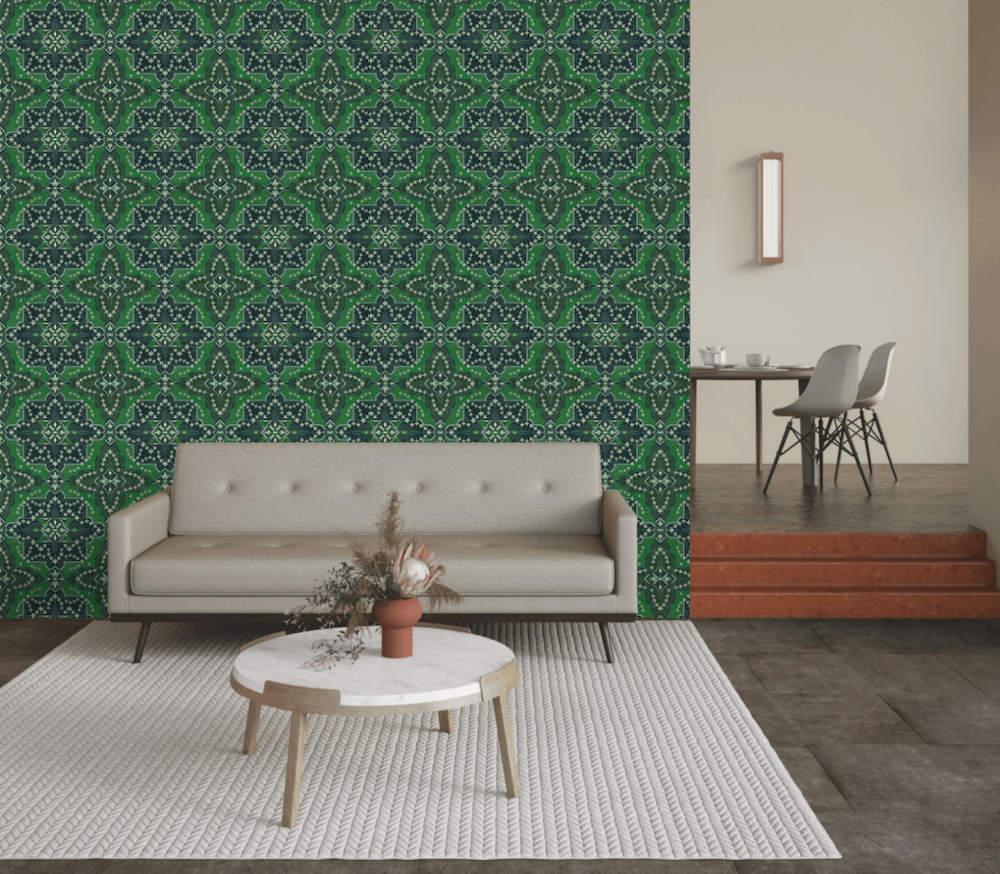 Courtesy of James Dunlop Textiles
MAJORELLE WALLPAPER BY CATHERINE MARTIN BY MOKUM — JAMES DUNLOP TEXTILES
Designed by Mokum in collaboration with legendary costume designer Catherine Martin, the Majorelle wallpaper in Emerald at James Dunlop Textiles features a bold green tile-inspired pattern printed on embossed faux linen vinyl for texture and durability.
Homepage photo: Styled in Studs wallcovering in Gold on Hummingbird by Phillip Jeffries | Courtesy of Phillip Jeffries
Products featured in this article have been sourced from BOH's Collections vertical, a showcase of the latest debuts from some of the industry's leading brands.