As Americans get comfortable with the newly lifted pandemic restrictions, they're on the move in more ways than one—whether their furniture is coming with them is less certain. Wherever you go, stay in the know with our weekly roundup of headlines, launches and events, recommended reading, and more.
Business News
The Biden administration announced last week the appointment of four new members to the U.S. Commission of Fine Arts, the seven-member agency that guides the president and Congress on design and aesthetics in the capital city. By replacing four Donald Trump–appointed members, Joe Biden has effectively halted the previous administration's efforts to impose a strictly classical style on government-funded buildings and monuments, The Washington Post reports.
Oliver Space announced the completion of a $13 million Series A financing round led by U.S. Venture Partners, which brings the subscription furniture platform up to $21 million in equity plus an additional $16 million in debt financing. Enabling customers to keep, swap or return designer-curated pieces with upfront or monthly payment plans, the company has seen expansion over the past year with a tripled workforce, a 500 percent increase in monthly revenue, and the launch of services in Seattle, San Diego, and Dallas and Austin, Texas. With the latest injection of capital, Oliver Space plans to build out its technology team and spend on marketing.
Recently appointed Salone del Mobile curator Stefano Boeri has unveiled his plans for this year's fair, which has been dubbed "Supersalone." According to Dezeen, instead of the typical branded booths, the event will feature products displayed on parallel rows of walls designed by architect Andrea Caputo, and visitors will be able to make discounted purchases online through corresponding QR codes. Taking place September 5 to 10, the fair will be open to the public all week—another first for the annual event, which was thrown into some uncertainty last month when former president Claudio Luti stepped down unexpectedly. "I believe that this will be a way to take a risk in the right direction and demonstrate that the Salone is alive, that Milan is alive, and that generally, our field is still dynamic and open to new conditions," Boeri told Dezeen.
Techtextil India, the country's leading trade fair in textiles, nonwovens and composites, has been postponed from September to November 25 to 27 due to COVID-19.
Bedding manufacturer and retailer Purple Innovation has temporarily paused production at its plants in Utah and outside Atlanta following an accident that led to the death of a 51-year-old maintenance worker at its plant in Grantsville, Utah, Home News Now reports. The accident marks the fourth workplace safety incident at the facility since January, according to KUTV, the CBS affiliate in Salt Lake City, though the Occupational Safety and Health Administration cleared the company to resume operations after a suspension following an accident on May 13. According to the TV station's report, Purple is conducting an internal assessment before resuming full production and is engaging with an outside firm to review safety and training procedures.
Boca News Now reports that an accident also occurred at RH's Gallery in West Palm Beach, when a chandelier allegedly fell from the ceiling and hit two customers. The couple, Jessica and Jorge Diaz, have filed a suit that names RH, the chandelier's installer and the store's general manager as defendants, claiming the accident was an act of negligence that resulted in significant injuries and mental anguish.

HGTV's Fixer Upper couple Chip and Joanna Gaines made headlines this week for their contribution to the school board campaign of Chip's sister Shannon Braun, whose platform opposes the inclusion of critical race theory in school curriculum. According to NBC News, a spokesperson from the Texas school said that critical race theory is not currently included in the curriculum, though the topic remains divisive in that state—conservative lawmakers are considering two bills barring critical race theory from the classroom, potentially impacting how teachers discuss race and racism in schools.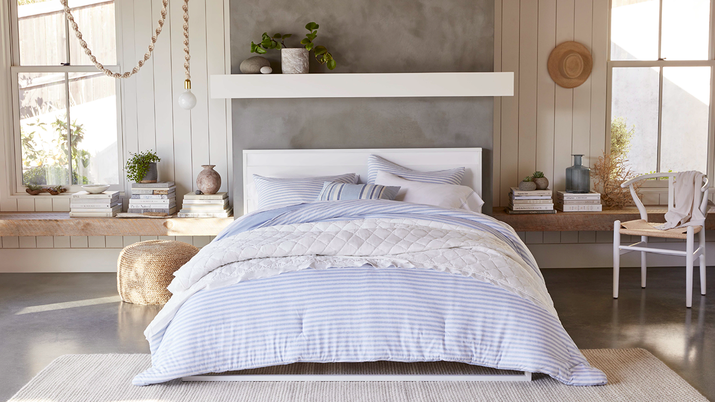 Launches and Collaborations
In Gap's first foray in the home industry, the retailer has joined with Walmart to debut a line of bedding, pillows and other items available online exclusively starting June 24, The Wall Street Journal reports. The introduction of the Gap Home collection falls in line with Walmart's efforts in recent years to offer premium brands within its apparel and home goods selection, while Gap is building on a deal signed last year with licensing company IMG allowing it to expand into home decor, furniture, textiles and other categories.
Donghia has officially returned to the marketplace within the Kravet family of brands, which acquired the company back in August. The storied brand has debuted a spring collection that includes fabric, wallcoverings, furniture and lighting in both reimagined and existing designs.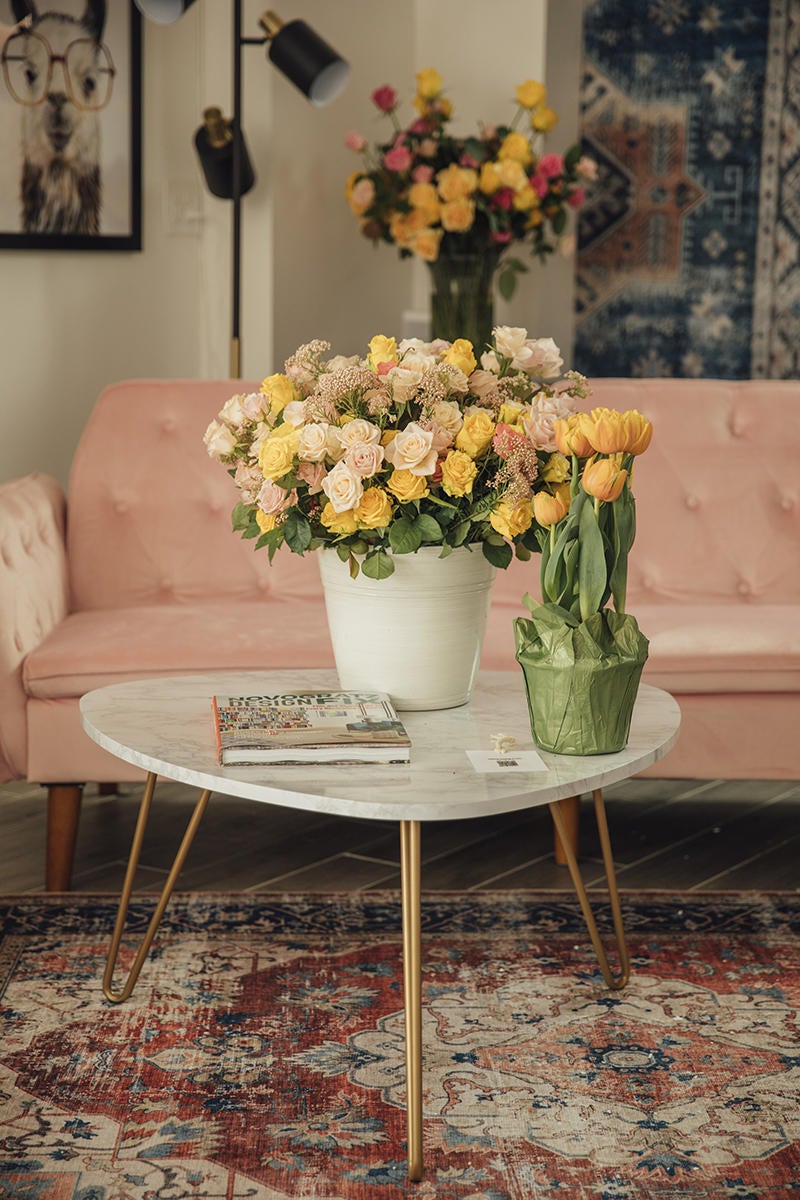 Courtesy of The Novogratz
Design duo Robert and Cortney Novogratz have teamed up with Rugs-Direct for three new collections available exclusively online. Each line offers a distinct aesthetic, including the vintage-inspired Doheny; Bolt, which draws on a Japanese textile tie-dye technique called shibori; and Malmo, a group of Scandanavian-inspired indoor and outdoor rugs made of recycled material.
Knowles Corporation has announced the completion of a new development kit designed to enable faster, easier voice-activated control of smart appliances such as refrigerators, ovens, microwaves, dishwashers, and washing and drying machines. The Knowles White Goods Standard Solution development package offers the ability to combine multiple voice assistants into one single device, through which users can utilize voice commands to complete a number of services across different appliances.
Recommended Reading
Dating back to the 17th century and still widely used in design today, chinoiserie refers to the westernized renditions of Asian motifs as employed in interior design (think yin-yang tables, bamboo stalks, pagoda motifs). For Elle Decor, Aileen Kwun dives into the origins of the decorative trend along with its present-day iterations, consulting the Asian American and Pacific Islander (AAPI) design community on where the line is drawn between authenticity and exoticism. "For while a cartoonish pagoda design might rank lower on the growing list of battles to fight, it's part of the backdrop that upholds harmful stereotypes and a status quo that often only questions the notion of cultural counterfeits from one vantage point," Kwun writes.
Last week, the White House released the details of the American Jobs Plan's new housing initiative, featuring a substantial package based around the idea that housing is infrastructure. Through $318 billion in funding and $105 billion in tax credits, the new proposal aims to respond to the national housing deficit by producing or preserving more than 2 million affordable housing units and creating thousands of jobs along the way. Bloomberg CityLab offers a deeper look into the plan's multipronged approach, which also includes tax credits incentivizing construction and renovation, new project-based rental assistance agreements and greater investment in Indigenous communities.
In the 1950s and 1960s, the placement of highways in major U.S. cities divided Black communities, segmenting downtown areas and increasing car dependence. As The New York Times reports, cities like Rochester are now looking to remove highways in order to tackle the much greater task of reconnecting neighborhoods.
Health care spaces have historically been designed to increase staff efficiency at the cost of patient experience—hence the mazelike exam rooms featured in many doctor's offices. According to Inc., mounting evidence supports an alternate approach known as supportive design, which prioritizes a patient's perception and control in the medical environment to promote healing.
Over the past year, the parents of some homebound students had to take on a new supervisory role when it came to their children's schooling—but what if your furniture could do that for you? In China, smart lamps with built-in surveillance cameras flew off the shelves after they were first released in October, allowing parents to remotely monitor their children's studies while raising questions around the limits of privacy and surveillance, WSJ reports.
Cue the Applause
Bard Graduate Center has announced the recipients of its 24th Annual Iris Foundation Awards for Outstanding Contributions to the Decorative Arts. The honorees this year include Cristina Grajales as Outstanding Dealer, Sanchita Balachandran as Outstanding Mid-Career Scholar, Dr. Stephen K. Scher as Outstanding Patron, and David Revere McFadden for Outstanding Lifetime Achievement.
NYCxDesign has named the recipients of its first annual Breakout Grant, a program designed to fund the products and projects of New York–based design businesses. The three winners include the Brooklyn-based studio Modos Furniture, which specializes in tool-free furniture systems; designer and entrepreneur Danielle Arps, founder of the Artisan Alliance mentorship program; and sisters Gisue Hariri and Mojgan Hariri of Hariri & Hariri Architecture for the development of alternative emergency shelters.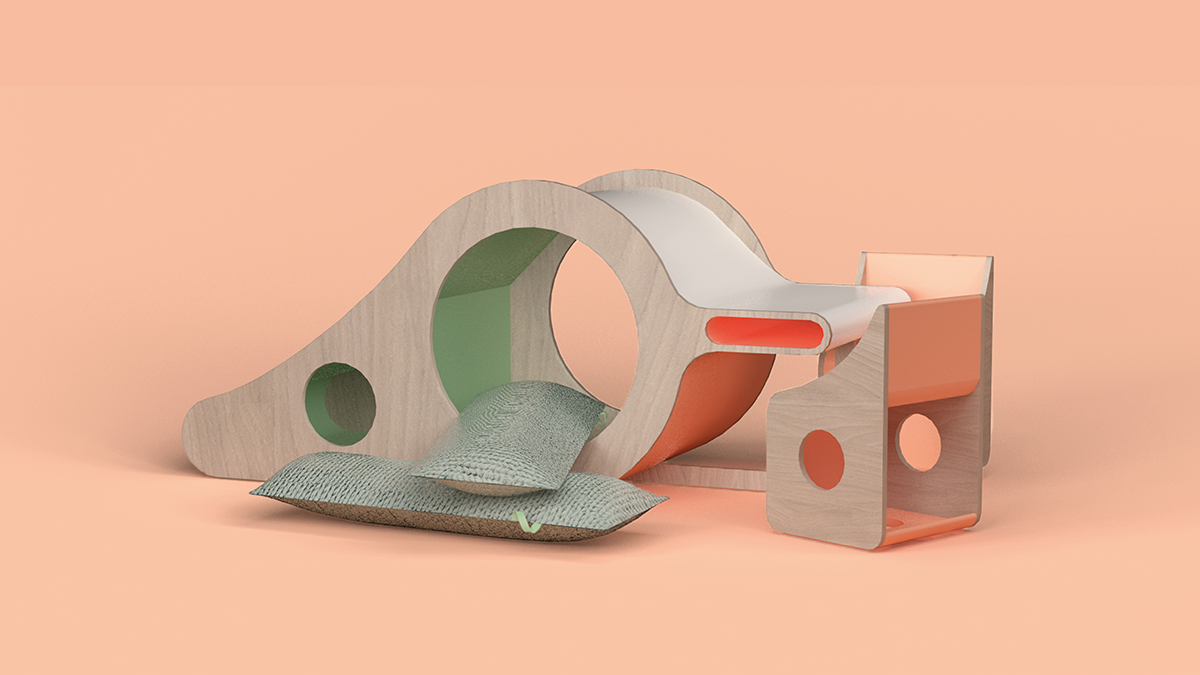 Formica has announced the winners of its 2021 Student Innovation Competition, which challenged interior design and architecture students to create a rendering of a furniture design to represent the theme of "Design for the Next Generation" through the use of Formica products. The grand prize was awarded to Martin Gonzalez Godoy and Bénédicte Laurent of the University of Montreal in Quebec, Canada, for their joint project "Toboom"—a multi-use children's design created without corners to promote safety. For the full list of winners, click here.
In Memoriam
Manfred Scheller, former president of Donghia Furniture and Textiles, has passed away after a short illness. Scheller led the renowned company from the mid-1990s through 2005, managing the business's expansion into Europe and other international markets during a time when Donghia added several new product categories and exhibited at top trade shows. After the company was sold to Italian textile firm Rubelli S.p.A., Scheller continued to serve the industry through his consulting practice. He is survived by his wife of 40 years, Cheryl Mendenhall.
Homepage image: A piece from the Doheny collection in The Novogratz collaboration with Rugs-Direct | Courtesy of The Novogratz