As the CDC eases outdoor mask guidelines for vaccinated Americans, artists and designers are using discarded masks to create something new—one architect is even upcycling fabric masks to form decorative bricks. As the industry continues to come up with creative solutions, stay in the know with our weekly roundup of headlines, launches and events, recommended reading, and more.
Business News
Milanese architect Stefano Boeri has been selected as the curator of Salone del Mobile's 2021 event, scheduled for September 5 to 10. Alongside a team of architects and professionals, he will plan the fair's concept and exhibition modalities, while also integrating its forthcoming digital platform, slated to launch in June. For the first time, the general public will have access to the fairgrounds for the entirety of the event, with the chance to purchase goods at exclusive prices at the fairgrounds in Rho. "We are working on what will be an unmissable event in all respects, open to both professionals and the general public," Boeri said in a statement.
The kitchen and bath industry is stronger than ever, according to the National Kitchen & Bath Association and John Burns Real Estate Consulting's Q1 2021 Kitchen & Bath Market Index, which recently hit an all-time high rating of 79.8 (scores above 50 indicate expansion, while scores below 50 signal contraction). As Furniture, Lighting & Decor reports, the index examines the four major sectors of design, manufacturing, retail and building—the current rating is up 14.8 points from last quarter and by a whopping 38.8 from this time last year. The study also found that one in three designers reported that clients are requesting products and finishes at higher price points, with retailers noticing a similar trend. According to the report, this is likely due to consumers trading in pandemic-driven DIY home projects for longer-lasting redesigns.
In Canada, large provisional tariffs of 295.5 percent and 101.5 percent have been placed on upholstered furniture imported from China and Vietnam, driving up costs and putting pressure on small business owners, the Daily Hive reports. According to a statement from the Canada Border Services Agency, the tariffs were applied following "allegations of dumped and subsidized imports of upholstered domestic seating from China and Vietnam" from Canadian producers of similar goods who submitted a formal complaint. The CBSA will investigate these claims and make a final decision on tariff adjustments by August 3, 2021—until then, some business owners have reported prices increasing by nearly threefold.
Williams-Sonoma will stop sourcing alpaca fleece after a PETA exposé revealed that the animals were often injured and mistreated when shorn for wool—a decision that also applies to each of the brand's subsidiary brands, including Pottery Barn, West Elm, Mark and Graham, and Rejuvenation. Along with the investigation's findings, which examined the world's largest privately owned alpaca farm, located in Peru, PETA noted that alpaca fleece is also the second-most environmentally damaging material according to the Higg Materials Sustainability Index. Williams-Sonoma isn't the first to ban this kind of wool—the company joins Overstock, Uniqlo, Valentino, Columbia Sportswear and Esprit, among others.
At Home Group Inc.'s largest shareholder plans to vote against the retailer's pending deal to go private, citing a too-low sale price at roughly $2.4 billion or $36 a share, The Wall Street Journal reports. CAS Investment Partners LLC, which owns around 17 percent of the company's shares, suggested a price above $70 a share based on its own projections. In a letter to the company's board of directors, CAS said the current deal "grossly undervalues the company and deprives stockholders of anything resembling a fair premium" and indicated it was prepared to block the deal, which requires signoff from a majority of shareholders to pass.
Kaiyo, a full-service marketplace for gently used furniture, has announced the completion of a $5 million funding round led by Moderne Ventures, with full participation from Lerer Hippeau and Max Ventures. With the newly raised capital, the company aims to focus on domestic growth, particularly in Washington, D.C., while building relationships with the real estate market in the Northeast.
When the Jacob K. Javits Convention Center in New York reopens later this summer, the first major event held there will be the gift and home market NY Now, to be held from August 8 to 11. "Our role has always been to support our community of small businesses, and that role has never been more important than now," NY Now senior vice president Tim Hart said in a statement. "This is such an exciting time for New York City, and all of us have a role to play in its cultural and economic resurgence. We know buyers are ready to meet in person, and we cannot wait to gather at Javits this August for a safe and productive market and play our part."
Launches and Collaborations
After dipping into clothing and wedding merchandise in recent years, Dunkin' Donuts is entering the world of interiors. The chain is teaming up with DTC paint brand (and new Schumacher acquisition) Backdrop to create a limited-edition collection of paint available in its signature pink and orange hues.
Hygge & West, in collaboration with home goods brand Schoolhouse, has created a new wallpaper collection centered on the beauty of simplicity. The assortment includes five designs—ranging from neutral geometric patterns to cheerful florals—and two dozen colorways.
Nordstrom's revolving pop-up shop program, Pop-In@Nordstrom, has partnered with Finnish design house Marimekko to offer the brand's spring/summer 2021 collection Treats for Life online and in select Nordstrom stores for a limited time. The line celebrates the brand's 70th anniversary with apparel, accessories and home items inspired by a summer harvest of fruits, vegetables and flowers.
Italian lighting manufacturer Artemide has tapped seven design students to exhibit their work (pieces ranging from textile masks to sculptures crafted with sustainable biomaterials) in its New York showroom and display windows. Highlighting students in the MFA Textile and Conscious Design program at the Parsons School of Design, the installation is part of the "Windows Open to the Sky" exhibition, presented by Design Pavilion and Arts Thread in collaboration with NYCxDesign.
Pottery Barn has teamed up with Airstream for a new collection of travel-inspired decor and accessories. Designed to suit both adventurous caravans and homes on solid ground, the collaboration features a variety of bedding and linens, indoor and outdoor pillows, kitchenware, rugs and storage items.
Custom acoustic solutions manufacturer Turf Design has entered into a strategic partnership with Carolyn Ames Noble, founder of the Ames Design Collective, to create sensory products and systems. Noble will contribute to product ideation and development, focusing on the impact of acoustics on the sensory design experience.
Recommended Reading
Just three years after entering the media arena, AT&T is stepping out. The New York Times reports that the telecommunications giant has agreed to spin off its WarnerMedia group (which contains CNN, HBO and Warner Bros. Studios, among others) in a merger with rival company Discovery Inc., whose programming lineup includes HGTV and a slew of reality TV shows and international sports. The new combined company will be led by former Discovery executive David Zaslav, who will serve at the helm of a media conglomerate bigger than Netflix or NBCUniversal. In an age when traditional media companies are increasingly vying for the eyes of TikTok and YouTube users, the deal raises the question: When it comes to media mergers, who's next?
Buildings are often reduced to rubble just to be rebuilt bigger and seemingly better, but the cycle of reconstruction is taking a devastating toll on the environment. In Intelligencer this week, Justin Davidson encourages cities like New York to swap premature demolition for renovation and improved efficiency standards—tactics that could reduce carbon emissions and address the city's housing shortage.
House Beautiful took a look at the influence of colonialism on the modern world of design—a considerable task given that roughly 80 percent of the world was once colonized by Europe. "It would seem that any question of colonial-era architecture's contemporary impact is very much wound up in the complex narrative of how African, European, and Indigenous populations, and later immigrants, have made culture together in that space over hundreds of years, and have therefore claimed ownership over those structures and spaces that have shaped their lives," says educator Jennifer Rittner.
Cue the applause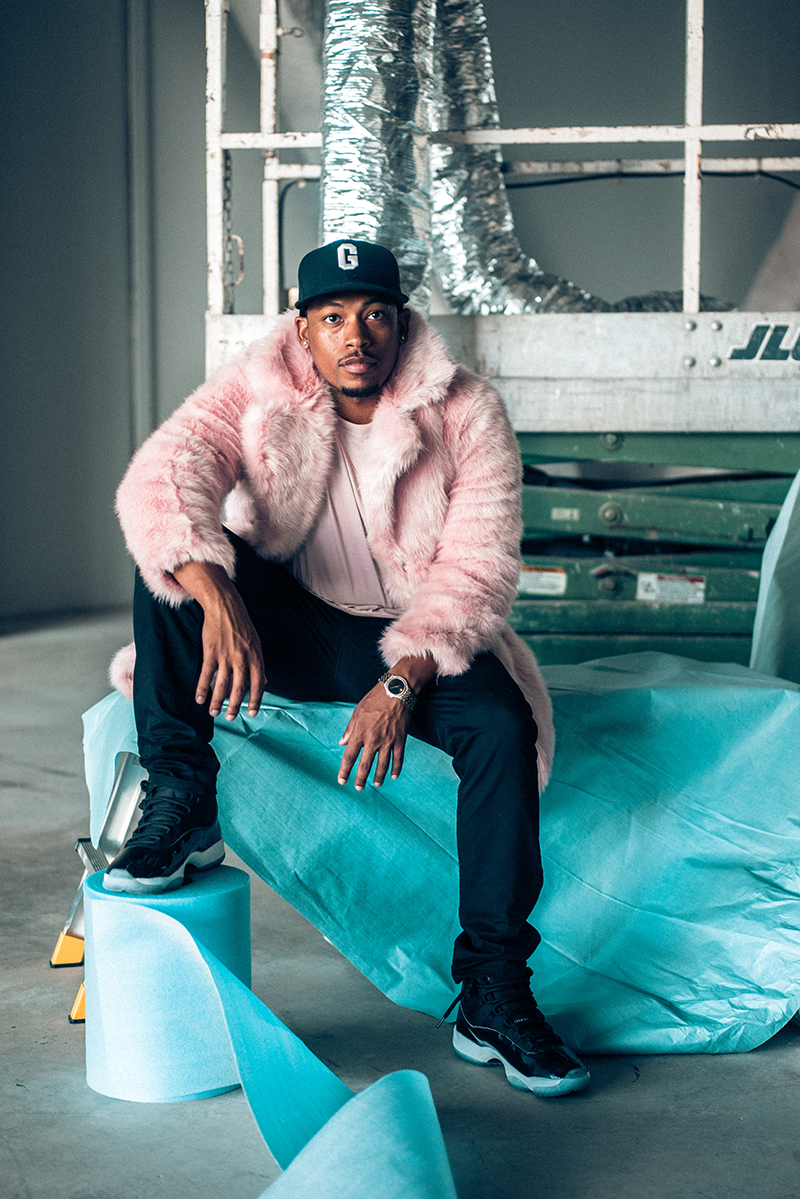 Courtesy of Germane Barnes
Architect Germane Barnes has been named the winner of the Harvard Graduate School of Design's Wheelwright Prize and will receive a corresponding $100,000 research grant. Barnes's winning proposal, "Anatomical Transformations in Classical Architecture," examines Roman and Italian architecture through the perspective of nonwhite constructors, studying the transformation of spaces due to material contributions of the African diaspora and inviting new architectural possibilities to emerge through the investigations of Blackness.
Portland, Oregon–based design firm Lever Architecture has received a Wood Innovations Grant from the U.S. Department of Agriculture as part of a program that awards more than $15 million to fund the development of wood products and protect community forests. Lever will use the grant to build Forest to Frame—a free online tool designed to aid industry stakeholders in finding locally sourced wood products and understanding the forestry practices associated with them.
Call for Entries
Together with CB2, Crate & Barrel has announced the "Taking Care of Business" contest—a new initiative from the company's trade program designed to uplift small businesses in the restaurant and hospitality industry that have been impacted by the pandemic. Three local companies will be treated to an interior design refresh led by either Michel Smith Boyd, Kara Mann or Ross Cassidy, with the goal of getting their space ready for customers and clients again. To nominate a small business, click here.
Homepage image: The multicolored Alpine Garden wallpaper, a collaboration between Schoolhouse and Hygge & West | Courtesy of Hygge & West