Schumacher just got a little more colorful. F. Schumacher & Co., the parent company of the heritage fabric brand, has acquired D2C paint brand Backdrop. The startup's co-founders, Natalie and Caleb Ebel, will remain to lead the company, as will its seven employees. The price of the acquisition was not disclosed.
"I've known Natalie and Caleb for over two years now, and we've worked together on some shared marketing. So much of [what makes a young company successful] is the team, and there's no better team than the two of them," F. Schumacher CEO Timur Yumusaklar tells Business of Home. "The mission and ambition of FSCO is about the feeling of home. Paint is one of the highest impact products for that—there's a huge difference between having 'landlord white' and a nice, warm off-white. We want to play in areas that have a strong emotional impact."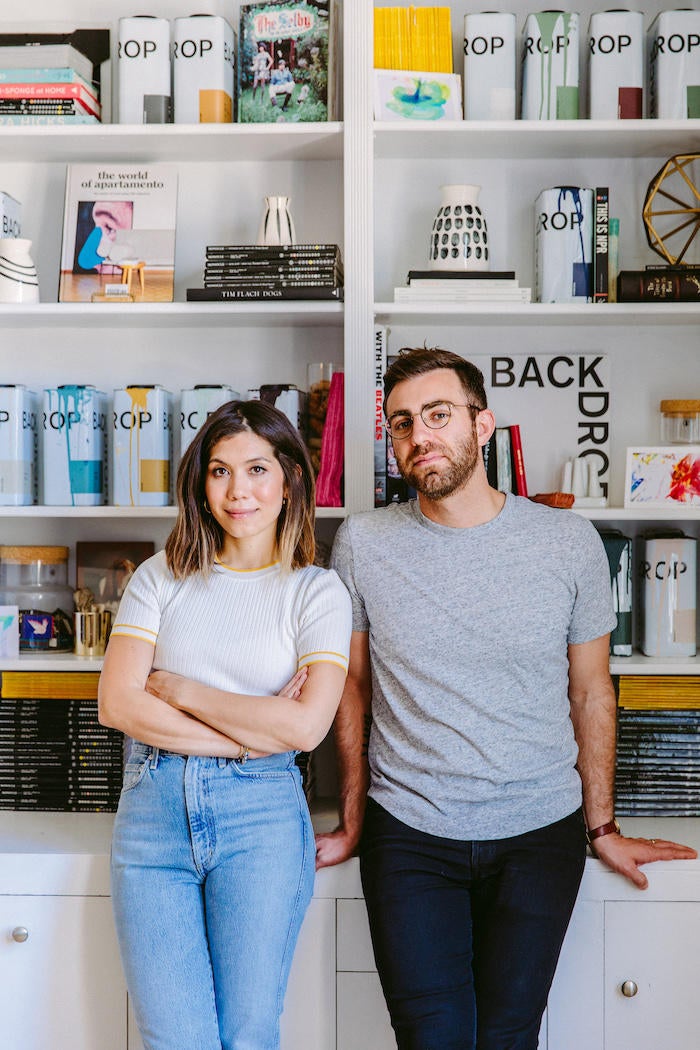 Backdrop, originally launched in 2018, brings the Warby Parker approach to house paint: Go direct to the manufacturer, cut out the middleman by selling online, and bring the savings to the consumer. To that basic model, the Ebels added a few twists. Seeking to alleviate the consumer anxiety of choosing the right shade of off-white out of the hundreds on the market, they present customers with a tightly curated collection of just over 50 hues. They also take a strongly branded approach, with a bold sans serif logo, a specially designed rectangular paint can, marketing imagery filled with attractive young DIY-ers, and color names designed to evoke the interests of a clued-in millennial audience, ranging from aspirational travel ("36 Hours in Marrakesh," an earthy pink) to light spirituality ("Palo Santo," a yellowy beige).
Given Schumacher's trade focus and Backdrop's D2C origins, in some respects, the move is a bit of a puzzler—few and far between are the 130-year-old fabric houses that snap up buzzy disruptive startups. However, under Yumusaklar's leadership, Schumacher has shown an inclination to zig where others might zag. Among a few unorthodox moves from recent years: rapidly accelerating its release calendar to drop new fabrics every month, partnering with unconventional collaborators like Johnson Hartig of Libertine, acquiring Homepolish's digital assets and converting them into fledgling design network Freddie, and relaunching its in-house publication, The Bulletin, as the glossy shelter magazine Frederic.
Seen in that light, the acquisition of Backdrop fits a pattern of inventiveness and experimentation. It will also be a step toward explicitly looking to reach a younger audience.
"I'm always curious about innovation," says Yumusaklar. "The way Backdrop looks at disrupting the paint business from a customer experience perspective—all the way from the brand to the way they engineered the cans—is very smart. … There's also a pretty big acknowledgment overall that millennials are going to become the biggest homebuying cohort over the next five years, so for us to learn a lot about targeting that audience will be exciting."
For a startup like Backdrop, the move is slightly unorthodox as well. Like many other home-world companies, the brand is fresh off a year that saw incredible growth—its sales went up by seven times in 2020. It also boasts an impressive returning customer rate, with 25 percent of people coming back for another purchase, and the company was recently selected by tech-enabled real estate brokerage Compass as its preferred paint brand. The typical next step for a category disruptor with the wind in its sails might be to raise another round of funding or sell to an established paint industry player. The Ebels, like Yumusuklar, relish bucking expectations.
"For us, it's an exciting counterpoint to the [typical] process of raising multiple rounds of VC and hoping for the best in the future," says Caleb Ebel. "Candidly, we've had some [acquisition] interest from other paint brands. [But] Backdrop as a category extension within the FSCO brand family and our natural design-ethos overlap made so much more sense for us. FSCO's perspective on entrepreneurial growth and innovation, even though they are a heritage brand, is so unique. It really does fit like a puzzle for us."
While the companies are closely aligned on strategy, the two will remain fairly separate entities, at least in the short term. Backdrop will stay in its home base of California and will continue to pursue mainly an online distribution strategy. (Don't expect it to get into fabric—nor will Schumacher reps be hawking cans of paint anytime soon.)
The obvious immediate opportunity for synergy is for Backdrop to use Schumacher's network and infrastructure to grow its trade audience. While the company initially launched with consumers in mind, it quickly found an enthusiastic professional audience and launched a trade program (designers get 20 percent off the retail price and can accumulate further discounts with volume orders). Currently, trade business is less than 25 percent of Backdrop's customer base, but that number, says Caleb, could easily grow.
"We were very DIY-oriented both in our experience in founding the business and early on with the brand," he says. "The trade and professional interest surprised us a little, but in the best way. We're really excited to be building out the professional side alongside the consumer side. We think, at scale, this is a business that serves both sides of the market equally."
However, Yumusaklar says the operational synergies are only one part of the equation—much of the appeal was simply teaming up with an energized young brand making moves in a somewhat staid industry. "Supporting Caleb and Natalie to really continue the growth we're seeing at full speed is the main focus," he says. "We're very excited."
Homepage Photo: Backdrop's specially designed paint cans | Chaunté Vaughn