Rule breaking, mistake making and willingness to experiment are a few of the characteristics fabric house Schumacher lists as desired behaviors in prospective employees. It's not standard verbiage for most legacy brands, but as CEO Timur Yumusaklar and creative director Dara Caponigro explain in the latest episode of the Business of Home podcast, Schumacher—from its operations to its company culture—isn't abiding by old-fashioned norms.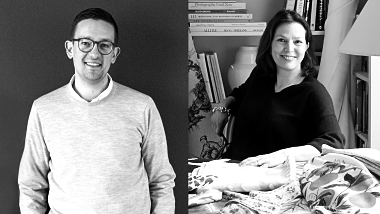 "Don't be fooled!" reads a recent job posting. "While we celebrate our storied heritage, we operate like a 128-year-old startup."
The 128-year-old, to-the-trade textile house is adapting—and thriving—in today's fast-paced industry. Yumusaklar's and Caponigro's atypical paths to the company may be partly to blame. He's a German-born industrial engineer with a resumé that spans the Boston Consulting Group, Joe's Jeans and other tech startups, and she's a 30-year editorial veteran of shelter pubs like Veranda, Domino and House Beautiful.

Months after stepping down from her reign at Veranda in 2013, Caponigro accepted the challenge of re-imagining the fabric house. Among her first orders of business was introducing the brand's 125th-anniversary collection, a tribute to its expansive archive of fabrics.
"When I arrived at Schumacher, I felt like all we were doing were a lot of collaborations, and people had forgotten who Schumacher was," she recalls. "We were this brand from 1889 that has an incredible history and a lot of validity and I love our designer collections—we all did—but we can't just be known for designer collections."
Along with showcasing the company's archive, the longtime editor launched The Bulletin, Schumacher's semi-annual print publication, and increased the frequency rate of collection launches to a monthly basis—a change, she says, is unheard of in an industry largely made up of semi-annual debuts.
The increase in launch frequency liberated the production process. "If we were excited about one small idea, you could introduce a small collection and not feel like, 'Oh, my God, we don't want to do this, because we don't want to invest so much in this one idea.'"
By 2015, Yumusaklar had joined Schumacher as president and CEO "to help transform the company for the 21st century." Using KPIs (key performance indicators) to balance Caponigro's creative, Yumusaklar has introduced a new era of transparency and data-led decision making within the company.
In this week's episode, which is sponsored by Fuigo, the Schumacher executives reveal why it's time for the design industry to get a confidence boost, as well sharing their individual takes on the future of design centers and shelter publications: