A determination to buck the sterile atmosphere long associated with medical-grade areas is spurring designers to transform health care facilities into spaces that are modern, playful and surprisingly beautiful.
Well-being is a growing priority in commercial spaces, but in health care hubs, it has always been the bottom line. At hospitals and doctor's offices, aesthetics are a nonstarter if the design isn't safe. For designers, creating uplifting yet safe wellness spaces is a complicated puzzle that requires overcoming physical challenges, regulations and—perhaps even trickier—the negative association with death, disease, disability and aging. But the design innovations happening in this sphere—from dentist's offices and hospitals to senior living facilities—have the power to positively transform how we see these spaces, as well as the stigma and fear around what happens in them.
People who work in health care are well aware of how surroundings can impact patients' well-being. "The space plays a tremendous role in the healing process, so health care designers are dedicated to making the environments uplifting," says Mary Holt, president of upholstery at Carnegie, a New York–based performance textiles manufacturer that produces a range of health care–grade textiles and coverings. "They'd like to contribute to the health of the patient, and also visitors and staff. Of course, they take safety very seriously, so they are also constantly pushing the envelope of what can meet both aesthetic and safety criteria."
While health care safety criteria are complex—more on that in a minute—the aesthetics are simple: People want to feel at home when discussing a recovery plan, receiving a treatment or relocating to an assisted living facility. Fortunately, that's easier to accomplish now than ever before, according to Sara Balderi, principal designer at Designtex, an applied materials manufacturer owned by Steelcase. Technological advancements in yarns, processes and materials for performance fabrics allow designers to reach beyond the basic requirements of a given textile, she says—so much so that evidence-based design and biophilic principles were integral to shaping the company's recent Biophilia 2.0 collection, which features soft, durable and cleanable fabrics that have the look of linen, large-scale stylized patterns inspired by organic shapes found in nature, and coated fabrics with metallic accents. "This blending between residential, work, hospitality and health care environments will continue," predicts Balderi. "Why shouldn't we feel as cozy and calm at a hospital as we do in our own homes?"
For designers, creating that sense of comfort can be a challenge when the fabrics traditionally used to evoke a warmth—cottons, wools, leathers—are off the table. A space like a hospital demands performance materials that can not only endure high traffic, but also withstand rigorous disinfection standards, including repeated washing at 160-plus degrees or the ability to be bleach-cleaned. A recent silicone hybrid upholstery collection of Carnegie's accomplishes cleanability (high-end polycarbonate polyurethane is coated with wipeable, medical-grade silicone) while its print mimics the texture and depth of woven jacquard fabric. Best of all, the collection excludes chemicals and coatings like PVC that off-gas and can harm patients or the environment. "This product is a real breakthrough," says Holt. "It's easy to clean and maintain but still has a great aesthetic."
Though PVC is still used in many products for its endurance and cleanability, concerns about ecological impact, toxicity and flammability have led to health care clients specifically requesting products without it—along with a laundry list of other potentially harmful materials. "More and more, we are being asked to remove added chemistry from our products," says Catherine Stowell, creative director at Designtex. "Where we can, we're committed to preemptively removing chemicals like flame retardants, stain repellents and antimicrobials."
In the world of health care design, juggling environmental sustainability, human safety and aesthetics is a delicate balancing act—not just in hospitals and doctor's offices that patients visit periodically, but in assisted living facilities where the elderly or those with disabilities live full-time. Philip Erdoes, founder of the New York–based furniture brand New Traditionalists, collaborated with the design firm Gensler to create a new senior living–focused line of chairs, sofas and coffee tables called Elevate, which aligns with his mission to focus on style without compromising function.
"Historically, the senior living industry, which grew directly out of nursing homes, focused almost solely on safety and security," he says. "It did not seem that a lot of interest was paid to design—I mean, how many shades of brown does one really need? But today's active retirees are looking for fun, and design is one of the best ways to give them that. If developers don't differentiate from competitors on design, what will they differentiate on? Price? Painful. Number of bingo days? More painful. Design is key."
The Elevate collection caters to active retirees with pieces that feature higher seating, wider arms, stronger frames, specialized chair pitch and robust treated fabrics. "We use modified classic silhouettes and interesting finishes and materials [you wouldn't normally see in senior living spaces]," says Erdoes. "The idea is that when a community member walks in, they feel excited and refreshed to see some cool new pieces, without feeling displaced and alien. It's not an easy line to toe, but hopefully we hit it."
Like the more progressive designs entering the senior living space, architects tasked with creating specialized medical offices are approaching the task with a modern sensibility. It's not that safety standards don't matter—it's that there are new ways to design around them without sacrificing style, particularly in smaller spaces. At The Urban Dentist in Berlin, local design firm Studio Karhard included elements more likely to be found in a trendy cocktail bar or chic hair salon than a place where people get root canals: The waiting area features round, plush, pink sofas sourced from Spain; programmable overhead lighting installations from the local brand Room Division; and a
colorful polished-terrazzo welcome desk by the British maker Dzek.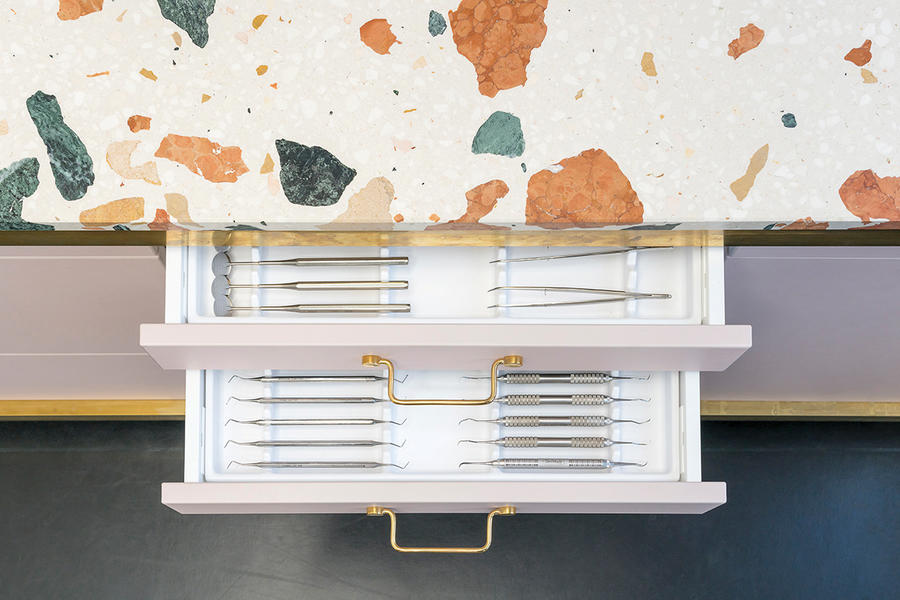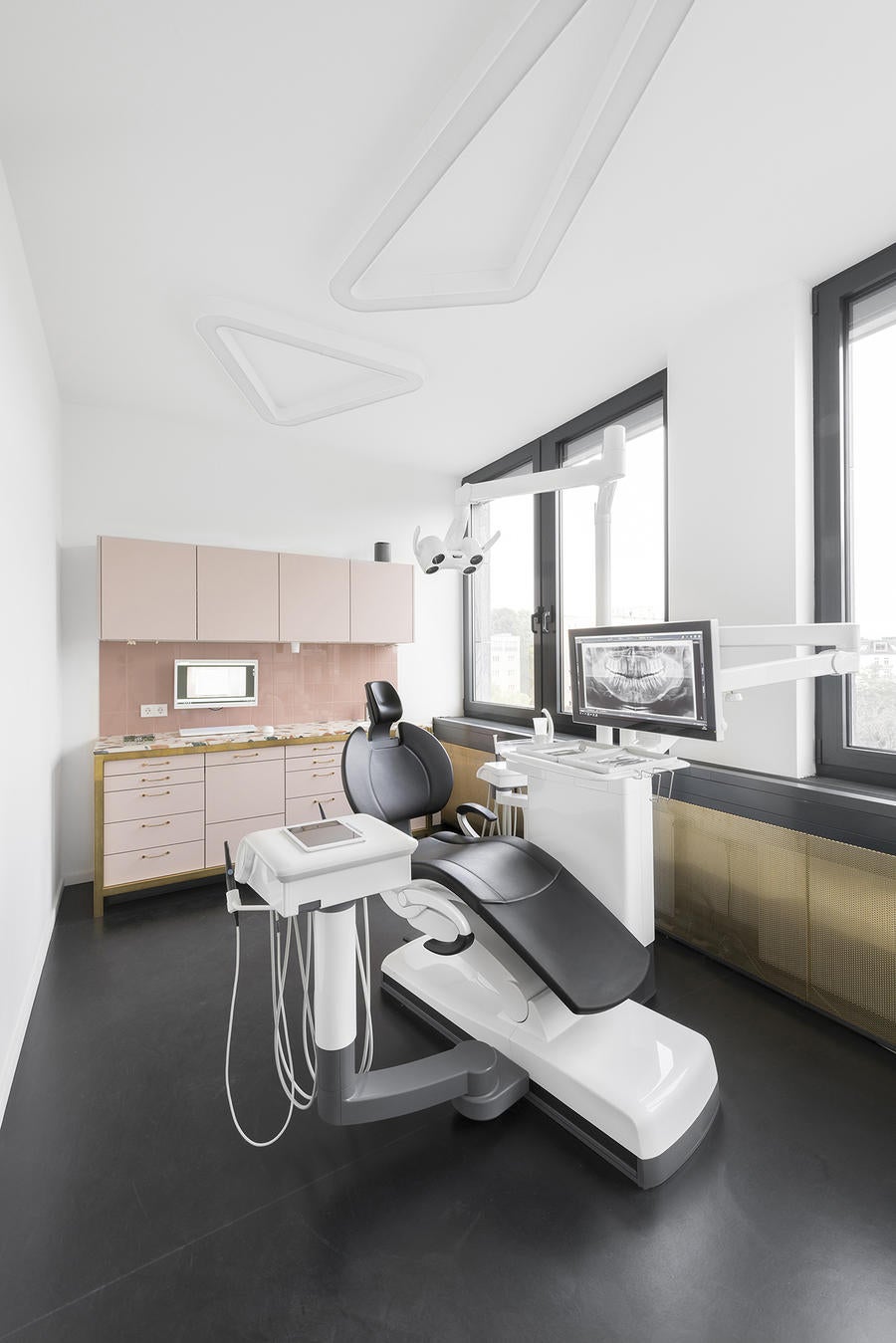 For Studio Karhard co-founder Thomas Karsten, shifting the focus away from practical safety requirements is essential to changing the feeling of a medical space. "Nowadays, we all trust that hygienic standards are being complied with—no sterile or metallic surfaces are necessary to achieve this purpose," he says. "Instead, we create a pleasant and appealing atmosphere through beautiful materials, scenic light and furniture that surpasses the ordinary."
In health care spaces like The Urban Dentist, that means creating a fashion-forward environment; in others, it means drawing on biophilic principles to facilitate healing for traumatized patients. While designing the Phillips Family Cancer Center in Southampton, New York, architect Blaze Makoid, owner of an eponymous firm in Bridgehampton, kept oncology patients' needs top of mind. The 13,800-square-foot building is inspired by Long Island's history of potato barns (the root vegetable was once the region's most important crop), and features a cathedral ceiling and abundant windows overlooking treetops and gardens, all contributing to a sense of ease and well-being rather than the cold or claustrophobia that can creep into badly designed doctor's offices.
Pathfinding also matters. Upon entering the center, patients follow a short, direct route to treatment. "It's not like the rabbit-warren experience patients so often see," says Makoid. "Just this small step can help to decrease anxiety and increase a feeling of control." Each treatment room boasts ample natural light; the space where patients receive chemo infusions is a story-and-a-half tall, with sweeping rear windows overlooking greenery and, in the hallway aisles, a backlit life-size beach photograph projects calming light. Thoughtful, inclusive features such as entries at both levels and no ramped floors means the building is easily navigable and disability-friendly. Makoid's team also leveraged technology, consulting with a physicist when installing a state-of-the-art radiation vault into the earth on the lower level: Research has shown that the soil's mass can create a natural buffer that shields patients from the negative effects of radiation.
Ultimately, health care hubs are about healing, and sometimes that's best done in places that give you a break from what's happening in your body or mind—a peaceful reprieve, a brief sanctuary. "Chemotherapy patients spend a tremendous number of hours receiving therapy over weeks and months," says Makoid. "It's very taxing on the body and spirit. We wanted to create as pleasant a space as possible for them, and our goal was for it to not feel like a hospital." A common thread, it seems, among patients and designers alike.
KNOW THE RULES
The International Association for Healthcare Security and Safety (IAHSS) primarily regulates U.S. health care facility design, with recommendations from other organizations, including the Association for Contract Textiles (ACT), the Healthier Hospitals Initiative (HHI), and the Business and Institutional Manufacturers Association (BIFMA).
Regulations for textiles in health care buildings pertain strictly to fire and safety. Drapery and privacy fabrics must pass NFPA 701, a difficult fire test, and be washable at up to 160 degrees Fahrenheit. Cleaning protocols vary from hospital to hospital, and change frequently as facilities search for new ways to reduce hospital-acquired infections.
When choosing materials for a health care setting, designers must also account for toxicity; i.e., volatile organic compounds (VOCs) that can lead to off-gassing and have adverse effects on patients, caregivers and visitors. This is commonly measured by a test called Cal 01350.
When designing hospitals, the NIBS's Whole Building Design Guide recommends incorporating cheerful, varied colors and textures ("keeping in mind that some colors can interfere with provider assessments of patients' pallor and skin tones, disorient or agitate patients"), ample natural light, outdoor views and an easily navigable layout.
Homepage photo: Tony Lattari