Even for veteran professionals, renovations can be hell. For homeowners on a budget, they're hell without all the frills. Looking to ease the pain and turn a profit, a number of startups—Sweeten, Block and Remodelmate among them—have brought a tech-driven approach to the remodeling industry in recent years. Now a new company, Skipp, has made its debut, focusing only on kitchens. The platform comes with a twist: Much of the initial design work is done by artificial intelligence.
"There's no shortage of inspiration. Everyone has access to Pinterest and Instagram and can be their own curator, but if you're designing a kitchen, there are all these really detailed decisions that become difficult to work through," says CEO Ian Jaffrey, an entrepreneur who started Skipp in 2019 with Marc Limotte and Adrian von der Osten. "What we try to do is bridge that—take the design you like and apply it to your space. … Basically, we're trying to turn inspiration into reality."
The process is powered by complex technology, but in concept, Skipp is fairly simple. The company starts by sending out a surveyor with a special camera to capture a 3D image of the kitchen as it is. The platform takes that data and feeds it through an algorithm to generate a model of the space. That model, in turn, is rearranged by another algorithm into a plan for a new kitchen, complete with up-to-code construction documents. The final design is then reviewed by a (human) architect, and presto! You're ready to start tearing down cabinets.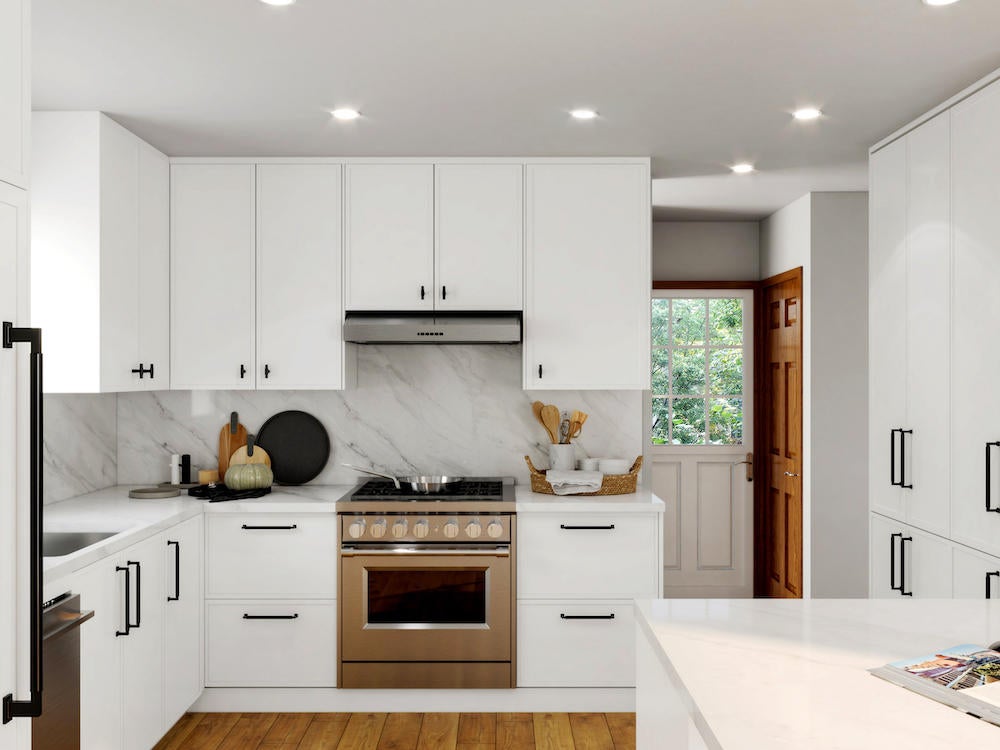 Developing the design component of the system required "teaching" Skipp's algorithm first to recognize what makes for a good kitchen and then to create one itself. To achieve this, Jaffrey's team had the program generate thousands of designs, which were graded by professional architects. "In the early stage of running this, you had things that were just off—the countertop is all wrong, the cabinetry is wrong, and the architect has to come in and course-correct it," he says. "[Now we're down to the level of] optimizing for toe kicks; we get into really granular [design decisions]."
In generating a plan, the algorithm takes into account user preferences like budget, storage volume and cooking space, ultimately delivering three options that the client can pick from. Though much of the initial design work is automated, Skipp also has a staff of designers who—for a fee—connect with homeowners and walk them through their choices via a virtual portal.
Despite pulling off an impressive feat of technical wizardry, Skipp doesn't actually make much money from its AI-powered designs. Customers only pay $399 to get a design, which merely covers the cost of taking the initial image and generating a model. Instead, the company is banking on customers purchasing cabinetry and building materials through its platform—product that it either earns a margin on or manufactures itself (Skipp has partnered with Fireclay Tile, Boxi and Ferguson, among others).
Unlike other remodeling platforms, Skipp does not assume responsibility for the actual execution of the project. In some markets, it will connect the user to a contractor, but the company doesn't do the fun stuff like ripping out drywall or discovering mold behind tiles. Indeed, much of the early challenges, says Jaffrey, have less to do with lines of code and more to do with the unpredictability of the physical world. "There's been supply chain issues, there's been delays, things with logistics," he says. "Every stage of the supply chain is operating past capacity. So QA of materials has gone down, trucks are overburdened—that's all leading to more damaged material showing up. It's stuff that's out of our control."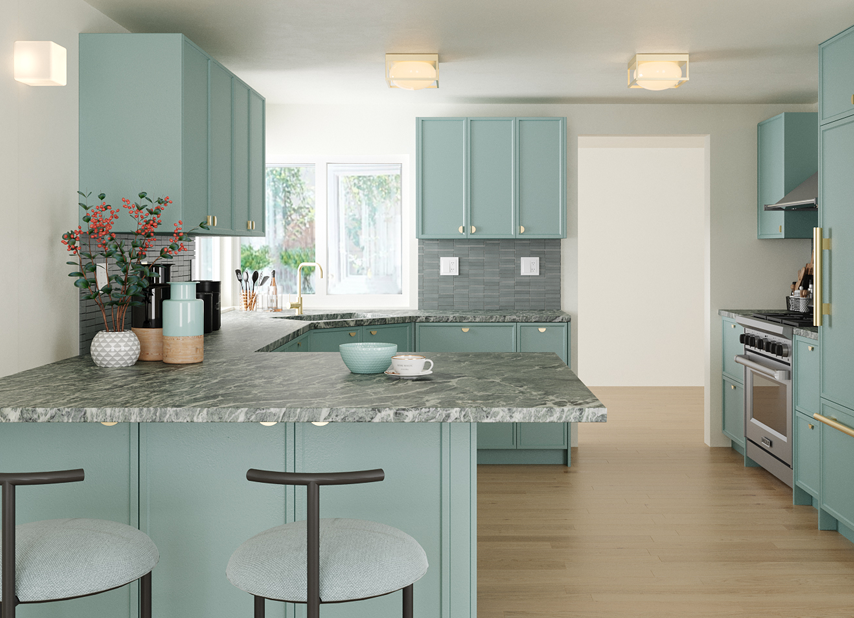 Skipp is very much targeted to a consumer audience. However, Jaffrey says there are applications for professionals, mostly as a resource for architects and designers who specialize on the other rooms in a house and tend to hand off kitchen design as a normal part of their process anyway.
Ben Uyeda, an architect who gave feedback in the early stages of the company, has used Skipp on some residential projects of his own (Uyeda has also designed a kitchen for the site curating materials from Skipp's suppliers—if a customer selects his design, he earns a small fee). He says that the biggest benefit of using the technology is how quickly it can generate up-to-code construction documents—he estimates that it saved him 90 hours of work on a recent project. "I came in with all the skepticism of an industry veteran looking at new technology, and was blown away by the quality of the renderings and layouts [but] particularly the detail and precision in construction documents, which are the least creative and most time-consuming part of architecture. … It feels like a superhuman ability that's replacing all the most tedious work for me."
Though architects may find technology like Skipp a convenient tool, for kitchen designers, it may come as a threat. "At the top level, there's always going to be a need for white-glove service. Below that is where we're going to see a lot of technology come in and provide an alternative. The reality is that most people typically don't have an architect or designer in their budget—that's really who we're going after," says Jaffrey. But he concedes that "for [some designers] who are just focused on kitchen and bathroom, that's where I would say we are more of a competitor."
Then there's the big-picture question. Skipp is not the first home startup to use AI in some form—e-design companies like Havenly and Modsy have been using machine learning to narrow down product selection for some time. But it is fairly unique in handing over significant chunks of the creative process to an algorithm. For now, perhaps only some kitchen design firms need to take note. But as the technology gets more sophisticated, who's to say a company like Skipp couldn't move on to other rooms in the house—or even the whole house?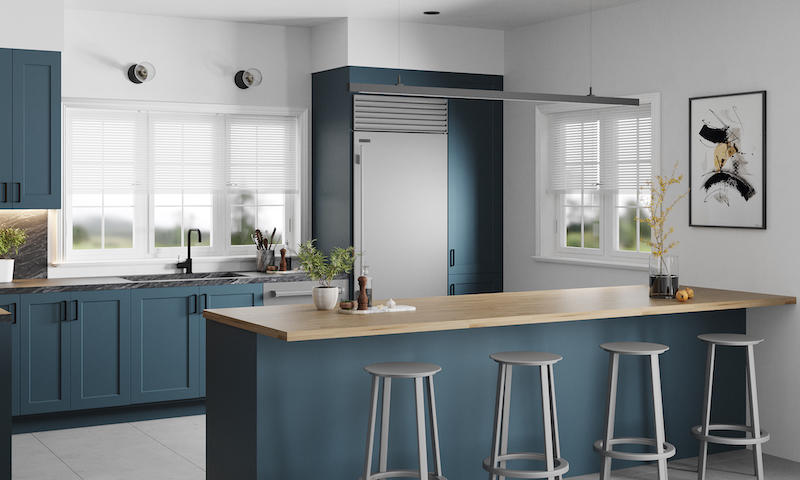 Uyeda acknowledges the concern but downplays the existential threat AI plays to the architecture and design professions, drawing an analogy to the development of tools like Revit, which initially caused some angst among architects, only to quickly become part of the fabric of the industry.
"Will somebody lose a commission to Skipp at some point? Probably," he concedes. "I think that's a very fair thing to say. Will it be a very valuable commission, from the design industry standpoint, in the middle to upper tiers? Probably not. I also think it issues a really good challenge to architects and designers to think about what the service they're providing is. Are they providing tedious work and code checking, or are they providing unique creativity, an aesthetic, a connection to human need? I think what [Skipp] does is it positions humans to do more human stuff and computers to do more computer stuff."
As for the company, it is in its early days. Funded by $5 million from a small group of investors, including MetaProp, MHS Capital and The Fund, Skipp only recently came out of startup stealth mode and began marketing itself to consumers. Jaffrey says the months ahead will find the company rolling out visualization tools to make its front end as sophisticated as its back end and growing its customer base.
"We have some really cool projects coming to completion soon, and our focus is on the interaction capabilities," he says. "There's a pretty big roadmap in front of us that we're really excited about."
Homepage photo: Courtesy of Skipp