For an industry based on aesthetics, design has been awfully slow to adopt techy visualization tools. Instead, furniture brands have long relied on sending out fabric memos, sample finishes and mockups to illustrate custom options to their designer clients. While the digital technology needed to instantly show what such customization would look like has existed for years (and has long been employed by mass retailers), the cost of modernizing trade catalogs—often containing thousands of SKUs with hundreds of upholstery and finishing choices—was something that industry brands couldn't justify.
That has begun to change over the past few years, as inquiries from designers and their clients about these tools became more frequent and a glut of third-party companies offering the technology emerged, driving the costs down. Even before the pandemic accelerated the world's comfort with digital commerce, many trade-oriented brands had begun developing 3D configurators or augmented reality functions to allow designers and their clients to see pieces as they would actually arrive—complete with bespoke choices. "Offering customers the ability to customize a 3D model digitally before placing an order was beginning to feel like the cost of doing business," says Neil MacKenzie, the vice president of marketing for Universal Furniture. "It was becoming an expectation from the end user, and we wanted to be able to meet that expectation."
Universal is hardly alone. Companies across the design industry—from furniture brand Fairfield and lighting company Regina Andrew Detroit to luxury rug purveyor The Rug Company and bespoke kitchen manufacturer L'Atelier Paris—have rolled out virtual visualization tools over the last year, a move that bridges the growing disconnect between selling a luxury product and offering an analog customization experience.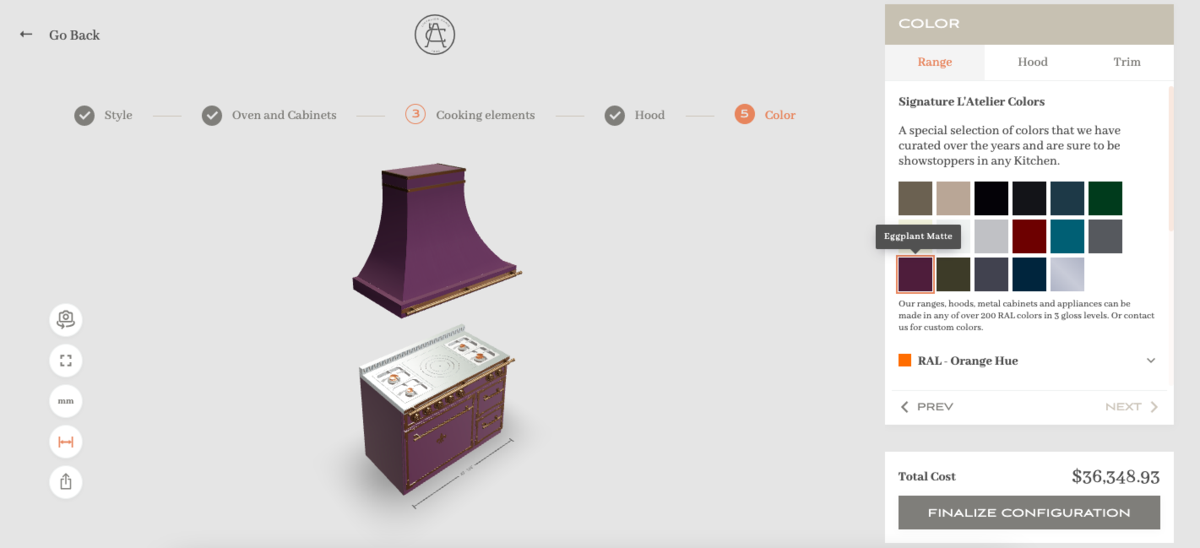 Courtesy of L'Atelier Paris
Universal began looking into the possibility of developing a 3D configurator in 2018, then expedited the process after the brand's parent company, Samson Holding, acquired custom upholstery manufacturer Southern Furniture in October 2019, which allowed Universal to expand its custom capabilities. In addition to offering designers customization, the configurator allowed the brand to effectively message the change. "It was the best way to make everyone aware of the extent of what was being offered—especially now, with the difficulty of getting samples out due to the ongoing supply chain issues," says MacKenzie. In the fall of 2020, Universal partnered with an outside company, Cylindo, to launch its 3D configurator, which showcases more than 400 fabrics, 50 leathers, six leg finishes and three nailhead options on customizable pieces—with just a few clicks. Trade members are also able to see in real time how each choice impacts a product's price.
Relying on a third party to build these visualization tools is a hallmark of this virtual boom. Most design brands simply don't have the capability to build a platform in-house—and many providers are eager to fill the gap. In addition to Cylindo, there's Jola Interactive, which worked with Fairfield; Intiaro, which has partnered with Ethan Allen and Kravet; All3D, which has worked with Skyline Furniture and John Robshaw; and Threekit, which has worked with heavy hitters like Steelcase and Crate & Barrel. The rush of competitors helps drive down pricing and make 3D visualization more accessible for smaller brands—but it's still not quite cheap, at least not yet (Universal has invested more than $200,000 on its special order upholstery tool since 2019, per MacKenzie.)
For trade brands, partnering with third-party companies takes off their plate the task of creating 3D models of the often thousands of SKUs they sell. Companies provide CAD drawings and specifications of their products to the 3D modeling firms, who send those specs to a team of modelers (generally located overseas—the ones who created Universal's models were in Macedonia). The drafts then go back to the brand for approval and edits. MacKenzie says that getting the models made is the lengthiest aspect of the process, typically lasting a few months. But once they exist, adding new options, like showing a different leg finish, is a breeze.
Not all brands have gone the third-party route, however. Regina Andrew already had an in-house modeling team, which streamlined the process—it took only three months to develop the first batch of models, totaling 198 products, all of which went live over the summer. Leadership decided to focus on augmented reality instead of customization, taking the realistic 3D models they were using internally, finessing the quality to make it look as authentic as possible, and allowing users to virtually "place" the products in their own projects. "Some of the complexity of creating this type of thing is actually having good models that don't look fake or 'video gamey'—you want to achieve a look that's realistic," says Jim Bonomo, the brand's chief operating officer. "It's almost an extension of your photography. It's part of your intellectual property, and you have to make sure it has the look and feel of the real thing."

Part of what kept the company from debuting the tech sooner was a desire to host it on its website instead of developing an app, which was a common workaround when the technology first started rolling out a few years ago. "We saw a separate app as a bottleneck," says Bonomo. "It would have had to be maintained and updated separately from our site, so we decided to wait until the capabilities caught up to the point where we could have everything hosted on the site."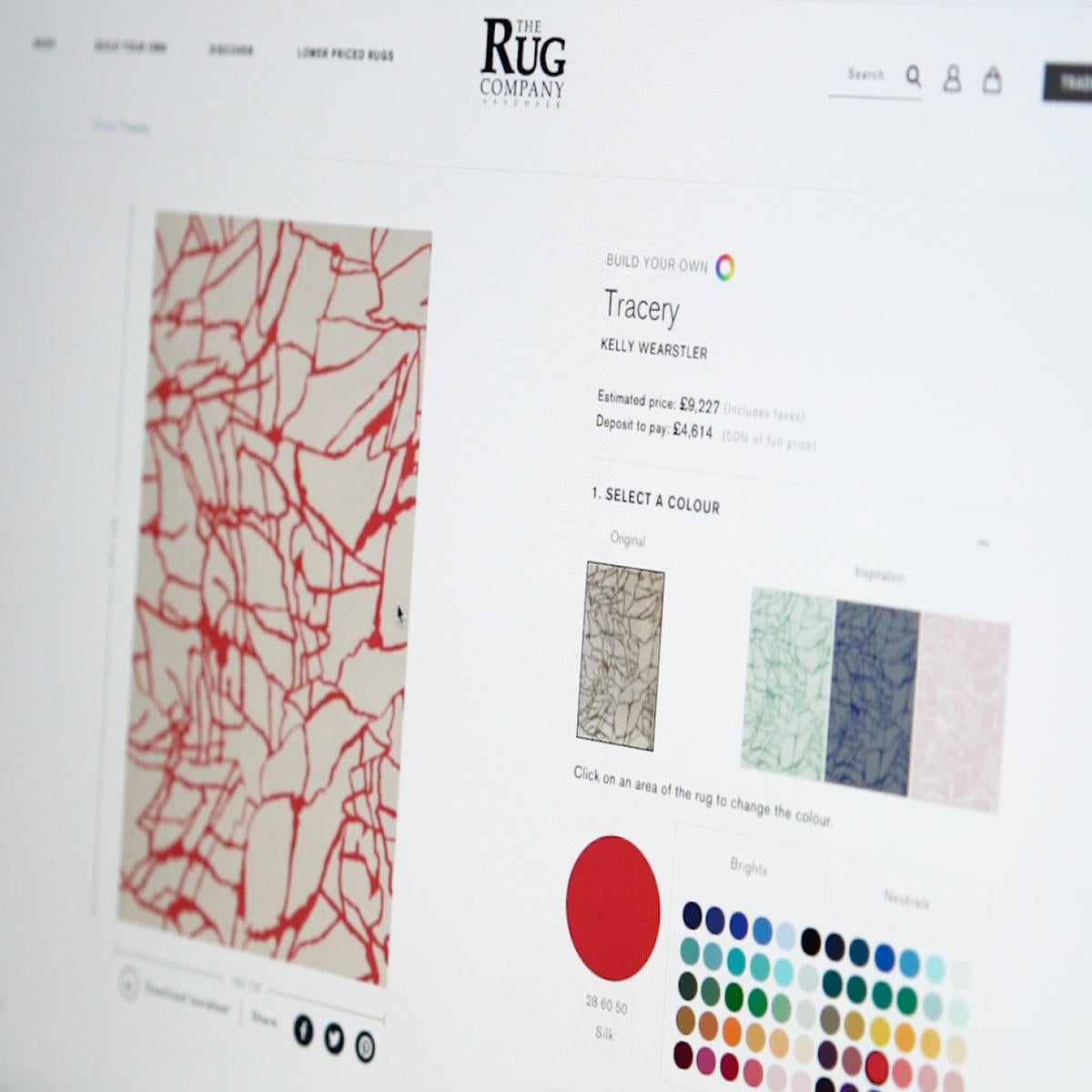 Courtesy of The Rug Company
Being able to keep customers on one website instead of directing them to an app to see a piece in AR and then, hopefully, back to the site to complete a purchase has not only streamlined the user experience, but it has also given brands a more concise way to glean information. There are heaps of data that can be collected when someone uses a 3D configurator or AR feature—from which pieces are getting the most attention to how long users are spending on the site to where those users are located.
Since launching last year, Universal has seen an average of 68,000-plus unique configurations created monthly, with an all-time high of 102,000 in March. The company has also experienced an increase in overall time spent on the site by one minute and 20 seconds. (That may not seem like much, but on average, internet users reportedly only spend about 45 to 62 seconds on any given page.) "And that increase is also coming from consumers, not necessarily trade members, which is a huge change for us," says MacKenzie. "The end consumer can't get a lot of information on our site. We're not Crate & Barrel—they won't know how much something costs or when it might ship, so for them to still be spending time using this tool, that's quite telling."
Since The Rug Company launched its 3D configurator in early 2021, the brand has seen a direct increase in sales, reports CEO James Seuss. "Rug purchases are usually not an instant purchase—they're a considered purchase," he says. "People like to take their time and think about it. And when you add custom changes to that, it used to take a bit of time. You had to go through our sales associates, who would then have to get custom art made. It saves so much time this way, and people are able to move a little faster through the decision-making process. We've seen a lot of custom colored rugs added to baskets this year."
Once brands have seen the value of investing in visualization tools, it seems there's no going back. The benefits of its existing visualization tool have inspired Universal to move into AR functionality, a feature the brand has already begun rolling out on certain products. "Offering these tools and giving designers and clients the opportunity to see the detail of what they're creating, it justifies the price point and helps us to stand out," he says. "Now, if only it helped with availability."
Homepage photo: © Tierney/Adobe Stock