While the technology might still sound sci-fi to some, 3D printing was invented as a way to rapidly and affordably prototype parts, and home design brands have leveraged the ability to do just that for the last decade-plus. As the technology has advanced, it has evolved from an add-on skill to a full-blown craft—one that requires as much training and expertise as trades like cabinetmaking or metalworking.
"Where [3D printing] started in its infancy was desktop printers, so people think it's just a scaled-up version of that," says Richard Unterthiner, design director at EDG, a New York–based architecture and engineering firm. "They think you mess around on the computer, print a thing out and there it is. But there's so much that goes into it. The software components, all the moving parts—when you scale that up, there's nuance to every single step."
EDG has been experimenting with large-scale 3D printing for nearly a decade, but they're not alone at the forefront of the technology. Today, dozens of design companies around the world are creating innovative ways to take 3D printing beyond the tabletop to real-life architectural and interior solutions that are sustainable, scalable and stylish.
There are many ways designers can benefit from this technology. For starters, when product creation is done by a machine, you can design incredibly complex patterns, geometries and shapes at no extra cost, and easily and endlessly tweak the design. The process also condenses the design-to-launch timeline for custom pieces, along with the additive manufacturing process—meaning it uses only the amount of material necessary to create the product, which is far more sustainable than traditional crafts.
Here are four studios innovating in the 3D-printing space that designers should know.
Edg
"What we're doing is really at the confluence of software, design, engineering and 3D printing," says John Meyer, founder of EDG. The firm does a lot of historic preservation work, and they devised a way to create intricate molds to replicate and repair facade ornamentation, and even print different facade pieces. It's a lightweight, affordable alternative to traditional CNC milling or sculpting that allows even new buildings to add an ornate facade at a reasonable price.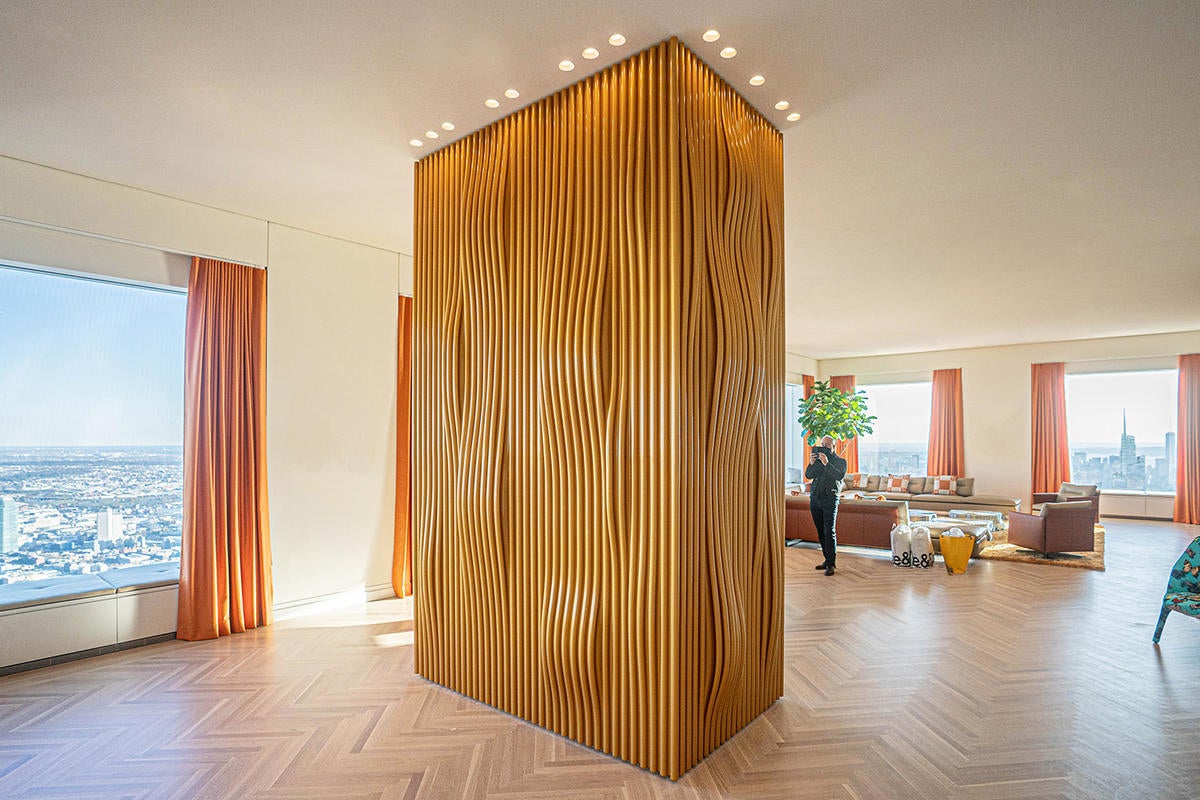 Volume and speed have been the biggest roadblocks in terms of 3D-printed facades for EDG (or any firm), but they've recently launched a "print farm" in Queens with 10 to 15 large-scale 3D printers that will allow them to scale the process. They've manufactured furniture pieces like sculptural tables and cocoonlike light pendants, but a major focus is on interior wall panels, of which they can now print thousands of square feet per month.
The print lab is part of Synthesis 3D, an offshoot of EDG that's dedicated to 3D printing. Powered by artificial intelligence, Synthesis makes an infinite number of designs based on parameters—like size, color, texture, shape, density—input by the designer. You can see in real time how adjustments to any element impact the final look, allowing for rapid iteration. "Rather than someone coming up with a single design, this allows for serendipitous moments where the design works beautifully just because we're providing that iteration process," says Meyer.
EDG prints mostly with a variety of thermal plastics, which can be elevated further with finishes. An installation in the ultraluxury condo tower 432 Park in Manhattan received 14 coats of a high-gloss gold metallic paint. "It has such a depth, it's unbelievable when the light hits it," says Unterthiner. "Even in shadow, it has such a luster."
Aectual
Amsterdam-based Aectual bills itself as a company that's "by designers, for designers." It was founded by the same architects who formed the DUS architecture firm, Hans Vermeulen and Hedwig Heinsman. They began experimenting with large-scale 3D printing in 2011 and started Aectual in 2017 as a way to produce made-to-measure 3D-printed solutions for designers' projects.
Aectual creates geometric facade and interior wall panels, lacy privacy screens and sun shades, and patterned terrazzo floors for architecture and design clients, including Zaha Hadid Architects and Patricia Urquiola Studio. A recent collaboration with Gramazio Kohler Research birthed a system of acoustic diffusion wall panels that are designed to reduce noise and reverberation.
Courtesy of Michael Lyrenmann
The company also maintains a line of 3D-printed home furnishings for consumers, like planters, a bookshelf and room dividers. "Our mission is to bring craft and tailored solutions back to the masses," says Heinsman. "It will take some time, but we are already more affordable than a made-to-measure solution by a carpenter. We're not yet at the total mass-produced [price] level." (Indeed, the least expensive piece, a totem planter that can be nearly 6 feet tall, is $655.)
3D printing is inherently sustainable, but Aectual goes even further, using 100 percent recycled waste plastics or bioplastic made from plant oils instead of new synthetic plastics. They're also working toward a 100 percent circular production system, whereby they take back a product after use, shred the material and reuse it to print new products.
"The pieces are so beautiful, you could keep them forever, but the reality is that in retail, the displays change so frequently," says Heinsman. "So we embrace that it can be transformed into something else without being harmful to the environment."
Forust
Another company working to make 3D printing even more sustainable is Forust, a new outfit that uses wood waste to print high-end wooden products. Co-founder Virginia San Fratello, chair of the design department at San Jose State University, says the idea for the process came about when discussing sustainable materials with two colleagues—ceramics 3D-printing pioneer Andrew Jeffery and University of California, Berkeley, architecture department chair Ronald Rael, with whom San Fratello founded 3D-printing company Emerging Objects.
"We'd all been developing materials for 3D printing for a number of years, but felt like it was time to question the ethos around plastic," says San Fratello. They decided to focus on 3D printing with sawdust, an abundant byproduct from every furniture company, lumberyard and woodshop that would typically be headed to the landfill or burned, letting off carbon dioxide.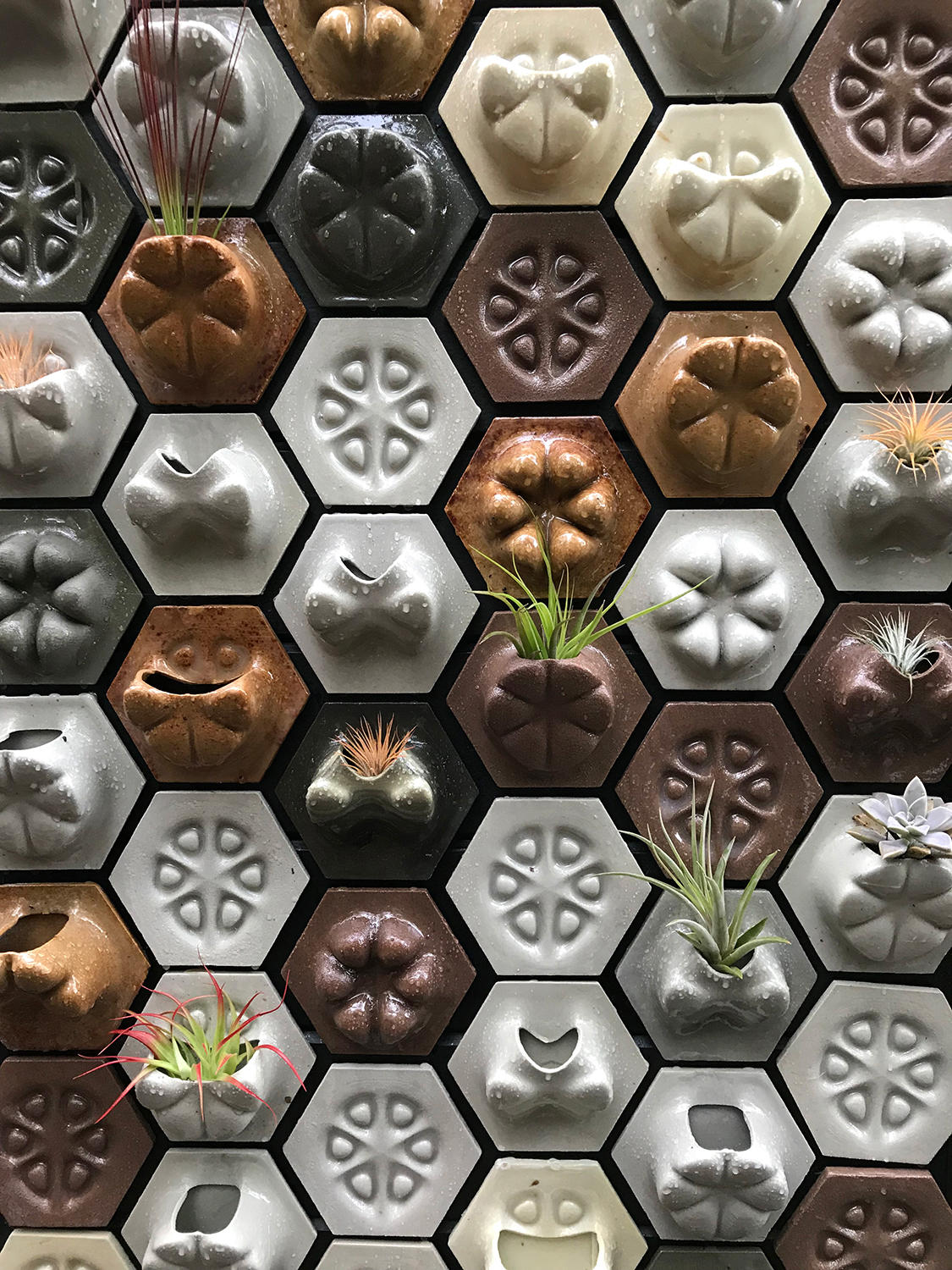 Forust gets its sawdust from a factory near its manufacturing center in Massachusetts, where they have five high-speed printers in operation. The printing process can replicate the grain of a variety of wood types, including oak, teak and walnut, as well as rare and exotic species, and the composite construction makes for an extremely durable end product.
The company just launched in May, and already Forust has been used by designers to make planter tiles, light fixtures and wooden blocks. Swiss designer Yves Béhar created an exclusive collection of ready-to-shop tabletop items with Forust, including a bowl, trays and a basket, which range in price from $14 to $52.
Roche Bobois
3D-printed furniture is nothing new—you can find quite a few pieces on 1stDibs—but luxury French brand Roche Bobois is rethinking the design process with the Corail table by Antoine Fritsch and Vivien Durisotti. The shape and texture of the concrete table base can be completely customized using an exclusive app from the design team.
The configurator allows consumers to see in real time what adjustments will look like. Customization is the norm for high-end furniture, but rarely is the process so transparent or democratic. A finalized design is given a unique 23-digit code that's sent to a printer closest to the end consumer to cut down on material transportation.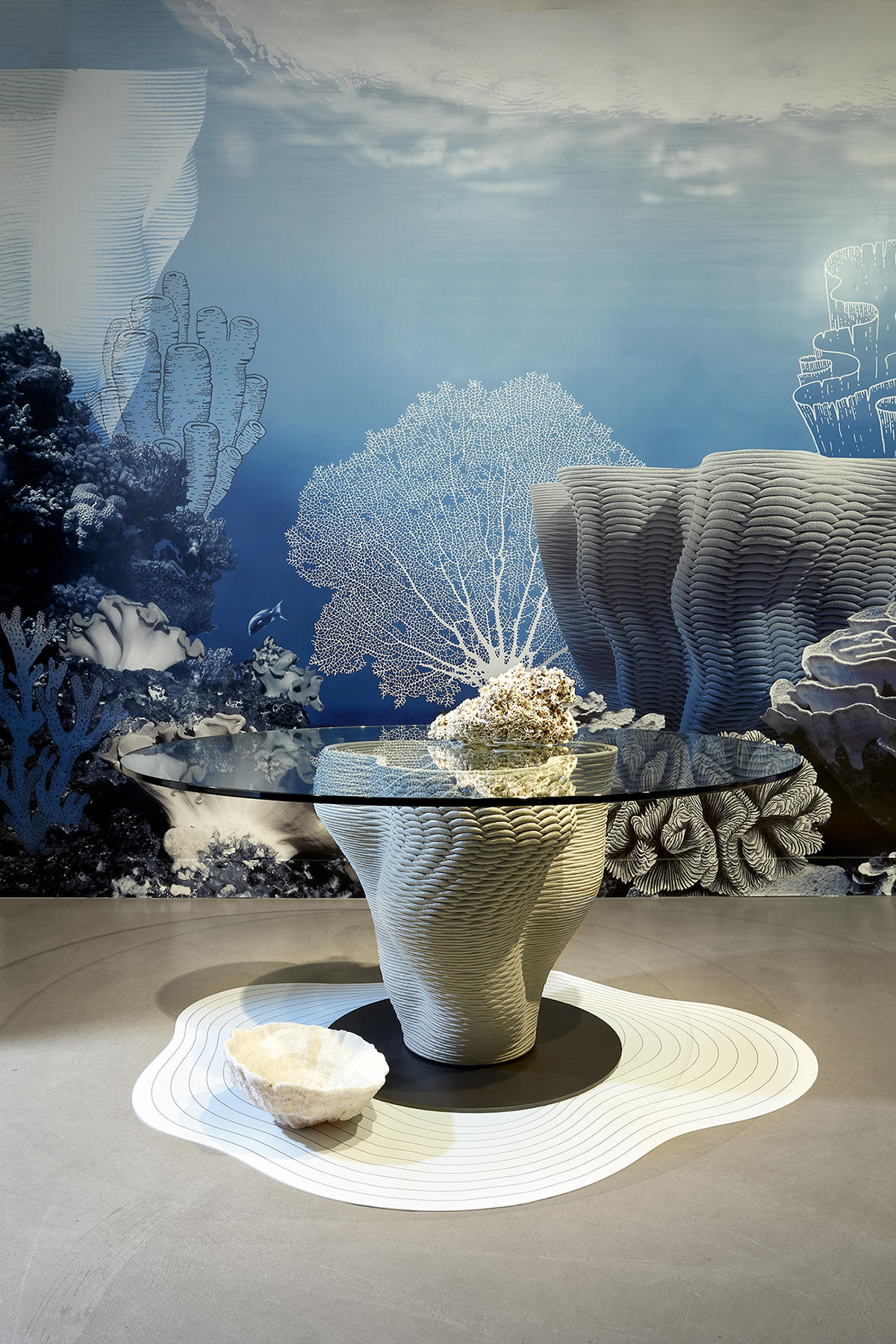 The Corail table starts around $11,735 and has five different tempered glass tabletop options, ranging from a 63-inch circle to a 9-foot-by-4-foot rectangle. The base takes just 30 minutes to print and 10 days to dry. Since launching in May, more than 120 of the tables have been made—and while it is currently the only 3D-printed furniture piece offered, a Roche Bobois spokesperson noted that the brand is open to expanding the collection in the future.
Homepage image: Gold EDG panel at the 432 Park Avenue residential tower in Manhattan | Courtesy of EDG