After more than a century in the fabric and wallcovering business, Kravet is an indisputable titan of American interior design, with a robust stable of brands that includes Lee Jofa, Brunschwig & Fils and Donghia. Never comfortable to rest on its laurels, though, the fifth-generation family-run company now offers clients the option to rest on individually designed beds—and one-of-a-kind ottomans, or at tailor-made tables, or beneath the glow of self-styled lamps. Those singular designs come thanks to ICreate, Kravet Furniture's new custom initiative, which gives customers the freedom to design their own pieces (right down to the hardware on the dresser drawers and the finish of the mirror frames), not to mention the confidence that comes from collaborating with the legacy company.
"It still allows designers to be as creative as they want to be, while streamlining the business," says Sara Kravet, the company's vice president of furniture. Recognizing that singular custom orders already constituted a considerable percentage of the business, the thinking behind formalizing the initiative was: "Maybe this is a moment where we can make it simpler," she says.
Simpler, yes, but no less special. "Rather than go to the showroom and pick something ready-made off the shelf, clients can make something that's uniquely theirs," says Curated Kravet senior vice president Will Hunt Lewis, who oversees merchandise and development for all categories in the division. "It's empowering."
The concept is straightforward, but the potential combination of design elements is practically infinite: Depending on the product, customers can choose from a number of silhouettes, bases, finishes and hardware to create a sui generis piece constructed from Kravet's highest-quality components. Chests, for example, are available in 11 silhouettes, 12 faces, 27 finishes, and 19 hardware options, including 10 premium fixtures from partner Modern Matter by Addison Weeks. Styles can be as classic as a beaded face in a mahogany finish, as ornate as an inlaid-bone front with brass detailing, or as trendy as a dresser with cane inserts or leather-paneled drawers.
"Beds may be the unsung heroes of the ICreate collection," Kravet says of the category, which features six silhouettes in up to three heights, many headboard treatments, and nine different finishes for the nailhead trim alone. There's even a poster bed to customize: the Melville. "You can choose four or two posts to frame a straight, curved or notched headboard," she adds.
When it comes to those smaller accessories, the plethora of options from Curated Kravet is all the more dazzling. To fashion a chic table lamp, choose from 10 striking silhouettes and 11 sumptuous glazes, and complete the piece with one of three base and finial materials and two traditional shade shapes (cone or drum). "With those options, you can make about 3,100 different lamps," calculates Lewis—and that's to say nothing of the separate custom lampshade treatments slated to launch in October, which will be available in a luxe assortment of linens, silks, velvets, prints and grasscloths. Because the majority of the Curated Kravet ICreate items, including its vast array of mirrors, are made in the United States, they typically ship in two to four weeks.
ICreate already had almost every living space covered when the pandemic encouraged expansion into one more room: "So many people were suddenly working from their home offices that we wanted to provide them with designer-worthy desks and cabinets," says Kravet. In addition to jewelry-like Modern Matter by Addison Weeks embellishments, special touches to the office collection include Cole & Son's Palm Jungle wallpaper for cabinet fronts and the energizing zigzag shape of the Graham desk. The company will be launching two additional categories, custom upholstery and carpet, this fall.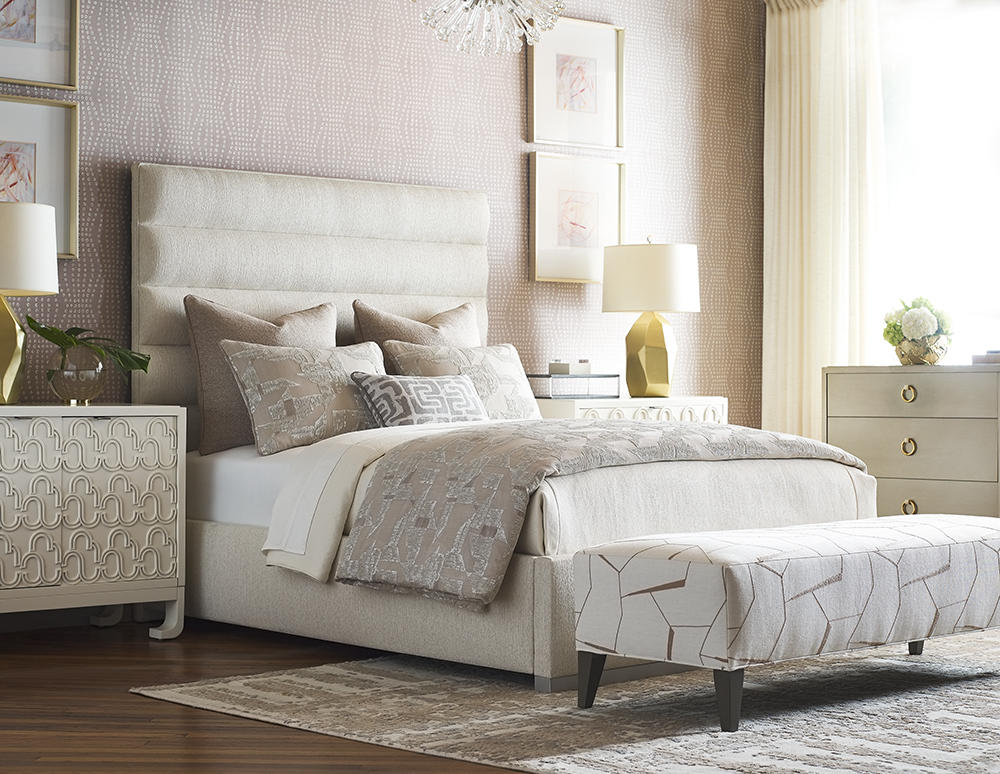 "We've been [running] Curated Kravet for over six years, so we have analytics we can lean on," explains Lewis. That data allows the division to determine which styles are in demand, and which need to be revisited or retired. "Our customers don't hesitate to give us feedback, and we take that very seriously, too," he adds.
Kravet stratifies its furniture offerings as Edge, Smart and Design to designate "good, better and best" levels of luxury. At the Design level, the ICreate collections allow for the ultimate quality—and present the opportunity to Edge, or entry-level, customers for a first foray into customization that comes with the support of Kravet's authority in the field. "It's about what best suits the individual design," says Kravet of mixing and matching levels. For a guest bedroom, the accessible pricing of an Edge chair with limited customization options might make the most sense in terms of budget, whereas a family room, more used and much loved, might merit a greater investment.
Outside of their professional lives, both Lewis and Kravet know firsthand the personal satisfaction that can come from customization. "I love the juxtaposition of the matte finish with the bright base," says Lewis of the Chester table lamp in Coconut Matte with brass accents, which graces his home. "The stacked shape reminds me of stones I once saw on a hike in Santa Barbara."
Kravet, meanwhile, is currently deciding between two styles of nightstands for her own space. "I would love to be able to fit a pair of Conrads," she says. "If not, it will be those petite little Langhams, in a fun paint color." With ICreate, the choice is hers—and yours, too!
This story is a paid promotion and was created in partnership with Kravet.
Homepage photo: A living room styled with ICreate furniture | Courtesy of Kravet