If any company is well positioned to capitalize on the skyrocketing interest in outdoor decor—from cushion upholstery and all-weather carpets to actual furnishings—it's Kravet. Founded in 1918, the trade-exclusive, family-run fabric powerhouse is the current parent of such esteemed brands as Lee Jofa, Donghia, and Brunschwig & Fils, in addition to Kravet's eponymous labels. "It used to be that outdoors was considered seasonal, but it's not true," says chief creative officer Scott Kravet, who represents the fourth generation of the business. "Sales for multipurpose fabrics are steady throughout the year." And they have only increased, of course, in response to the stay-at-home strictures of the pandemic.
"More time indoors translates to more time in the adjacent outdoor spaces," says Daniel Kravet, a fifth-generation family member and vice president of sales. "We're committed to delivering everything designers might need to tell a cohesive story between those spaces." Particularly now that, due to the improved quality of Kravet's performance textiles, a growing number of clients are using them not only for patios and decks but also in transitional zones and interior rooms. "You'd never be able to tell that they're not the typical residential fabric," says Daniel—and he would know: After recently adopting a Maltipoo, he switched to a Kravet performance rug in the foyer of his own New York apartment. "Those stains really come right up!" he marvels.
To meet the demand, Kravet provides a dazzling range of product across brands that will sate any design appetite and meet every budget. As proclaimed in its name, the En Vacances line from the prestigious Brunschwig & Fils effects the casual elegance of beachfront vacations. Rendered in a palette of sandy neutrals, lagoon greens, vibrant corals and ocean blues, the debut collection, which premiered in 2017, showcases archival patterns—like the Greek-key weave of Cap Martin and the whimsical printed swirls of Clarence Paisley—reinterpreted in "brighter, happier colors," Scott says. All fabrics and accompanying trims are bleach cleanable and UV and stain resistant, expertly pairing performance with Brunschwig's cosmopolitan style.
In February, Kravet Couture introduced Vista, its first indoor/outdoor collection. Made with specialty yarns in an array of textures that are easy to clean and resistant to fading, mold and mildew, many of the fabrics are manufactured with almost no water, as well as being fully recyclable, making the line both luxurious and sustainable. Hues of sand, tan and gray offer a subtle yet sophisticated starting point for a seamless indoor-to-outdoor transition; nautical aquas and blues and classic black-and-white combinations add verve to Vista's neutral base. "These are colors that marry with your plantings or align beside your pool," Scott explains. "They're all about creating a sense of serenity and wellness." Featured patterns include Legno, a modern adaptation of an archival Kravet ink wash, and Line Drawing, a dimensional ikat with raised weaves.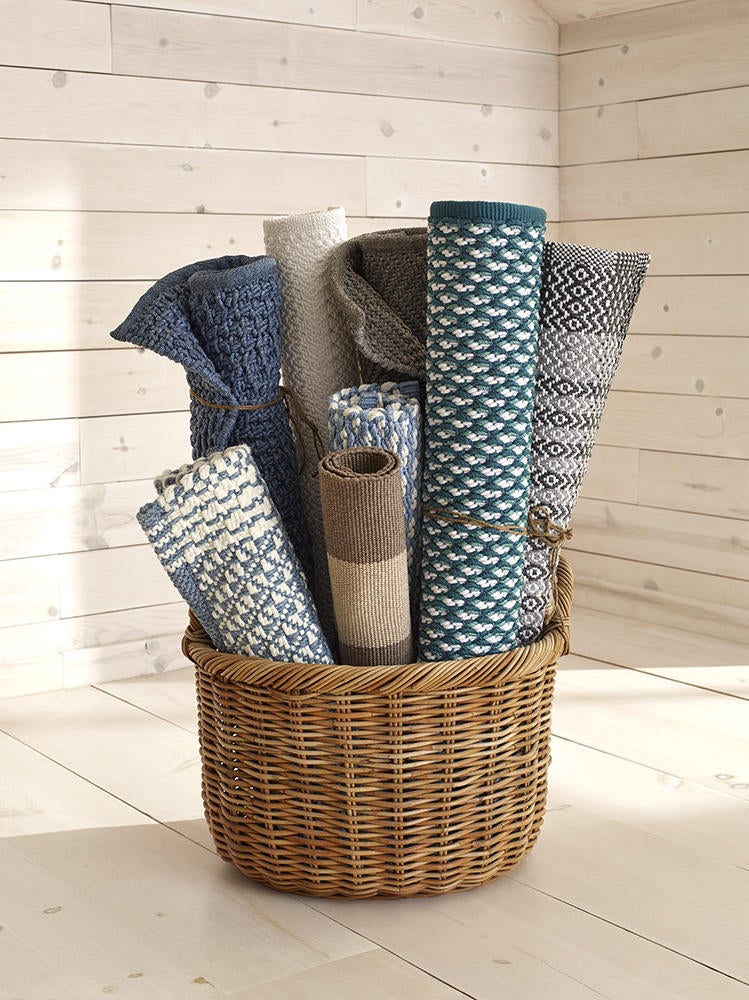 Meanwhile, the durable fabrics in one of Kravet's performance collections, InsideOut, will meet any deadline with panache—all product is guaranteed to be in stock and quick-ship within a matter of weeks. "The collection is comprised of lots of basic, small-scale solids that sell well," says Scott. Solution-dyed polypropylene area rugs under the same label are handwoven to size and available in an assortment of 69 chic shades. And they can stand up to whatever daily life at home dishes out—from kids, pets, pasta and wine to acid, alkaline, bacteria, moisture and mildew. Equally tough, colorfast options from Lee Jofa and Sunbrella round out Kravet's expansive outdoor rug portfolio.
Lee Jofa also hosts two stellar licensed outdoor collections: The latest from Thomas O'Brien, finished at premium mills in Italy and Belgium, draws inspiration from the acclaimed interior designer's many travels. Cast in rich indigos, rustic clays and nuanced greens, the batik-influenced patterns can be matched, mixed and layered to create a worldly, relaxed milieu. Kelly Wearstler's Terra Firma III, the celebrated designer's third outdoor collection for Lee Jofa, continues her narrative of innovative global textiles. "Through these collaborations, the strong points of view of such distinct talents speak directly to our customer," adds Scott.
With this unrivaled range of performance fabrics readily available, the logical next step for Kravet is to craft corresponding outdoor furniture. "We've covered every other room in the house, so outdoor spaces are a natural progression," says Sara Kravet, fifth-generation family member and vice president of furniture. That line (as yet unnamed) will debut in January 2022, strategically paired with the release of the second InsideOut collection. Also on the horizon: new fabrications made in part from salvaged water bottles and powdered metal. Looking optimistically to the future and buttressed by 103 years of history, Scott says, "for Kravet, the best is yet to come."
This story is a paid promotion and was created in partnership with Kravet.
Homepage photo: Pillows in Kravet performance fabrics | Courtesy of Kravet