Part blitzkrieg design project, part theater production, and part crash course in party planning, the showhouse is already one of the design industry's most dazzling and complex events. They are predicated on collaboration, from contractors and designers doing walkthroughs in the early stages, to teams of tradespeople descending on install day, to the buzzing crowd milling around the freshly unveiled rooms at the opening-night party. When the showhouse in question is organized by a magazine, the challenges of publishing are added to the mix—and that was before the pandemic. Business of Home checked in with three publications that are debuting showhouses this season—Southern Living, Real Simple and House Beautiful—to get a behind-the scenes look at how on earth they pulled them off.
For all three magazines, the wheels were already in motion on their annual showhouses when the pandemic hit earlier this year. "There was definitely a moment in March when we all took a breath and looked at each other like, 'Should we move ahead with the house?'" says Liz Vaccariello, editor in chief of Real Simple, whose third annual Real Simple Home, curated by a mix of designers, the magazine's editors and a professional organizer, was unveiled virtually in New York last week. "We had a big phone call with everyone involved and just asked point blank if anyone felt like we couldn't pull it off. We decided to soldier on and plan for everything to be virtual, with a hope that, if things got better by September, we could always add in-person events and tours, which, obviously, didn't happen."
While the Real Simple Home was installed in an Upper West Side apartment building, not so far from the magazine's offices in downtown Manhattan, both Southern Living and House Beautiful's houses were being built from the ground up in another state. "We chose a builder at the end of 2019 and broke ground on the house in Colorado in February," says Carisha Swanson, market director of House Beautiful, whose third Whole Home Concept House is set to feature the work of 11 designers in the magazine's November issue. "The week we returned from that trip, Hearst moved to a work-from-home model, but construction continued in Denver. [Part of the reason we didn't consider stopping the project is that] the home was going to be completed for sale regardless of our involvement."
Completion of Southern Living's annual Idea House, this year located in Asheville, North Carolina, was already well underway by the time the coronavirus crisis threatened to disrupt its progress. The project was originally set to be photographed in late May, in time for the magazine's August issue. "It became clear pretty quickly in the spring that was not going to happen," says editor in chief Sid Evans. "While we were about 75 percent of the way there with construction in April, we still had a ways to go on the interior, and there was so much uncertainty."
Issues like factory delays and longer shipping lead times on furniture, appliances and finishes quickly became nearly impossible to plan around. "We knew that the house would be completed, but the timing was the biggest question," says Evans. "And no one could tell you anything for sure, because, really, no one knew any more than anyone else at the time."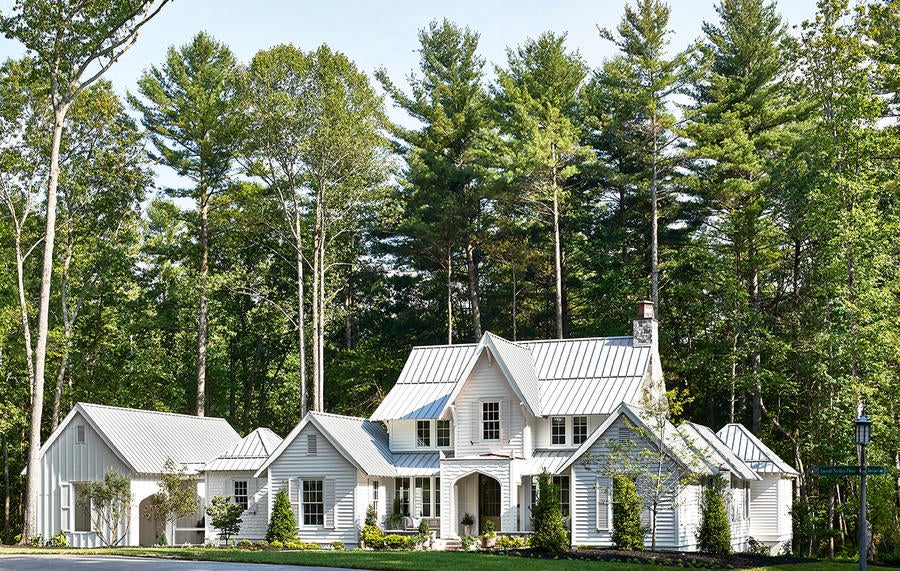 Courtesy of Southern Living
The same challenges were affecting showhouses across the country this spring and summer, but a magazine's concept house comes with additional hurdles. There's the fact that the homes are designed to be cover stars for print issues—dozens of glossy pages that showcase not only the house, but also the advertising partners' products within it. Evans had to push the publication of the Idea House from August to October, leaving his editorial team little time to produce new content for the 20 pages the house was set to fill in the August issue. "The magazine was one element of many that we had to adapt," he says. "We moved stories set aside for future issues around, but we also had to pull some things that no longer made sense and add stories that would better respond to the moment and resonate with the audience."
Managing the build-out process from afar meant a lot of Zoom calls and virtual site visits. House Beautiful had hired local project managers in Denver before the pandemic and they became an even more vital part of the team. While the Real Simple House was able to stay on its original schedule, social distancing still limited the number of people who could go into the property at a time, meaning rooms were installed piecemeal.
When it came time to shoot the project in July, a Real Simple editor was hesitant to ask colleagues to help her style the house—work that's often difficult to do while socially distanced. Instead, she tapped her mother, whom she'd been staying with during the pandemic, to assist with the decidedly unglamorous jobs that go hand in hand with interiors styling, like steaming curtains and dusting.
While none of the houses were redesigned as a result of the pandemic, Vaccariello did feel that it was important to be mindful of the times. "There's a mirror and a shelf in the foyer, and while we might once have said it was a spot to drop your keys, now we describe it as a place to adjust your mask and get a pump of hand sanitizer before you head out the door," she says. A desk in the child's room, designed by Joy Cho, took on a new significance as well. "She put it in front of the window because it's so important to have some natural light and a view if you're sitting on a computer doing e-learning all day," says Vaccariello.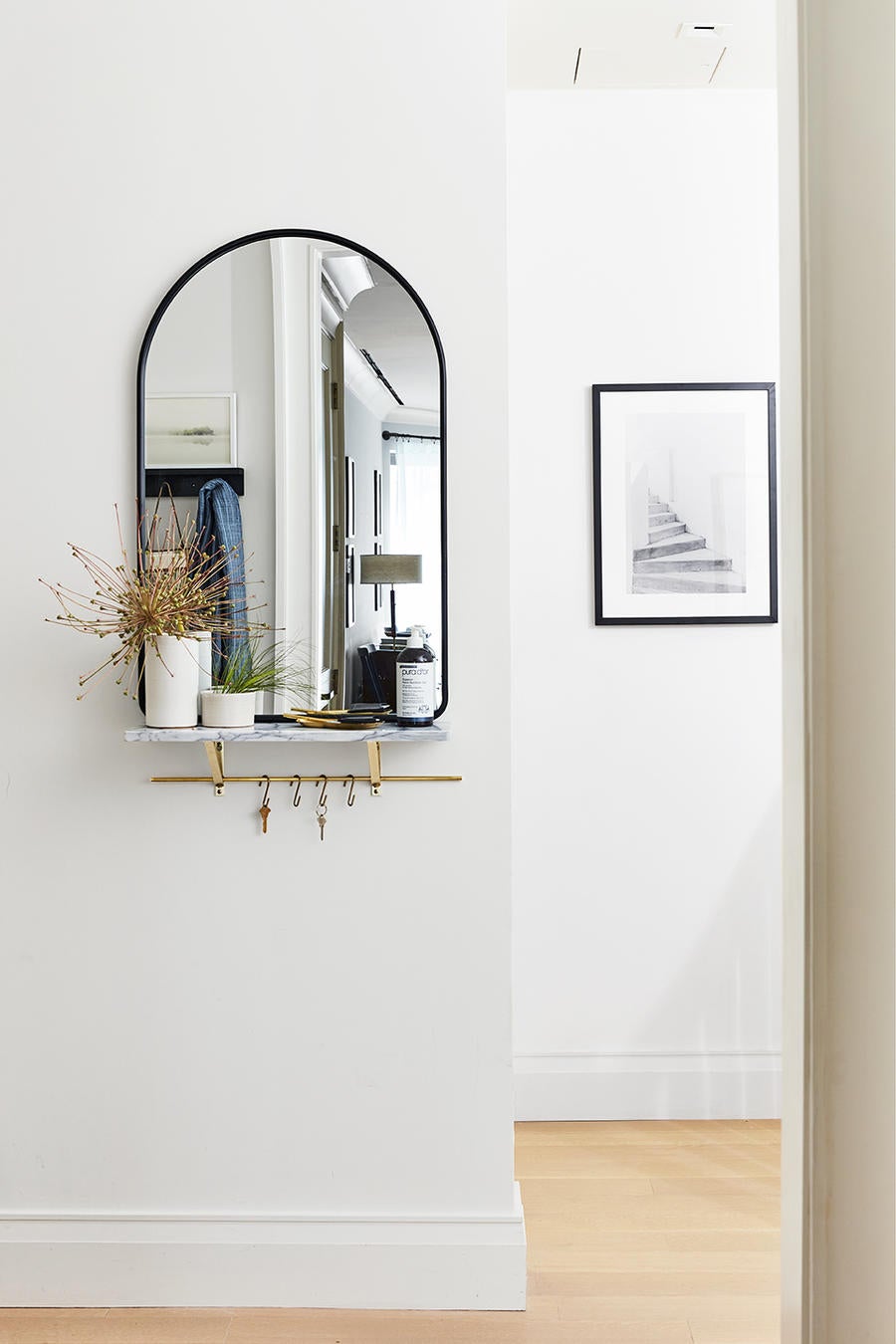 For brands across all industries, perhaps the biggest lesson of 2020 has been the importance of a robust digital presence—and that's been especially true for these concept houses. The Southern Living Idea House will have an expanded social media rollout, with Instagram Live tours complementing socially distanced in-person tours. Real Simple will host a live virtual event on October 1 that includes a tour led by Vaccariello in addition to programming like an organizing demonstration and a design tutorial.
"It's made it feel more democratic in a way, because readers can experience it with us," says Vaccariello. "[We hope] our team will be able to pop some Champagne together in person at next year's house, but we will also make virtual experiences a priority moving forward and give someone who lives on the other side of the country that intimate experience as well."
House Beautiful editorial director Joanna Saltz echoed the sentiment (the publication will premiere a YouTube series that chronicles the production of the house, with Swanson as the host). "With Whole Home, our priority has always been to ensure that everyone feels like they're inside the home—even if they can't make the trip," says Saltz. "It's why video and graphics will continue to be such a critical creative piece of this project. You don't need to set foot in the space to understand the drama and the flow. It's great if you can come and spend time there, but it's still an extraordinary experience if you can't."
Homepage photo: The 2020 Southern Living Idea House, designed by Lauren Liess | Courtesy of Southern Living