It's Tuesday, the best day of the week—at least, for the BOH news desk. In our weekly digest, find a roundup of need-to-know (and nice-to-know) news.
BUSINESS NEWS
Sales in kitchen and bath are expected to grow by about 5 percent this year. The National Kitchen + Bath Association partnered with John Burns Real Estate Consulting to publish the 2019 second-quarter Kitchen and Bath Market Index report, which indicated positive growth for the industry. Over half of customers have increased their total spending since last year, according to the report.
Speaking of big money, online bedding and furniture sales totaled $15 billion in 2018, up about 13 percent from the year prior, according to the U.S. Department of Commerce. By 2022, Furniture Today estimates that 19 percent of furniture and bedding sales will be from online, a solid reminder that e-commerce is a vital platform for those in luxury interiors.
Home furnishing brand Thomasville has been revitalized. In a new partnership with Living Style Group, a Hong Kong–based supply-chain solutions firm, Thomasville will manufacture, supply and distribute its furniture in the U.S. and in global territories. Its owner, Authentic Brands Group, has a number of brands across categories, including Nautica, Nine West, and most recently, Sports Illustrated. "Leveraging the influence and authority of ABG's extensive marketing arm, we are excited to see the rise and success of Thomasville over the coming months," Henry Chan, Living Style Group president, said in a statement.
Parisian rug brand La Manufacture Cogolin is partnering with designers and galleries that will represent the brand in U.S. markets. Michael Lin and Stephen Bianchi of furniture gallery Boundary, will offer Cogolin alongside similar brands at their Los Angeles showroom. On the other side of the country, the Crave Collective, an independent agent, will carry the lines in New York. In the Midwest, Cogolin will be available via Chicago design agent Bryan Schrader.
Wilsonart Engineered Surfaces has acquired Technistone, a quartz stone manufacturer based in the Czech Republic. Technistone exports product to over 75 countries. The move shows a heavy investment in quartz from Wilsonart; the deal is expected to close in September.
LAUNCHES, COLLABORATIONS AND PARTNERSHIPS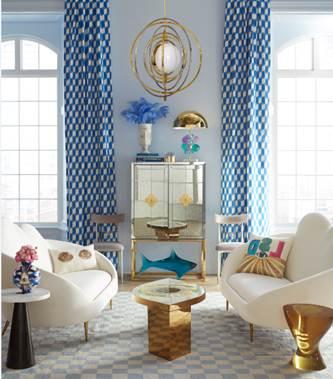 Courtesy of The Shade Store
The Shade Store has a new collaboration with Jonathan Adler. The new bold prints are an expansion of Adler's roller shades for the brand, and include drapery, roman shades and cornices. The collection is available online and in The Shade Store's showrooms across the U.S.
Michael Graves's New York–based product design firm will partner with brand growth company Earthbound on licensing and brand extension, following the announcement that big-box Target will include a few Michael Graves Design products in its upcoming Platinum collection.
The second season of Unboxed With Nikki Chu premiered late last week on Aspire TV, and it will feature some high-key famous guests, friends of the Canadian designer and Jaipur Living licensee. In each episode, Chu transforms a fan's space based on the homeowner's blind choice between one of two mystery boxes that boast a specific design style—for instance, Old Hollywood or bohemian.
OPENINGS, AUCTIONS AND EVENTS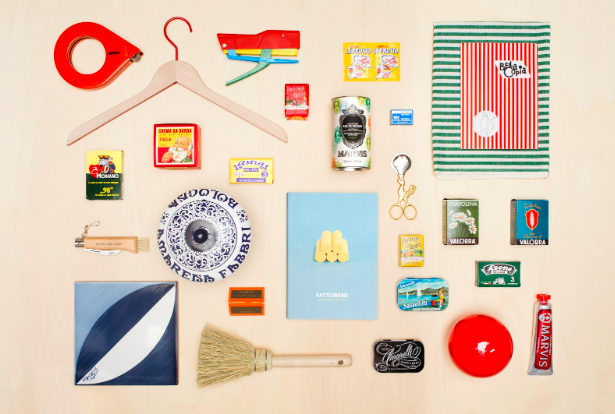 Courtesy of The MoMA Design Store
The MoMA Design Store in New York has launched a pop-up with Fattobene, an Italian lifestyle brand. Available products include home accessories, kitchenware, tabletop, stationery and gifts. This is Fattobene's first pop-up outside of Italy. It will be available from now until September 29 in SoHo and online.
The Atlanta Homes & Lifestyles Serenbe Designer Showhouse has announced this year's participating designers: Atlanta-based firms A. Wooten Interiors, Coley Cuttino Interiors, Kenson Interiors, Means Carney Interiors, Michelle Gratch Interiors, Pebbles Nix, Regas Interiors and Virginia Cheek Interiors. The showhouse opens on September 19 and runs until October 13. Separate but worth noting: On Saturdays and Sundays, the showhouse will host goat yoga—if you sign up, please post videos so that the BOH news desk can live vicariously through you. Tickets are here.
TEFAF New York Fall has announced this year's exhibitors. The list includes 90; 16 are new to the program, including Japanese brand Shibunkaku, U.K.-based Stuart Lochhead Sculpture, and Italian brand Bacarelli & Botticelli. The show returns to the Park Avenue Armory in Manhattan from November 1 to 5.
RECOMMENDED READING
Fast Company got an exclusive look at Google's Design Lab and then told us all the juicy details. The 70,000-square-foot lab in Mountain View, California, houses about 150 designers; most of Google's other employees are not allowed inside. Dozens of top-secret projects led by vice president and head of hardware design Ivy Ross are currently underway. "In any other setting, Ross's upbeat, bohemian demeanor would evoke that of a high school art teacher or perhaps the owner of a crystal shop more than a design director at one of the most powerful companies in the world," spills Mark Wilson. However, "In the past few years, Google has developed gadgets—from phones to smart speakers—that are some of the most desirable in the world." Before the lab, the team was in a garage, which just didn't make the cut. So the company teamed up with architecture firm Mithun to create the new space, as Ross calls it, "a huge gift."
CUE THE APPLAUSE
Century Furniture's biggest manufacturing facility has been recognized as a SHARP company for its great injury and illness prevention programs. This is the third time Century has been recognized with the honor; it is one of fewer than 200 companies selected by the U.S. Department of Labor's Occupational Safety & Health Administration, and, perhaps more notably, the only furniture manufacturer in North Carolina to be selected.
Suchi Reddy, the founder of New York–based interdisciplinary design firm Reddymade, has been named chair of Plym Distinguished Visiting Professor in the School of Architecture at the University of Illinois at Urbana-Champaign for this fall. She will lead lectures and lessons for a graduate design studio, working with Kevin Erickson, an associate director and associate professor in the school. Reddy's focus will be on neuroaesthetics, neurophenomenology and sensory design, breaking down how the built environment can have an effect on emotional and physical well-being.