A host of new products designed by students from School of Visual Arts (SVA) Products of Design Program is making its way to the windows of the MoMA Design Store in New York. As part of a continuing collab with the MFA program, the store invited students to pitch and prototype ideas; it then produced a number of the design products.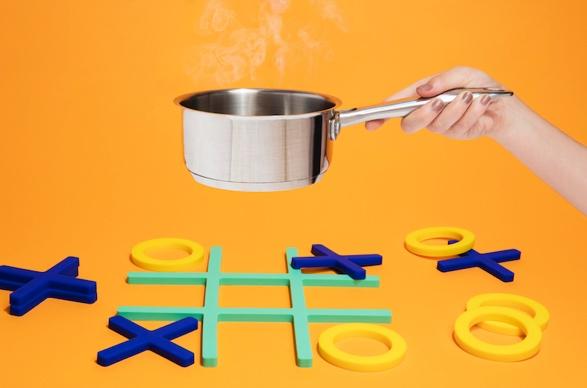 The store's new products include Divine Proportion Bottle Opener by Oscar Pipson, Multi-ccino Coffee Cup by Josh Corn, Tic-Tac-Trivet by Alexa Forney, Ambi Chopstick Set and Illusion Spinner, both by Oscar de la Hera Gomez, and the best-selling Geo Stacking Coasters by Panisa Khunprasert.
"We cherish this relationship," says MFA Products of Design Chair Allan Chochinov, who initiated the arrangement in 2013 thanks to the suggestion by Paola Antonelli, an SVA department faculty member and senior curator of architecture and design at MoMA. "A product has to meet the highest standards of design and manufacturing quality to receive the MoMA logo. To be the only academic program with this type of institutional partnership with MoMA is an extraordinary honor and a tremendous opportunity for our students."
It's the latest in a series of an ongoing relationships between MoMA Design Store and MFA Products of Design program students, which the store says is to "solve problems and create fresh new designs on topics as varied as gifting, entertainment, travel and the workspace." The collaboration is now in its fourth year and this year has produced "some of the highest volumes of products we've moved forward with," says Gabrielle Zola, manager of business development at MoMA.
"It was a chance to let the hair down, put the academics to one side," says Pipson, MFA 2016 Products of Design, whose Divine Proportion Bottle Opener was manufactured by MoMA. "Get your hands dirty and have fun."