Last year, Business of Home interviewed the late great David Webster as he wound down his iconic Boston multiline showroom and retired. Of the past, Webster had a rosy view. Of the future—well, not so much. Citing skyrocketing rents, payroll costs and the difficulty of earning a margin on someone else's product, he painted a grim picture for the future of independent showrooms. Tellingly, he revealed that some of his employees had been interested in taking over the business but he "strongly recommended they not do it."
A year and a half later, another well-known independent showroom owner, Dennis Miller, has stepped back from his eponymous company to enjoy retirement. This time, the outcome is different: Miller's long-time associate Justin Orlansky purchased the business and has taken over running the New York Design Center–based showroom.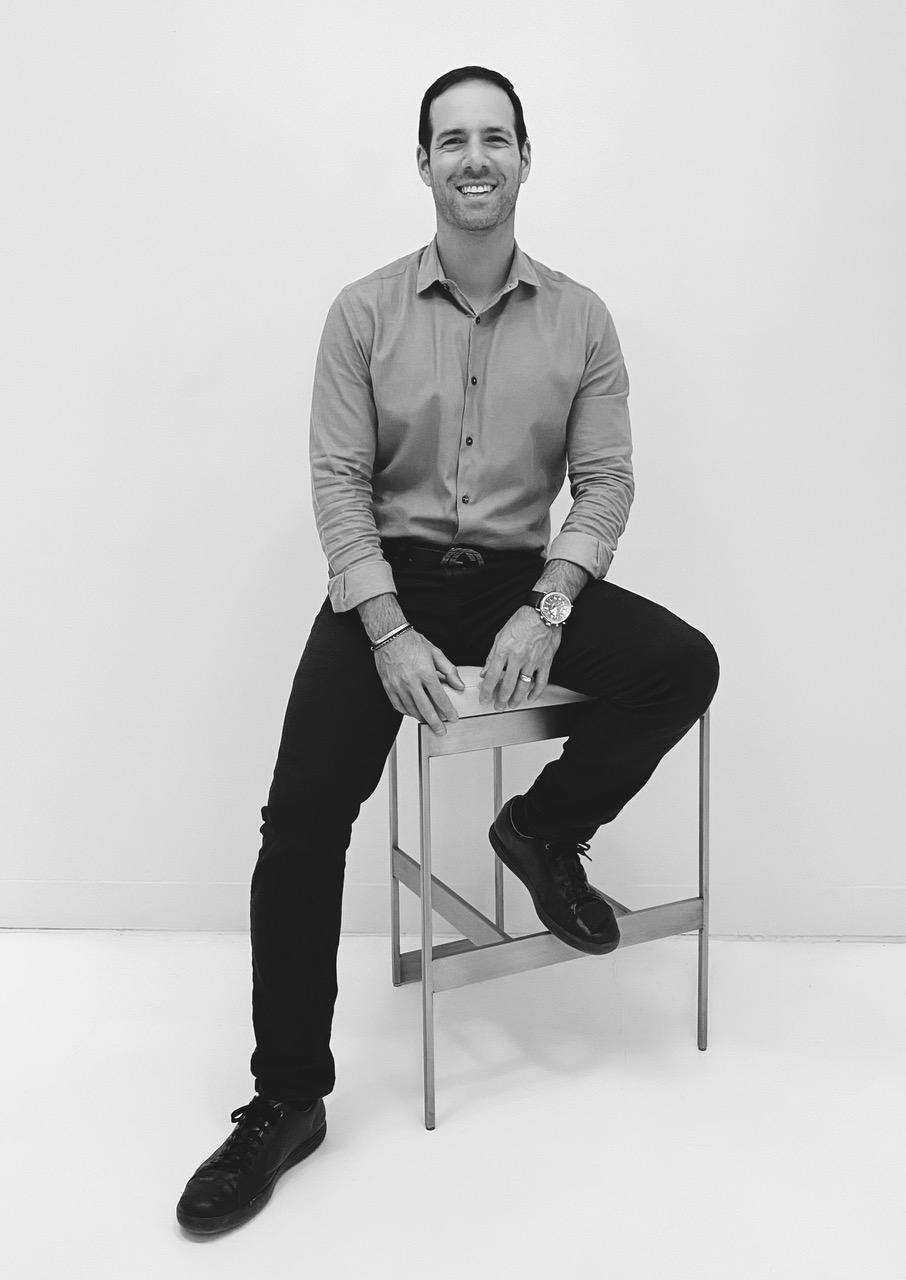 Courtesy of Dennis Miller
Succession for a multiline showroom is a funny thing. The showrooms themselves can be enormously profitable, successful enterprises, but because that success is based in large part around personal relationships with vendors and designers, the pool of potential buyers is limited. If the owner doesn't have a relative or close associate who's interested, these businesses tend to fade away.
Orlansky, who spent 11 years at Dennis Miller after managing Bo Concept's New York flagship, fits the bill. Over the past decade, he's seen the showroom's sales grow 300 percent, and is optimistic that once the pandemic fades into memory, he can pick things up where 2019 left off. Speaking to BOH on what sounded like a typically hectic morning for a multiline showroom owner (there was an electrician to supervise, a website issue to be taken care of, and four pieces of furniture to transport down to the ground floor), he talked about his plans for the future.
The day you started at Dennis Miller in 2010, what were the big challenges? Just to get through the impact of the 2008 recession?
Number one was that Dennis was in Florida that day. On day one, I'm by myself with the salespeople, not knowing anything. I had never worked in a showroom before, and I had to just dive right in. Luckily, Dennis had built this great system so I was able to figure out a lot on my own—it took me a couple of days, but then I jumped into figuring out how to build the business back up [from the Great Recession].
What worked?
I knew from being in retail and just looking at our showroom at the time, it was like, This ... doesn't look great. I tried different things in the showroom, and then Dennis came up to me eight months into my working there and said, "There's another space open on another floor—do you think we should move?"
I said, "It's your money, but this [move] will be great for the showroom." He did it, and we moved down from the 15th to 12th floor. I got everything set up and instantly people were like, "Oh, my god, this showroom looks beautiful." It was our appearance. Having this brand-new showroom just brought way more attention to us.
Before, had the mentality been, 'We're catering to the trade, so we don't need to have a glamorous showroom'?
My attitude was, sure, we're a trade company and we have expensive items that designers will like no matter what the showroom looks like; but I knew from a retail standpoint that the price point is commensurate with the experience. If you're showing expensive things, you need to have a gorgeous showroom to show off these items to prove their worth.
One thing that's unique about Dennis Miller is that you don't have a ton of fabrics. A lot of multilines do. What's the story there?
I've been pushing for a long time to do fabrics and it never happened. One of my main goals here is to build our textile business. We've always had relationships with Romo, Rubelli, Garrett Leather and Cortina Leathers—they allow us to buy their fabrics and give us a great rate for our showroom furniture, and we can show their wings in our showroom and be a satellite for them. I think the mentality was, "We don't want to have all the memos and deal with sampling." I have a much different mentality. We're a trade showroom, we show lots of upholstery. Almost all of my brands have pieces that can be upholstered. Why not be a one-stop shop for everything?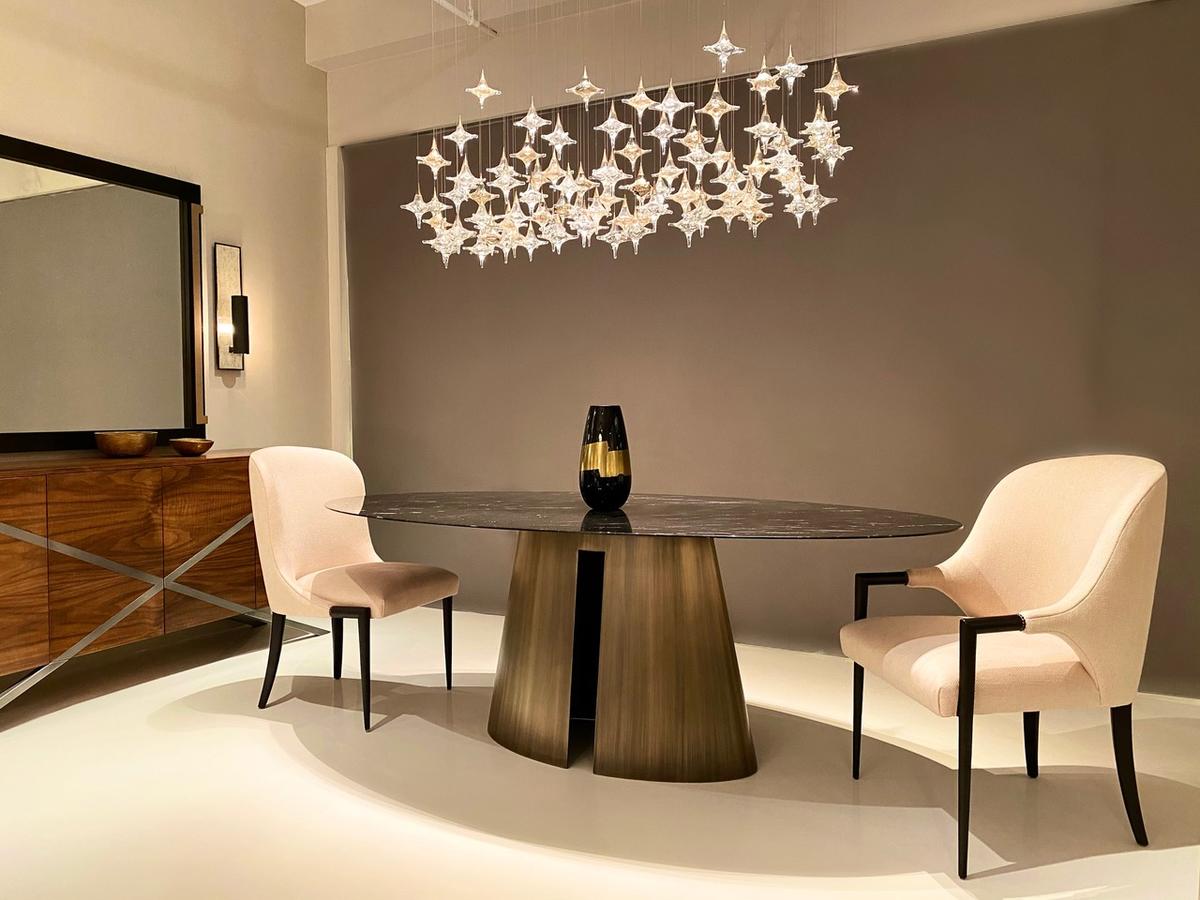 Courtesy of Dennis Miller
So you're going to be adding textile lines.
Textiles and wallcoverings. I want to push those. We've had Alpha Workshops for many years; it's a beautiful handmade product that people love, and I want to get other wallcovering lines too. I worked a deal with Logan Montgomery out of Los Angeles to show his [textiles] brand here, and I'm in talks with lots of other brands. I'm going to build an area of the showroom with a nice island where we can display all the textiles and designers can work. We've never had that.
That makes good sense.
The other thing is, the D&D has always been the place for textiles, but [New York Design Center owner] Jim Druckman has been amazing about bringing textiles to the building. The building has Kravet, and now we have David Sutherland and Perennials, which is a huge win. Jim's been pushing to get textiles into the building, and I really want to help him do that.
Are you interested in developing your own line of products?
It's something I would think about. I don't have an interior design background, but maybe working with a fabric house or with one of my lines—I'd love to collaborate with one of them to have something to sell in our showrooms. I've been tinkering with it, but I'm not pushing it. What I'm really pushing is [for] our showroom not to just be known for furniture or the Dennis Miller brand, but to be known as a lighting destination and fabric destination. [My goal is] one-stop shopping.
Over the past decade, how has designer shopping changed?
I've noticed a shift toward a lot of online. But maybe not purchasing online—brick-and-mortar is not going to go away, because everybody wants to come and see the product, but I think the more comprehensive your website is, and the more you have to offer, the better the experience will be for the designer.
Do you have a sense of how much business starts online for you now?
Thirty to 40 percent of our sales start with, "I love this on your website—can you give me more details about it?"
But the transaction isn't happening online.
We're not transactional on our site right now. It's a possibility for the future, but I'd want to have the discussion with other showrooms, because of our vendors' territories. For instance, Altura is here in New York but they're also in Boston, Chicago and San Francisco in different multilines. If you sell online, how does that affect their other territories?
Regional exclusivity is tricky in the internet age.
That's something the industry needs to work on. I'm not sure when that will happen.
You've had great momentum over the past decade. How do you keep it going?
I'm always interested in new and interesting brands that would make my brand more interesting to the design community. We just took on an accessories line, and I show it online, but you really have to see it in person. What I've been trying to do is get more people here in the showroom. Unfortunately, during the pandemic, it's very difficult. We used to have 60 to 70 people here every week; now I'm lucky that I have 15. We're working on it. The building is by-appointment only, but we're happy to take walk-ins. We're trying to push that as well.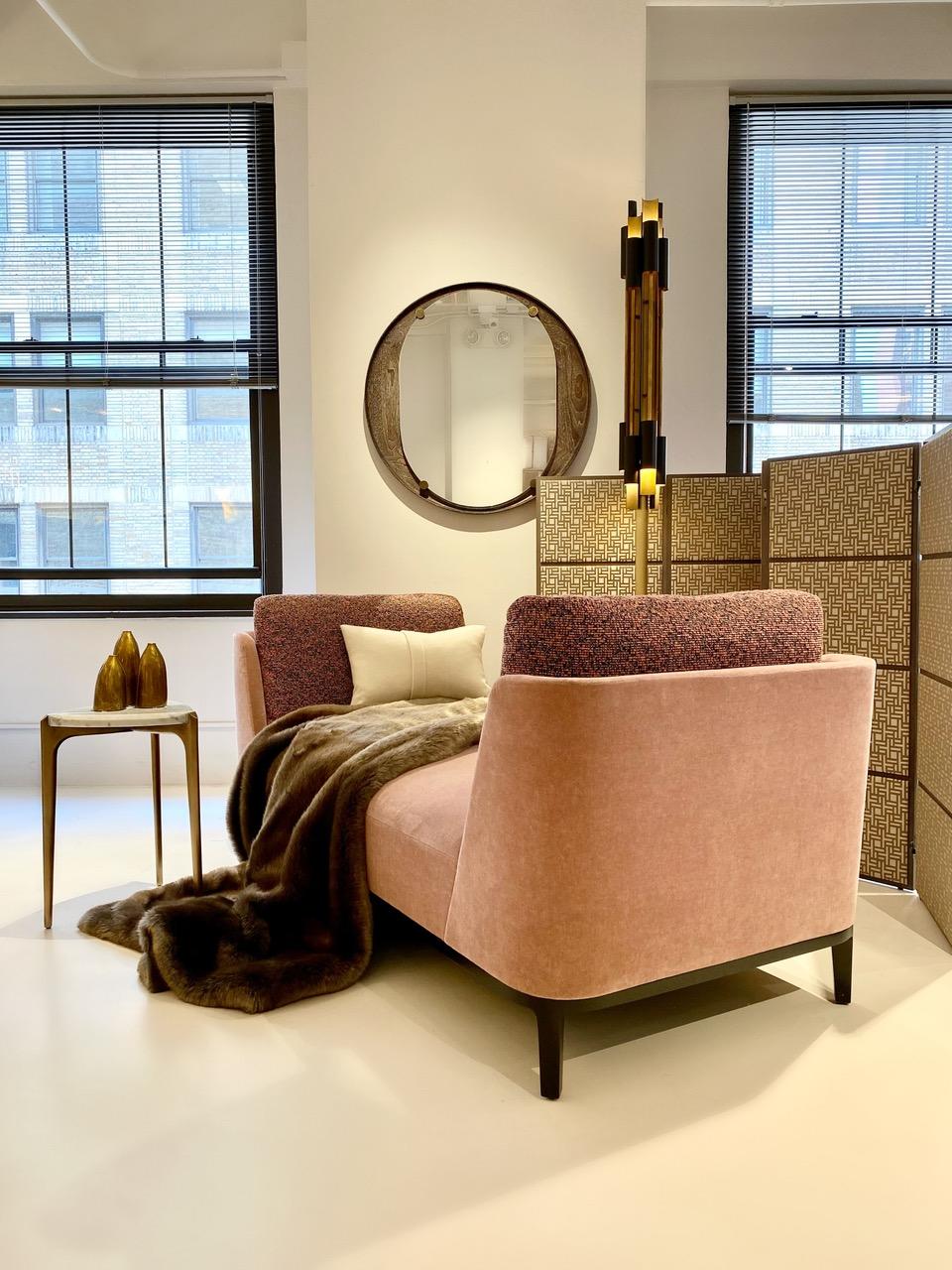 Courtesy of Dennis Miller
Have there been any silver linings to the lockdowns?
What's New What's Next was virtual this year. Normally the building's open, there are thousands of people in here, and it's people talking about their brands and books. But I was actually really happy to be able to get seven of my vendors to do a virtual tour of their workrooms—I thought it was a great opportunity for my vendors to show designers that look [into their process].
On the virtual front, I notice you have this 3D virtual tour of your showroom made using a Matterport camera.
A company called Flagship came to me two years ago about doing that. There are people who are outside the tri-state area that don't have access to showrooms, more rural areas—Vermont, Maine, Kentucky. They want high-end furniture there and they want to see it, so why not give them a chance to virtually walk through my showroom? When this pandemic hit, I already had it, but I needed a refresh, so I cleaned up the showroom and did a new tour. We also linked up each product, so you can click on an item to download a tear sheet and price list.
Does it work to drive sales?
In September, there were over 1,100 views on it—if that drives a few sales, it pays for itself.
This is obvious, but dealing with the pandemic is the biggest challenge at the moment, right?
The pandemic is number one on everybody's mind. What that's doing is affecting showroom traffic and affecting people who lost their jobs but would normally be buying a new home. On the opposite end, I was talking with a few designers and they were saying that a lot of these people who are moving out of New York and into the suburbs are going to have to furnish their home—and are they going to go with lower-end stuff, if their New York apartment was all high-end? I don't think so. If you're buying a $10 million apartment in the city, then switching to a $4 million house that's 10 times the size, you have money to spend to make it beautiful.
The other thing is we need to show new product. Normally the showroom is completely redone with new products by late August. It's rearranged and we have a whole new look. Unfortunately, we couldn't do that this year—a lot of my vendors have new ideas, but they're just not ready yet. We're in the middle of a refresh, instead, moving existing products around to give the showroom a new look.
Is new product the biggest thing to get people in the door?
Everybody wants new new new. Are they necessarily going to buy that new piece? No, but it gets them in here, and then they might go to something they've used before or something that has been around for a while that they like. But newness always gets people in. I'm lucky that I work with vendors who come out with a lot of new stuff.
It sounds like, once you're over the hump of the pandemic, you're not planning on making big changes. The strategy seems to be: Keep doing what we're doing, but optimize it.
I look at it this way: Dennis built an amazing brand. It's been on the rise for the last 35 years. I don't want to fix what isn't broken. Last year was our best year ever. Starting out the first three months of 2020, we were doing great, people were flooding in.
Last year I talked to David Webster, and he was really pessimistic about the future of independent multiline showrooms. You're the exact opposite. Tell me why.
I've been in this business for almost 11 years now, and I've seen the demand for our product. I feel that this industry is going to go up, and I know by keeping the showroom alive we're going to generate the business that we had pre-pandemic. … I know this company will be successful—all I'm trying to do is make it more successful than it already was.
Homepage image: Courtesy of Dennis Miller