Designer Kathryn M. Ireland's online design platform, The Perfect Room, is something of a paradox. In a crowded field of competitors, its star power unquestionably shines the brightest—the likes of Martyn Lawrence Bullard, Jeffrey Bilhuber and Jeffrey Alan Marks have all contributed designs. But in a marketplace dominated by venture-backed startups like Modsy and Havenly that spend millions on marketing, Ireland's private-investor-funded company has kept a comparatively low profile since its launch in 2018.
That may soon change. The site is entering its third year in business, and Ireland and CEO Michael O'Neal say the tech side is running smoothly, they've fine-tuned the e-commerce formula, they're experimenting with marketing spend, and they're looking to open up to a new investment round. And to ring in the New Year, they've welcomed six new marquee designers into the mix: Timothy Corrigan, David Netto, Alessandra Branca, Jane Churchill, Robert Couturier and Robert Stilin.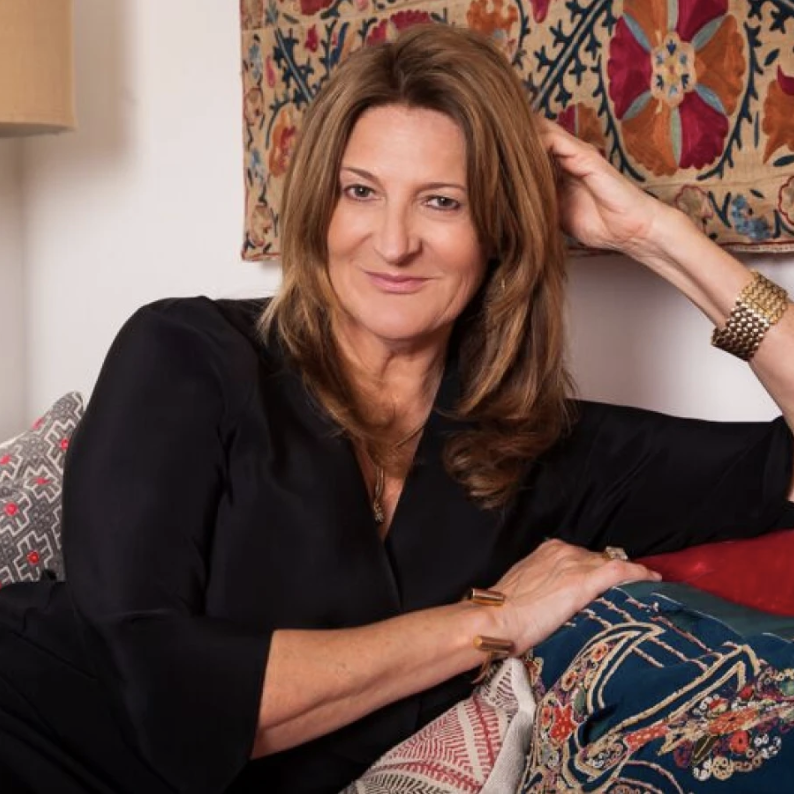 Courtesy of The Perfect Room
The Perfect Room traces back to the aftermath of the 2008 recession, when Ireland was running interior design bootcamps for clients suddenly in need of an abridged version of her services. The experience opened her up to the potential of an enticing market: the client who wants a designer's touch but doesn't have the budget or bandwidth for the full experience.
One fortuitous meeting later (a handful of tech impresarios had won a charity auction to stay at one of Ireland's properties), she was working with a consultant on a wireframe version of the concept. After a few years of development, the site launched in beta in 2018, offering rooms curated by a roster of celebrity designers. It wasn't the first e-design service, or the first room-in-a-box concept, but Ireland's platform offered unique digital access to design's elite. Suddenly anyone with a computer (and $33,000) could purchase a living room by Martyn Lawrence Bullard.
A lot of online design sites offer a streamlined pipeline. Ireland's site takes a kitchen-sink approach. Customers can purchase the entirety of a pre-designed room in one bulk buy, like Bullard's purple-accented living room (the exact price is $33,340 for the essentials, plus roughly $30,000 more in side tables, fabrics and accessories for the full effect). However, Ireland and O'Neal have now shifted the focus so that clients can more easily shop à la carte, and pick up individual pieces from each room.
The Perfect Room does offer customized e-design services as well. There are three tiered packages, ranging from $299 for a custom floor plan to $999 for a VIP service that includes two 30-minute consultations with a top designer. (For the record, Ireland herself looks at every plan—she's also planning on popping by a Houston customer's house on an upcoming trip.)
The goal is to lure customers with the appeal of elite design, then offer something for everyone. For clients who have the budget but don't want to bother with process, there are the whole-room packages. For those inspired to pick up a piece here and there—by far the largest potential market—there's the e-commerce menu. For the in-betweeners, there are the design packages.
We know people are buying expensive things online—1stdibs has proved that.
Kathryn Ireland
Thus far, O'Neal (a digital specialist, he spearheaded early efforts to get Christie's online) says there's no one standout channel for revenue: "There hasn't been any one horse that's won. We've seen people that have gone the package route and then migrated to what looks like a complete room. We've had people come into the rooms then pared it down. We've had people assemble the makings of a room through separate pieces. … You can come at it through a variety of ways."
For designers themselves, the platform is almost all upside. In exchange for lending their creative assets to The Perfect Room, there's a chance to earn commission on items purchased through the site—a rare opportunity for interior designers to make passive income for their work. It's also a way to get a low-stakes foothold into the digital world and look ahead.
"Having had many conversations with my fellow designers, there's only one of us—people want you," says Ireland. "How do you keep your business going when you want to retire? You look at Colefax and Fowler as one of the few firms that have gone on way after their founders passed away. We have the internet, we know people are buying expensive things online—1stdibs has proved that."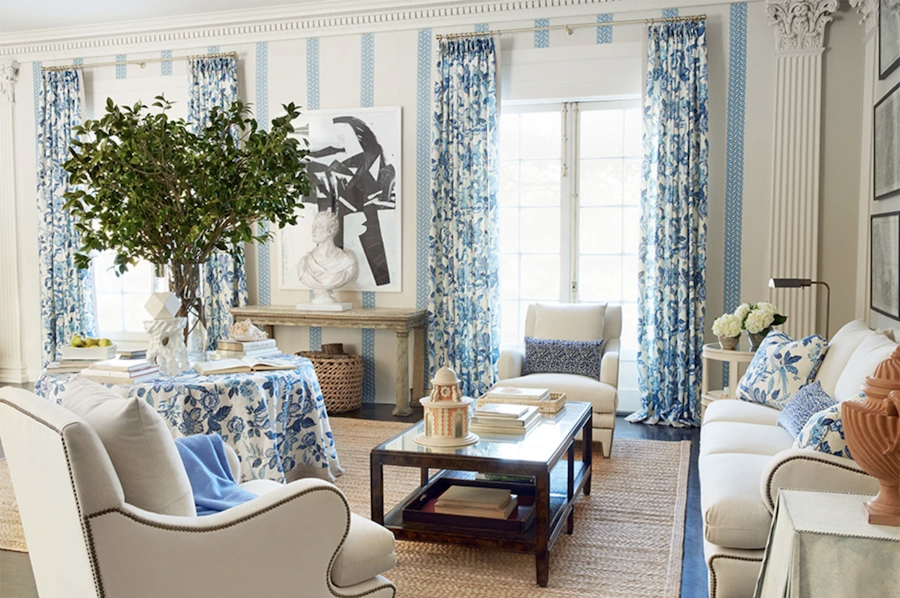 Ireland says that she and O'Neal have selected the new round of talent partially for their stature within the industry, but mainly, it comes down to a willingness to give a new venture a serious shot. "Unless they're committed, [it's not worth it]. We didn't send them any kind of long, thick documents, 'You must do this, you must do that.' I wanted it to grow organically. I wanted people to see that they would start getting checks."
Vendors too have been receptive to the concept. Though many, like British lighting maker Vaughan, are trade-only operations, Ireland says they're less concerned about selling direct to the public under this specialized circumstance. (Individual manufacturers are not identified by name on The Perfect Room—O'Neal says this is to avoid the confusion of a customer attempting to "shop" specific pieces and encountering trade barriers.) Many makers (there are about 150 in total) have extended a trade discount to Ireland's site so that both the platform and its designers can make a margin.
The challenges thus far have mostly been on the technical side. The first incarnation of the site's infrastructure was purpose-built—great for customization, but difficult to scale and prone to bugs. Last year, The Perfect Room migrated to e-commerce behemoth Shopify in order to better results.
Organizing shipping logistics and coordinating a diverse group of talent has also been a hurdle, but clearly the designers are still having fun with it. On a recent trip to France, Ireland organized an outing to the Quercy flea markets for herself, Stilin, Churchill and Rachel Ashwell. They picked up a tasty collection of tabletop and accessories, then listed their finds on the site—a bust of Nefertiti quickly sold. It's this kind of organic, "join us on our adventures" content that Ireland and O'Neal are planning to make a regular feature of the site as it evolves.
Looking ahead, the duo are hoping that a social media marketing campaign (this writer encountered several Instagram ads for The Perfect Room while researching this story—O'Neal says the spend has tripled their site traffic) and the injection of six new big names into the mix will help grow the site as 2020 unfolds. When asked whether their platform would someday compete with the venture-backed giants in the space, O'Neal was realistic but optimistic. The short-term goal, he says, is to secure a new round of investment, and attract a wider audience—over time, he hopes to grow the site's revenue to the $100 million range.
"The talent that we have on board and the offering that clients are getting—if they were to engage these designers in the physical world, they'd be spending in the seven figures," he says. "For the quality that they're receiving, it's a fractional price. We just need to find a lot more of the folks who understand that value proposition."
Ireland is equally optimistic, but content to take it one step at a time. "It's a long journey. What last year proved in Silicon Valley is that throwing as much money as possible into something and making it grow as quickly as possible has not paid out," she says. "I want this to be a community. … You can't please everyone, but we're going to do our darnedest."
Homepage photo: Design by Jane Churchill | Photo by Ed Shepherd