Our Designers' Guide to High Point Market will hit the virtual shelf on March 29, and here's an early peek at the highlights. We've done the work of bringing you the Market scoop so you can focus on the fun stuff (like ordering comfy shoes and finding an uninhabited hotel room on such short notice). On our shortlist: furniture from Consort, pop-ups from The Mine and an insanely long list of collabs and product launches.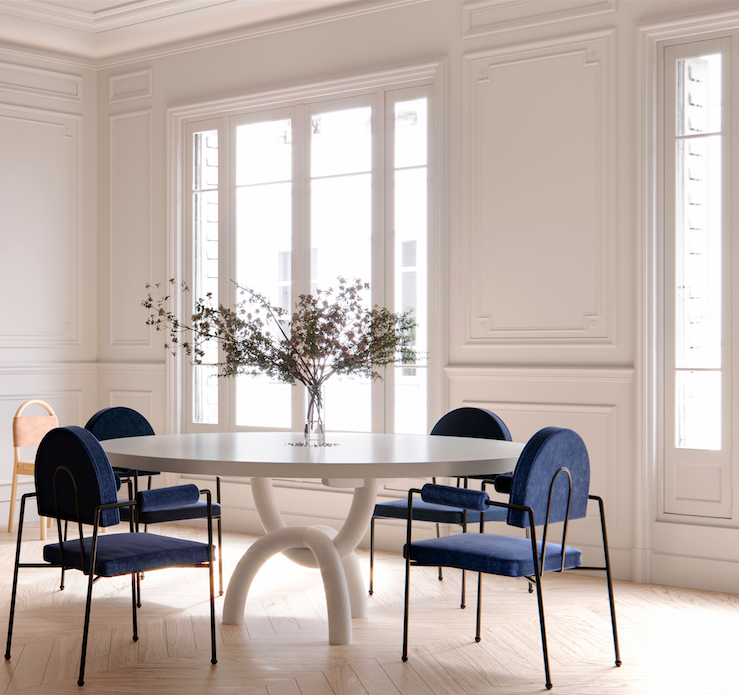 Product and Collaborations
Consort's debut furniture collection is a 44-piece American-made line inspired by a leather-bound journal the founders discovered at a vintage shop in Paris. The pieces are available in options including 24 finishes in Wood, Lacquer, Metal, Plaster, Glass, and Leather, with a number of linens and velvets available in 50 hues. Among the debuts are the sculptural Petite Side Table series and the Amour Setee, with its heart-shaped back.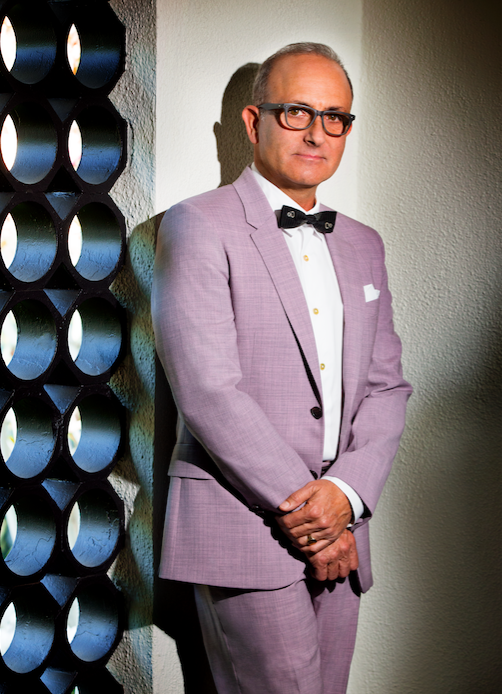 "The three big differentiators in our collection are style, customization and price point. To celebrate the maker movement, we've engaged the country's premier fabricators to manufacture the pieces all within the U.S. This also offers us the flexibility to fully customize the pieces to the client's request," says Consort co-founder Mat Sanders.
Consort isn't the only brand drawing inspo from overseas. Suzanne Kasler's Paris Collection for Hickory Chair spans bedroom, dining and living room furnishings (look for it to debut with custom-made de Gournay wallpaper as a backdrop). Meanwhile, at Heritage Home Group, Henredon releases a 40-SKU collection with David Kleinberg, and both Maitland-Smith and Pearson have Tony Duquette collections in the works. (Maitland-Smith and Hutton Wilkinson of Tony Duquette will celebrate the furniture, lighting, sculpture and accessories collection with a cocktail party on April 15 at 3 p.m.)
Moving north from Paris to Copenhagen, one trend we've noticed this season is hygge, and more hygge. The Danish concept of comfort and coziness reaches our shores this season with a number of products that communicate the warm and fuzzies. Take the Bok dining table by Ethnicraft, the Rumba upholstered chair by Adriana Hoyos, the Fushimi bed by Pianca and the Radius tables by BDI, all appearing at Market.
The Denise McGaha for Design Legacy Collection of wallcoverings and textiles, debuting this Market, isn't just a partnership between designer and manufacturer; it's also a collab between McGaha and artist Kelly O'Neal of Design Legacy. Rooted in the duo's shared love of nature and the great outdoors, the line draws inspiration from, among other sources, a beta fish's tail, the magnolia trees in McGaha's grandmother's yard, and lily pads remembered from her family's property.
Designer Larry Laslo is joining forces with Kravet Furniture on a collection of art deco–inspired upholstered sofas, sectionals, chairs and occasional tables.
Andrew Martin celebrates 40 years in the biz with Evolution, embracing a "much more feminine, streamlined look" with a line that presents amethyst handles on shagreen furniture, chrome and velvet. The collection is available at Resource Decor, along with a new line from sustainable design advocate Thomas Bina, who is known for his Reclaimed Brazilian Wood Table, crafted of salvaged telephone poles.
Michigan-based designer Corey Damen Jenkins is debuting over 18 styles, in a range of finishes, for his first line with Hudson Valley Lighting, while Michael Berman launches a West Coast–inspired line for Leftbank Art, and Laura Kirar, Barbara Barry and Sir Humphry Wakefield all debut Baker Furniture pieces.
News and Showroom Openings
After making its Market debut last fall, home furnishings e-retailer The Mine is moving to a collaborative new space. The designer resource has secured a limited-time footprint inside the Bassett Mirror Company showroom for Market's spring edition.
Attendee favorite Mill Village Collective, which hosts 30-plus designers, artists and small-batch makers, is moving to High Point's historical Union Square building. With more than 15,000-square-feet to fill, the Collective presents must-see exhibitors like ceramicist Elijah Leed, software developer turned architect Eugene Stoltzfus, woodworker Enkle Designs, contract furniture producer BuzziSpace and textile makers Erica Gimson and Jiti.
Handmade rug curator The Rug Show returns for its second appearance at High Point, doubling the amount of exhibitors from last season. Obeetee, Sahar and Zollanvari will be among the 25 exhibitors displaying their latest collections on the top floor of Suites at Market Square. In collaboration with Creative Matters and Cover magazine, the show will also host complimentary one-hour workshops, where guests are invited to have a creative break with materials like oil pastel, charcoal, ink, and wax resist.
Events
Think beyond the ubiquitous cocktail-and-canapé events you've grown to love (or, at least, tolerate) as a Marketgoer. This season, High Point is debuting two exciting new programs, The Point and Third Night: A Progressive Gala.
The Point is the new location for some of Market's educational programming, where there will be roundtable discussions with industry experts and interactive demonstrations, as well as Market advisors on hand to assist guests. "Our tagline for The Point is 'Learn. Grow. Connect.,' and that's exactly what this space is designed to do," says Tom Conley, president and CEO of the High Point Market Authority. "We are here to help this industry learn and connect so business can grow and prosper; thus, we are incredibly excited to offer these services and programs at The Point to further and help achieve these goals."
The goal of Third Night: A Progressive Gala is to encourage attendees to discover new showrooms in a specific area of Market. For the inaugural event, guests are invited to visit the Hamilton Wrenn Design District for live street entertainment, themed parties and special dinner menus. The event will take place Monday, April 16, from 4 p.m. to 7 p.m.
This Market's Design Viewpoints Series, in partnership with the American Society of Interior Designers, is focused on helping designers grow their businesses. The four topics that will be covered include design fees, legal contracts, client management and work-life balance. The series will be hosted at the High Point Theatre.
Get your CEU on with some of the other educational programming: daily art workshops at The Rug Show (April 13–17); a primer on selling green furniture with SFC member Greenington Fine Bamboo Furniture (April 13); and a workshop on avoiding color mistakes, with color specialist Maria Killam (April 14).
Continue to check back here as we share the latest updates for Spring Market. And keep your eyes peeled for the Designers' Guide to High Point Market, available online March 29.