The worlds of design and athletics collided this week, as Cleveland's Major League Baseball team took on a new name inspired by the art deco stone landmarks flanking the city's Hope Memorial Bridge. Stay in the know with our weekly roundup of headlines, launches and events, recommended reading, and more.
Business News
Salone del Mobile has elected Maria Porro as its next president, making her the first woman to hold that role in the organization's history. Porro, the former president of Assarredo, will assume the position previously held by Claudio Luti, who resigned in April after stating that uncertainty surrounding the event had compromised his vision. While architect Stefano Boeri stepped in to curate this year's reimagined fair, Porro takes over moving forward. "I and the entire board of directors will be working to ensure that, as a unique and indispensable design showcase, the Salone rises to meet future challenges regarding sustainability, digitalization, research, innovation, creativity and inclusiveness, as ever maintaining the highest quality," Porro said in a statement.
The High Point Market Authority has released its Summer/Fall 2021 Style Report, pinpointing 19 trends from the most recent Market. In the publication, eight Style Spotters highlight emerging themes, including streamlined art deco profiles, vibrant colors and bold patterns, unexpected material combinations and strong architectural references. For the full 38-page report, click here.
A surge in COVID-19 cases has prompted a two-week lockdown in the southern region of Vietnam, where the vast majority of the country's furniture production takes place, Home News Now reports. The effects of the shutdown have already taken hold for upholstery giant Man Wah: The government has halted production at the company's facility in the Binh Duong province, allowing the brand to ship only finished and packed goods. As HNN and Furniture Today have reported, the country has recently surpassed China as the largest source of U.S. furniture imports, so the stalled production, reduced capacity and shipping bottlenecks may risk further delay to already-late shipments out of Vietnam.
U.S. Customs and Border Protection has modified a 23-year-old withhold release order on imported carpets and hand-knotted wool products from Nepal, making items produced by Annapurna Carpet admissible at all U.S. ports of entry. The decision revisits an order issued in July 1998, which prevented imports of those products from seven Nepalese companies, including Annapurna, due to forced labor in their production processes. Annapurna has been released from the order after removing all indicators of forced labor from its practices.
Lumber prices had finally begun to even out in recent weeks, but extreme weather conditions in the West are striking another blow to the availability of wood products and sending costs shooting back up, The Wall Street Journal reports. On both sides of the U.S.-Canadian border, ongoing wildfires are taking out logging forests to the extent that Canfor Corp., one of America's largest lumber producers, announced that it would be cutting back output at its mills in British Columbia. Analysts say they expect more mills to follow suit with reduced hours and shifts in the coming weeks.
Hooker Furnishings has joined the Sustainable Furnishings Council's 400-member organization, pledging to support positive environmental change within the industry. In line with the council's goals, the company has completed recent initiatives like partnering with the Arbor Day Foundation to focus on reforestation efforts, and continuously measuring its carbon footprint.
Launches and Collaborations
Queer Eye's interiors expert, Bobby Berk, has made his namesake home pieces available to viewers and shoppers with a new direct-to-consumer site. Available products include furniture items like tables, cabinets and chairs, as well as boldly patterned wallpaper in contrasting neutral tones.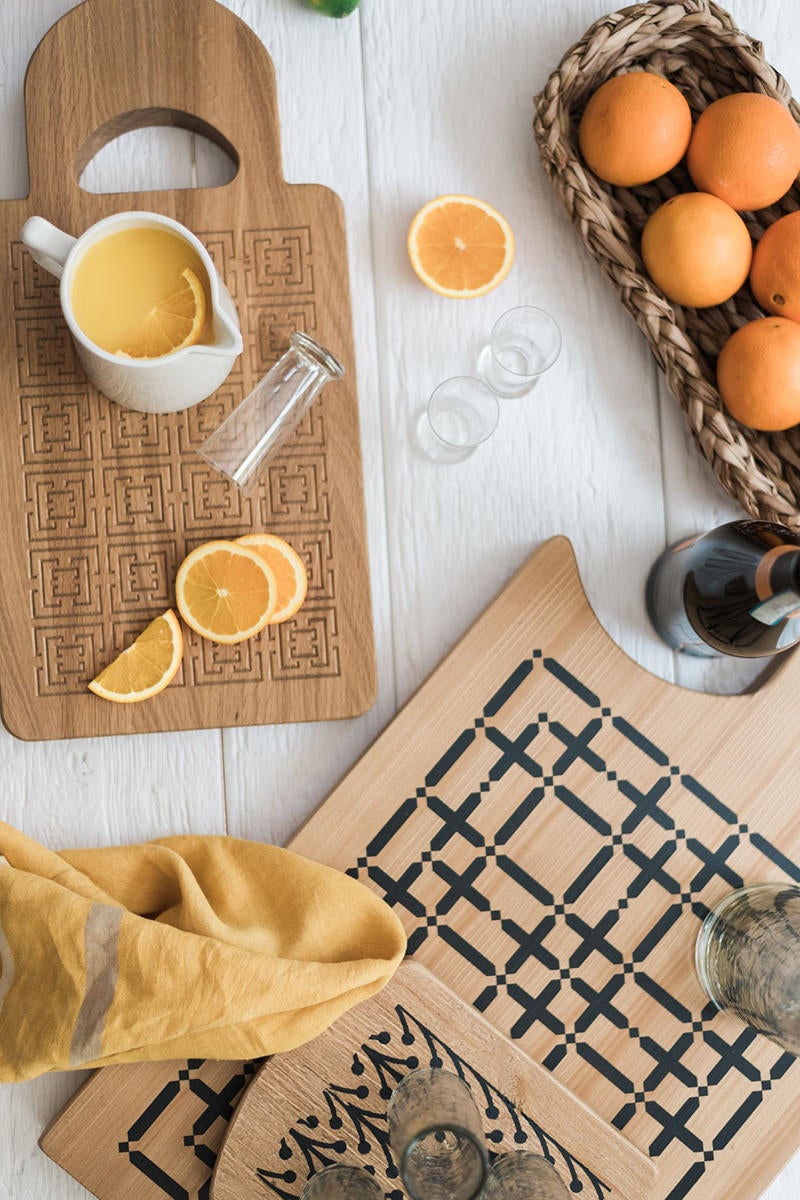 Luxury faucet brand Brizo has partnered with the Frank Lloyd Wright Foundation for a bath collection named after the iconic American architect. The full suite of products includes faucets, tub fillers and spouts, shower systems, and accessories, drawing upon Wright's signature aesthetic with natural wood accents.
Olson Kundig has reimagined the Bay Area Discovery Museum with a campus-wide renovation and new exhibitions. In collaboration with early learning experts from BADM's in-house research division, the Seattle-based design and architecture firm created a new maker space for children called the Fab Lab; landscape-themed rooms called the Tot Spot; an exhibit exploring household items; and exterior additions called Gumnut Grove and Lookout Cove.
Lifestyle brand etúHome has tapped entrepreneur, design blogger and product designer Colette Shelton of Cococozy for a joint collection. The new items include charcuterie, cutting and serving boards, decorative demijohns mouth-blown from recycled glass by European artisans, a citrus-blend candle, and other small accent pieces.
Showroom Representation
Galerie Philia has debuted Matthew Fisher's new series of works, titled the Agate and Alabaster collection, at its Chelsea showroom. Fisher is best known for producing stone-crafted furniture and vessels within his self-founded studio, Mulberry Black.
Recommended Reading
Temporary architecture has been a stylish addition to the Olympic Village in years past—this year's cardboard beds, however, sparked rumors that the materials were used in an effort to promote celibacy. According to Curbed, there's a deeper history behind the use of cardboard in furniture. Though eventually outpaced by DIY plastic furniture from outlets like Ikea, the material was once seen as an architectural marvel, with the potential to be the next low-cost, sustainable furnishings product.
Homepage image: Fixtures from Brizo's collaboration with the Frank Lloyd Wright Foundation | Courtesy of Brizo