The Kansas City Symphony Alliance announced the participating designers for the 49th-annual Symphony Designers' Showhouse, the longest continuously running showhouse fundraiser in the country. To date, more than $5 million has been raised to benefit the alliance.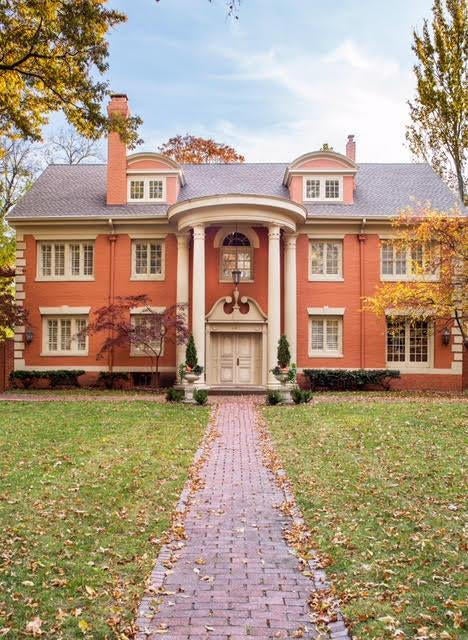 Twenty-two designers and teams, including Howard Fischer, Susan Prestia of Interior Directions, and Woodson Antiques & Interiors, were selected to transform the century-old Missouri home of Tim and Heather Pluard. The showhouse will be open April 21 to May 13.
Many of the participating designers are longtime contributors to the showhouse—JCCC School of Design has done the show 35 times and The Design Gallery at Nebraska Furniture Mart (NFM), 15—while the Park University Interior Design Department, Pella Windows, and Family Tree Nursery are making their debut this year.
The historical house was originally built in 1915 for Andrew and Bertha Young, and has since changed hands a few times. Gilmer and Dorothea Simpson Meriwether, who took ownership of the house in 1935, left the most significant design influence on the house, working with architect Clarence E. Shepard on incorporating neoclassical elements. The couple also worked with the Jackson County Historical Society to mark the location of the Battle of Westport, which took place near the property.
Designers will be transforming 30 rooms, including six bedrooms, five bathrooms and three half-baths, in the 5,000-square-foot mansion. There will also be a boutique at the showhouse with home decor and fashion from local artisans.
The Symphony Designers' Showhouse will be located at 445 West 56th Street, Kansas City, Missouri, and tickets are available online for $25.
The full list of participating designers and companies:
By the Blade
California Closets
The Design Gallery at NFM
Family Tree Nursery
From the Summer's Garden
GoodHaus Design
Howard Fischer Design
Interior Directions
JCCC School of Design
Kansas City Symphony Alliance
K Is for Kitty
Kohler Signature Store
Traditions
Midwest Design
Motivo Designs
NiteLites of Kansas City
Park University Interior Design Department
Pella Windows
Prairiebrooke
Sherwin Williams
Traditions
Wilson Lighting
Woodson Antiques & Interiors