Business of Home's Spring 2018 issue is now out, and it's casting a spotlight on industry leaders who are innovating in ways big and small. Among them: One Kings Lane's Debbie Propst, 3-D printing pioneer Neil Patel and Minted CEO Mariam Naficy.
"As we were researching this issue, it was impossible not to feel hopeful and inspired by the transformative vision of these leaders and entrepreneurs," says Kaitlin Petersen, editor in chief of Business of Home. "I can't wait to share their accomplishments and ideas with our readers—and to see what issues they tackle next."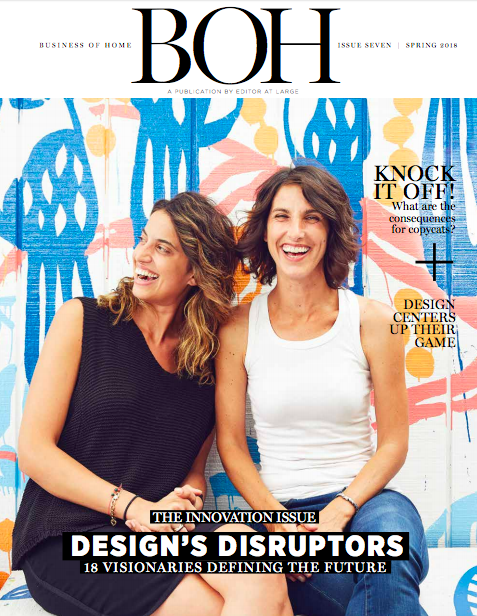 Since it's the Innovation Issue, Petersen, along with writers Taylor Barker, Melissa Studach and Katy Olson, profiled 18 of the industry's most current trailblazers. Here, she calls out a few of the profilees:
1. Chiara de Rege, the designer whose plush, playful choices and cool-girl vibe (think green velvet upholstery, cheeky wallcoverings, and the just-right amount of neon signage) has shaped the visual identity of the many outposts of women-only social club and safe haven The Wing. "I think the best part of the process is what happens after we install, when I walk in and see every corner utilized by an incredibly diverse range of women," the designer told BOH. "It is so satisfying to see them take advantage of what The Wing has to offer."
2. Aaron Taylor Harvey, the co-founder and executive creative director of Airbnb's Environments Team, which designs all of the company's sprawling, wildly imaginative office spaces to foster productivity and creativity—and, of course, wanderlust. (Among his latest projects is 999 Brannan, a 14,000-square-meter Airbnb office in San Francisco for 1,000-plus staff that features alcove-like "neighborhoods" around a social and active center space.)
3. Noa Santos, the co-founder and CEO of Homepolish, a company that capitalizes on the demand for à la carte design services—and is now tackling high-end residential and commercial projects, as well as entering the construction biz with a network of contractors for its clients. "When we first started, we focused on providing design services at an affordable price point," Santos, whose company has since expanded into over a dozen cities, told BOH of its evolution. "There was no one doing that at the time. Now consumers have access to everything from discount e-decorators to iPhone applications to help them when they're on a budget."
4. Amy Morris and Anna Polonsky, the creative minds behind the concept, design and branding agency The MP Shift. With a focus on hospitality projects, they help restaurateurs hone their ideas, develop an identity, and then manifest it in everything from the logo to the menu to the decor.
Read the full article here on EAL, or download the entire issue.