With a slew of upcoming industry gatherings, there's no slowing down this spring when it comes to fresh inspiration. From antiques fairs in London to annual design events in New York—featuring the Kips Bay Decorator Show House's return to Manhattan—read on for Business of Home's monthly calendar highlights, including conferences, trade shows and design discussions. For more great industry events, check out the BOH calendar here.
HD Expo + Conference
Las Vegas | May 2–4
HD Expo + Conference is one of the largest hospitality fairs in the U.S., showcasing over 650 exhibitors from more than 25 categories with a focus on global industry trends, projects and ideas. The event will include a keynote presentation by the founders of leading design firm DesignAgency, the inaugural Women in Design Awards honoring five women for their industry contributions, and panel discussions featuring 170 design industry innovators. For more information, click here.
Design Camp With Jake Arnold and Light & Dwell
Los Angeles | May 3–6
Design Camp, the strategic business retreat for interior designers, is returning to Los Angeles with keynotes by designers Jake Arnold of The Expert and Aymee Kuhlman and Molly Kidd of interior design firm Light & Dwell. Over the course of four days, attendees will hear from the speakers and Design Camp's co-founders Anastasia Casey and Lindsey Borchard, who will offer business insight and empowerment through strategic development discussions and guided implementation. For more information about the event and ticket sales, click here.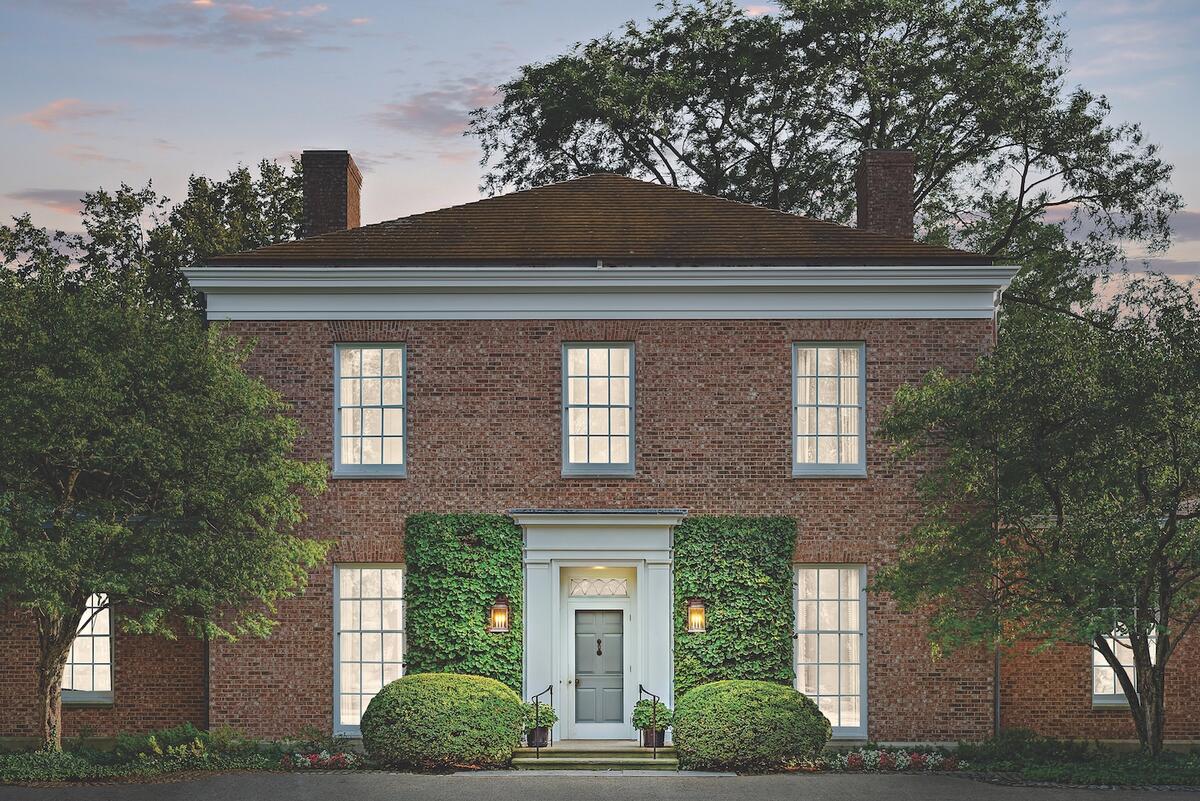 Courtesy of Coldwell Banker Realty
Lake Forest Showhouse & Gardens
Chicago | May 6–June 4
The Lake Forest Showhouse & Gardens returns to Chicago this year following a three-year hiatus, debuting within a Walter Frazier–designed estate built in 1969. The 16-room red brick structure includes two one-story links leading to additional wings on the east and west, as well as several outbuildings, including a three-bedroom caretaker's cottage. A roster of 34 designers—including Sarah Vaile, Alexandra Kaehler and Randy Heller—has been selected to re-imagine the space, which will open to the public from May 6 to June 4, with proceeds to benefit the Infant Welfare Society of Chicago. For more information, click here.
Surtex Commercial Art and Design Trade Show
New York | May 9–10
Surtex, a trade show for the surface design and art sourcing industry, returns for the first time since the pandemic. Hosted at the Metropolitan Pavilion, the first stand-alone version of the event is expected to attract more than 150 exhibitors from around the world, and will focus on the high demand among both artists and buyers, with artists as the exhibitors and businesses as the attendees. For more information, click here.
Legends 2023
Los Angeles | May 9–11
La Cienega Design Quarter will host its annual Legends event this year, with "The Fashion of Home" as its theme nodding to fashion royalty, and the announcement of designers Ken Fulk and Alexa Hampton as the recipients of LCDQ's Living Legend Awards. The event will feature the partial re-creation of Sarah Jessica Parker's dressing room in the window of Mecox by her designer Eric Hughes, along with a variety of luxury showrooms; designer-made window vignettes by Jake Arnold, Paloma Contreras, Noz Nozawa and Studio Heimat; eight keynote panels; and cocktail parties. For more info, click here.
The Decorative Fair Spring Event
London | May 9–14
The Decorative Fair, which opens three times a year, features English and European antiques, original 20th century designs and a variety of artwork from more than 130 specialist dealers. Taking place at London's Battersea Park the week after the coronation of King Charles III, the fair is showing antiques with a seasonal focus on garden furniture, objects, planters and statuary. Attendees can discover decorative objects for their gardens from dealers including local antique furniture companies Nicholas Gifford-Mead and Wakelin & Linfield, which specialize in ironwork such as "étagères" (open shelves for displaying potted plants). The event will offer on-site packing, delivery and export services, and online personal shopping services for people unable to attend in person. For more information, click here.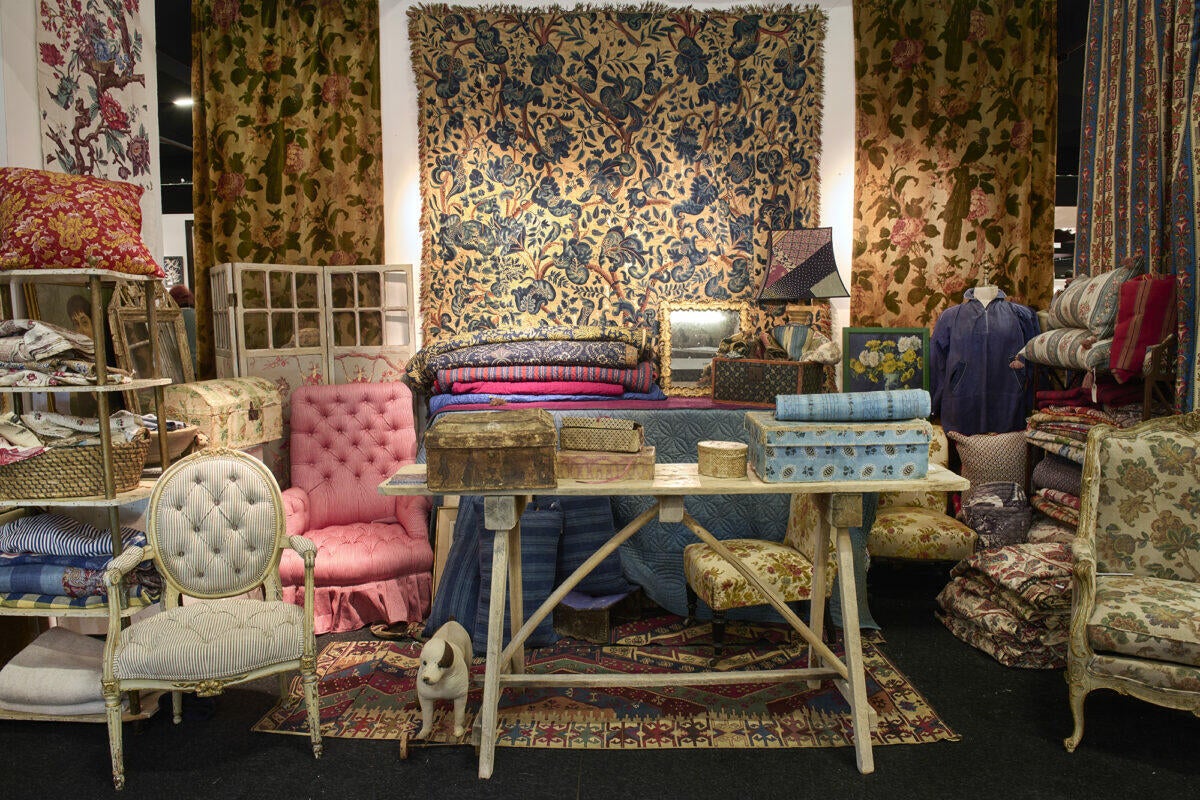 Courtesy of The Decorative Fair
Spring Market at the Decoration & Design Building
New York | May 10
The D&D Building's spring market showcases interior designers and leading brands in the luxury home furnishings industry, allowing attendees to explore the latest collections. The daylong event will feature open houses at showrooms like Cowtan & Tout, Fabricut and Phillip Jeffries, along with panel discussions with design talents Jean Lin and Estelle Bailey-Babenzien, as well as Stark creative director Ashley Stark, about how they broke into the industry. For more information, click here.
Kips Bay Decorator Show House New York
New York | May 11–June 6
Returning to New York for the first time since 2019, the 48th Annual Kips Bay Decorator Show House will be held at the historic River Mansion on the Upper West Side. Built in 1902, the beaux-arts brick and limestone building once housed a number of notable residents, including actress Julia Marlowe and members of the Bronfman family, and was designated a New York landmark in 1973. This year's showhouse will see a slate of top designers re-imagine the space, including industry veterans like Timothy Corrigan, Mary McDonald and Penny Drue Baird, and younger firms like Ahmad AbouZanat and Yellow House. For more formation, click here.
NYCxDesign Festival
New York | May 18–25
Showcasing the best of New York design, NYCxDesign returns for its 11th anniversary with a lineup of in-person and virtual events that include open studio tours, workshops, public installations, talks and more. Highlights include a kickoff panel discussion moderated by Maria Nicanor, the director of Cooper Hewitt, Smithsonian Design Museum; an exhibition at the Pratt Institute showcasing design work by graduating students; and a cinematic exhibit called "Magentaverse," which is hosted by experiential art organization Artechouse and explores the Pantone Color of the Year Viva Magenta. For more info, click here.
ICFF & WantedDesign Manhattan
New York | May 21–23
The ICFF design fair—held in conjunction with the WantedDesign Manhattan trade event—returns to New York's Jacob K. Javits Convention Center to present the newest in design products and ideas from industry stalwarts and up-and-coming makers, drawing upon more than 300 exhibitors from over 16 countries. This year, the newly designed space includes a welcome area designed by Dutch furniture brand Moooi, a restaurant featuring products from members of the Be Original Americas organization and a cafe in collaboration with quartz surfaces manufacturer Caesarstone. Attendees can browse a selection of furniture, lighting, kitchen and bath products, textiles, seating, wallcoverings, carpet, flooring and accessories, or tune into keynotes from speakers including Spanish architect and creative director Patricia Urquiola, architect and designer David Rockwell, interior designers Young Huh and Sasha Bikoff, president and CEO of Heller furniture John Edelman, and 2022 ICFF Designer of the Year Kia Weatherspoon. WantedDesign Manhattan also provides a slate of programming that includes Launch Pad, a platform for emerging designers to showcase prototypes of furniture, home accessories and lighting; and Look Book, which serves as an in-person portfolio for members of the A&D community. The upcoming event will also feature the launch of a Schools Exhibition, presenting work from young design students worldwide. For more information, click here.
Clerkenwell Design Week
London | May 23–25
The 12th edition of the Clerkenwell Design Week will feature over 600 industry events, 30 resident showrooms, over 200 exhibitors and 10 design destinations, a new addition for this year's fair. The event will highlight new trends in lighting, kitchens and bathrooms, green living and collectible design, and feature keynote speakers Soho Home design director James Patmore and Soho House interior designer Domhnall Nolan, as well as local designers Morag Myerscough and Nipa Doshi. For more information, click here.
For more events, check out the BOH calendar here.
Homepage image: The strategic business retreat for interior designers Design Camp is returning to Los Angeles | Madeline Harper Photography