In the series What I Love, we're asking designers to build us a mood board of what's inspiring them right now.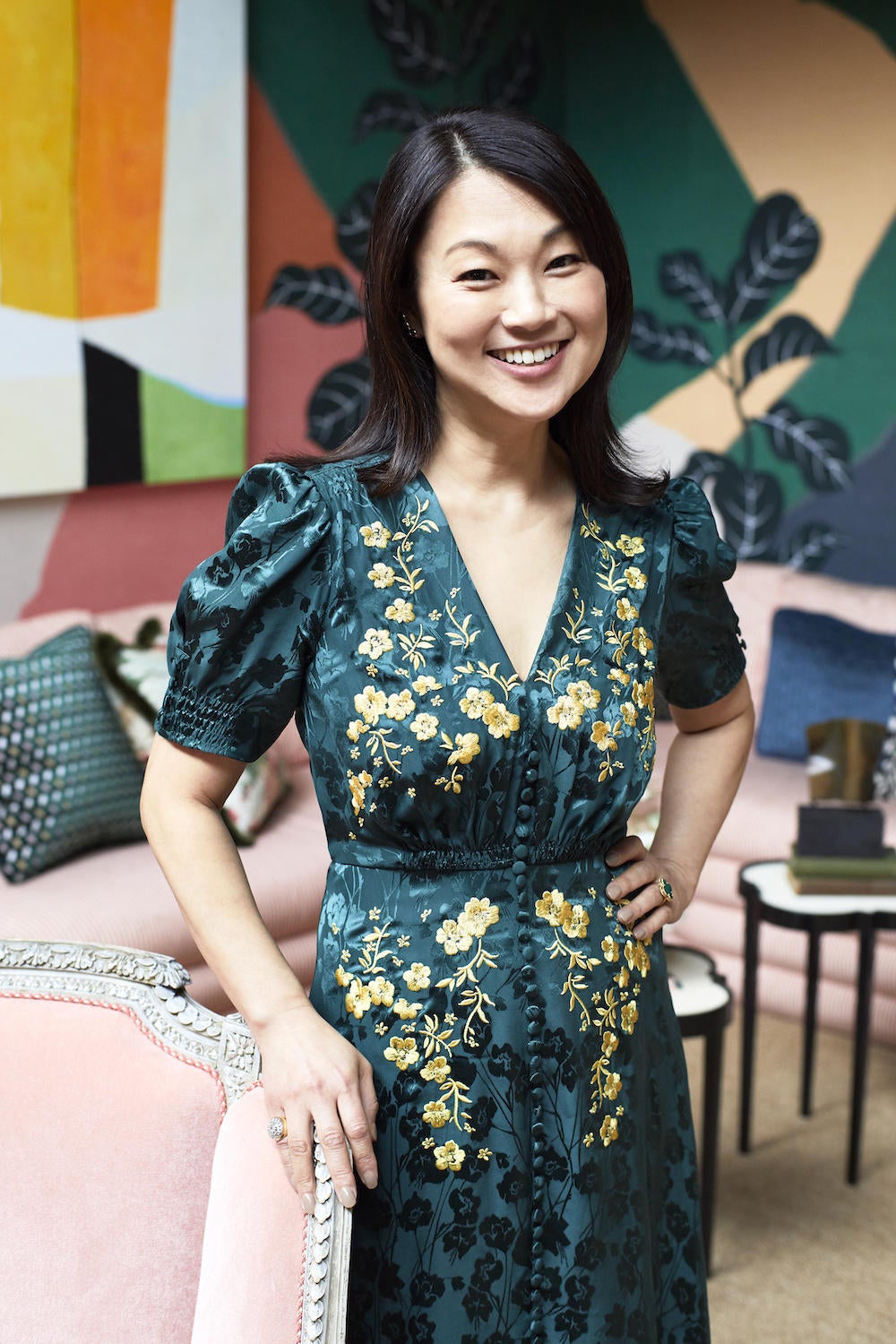 Young Huh strives to bridge the gap between classic and modern. Currently enmeshed in the process of revamping a client's kitchen, the New York—based designer turns to bold graphic prints, mixed metal accents,and rich saturated hues to breathe fresh life into the space. "I'm all agog for plum and aubergine right now," she tells Business of Home. "Warmth is added with touches of brass, honeysuckle-colored tile and cream cork wallpaper."
Of course, none of Huh's designs is complete without a touch of whimsy, and her choice of Pierre Frey's Le Paravent Chinois Iris wallpaper is an excellent case in point. "I wanted this kitchen to feel eclectic, elevated and playful with rich, jewel-tone colors and striking contrasts," she says.
Hardware isn't an afterthought for her either. Along with a solid brass cabinet knob featuring an intricate botanical motif, Huh took care to employ state-of-the-art appliance fittings—including a high-end range handle clad in a laser-etched lace pattern—in her flat lay. "JennAir appliances are design-forward, detailed, and my go-to for this kitchen," she says.
Here, Huh breaks down the details, from two-toned embroidered fabric swatches to dark walnut finish samples.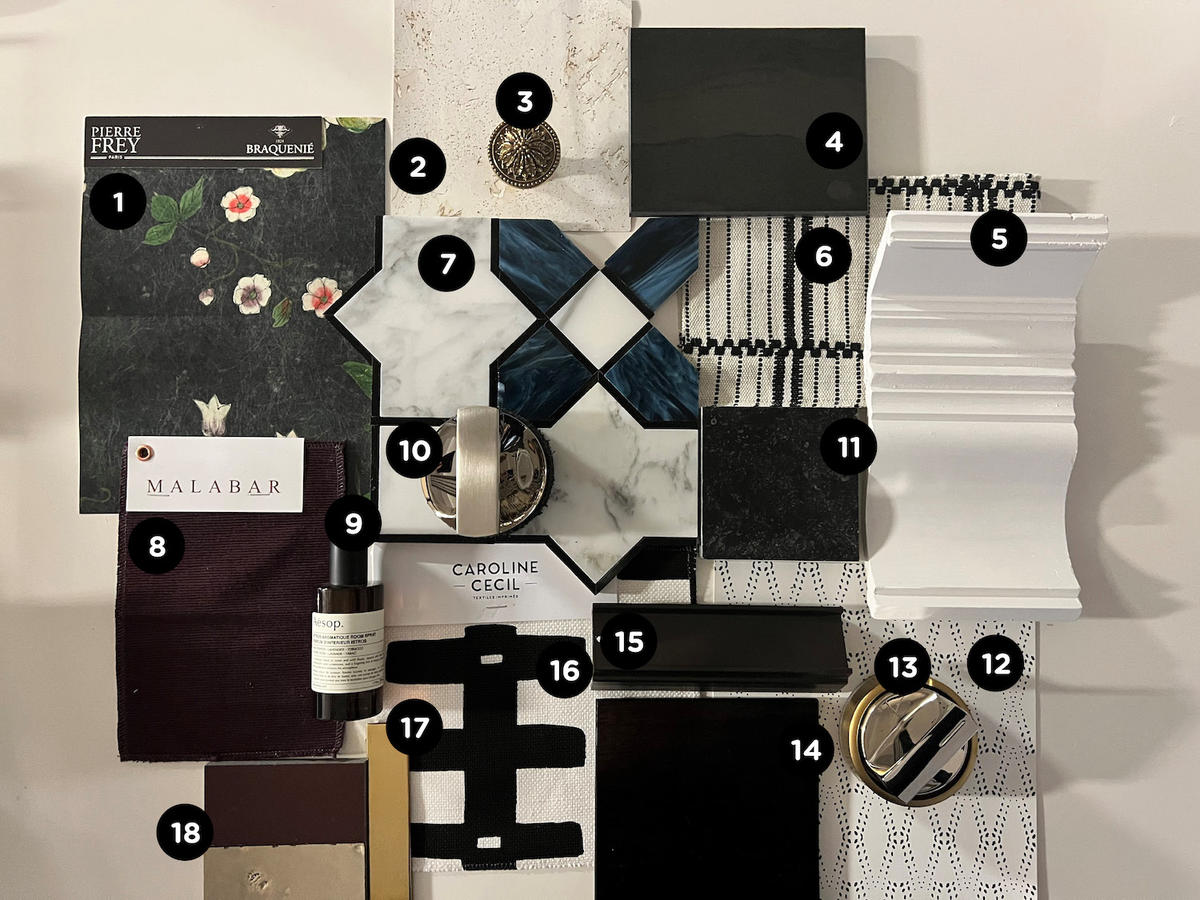 1. LE PARAVENT CHINOIS IRIS WALLPAPER — PIERRE FREY
"I love this paper, as it recalls painted silks from China. It's pretty and playful and a little moody—and would look great in a kitchen!"
2. CHENIN BLANC BRAUCA WALLPAPER — ELIZABETH DOW
"Another great wallpaper option for the kitchen. It's perfectly simple with a lovely movement to it."
3. ACANTHUS CABINET AND DRAWER KNOB — SHERLE WAGNER
"This knob is pure delight!"
4. DEKTON RADIUM SAMPLE — COSENTINO
"The durability and eco-friendliness of Dekton is perfect for kitchen countertops. This material has warmth to it with brown undertones, which works well with aubergine and plum."
5. CUSTOM CROWN MOLDING
A custom crown molding profile in plaster adds architectural interest to Huh's kitchen scheme.
6. EL RAIS FABRIC — ZAK+FOX
"I haven't met a fabric by Zak+Fox I don't like. I'm particularly drawn to this one because of the patchwork and embroidered edges—the details are wonderful."
7. LEGACY SAPPHIRE TILE BY YOUNG HUH — AKDO
"Mathematical patterns have a calming effect and the sapphire is a nice complement to plum, brass, black and white."
8. BAMBOO IN AUBERGINE — MALABAR
"This fabric is a gorgeous rich aubergine color, and looks fantastic in a palette with black and white."
9. ISTROS AROMATIQUE ROOM SPRAY — AESOP
"I can't get enough of this room spray and use it all the time, both in the office and my home. It's peppery and floral and instantly takes me to a happy place!"
10. NOIR SCULPTED HANDLE — JENNAIR
"You can't see it but the back of the handle is laser-etched lace—details, details, details. It's design that is experiential."
11. BELGIUM BLUE HONED STONE SAMPLE — PARIS CERAMICS
"Belgian bluestone is so chic in the kitchen."
12. KETUT / BLACK WALLPAPER — CAROLINE CECIL TEXTILES
"This wallpaper feels relaxed, orderly and playful all at the same time; there is a movement to it that is both stimulating and pleasing."
13. RISE BRASS MIXED METAL KNOB — JENNAIR
"JennAir really is the leader in appliance design; the mixed metals give designers more to work with. It's also a mix of brushed and polished, which adds even more interest—it's like kitchen jewelry!"
14. HAND PLANED EXTRA DARK WALNUT SAMPLE — KEITH FRITZ FINE FURNITURE
"Dark walnut is a go-to finish for me and Keith Fritz does it beautifully—ideal for a dining table."
15. CUSTOM WALNUT FINISH SAMPLE
"I always have a sample of a gorgeous and rich walnut finish on hand. It's a go-to for me!"
16. BRIDGE/BLACK /OYSTER FABRIC — CAROLINE CECIL TEXTILES
"This fabric is graphic and striking—a real statement fabric—and made with eco-friendly materials."
17. POLISHED BRASS SAMPLE
"Works flawlessly with plum."
18. SNAPDRAGON AND HONEYSUCKLE GLAZED BASALTO — NEW RAVENNA
"This Basalto tile has a beautiful glaze and texture, and the pairing of the Snapdragon and Honeysuckle colorways is so sophisticated and interesting. Basalto is also very durable and perfect in the kitchen."

Homepage photo: A flat lay by designer Young Huh | Courtesy of Young Huh Interior Design