When Agnieszka Wilk moved into one of TF Cornerstone's residential buildings in New York, she didn't expect to end up working with them—but she soon realized the real estate developer's clientele was the perfect customer for her e-design service, Decorilla, which creates 3-D-modeled room plans. She pitched a partnership to TF Cornerstone, who was impressed by the company's focus on technology and access to discounted furniture. Since starting the partnership last January, Decorilla has gained 100 new clients for its team of 300 interior designers.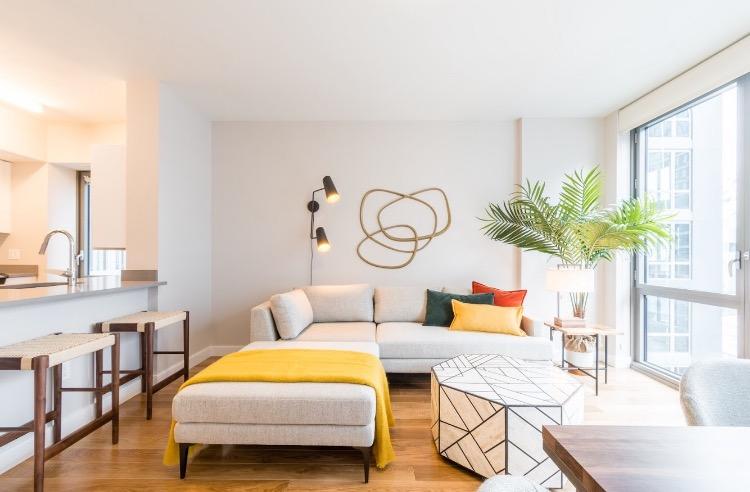 Courtesy of TF Cornerstone
"Designing model units gives us a lot more exposure to the target demographic that we aim to reach, and a lot of people who would have never heard of us before," Wilk tells Business of Home. "It also builds a lot of trust with clients, because people see our work in the units, so they know we can design in the space. It opens a lot of doors and created great awareness for us."
In TF Cornerstone's latest New York luxury residential development, The Max, which opened this past spring on the Upper West Side, the residents are a mix of professionals, students and those who prefer "convenience" and are "savvy online," says Wilk. Through the partnership—which is advertised via email promotions and coupons in model units—residents can save $100, which is about 20 percent off what Decorilla typically charges for its service. Although Decorilla is primarily an e-design service, clients can work with the company's designers in person or online; it also offers reduced rates on furniture from more than 250 brands, including Wayfair, Crate & Barrel, West Elm and a handful of trade-only vendors.
The Max has the most model units of any of TF Cornerstone's buildings—developer Zoe Elghanayan, who oversaw the building's design, tells BOH they began with 15, several of which are now rented. Decorilla was one of several design firms brought on board to design a two-bedroom, two-bath space—one of the larger units in the building. (Designer Jonathan Adler and Italian brand Alessi also worked on model units.) "Sometimes people ask to buy or rent the furniture in the model units," says Elghanayan. "It's fun seeing everyone's reactions. I feel like everyone picks up on different things as they tour the building."